Down and out: Barclays Bank takes unplanned digital detox, customers not invited
Account holders reach for telephone as mobile and web services crash
Online services with UK-based Barclays Bank have taken a nosedive.
As of lunchtime, customers of the bank, whose values include "Excellence" and "Service," were still unable to access online banking or connect via its app.
It looks like problems began just before 9am UTC before complaints ramped up. A glimpse at the company's status page reads: "The service is unavailable."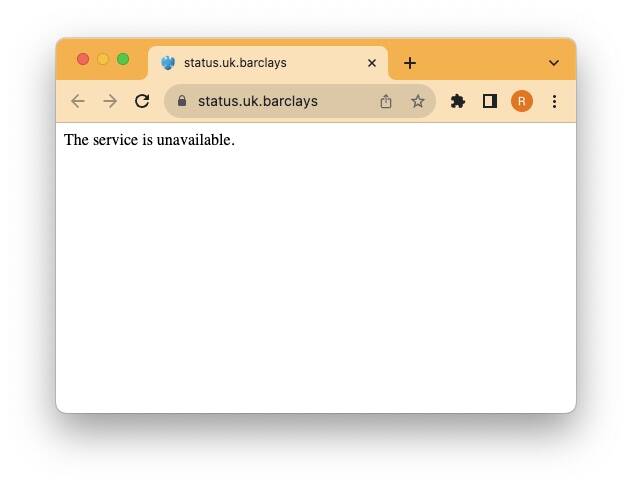 The apology key on the bank's social media team's keyboard has been red hot as customers complained about the issue. After all, no online access means services such as transfers are out of reach. The bank's X (formerly Twitter) orifice said: "We're currently experiencing widespread issues with our app and online banking, we aim to resolve this as soon as we can."
The bank also reassured customers that it had not been hacked.
Although there are no other updates as to what has happened nor when the service will get back to normal, one suggestion from the support team to get the status page working was to clear the cache and cookies, and have a crack at it with a different browser. "I've been able to access it using Edge, I hope this helps."
Not really.
The Register contacted Barclays to find out what had befallen its services and if any others were affected, but we have yet to receive a response. Barclays had earlier warned that it was planning to do some work on its systems on October 22 – perhaps someone entered the date incorrectly into Excel? It is Spreadsheet Day, after all.
Ultimately, customers will have to wait until the services lurch back into life. Services such as card payments appear unaffected, and telephone banking is apparently OK too.
For those in desperate need, we suggest popping into a local branch if all else fails, assuming you still have one. With more than a third of the bank's face-to-face network set for the chop, today's outage might be an unfortunate glimpse into the future. ®