Amazon unveils new drone design, plans liftoff of aerial delivery in UK, Italy
Smaller, quieter, and expected to deliver millions of packages in coming years
Amazon on Thursday released photos of its newest delivery drone, the MK 30, and announced will expand its Prime Air drone delivery operations to Italy, the UK, and an unnamed American city in 2024.
"The new locations add to our existing drone delivery operations in the U.S., where we've been using drones to safely deliver packages weighing up to five pounds in one hour or less, for almost a year," detailed Amazon.
The MK30 doesn't improve that payload capacity, or volume. But Amazon touts the design as "quieter, smaller and lighter" than the previous model.
The MK30 also doubles the range of previous Prime Air drone models, with roughly half the noise, and in more diverse weather conditions. The previous version did not allow delivery in light rain, wind, hot temperatures or other adverse conditions.
Noise is important because complaints about sound levels have already seen Google cancel a drone trial.
The new drone is equipped with sense and avoid technology to dodge obstacles. Its design takes on a tiltrotor concept, acting as a helicopter upon takeoff and transitioning into horizontal wing-borne flight once in the air.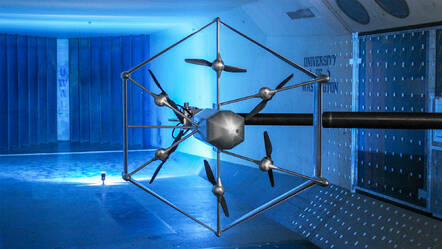 Amazon's MK30 drone design - Click to enlarge
"The design and testing of the MK30 came together in about 18 months through the innovative and collaborative work of our engineers—but it really took many years of development and dozens of prototypes to lead to this moment," stated Amazon.
Presumably because of design improvements, the MK30 isn't held to the same requirements as the last drone. For instance no designated yard or delivery "marker" is required.
"Innovative safety-critical features will allow this drone to deliver packages to customers with smaller backyards and in more densely populated suburban areas," said Amazon of its new design.
The previous model, which has been in use in two American cities, College Station, Texas and Lockeford, California, required a survey be carried out by Amazon to determine a landing spot on which grass had been trimmed. Poeple, pets, and objects were required to stay at least five meters (17 feet) away from the landing zone.
The drones and their opt-in service will be integrated into Amazon's delivery network, alongside vans and other vehicles within Same-Day Delivery stations, which are a mini version of Amazon's colossal fulfillment centers.
Amazon hopes to deliver 500 million packages on autonomous aircraft by 2030. Doing so requires overcoming some regulatory obstacles. Amazon needs hundreds of incident-free flights to expand services and reportedly only clocked 100 by mid 2023. The service has been 10 years in the making, having been first promised in 2013, proving that Jeff Bezos's cut price retail outfit is learning in real time exactly how long aerospace development and certification actually takes. ®