Imagine a world without egress fees or cloud software license disparities
UK regulator lists series of potential remedies for anti-competitive practices early on in probe
The UK's competition regulator is drafting remedies that could have big implications for Microsoft and AWS, should behavior that prevents or restricts customers from switching and using multi-clouds be identified.
The Competition and Markets Authority (CMA) last week confirmed it is to investigate the health of the domestic cloud infrastructure industry following a recommendation by comms watchdog Ofcom.
The probe will focus on three areas of particular concern, including egress fees, interoperability, and software licensing in the cloud. Also under the spotlight are Microsoft and AWS, which collectively account for 70-80 percent of the £7.5 billion ($9 billion) sector.
Although at the early stage of the investigation with no conclusions yet drawn, the CMA is already outlining ways to address any potential problems and is inviting additional solutions from interested parties.
In terms of solving technical barriers to interoperability, the CMA has five remedies: demand cloud providers make their service easier to work with third-party clouds; require standardization; ask vendors to "be more transparent" about interoperability; increase connectivity, i.e. to rivals' datacenters; and increase training for customers' technical staff.
"There are different aspects of interoperability that we are likely to consider, so we may consider potential options that relate to both 'service level' interoperability, data migration processes, and the more holistic process of migrating applications or workloads from one cloud to another," the CMA said in its Issues Statement.
On egress fees, the CMA's current list of possible remedies includes capping fees in relation to the costs incurred by the cloud providers; preventing vendors from charging egress fess; and increasing "visibility" of the fees amid a wider plan to "improve the predictability and control spend on cloud."
AWS, previously criticized for egress fees by smaller rivals, told us at the start of this month it "does not charge separate fees for egress — that is, for switching data to another IT provider — and over 90 percent of our customers pay nothing for data transfer because we provide them with 100 gigabytes per month for free."
Another area the CMA will consider is the way customers can be pressured to commit to a certain level of spending to secure "discounts." The list of remedies here includes "prohibiting the use of specific discount structures, such as certain rates or volume requirements," or "prohibiting" discounts "through a principle based approach."
"We would particularly welcome views on whether these remedies would disrupt any pro-competitive discounting strategies that cloud providers may use," the regulator said.
Another major element the CMA is to investigate software licensing practices, and in this respect it is mostly Microsoft that is expected to go under the microscope. Google, AWS, and a raft of other cloud providers and associations want to see action taken to prevent what they see as anti-competitive behavior.
Microsoft charges up to five times less to run its software on its own cloud infrastructure, Azure, and in other instances simply prohibits customers running Microsoft software on Google, Alibaba and – bar one concession – on AWS too.
The European Commission is currently combing over a complaint about this from trade group CISPE (Cloud Infrastructure Service Providers in Europe), an AWS-backed entity.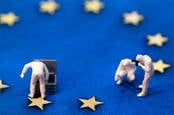 Top cloud players reject Microsoft's attempt to settle EU licensing complaint
READ MORE
The CMA suggests remedies to address this could include "increasing price transparency of cloud services that are sold to customers as part of a larger bundle"; prohibiting the sale of larger bundles; demanding cloud vendors "ensure version equivalence for software hosted on cloud infrastructure, regardless of who provides the cloud infrastructure"; and letting customers "port existing software licenses to any cloud provider, without incurring any additional charges or fees."
In a statement sent to The Register, Francisco Mingorance, secretary general of CISPE, said:
CISPE welcomes the decision by the UK CMA to investigate cloud licensing practices in the cloud by legacy software providers and we stand ready to support this for the benefit of all UK cloud customers. This is a highly significant development. Many regulators around the world have noted the potential for unfair software licensing to distort competition, but the CMA is the first to act with a formal investigation.
We and our members have consistently argued that discriminatory pricing, as well as favouring the use of essential productivity software with specific clouds limits choice and increases costs for customers. Research from leading competition economist Professor Jenny, as well as detailed evidence provided to Ofcom in its market study, clearly shows how dominant software providers surcharge customers to use clouds from other vendors.
This same evidence has been provided to the European commission as part of CISPE's antitrust complaint against Microsoft. We will be cooperating with the CMA and other regulators, to act to protect the interests of cloud customers in their jurisdictions from these ongoing anti-competitive practices.
Microsoft told us last week: "We are committed to ensuring the UK cloud industry remains innovative, highly competitive, and an accelerator for growth across the economy. We will engage constructively with the CMA as they conduct their Cloud Services Market Investigation."
AWS said it does not agree with Ofcom's findings that were referred to the CMA for a deeper inspection but will "work constructively with the CMA."
The CMA will also consider the position of Google in the UK cloud infrastructure sector, as it holds up to ten percent market share, but the company hasn't generally faced criticism of the way it operates.
"We will continue to allow our products to run on any cloud without penalty, separately offer our platform and productivity tools, and provide simple and transparent licensing and pricing," Amit Zavery, Google Vice President and Head of Platform for Cloud, told us earlier this month.
In the US, Google has raised its concerns about Microsoft alleged anti-competitive processes with the Federal Trade Commission, and that regulator is also going to review things following an official complaints from Google that Microsoft has a monopoly.
The US-based Coalition for Fair Software Licensing (CFSL), believed to be backed by Google and Amazon, is vocal is trying to tackle what it sees as unfairness in cloud software licensing.
Ryan Triplette, exec director at the CFSL, told us: "Legacy software providers are reducing customer choice in the cloud by making it more difficult – if not impossible – for customers to access certain software using rival cloud service providers. Using restrictive software licensing, these providers distort competition and stifle innovation across industry sectors and throughout the cloud stack."
He added: "We stand with customers in welcoming the Competition and Market Authority's formal investigation into restrictive software licensing practices and technical, contractual and cost prohibitive barriers they create on the cloud."
Kip Meek, chair of the CMA's inquiry group, said: "Cloud services are an essential part of how businesses in the UK operate and they underpin many aspects of our daily activities, from banking to communications. This is why effective competition in this market is so important." ®