Brits sign Axiom Space deal for human spaceflight in name of science
The things the kingdom will do to get away from Europe...
The UK Space Agency and Axiom Space are signing an agreement to send more Brits into space on a commercially sponsored mission.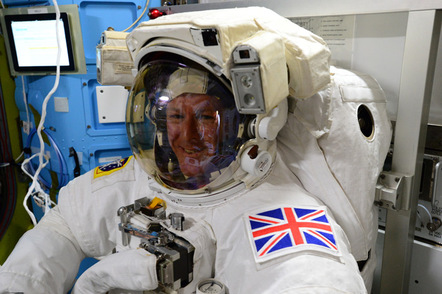 Coming to a Crew Dragon quite a long way from you?
The mission, which has the enthusiastic backing of the European Space Agency, will see UK astronauts spend up to two weeks on orbit carrying out scientific research.
Axiom Space launches commercial missions using the SpaceX Crew Dragon spacecraft. Its two missions to date were both to the International Space Station (ISS) and featured a veteran NASA astronaut. Ax-1 was commanded by Michael López-Alegría and returned to Earth on April 25, 2022. Ax-2 was commanded by Peggy Whitson and returned to Earth on May 30, 2023.
The next mission, Ax-3, is expected to launch no earlier than January 2024 and is scheduled to be commanded by López-Alegría once again. It is also flying crew from Turkey, Italy and Sweden's Marcus Wandt - an ESA project astronaut.
The need for a veteran astronaut is an interesting one and opens a potential door for the UK's Tim Peake, who recently called out Axiom Space and said, "never say never" when asked about a possible return to orbit.
In a statement sent to The Reg, a spokesperson at the UK Space Agency said of today's announcement:
"This is great news, but we recognise there is still much work to do. The next step is for us to work together with Axiom Space over the coming months to explore the mission concept and any potential challenges – this agreement is the springboard for us to do that, and we're looking forward to it."
It's all heady stuff, but we'd have to inject a note of caution when it comes to the commercial sponsorship aspect of the mission. Readers with long memories will remember the first Briton in space - Helen Sharman - who was launched as part of the privately funded Project Juno campaign.
Project Juno failed to raise the funds for Sharman's 1991 mission to the Mir space station, and the cost was apparently picked up by the Soviet space program.
The Crew Dragon spacecraft used by Axiom carries four crew into space and is a significant step up from Sharman's - and Peake's - jaunt aboard a Soyuz. Assuming it is funded - and one can assume that the UK Government will be less than keen to pick up the tab should commercial investors blink at the price - the earliest opportunity is in 2025.
Ax-4 is due to launch later in 2024, and NASA has already signed an agreement for it with Axiom Space for a private astronaut mission. ®