Lenovo's phantom ThinkPad X1 foldable laptop finally materializes
The day after Halloween, at a slightly less scary price than LG, HPE, and ASUS charge for their folding laptops
Lenovo has finally delivered the ThinkPad X1 Fold 16 folding laptop, more than a year after teasing the device.
"Pushing boundaries can take you to interesting places," wrote the marvellously named Jerry Paradise, VP of Lenovo's Commercial Portfolio and Product Management. "When we announced the ThinkPad #X1Fold last year, we had hoped to get it into your hands quickly — but we also committed to high standards of durability and usability, and that meant taking the time to get it right."
On a Lenovo blog Paradise added" "We decided to delay shipping in order to ensure we meet the strict usability and durability standards expected of a ThinkPad" and made "several incremental improvements' as a result of user testing.
Paradise wrote that changes addressed "some user experience concerns and improving operational consistency" and resulted in an improved fabric cover and efforts to "reinforce reliability in conjunction with the rigorous Mil Spec 810H testing that X1 Fold withstands."
Thermal updates and "modifications to improve cooling and system performance" are also in there somewhere.
The result is a machine in the familiar clamshell form factor used by most laptops, but without a keyboard inside – it's all screen. A keyboard can be invoked to use the machine as if it were a conventional lappie, but Lenovo imagines you'll use its external keyboard to type and either stack up the lappie into a tall portrait-oriented screen, or stretch it into landscape mode as shown below.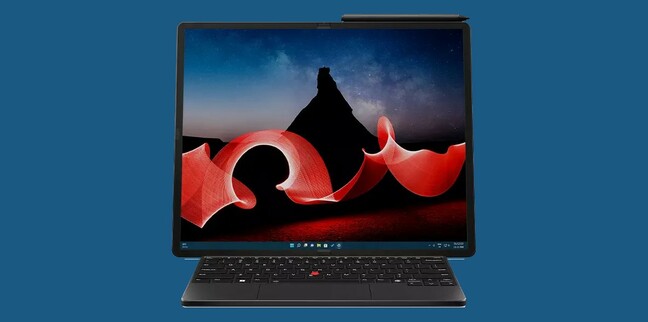 Lenovo ThinkPad X1 Fold - Click to enlarge
Lenovo has not made the foldable the hero of its web page – that honour goes to cut-price kit being sold off cheap in Black Friday sales.
But a product page reveals the device is sold in four varieties.
All feature a 16.3" OLED touchscreen display at 2560 x 2024, with 60Hz refresh rate and 600 nits of brightness. Integrated Intel Iris Xe graphics is another constant across the range, as is a 5MP camera. A pair of Thunderbolt 4 ports, and a single USB-C 3.2 slot, handle peripheral connections. LPDDR5 at 5200MHz is present in all machines.
The $2,499 model packs a Core i5-1230U CPU, a 12th-gen Intel Alder Lake creation with a pair of performance cores and eight efficient cores.
But it doesn't come with a Bluetooth keyboard or pen.
Spending an extra $900 buys you those peripherals, doubles RAM to 16GB and SSD to 512GB, but keeps the Core i5-1230U.
For another $200 you get the extra power of a Core i71250u.
The most expensive model sets you back $3,899 and adds the vPro-enabled Core i7-1260U, 32GB of RAM and a one-terabyte disk.
Since Lenovo first teased the machine, HP and LG have announced similar machines. HP's machine has debuted at $4,999. LG's Gram Fold costs around $3,650 but will only be sold in South Korea. ASUS's ZenBook Fold 17 starts at $3,499.
Lenovo's therefore not demanding the largest amounts of folding stuff for its folding stuff.
The company has, however, defended its slow delivery of the device. The post announcing the device's debut is titled "ThinkPad X1 Fold Still Defines a Category Lenovo Created" and ends with Paradise opining "I strongly believe that ThinkPad X1 Fold is a foldable laptop ready for businesses, supported by extensive durability testing."
"All the user testing taught us a lot about how people will use a Foldable PC and helps us to continue to look forward and shape the future for new innovative form factors." ®