Qualcomm in recovery position following annus horribilis
Smartphone sales not nearly so bad and just think of the AI potential for margins
Fiscal 2023 could be described as an annus horribilis for mobile chipmaker Qualcomm, but the company, like the smartphone market it sells into, sees better times just around the corner.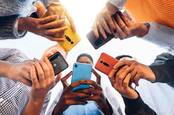 Smartphone recovery that's always around the corner is around the corner
READ MORE
Financial results [PDF] for the year ended September 24 weren't easy reading for staff or indeed shareholders.
Revenue plunged 24 percent year-on-year in Q4 to $8.63 billion, including a 27 percent decline in the Handsets division to $5.45 billion, a 31 percent drop in IoT to $1.38 billion, and 15 percent growth in the relatively small Automotive business unit to $535 million.
The sales generated by the chipset business "reflect a more stable Android handset environment," Qualcomm CEO Cristiano Amon told a conference call with analysts.
According to IDC, smartphone shipments into the channel declined 0.1 percent in calendar Q3, the slowest rate of decline for many quarters, indicating that inventory in the supply chain is at a more "healthy" level, "although macroeconomic uncertainties linger."
Qualcomm CFO Akash Palkiwala noted that IoT demand was suffering "softness" from industrial customers, yet Automotive posted its 12th straight quarter of double-digit gains.
Executives spend a significant portion of these conference calls convincing Wall Street of the opportunities that lie ahead. In the case of Qualcomm, Amon talked up "a requirement over the next few years" for on-device GenAI in mobile phones.
"Our Snapdragon platform is highly differentiated from its competitors. First, we significantly increased the AI processing performance in power efficiency of our best-in-class NPU, CPU, and GPU," he said.
"Second, we are collaborating with multiple partners in ecosystems to enable a host of consumer productivity based AI models running natively on our platform. Third, we're enabling multibillion parameter Gen AI models to run continuously and concurrently for multiple use cases, including multimodal."
More recently, Qualcomm announced its intent to sell the Snapdragon X Elite platform to PC makers, posing a threat to Intel and AMD.
"The Snapdragon X Elite includes our first implementation of the custom Oryon CPU, which exceeds the multithreaded CPU performance of any x86 or ARM competitor in its class. It also matches the single-threaded CPU peak performance of the leading x86 CPU competitors at 70 percent less power," the CEO added.
In networking, Qualcomm is heavily pushing its Wi-Fi 7 kit.
For the year, turnover was down 19 percent to $35.82 billion: Handsets fell 22 percent to $22.57 billion; IoT was down 19 percent to $7.55 billion; and Automotive grew 24 percent to $1.87 billion.
Total operating expenses dipped by around $300 million to $28.03 billion compared to Q4 2022.
Qualcomm previously revealed in the prior quarter that leaner trading conditions meant it would need to reduce costs, and last month confirmed it was ditching 1,000 staff.
Sales for the next quarter are forecast to be between $9.1 billion to $9.9 billion, or $9.5 billion at the mid-point. This is higher than analysts estimated. ®