Samsung family sells $2B worth of shares to pay inheritance tax bill
Nothing is certain except death and taxes
Heirs of Samsung patriarch billionaire Lee Kun-hee are selling approximately US$2 billion (2.6 trillion won) of company shares, reportedly to help pay off the inheritance tax due after his 2020 death.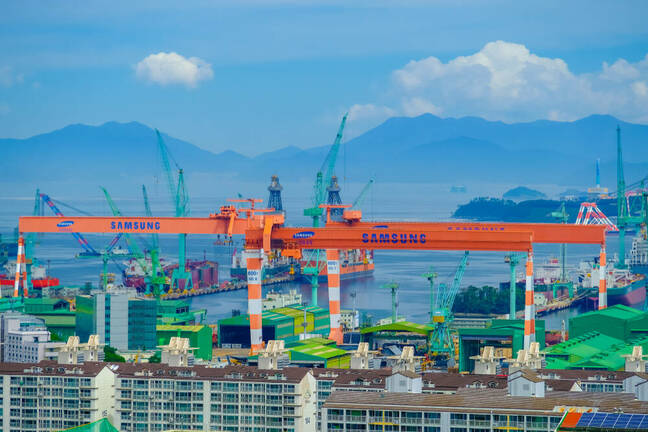 Aerial view of Samsung equipment in Geoje, near South Korea's port city of Busan
According to filings with the country's Financial Supervisory Service (in Korean), Hana bank will dispose of the 0.32 percent share of Samsung Electronics owned by Kun-hee's widow, Hong Ra-hee, and the 0.18 percent share owned collectively by daughters Lee Boo-hin and Lee Seo-hyun, by the end of April next year.
More filings show shares of Samsung SDS, Samsung C&T Corp, and Samsung Life Insurance for sale by members of the Lee family, reported local media Yonhap.
Business Korea suggested that the dividing up could signal a "weakening of control over Samsung."
The chaebol is currently helmed by son Lee Jae-yong, who served 18 months of a 30 month sentence for bribery charges before being released to run the company.
Other claims to fame of the heir apparent include being indicted for fraud in a company merger, making false filings about the extent of his shareholdings, and a conviction for abusing the anaesthetic Propofol.
The family has been paying the second largest inheritance tax bill in Korea's history, more than 12 trillion won ($10.7 billion), in five years of instalments since April 2021.
So far the family has paid around 6 trillion of those won.
The estate was estimated to be worth approximately $19.8 billion (22 trillion won) and included stock, real estate and around 23,000 pieces of art.
South Korea is known for having one of the highest inheritance tax rates in the world. ®