Ireland to develop datacenter powered by fuel cells
Green move comes against backdrop of 82 energy-sucking bit barns with growing power draw needs
Ireland looks set to get a datacenter powered entirely by fuel cell technology thanks to an agreement between a local company and a division of Korean conglomerate SK Group.
SK Ecoplant said it signed a memorandum of understanding with Lumcloon Energy, a project development biz based in County Offaly to the west of Dublin that focuses on energy projects, to build a datacenter powered by solid oxide fuel cells.
The facility, claimed as the first of its kind in Europe, is planned to be sited approximately 80km (50 miles) to the west of Dublin, in Castlelost, County Westmeath.
As part of the agreement, it is understood that SK Ecoplant will supply the fuel cells, which will be manufactured by a third company, Bloom Energy of San Jose, as well as undertaking "a comprehensive role" in the project.
The pair signed their agreement at SK Ecoplant's headquarters in Seoul.
Ireland's minister for Enterprise, Trade and Employment, Simon Coveney, said the deal is of "great strategic importance" to innovate the power supply system used by bit barns in order to reduce carbon emissions, and as Europe's first fuel cell-based datacenter, the planned facility will serve as a template for many others in the future.
SK Ecoplant CEO Kyung-il Park said: "This partnership will establish the groundwork for us to offer green energy solutions in Ireland including our fuel cell operations."
Speaking to The Irish Times, Coveney conceded that the energy demands of datacenters can put a lot of pressure on the electricity grid and this was a source of "a lot of political debate" over the past several years.
In fact, it was reported last year that the total energy use by datacenters located in Ireland had surpassed the amount of electricity consumed by all the rural homes in the country, and a council in Dublin attempted to prohibit any further facilities from being built within its boundaries.
There are now said to be 82 datacenters operating in Ireland, which has a population of just over 5 million people, and all but five of those bit barns are located in the Dublin area.
It is not clear how large this new datacenter project is intended to be, or when it is expected to become operational. We asked both SK Ecoplant and Lumcloon for more details, and will update this article if we get answers.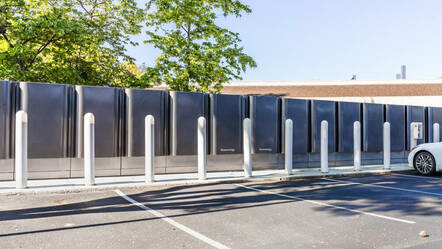 A bank of solid oxide fuel cells at Bloom's California HQ
Fuel cells provide power by converting the chemical energy of a fuel and an oxidizing agent into electricity. This is typically hydrogen as a fuel and oxygen as an oxidizer, but Coveney hinted the Castlelost datacenter may be powered initially by gas, moving to hydrogen in future.
There is already a great deal of interest in fuel cells to power IT infrastructure. Last year, Dutch operator NorthC said it was deploying a hydrogen fuel cell module as a backup power source to replace diesel generator sets.
Microsoft has also tested out hydrogen fuel cells as replacements for generators, while Equinix said it was trying out the technology as a potential primary power source in Singapore. Earlier this year, Amazon said it plans to switch some of its Oregon datacenters over to natural gas fuel cells as their primary energy supply.
Bloom Energy announced in August that it had installed the first phase of a 10 megawatt fuel cell deployment at Unimicron Technology in Taiwan, providing power for the circuit board maker's clean rooms and mission-critical operations. ®