Late Qualcomm cofounder teleports $200M into SETI to bankroll hunt for alien life
Someone hit the zero key one too many times? Not that anyone's complaining
Alien seekers at the SETI Institute have received an organizationally life-altering $200 million (£164 million) bequest from late Qualcomm cofounder Franklin Antonio, the institute confirmed Wednesday.
SETI, a non-profit that searches for extraterrestrial intelligence and performs other scientific work, has an annual operating budget that averages between just $25 and $30 million, SETI president and CEO Bill Diamond told The Register, meaning Antonio's gift is nearly ten times what the organization needs to operate for a year.
"Our intent is to invest the funds and treat it like an endowment to permanently fund various institute programs, including, but not limited to our SETI research," Diamond told us. 
SETI programs are only eligible for very limited federal funding, the Institute said, with most of its support coming from philanthropists and private donors like Antonio, who had worked with SETI for years prior to his death on May 13 last year at the age of 69.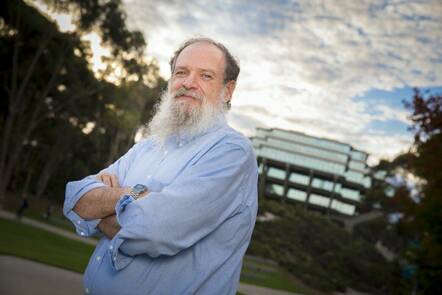 Late Qualcomm cofounder Franklin Antonio ... Source: UCSD Jacobs School of Engineering
"Franklin had been funding technology development and equipment upgrades to the [Allen Telescope Array] since about 2012 and he also funded scientists, engineers and other staff," Diamond said. "His contributions prior to his bequest were on the order of $15 million over the period from 2012 to his passing." Diamond told us that Antonio was also an active member of SETI's technical team and was a regular attendee at weekly meetings.
In addition to funding modernization work on the Allen Telescope Array, Antonio also helped fund the Laser SETI program that's working to deploy wide-field cameras at various observatories to look for laser pulses, which have been suggested as another technological signature of advanced alien life. 
"[Antonio] was intensely interested in applying advanced technologies to see if humans could find evidence of intelligent civilizations elsewhere in our galaxy," Diamond said.
SETI said the funds will be used to establish postdoctoral fellowships, enable it to expand with international collaborations, develop new educational initiatives, and support the development of new observational techniques and technologies. 
Franklin was Qualcomm employee #7 and "was personally involved in so many of Qualcomm's early technology breakthroughs [that] we would not be the company we are today without his contributions," current CEO Christiano Amon said when Antonio passed away last year.
The late physicist and engineer left behind a legacy of technological innovation that includes 378 granted and pending patents, and his philanthropic work wasn't limited to the search for alien life. Last month, the non-profit Summer Science Program announced Antonio had left behind another $200 million to help it grow the program for exceptional high school students, of which he was an alumnus.  
"We're confident that [Antonio's] legacy will inspire generations of STEM and business leaders to come," said Summer Science Program chair Michael McKay. ®