AWS staffer shows off the workplace that used to be a prison
Panopticon design gains new meaning for the all powerful cloud platform
With advent of the pandemic-induced work from home new normal, you may have thought office envy was a thing of the past. But an Amazon staffer seems keen to get it going again, setting social media alight with her guided tour of a prime AWS location — a one-hundred-year-old prison.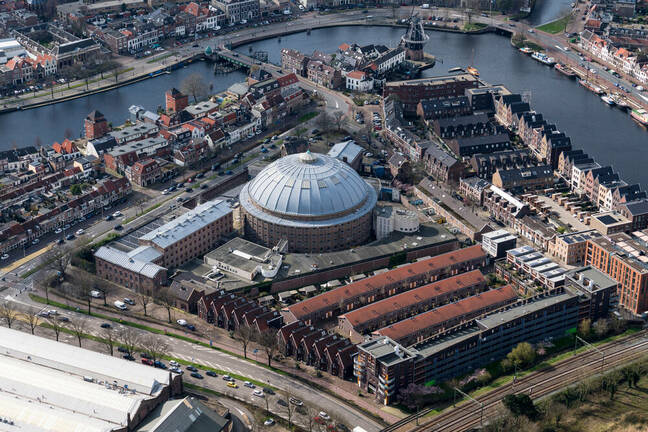 Aerial view of former prison Koepelgevangenis in Haarlem in the Netherlands. The Koepel was a jail that closed in 2016 and has been redeveloped into a "tech hub." The river Spaarne runs alongside it (click to enlarge)
With a dome structure not unlike Rome's Pantheon, the Koepelgevangenis in the Netherlands' Haarlem was designed as a prison along the panopticon principles, which means the guards can see the prisoners, but the prisoners don't know if they're being watched.
Unkind observers may conclude it is fitting then that Amazon takes residence in the Dutch national monument.
The structure was a working prison from when it opened in 1901 until 2016. After this, it was used to house Syrian refugees seeking asylum status in the Netherlands, before it was renovated and turned into offices.
AWS took up residency in 2022 in a bid to support local entrepreneurs and small businesses who also rented office space in the former incarceration units. Fintech lab Rabobank and tech services company Iron Mountain are also said to rent space in the unique building.
But it was the power of social media which brought the unusual business abode to a wider audience.
Posting on TikTok, an AWS solutions architect took lucky followers on a guided tour of the unusual office space.
The circular layout barely hides its former purpose, while the cell door peepholes left in situ are bound to tempt inmates, sorry, co-workers, to take a peek at their fellow platform laborers. The former cells have also been turned into meeting rooms, which raises the question, if you haven't been to a meeting which felt like doing a 20-year stretch, do you really work in tech?
Our intrepid social media node does, though, and her post was reposted on X, formerly known as Twitter, to give it a wider following. At least she had the self-awareness to note the choice of office space would get people talking about vendor lock-in. Far bet it for El Reg to add that even AWS still operates with a few bent screws. ®