Tool bag lost in space now tracked by garbage watchers
Is it a bird? Is it a plane? No, it's equipment drifting away
Updated A tool bag is orbiting Earth. No, this isn't an elaborate Elon Musk joke.
The bag entered orbit during a spacewalk conducted by NASA astronauts and International Space Station residents Jasmin Moghbeli and Loral O'Hara on November 1. During their almost seven-hour space stroll, during which they replaced bearings on a sun-tracking solar array and removed some communications equipment, NASA revealed the tool bag "was inadvertently lost," by one of the dynamic duo.
"Mission Control analyzed the bag's trajectory and determined that risk of recontacting the station is low and that the onboard crew and space station are safe with no action required," the space agency added.
Dr Meganne Christian, a member of the European Space Agency's 2022 astronaut class, shared a snippet of helmet camera footage from Moghbeli's space suit showing the bag slipping away and the futile scramble to retrieve it.
But the container – a "crew lock bag" in official NASA parlance – didn't just drift away out of human view.
Astrophysicist Jonathan McDowell of the Harvard Center for Astrophysics confirmed last week that the bag had been catalogued by the US Space Force as 58229/1998-067WC and was being tracked as a new orbital object.
The next day, Japanese ISS resident Satoshi Furukawa snapped a photo of the bag following day as the ISS passed over Japan.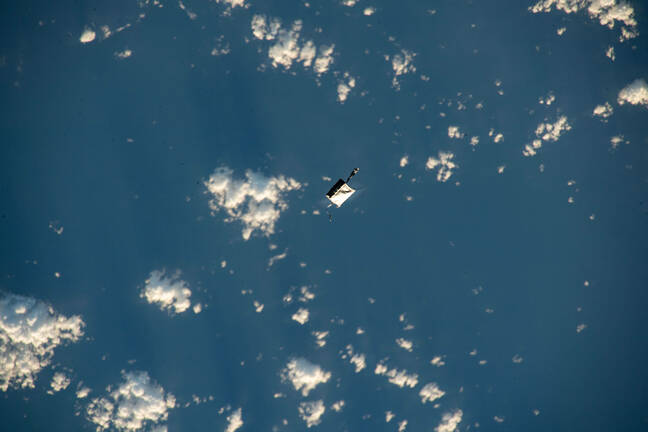 The lost crew lock bag - Click to enlarge. Source: NASA.
According to McDowell, the bag isn't in a stable orbit, and is expected to re-enter Earth's atmosphere in a few months, when it will burn up completely and won't be a risk to anyone on the ground.
For those interested in observing the bag before it burns up in Earth's atmosphere, that just might be possible with the proper equipment and timing.
The bag's brightness is magnitude six , or just at the edge of the eye's unaided visibility limit under perfect conditions. Binoculars would make spotting it far easier. Sat-spotters seeking a sighting of the space spanners should look a few minutes ahead of the ISS's expected path, which can be tracked online or with a recently launched mobile app.
Another bag bites the dust
Moghbeli and O'Hara were on their first spacewalks, but they need not be too worried about getting in trouble with NASA for losing the bag because they're not the first to do so.
Around fifteen years ago the same thing happened to astronaut Heide Stefanyshyn-Piper when she and fellow astronaut Steve Bowen were working on the ISS in November 2008.
According to NASA, the bag lost in 2008 contained "two grease guns, scrapers, several wipes and tethers and some tool caddies."
"We tend carry ancillary tools in [crew lock bags]," Dana Weigel, International Space Station deputy program manager for NASA said during a press conference convened to discuss last week's launch of commercial resupply mission to the ISS.
"This particular bag had some tethers and things like tool sockets, similar to common household sockets - these are fairly common items. It's unfortunate we lost them, but not a huge impact," Weigel said.
Replacements were sent to the ISS on last week's resupply mission, which docked at the ISS over the weekend, meaning they got there before the old bag even got a chance to fall out of the sky. ®
Updated to add
"During US spacewalk 89 conducted by NASA astronauts Jasmin Moghbeli and Lora O'Hara on Nov. 1, a crew lock bag, which is used to carry equipment and tools, inadvertently drifted away from the International Space Station. Inside the crew lock bag were items such as tethers, hardware handling aids, as well as a socket and a ratchet wrench," NASA told us in a statement.
"According to trajectory analysis, the bag is deorbiting and does not pose a risk of contacting the space station. It is estimated to remain in orbit until spring to mid-summer 2024."