Is America's chip blockade working against China? So far, our survey says: No
Middle Kingdom can get its hands on hardware now – and still make better stuff later
Kettle It's a transpacific Kettle episode.
We're joined by our Asia-Pacific editor Simon Sharwood for his perspective on the ongoing battle between America and China to stop the sale of advanced processors and chip manufacturing gear into the Middle Kingdom.
That's good timing seeing as the Asia-Pacific Economic Cooperation conference was held in San Francisco this week, during which US President Biden, China's President Xi Jinping, Canada's Prime Minister Justin Trudeau, South Korea's President Yoon Suk Yeol, and other national and business leaders met to decide how the world is run.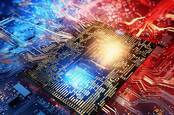 Hardware hacker: Walling off China from RISC-V ain't such a great idea, Mr President
READ MORE
The Trump and Biden administrations have each clamped down hard on the kinds of American components that can be sold into China over fears that the hardware, and the equipment to make it, could help support Chinese military and AI systems. The United States' allies – particularly Japan and the Netherlands – have been drafted to help enforce these export restrictions, and this month the US banned more types of chip sales.
Yet China still gets its hands on Western silicon and factory equipment, either from chip designers engineering their processors to just fit under the performance limits for export; or from grey markets or subsidiaries that can avoid US restrictions; or from smugglers and espionage... the list goes on. If Beijing wants some chips or fab machinery, it can get it.
Are these export controls just a short-term solution; what is the long-term outcome, that China develops advanced processors that compete or always a generation or two behind the West? Our vultures discussed the situation for this week's Kettle-cast.
You can replay our catch-up below – or listen in via your favorite podcast distributor: RSS and MP3, Apple, Amazon, Spotify, and Google.
Clockwise from the top left in the thumbnail we have Tobias Mann, Chris Williams, Simon Sharwood, and Iain Thomson. The show was produced and edited by Nicole Hemsoth Prickett with junior producer Mia Prickett (5), who agrees with those who think Simon talks funny.
You can find previous Kettle episodes on The Register right here. ®