Atlassian, the collaboration outfit responsible for inflicting Jira on the world, has announced a jump in revenues for the first quarter of fiscal 2019 and an equally eyewatering jump in losses.
A specialist in getting developers to collaborate through its Jira issue tracking and Confluence document tools, Atlassian snapped up OpsGenie last month in a deal worth $295m. It also launched Jira Ops in the same month to deal with responsiveness to IT incidents.
In what will be cold comfort to users reeling from price hikes to its server and cloud lines that took effect on 12 October, Atlassian announced (PDF) $267.3m in revenue for the quarter, a 37 per cent increase on a year ago. Operating loss was also down to $0.2m, compared to a $20.3m loss for the same quarter in 2018.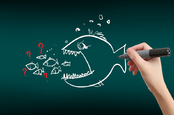 DevOps darling Atlassian gets into the monitoring business with OpsGenie gobble
READ MORE
There was, however, a hulking great net loss for the quarter in the form of £242.4m, quite a bit more than the $11.5m Atlassian lost for the same period in 2018. Atlassian put this down to marking the exchange feature on the company's exchangeable senior notes and the related capped calls to fair value. The net loss per diluted share came to $1.03 compared to $0.05 for the first quarter in fiscal 2018.
Atlassian added another 5,888 new customers, bringing the total to 131,684. The mix of perpetual to subscription-based users continued to move toward the latter model, as reported revenues from subscriptions hit $134m, a big jump from $86.4m in the previous year. Perpetual licence revenue climbed more sedately, going from $19.4m to $21.8m.
Atlassian reckons second quarter revenues will be in the region of $287m to $289m, but margins will be 6 per cent, with CFO James Beer pointing (PDF) to an increase in organic headcount and AWS investment plans hitting the bottom line. For the whole of fiscal year 2019, Atlassian expects total revenues of between $1,175m to $1,183m and operating margin to hover at 7 per cent on an IFRS basis.
The results have not impressed traders, and the company's shares had dropped over 8 per cent at time of writing. ®
Similar topics