But is it a laptop?
Paney expounded at great length about the "lapability" of the product, saying being able to use the Surface on a lap while travelling was key to bridging the gap between tablets and laptops. To that end, Microsoft has redesigned both the kickstand that holds the machine up and the Touch and Type Covers used.
The Surface's kickstand originally only locked out at a set angle, although this was extended to two positions with the second iteration. With the Pro 3, the kickstand extends from the body 150 degrees around and locks in any position to give the best screen view to the user.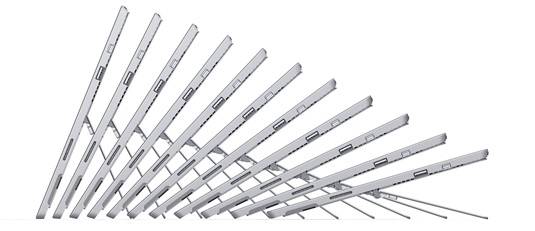 Not one, not two, but as many positions as you want
To steady the device on the lap, the typing covers now have a magnetic bar on the front that rolls up and locks the keyboard in place against the Pro 3's body to eliminate the wobble that comes with using it on an uneven surface. Panay also said that the cover's keys and touchpad had been redesigned to make them much more user-friendly.
Both of these are important steps, to be sure. But they both miss the crucial flaw in the Surface design – its lack of a firm hinge. To use the Surface and keyboard on the move, the kickstand has to be deployed, and that increases the overall horizontal length needed to use the device.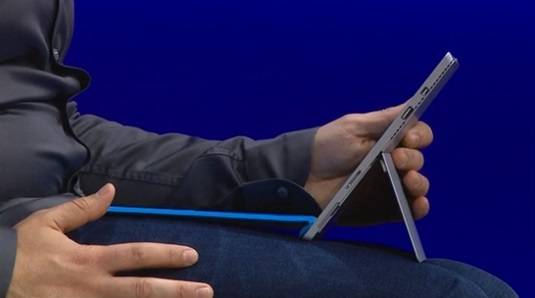 Try that with a respectable beer belly
Panay demonstrated this weakness inadvertently during his demo. He's of average build and put the Pro 3 on his knees; it fitted, but with the side effect of sticking the trackpad into his stomach – typing was possible but hardly comfortable. Nevertheless, he said he was confident the design worked.
"I'm super proud of Surface 3," he said. "I am sure that this is the tablet that can replace the laptop. I am sure, and I hope when you get your hands on it you will love it."
That could be soon, as all models of the Pro 3 go on sale on Wednesday. There's a Core i3 version with 64GB of storage and 4GB of RAM for $799. There are two Core i5 models; a 128GB version with 4GB of RAM for $999 and a 256GB build with 8GB of RAM for $1,299. Swap the Core i5 for a Core i7 in that high-end model and you'll pay $1,549, and there's a deluxe 512GB version with 8GB of RAM that will set you back a stonking $1,949. ®
Similar topics