Big audio dynamite?
This audio performance is courtesy of ICEpower, Bang & Olufsen's integrated amplification system, which offers an 11W amplifier, custom audio codec and those speakers. Audio tweaking above and beyond the standard Windows 7 media controls is provided by the Asus SonicMaster utility. This allows adjustment of vocal clarity, bass and surround sound with cute and responsive onscreen controls.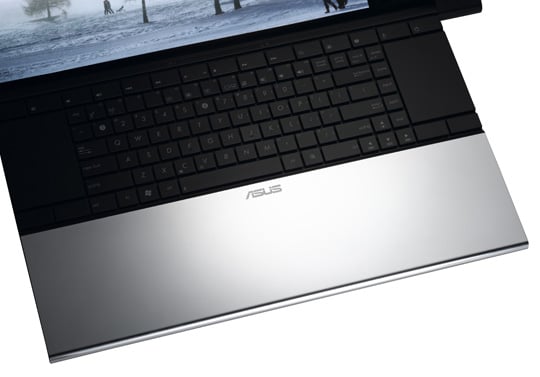 Dual trackpads surround the keyboard – might be good for deejays, but take some getting used to
Video quality is very good, thanks in part to the 1920 x 1080, Color-Shine display but also to the selection of screen modes such as vivid, home theatre, soft and the like. Using these, I could apply more faithful colours and deeper blacks to DVDs and Internet TV, which otherwise would be a bit lacking in punch. Once applied, viewing video became a largely enjoyable and seamless experience.
The NX90Jq has rather an overabundance of keys. One is assigned solely to rapid switching of Power4Gear modes. Others are dedicated to the screen display modes, media control, brightness and sound control, each with a HUD style screen display. These are useful, however, and the HUD animation is a nice touch. In addition, there's a range of combo function keys including sleep, screen off and a duplicate set of sound controls. .
I have to say, the side-situated dual trackpads on this model just don't work for me – not in normal laptop operation, at least. They offer gesture control, and I suppose the alternative pad and buttons could serve in dual handed mode (or if you're a DJ mixing virtual decks), but as a control method it just got annoying – very fast. I can see it's an attempt to break out of the laptop design orthodoxy, but I resorted to a mouse in the end.

Comprehensive interfacing includes USB 3.0, eSata and HDMI
An antenna port is situated next to the DC power point, with an FM radio antenna and coaxial TV adapter supplied with the NX90Jq. There's a HDMI port and a combo headphone/SPDIF output for connection to a hi-fi system. Thankfully, for such a media-centric device, the NX90Jq runs very quietly, which is surprising for such a big machine.