Hard case
A two metre drop onto a lino kitchen floor was also shrugged off. That said, I have read that a 1m drop onto concrete caused a screen to crack. As with all rugged devices, the exact angle of impact will always have a part to play in its survival.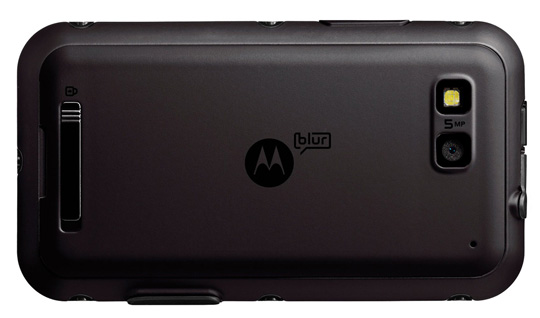 The back panel has to be levered into place to lock it down to seal it
The Defy's semi-tough credentials are advertised by seven small Torx screws that appear to help keep the two halves of the handset together. These may be as much for show as anything else – and I can see them gathering crud over time – but it's still a good looking and solid device. 
 As you can see from the images, the front is almost all screen apart from the four capacitive Android buttons below it. The textured, rubberised sides and back mean even sweaty palms and greasy fingers keep a firm grip, while also providing some extra impact absorption.
The version of Android in play here is the less than fresh v2.1 (Éclair) but Motorola says it has plans to upgrade the Defy to 2.2 in the admittedly slightly vague sounding "Q2". You can get that from the horse's mouth here. The disappointment of having to make do with 2.1 is lessened slightly by Motorola installing Flash Lite 3 but you still can't watch BBC's iPlayer or other video content in a web browser. A YouTube app is preloaded though, so you're not all out of the latest moving pictures.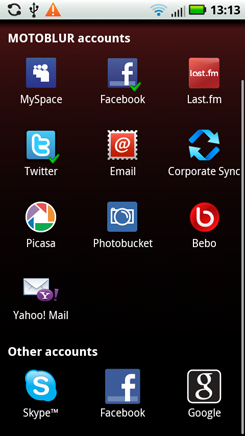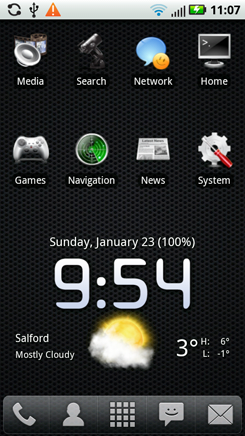 Motoblur accounts options and the Launcher Pro alternative
Pasted on top of Android you get Motorola's Motoblur social aggregation front end. I'm not a fan of having my phone book, Facebook and Twitter accounts tied together into a social Gordian Knot and I found the interface rather stodgy. Instead, I swapped it out for Launcher Pro, which is simpler, faster, more flexible and free. However, if you are a compulsive networker, Motoblur does a good if slow job of linking up your contacts and feeds.
Similar topics