More sci than fi
The dialogue might be o-v-e-r dramatic, but it's also factual. This isn't the sci-fi of David Tennant's loopy Dr Who, where scientific solutions comes from waving a sonic screwdriver around. Here, you get an education - so sit up at the back and pay attention! Quatermass and his team deduce the aliens are "probably" coming from one of the moons of Saturn "800 million miles away".
The asteroid launching the meteorites is 30,000 miles away. "That sounds like a lot, but in astronomical terms it's next door," we are informed. We learn that the asteroid launching the meteors is at "perigee" - the closest point in its orbit to Earth. Your knowledge of, and ability to use, these key facts will be tested in the playground tomorrow morning.
The core characters are tightly drawn. Quatermass' faithful assistant, Welsh maths wizard Dr Leo Pugh; public-school army officer Captain John Dillon, the boyfriend of Quatermass' daughter Pauline. As for Pauline, she is a Mrs Miniver in the making, prone to bouts of "silliness" but with a square jaw in the face of the enemy.
Bernard Quatermass is an energetic, silver haired, three-piece-tweed-suit-wearing man of science played by John Robinson. He is not the worn down, raincoat-wearing prof of two years ago, played by Reginald Tate. Our new Quatermass doesn't suffer fools gladly; he cuts down foppish newspaper columnists, complacent union men and boozy workers with the timeless: "Permit me to explain, I'm a scientist."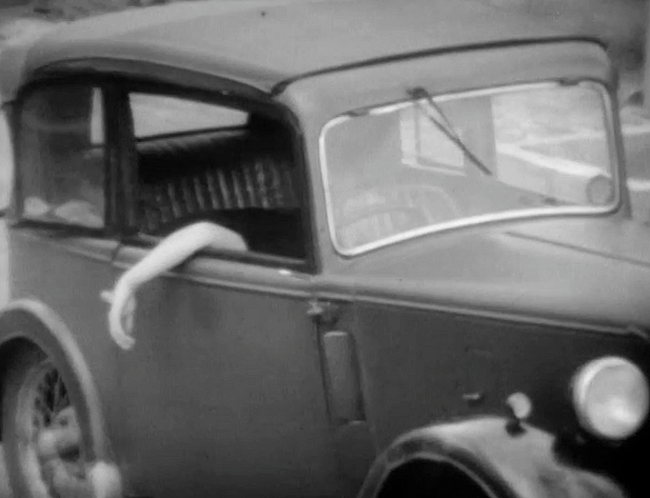 One of many striking images for a 1950s audience barely used to the BBC
However, it's Kneale's peripheral characters and stories that do more to shock as the drama of the "what if" is played out on the canvas of Britain and society. We have rioting workers. Initially drunk and dismissive of Quatermass in the pub when he tells them the purpose of the plant they've built, they soon turn.
It all starts in a suitably British fashion, with the labourers marching up to the plant chanting: "We demand to see the management, we demand to see them now!" But quickly they turn into an armed insurrection shot down by the plant's security guards, led by a flat-capped union firebrand called Paddy who wields an anti-tank grenade launcher.
Impossible, you say? Couldn't happen here? This is 1955, just two years after German workers rioted and were gunned down by Soviet troops in East Berlin. The rise of the worker is a reality in Britain at this time. Quatermass II was broadcast in October 1955 following a state of emergency that was declared in June as two of Britain's railway unions went on strike - not over money but over preserving separate pay scales. Trade union power was on the rise.
The guards at the aliens' industrial plant are mean faced and monosyllabic. They wear bulky uniforms and rounded helmets, making them look like German paratroopers from the Second World War. Their firearms sport a drum magazine and look a lot like a Thompson sub-machine gun. In a shot of the workers' riot worthy of Sergei Eisenstein (of Battleship Potemkin fame), one guard advances through curling smoke squarely towards the viewer sitting in their seat, firing his gun at them, coming out the screen.
Worse, these guards are humans – assimilated into the hive mind after being exposed to the meteorites. So these are humans shooting down other humans.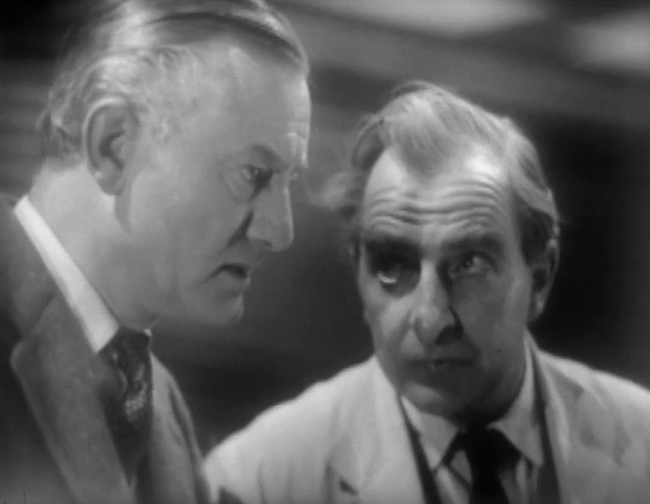 Don't get too friendly, chaps: Prof. Bernard Quatermass (left) with dependable yet doomed boffin pal Dr Leo Pugh
It's all a timely mediation on collaboration for a nation with the taste of World War II fresh in its mouth – and whose Channel Islands brothers fell under the Nazi jackboot.
This would have looked familiar, too: pubs and offices around the plant sporting posters warning against talking to strangers and to keep their work secret. Government propaganda posters during the war warned that loose lips sink ships – anyone watching in 1955 would have remembered that. The alien invaders have subverted this patriotic responsibility and quietly turned it against us.
In Quatermass II, it's not just humans who are assimilated; Britain is being transformed, too. The green and pleasant land of shop keepers and cricket greens is being bulldozed. The aliens' plant – in real life a Shell refinery in Essex, according to the Quatermass II credits – is a monument to steel and steam. The story says the plant was built on the site of a village bulldozed in just one night by the invaders.
The plant's builders – those rioting workers – have been housed in a new village near the plant, with straight streets and identical box-form houses. A Soviet factory town or a British new town? Concrete developments like Crawley in West Sussex were up and running by the time of Quatermass II thanks to a 1947 law introduced by the Labour government, committed to equality for all and a cradle-to-grave welfare state.
And the takeover is gradual. This is not a war, with clear battlefronts. It's an infiltration, with politicians and journalists assimilated, and where the police are either unwilling or ill-equipped to investigate stories of alien invasion. The takeover is global, too, as Quatermass realises. Sure, destroy the plant in Britain, but there are factories all over the world producing the aliens' toxic filth.