The Data Center Solutions unit of server maker Dell – which does bespoke server design and manufacturing on behalf of a couple of dozen hyperscale customers – has kicked out a new server that packs a dozen single-socket Xeon servers into a single 3U chassis.
This server chassis, named Viking, is based on a set of compact servers nicknamed Dragon and called sleds by Dell – instead of the more obvious longboats. These Dragon sleds are compact servers that mount vertically in the Viking chassis machines, just like blade servers do. But with blade servers, there is an integrated service processor for controlling all of the blades, which also plug into a midplane network for management and integrated switching to reach the outside world.
With the Viking servers – and their predecessor, the Fortuna chassis, which deploys a dozen baby servers using VIA Technologies' Nano processors in a 2U chassis – the idea is to share power supplies and fans across many server nodes. But there is no need for a high-end service processor or integrated networking because the assumption is that these sled servers are disposable and interchangeable and will be networked using top-of-rack and end-of-row switches.
In other words, you get all of the benefits of blade servers without so much of the high price. The sled servers have slightly less vendor lock-in, since you don't have to eat the vendor's switching and systems management options.

The Dell DCS Dragon server sled
With the Fortuna chassis, the VIA motherboards were so small and so cool there was lots of room in the chassis leftover. But with the Viking chassis, the server sleds take up all of the room available in the chassis and there is just enough space left to allow air to circulate around the sleds to keep them from melting. The VIA designs were interesting, inasmuch as Dell was adopting a non-Intel processor, but the Dragon blades are much more useful in that they use industrial-grade Xeon processors with considerably more oomph. (Now Dell needs to make a server that crams 64 or 128 VIA processors into a 2U server and really impress us...)
The Dragon sled server is based on Intel's 3420 chipset and has a single socket that can take a Xeon 3400 processor. Most of the Xeon 3400s are four-core, eight-threaded processors rated at 95 watts, with clock speeds ranging at between 2.4 GHz and 3.06 GHz. Intel also sells a 45 watt low-voltage part – the L3426 – that spins at 1.86 GHz, and a two-core version – the L3406 – that spins at a higher 2.26 GHz and burns at 30 watts.
The server module has had just about everything extraneous thing stripped from the motherboard. It has four DDR3 memory slots (two per channel), and wither 1.06 GHz or 1.33 GHz memory can be supported in the sled for a maximum of 16 GB. The sled has room for four 2.5-inch SATA hard disks, four 2.5-inch solid state disks, or two 3.5-inch SATA disks to be snapped onto it for local storage. Each sled also has a single mini-USB flash card slot for an embedded hypervisor to live on. The sled has two Intel Gigabit Ethernet ports, which mount on the front of the sled.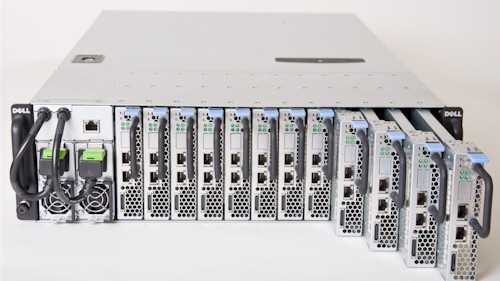 The Dell DCS Viking server chassis with a dozen sleds
The Viking server chassis can be equipped with eight or twelve of these sleds. You can only cram eight of the sleds using the Xeon 3400s rated at 95 watts into the current Viking chassis, but if you choose the cooler Xeon 3400s, then you can get a dozen sleds into the chassis. It would be interesting to see how many sleds and processors Dell could get into the Viking chassis using low-voltage Opteron 4100 processors from Advanced Micro Devices or perhaps a skinny Intel Core i5 or i7 notebook processor with a low-profile heat sink and low-profile memory.
Anyway, the chassis has two 1,100 watt hot plug power supplies, which feed all of the servers in the chassis as well as the three fans at the rear of the chassis. Dell reckons that these dozen servers would have a total of 48 muffin fans to cool them, and that shifting to three 120mm fans can cut the power dedicated to fans by 50 percent. Moreover, by having no wires or other components in the back end of the chassis and by having the unit accessible only from the front of the chassis, data center operators can run their hot aisles at a much higher temperature than they otherwise would have to using standard rack or blade servers.
For those customers who do want some sort of dedicated server-level management, Dell is using the Aspeed ARM-based graphics controllers on the system boards, which include a baseboard management controller function in this chip. The AST1100 chip does not have KVM over Internet, but the AST2050 does. The Viking box can also be equipped with an optional dedicated internal switch to manage the networking for the sleds in the chassis. This switch is integrated with the power supply, as you can see in this video demonstration of the chassis.
The Dragon sled servers and the Viking chassis will be available from Dell's DCS unit before the end of the month. You can't order these online like other PowerEdge servers. You have to do a special high-volume engagement with DCS so they can make their numbers. ®
Similar topics