Original URL: https://www.theregister.com/2006/08/18/google_tibet/
Google mislays Tibet
Richard Gere reportedly furious as black helicopters circle
Posted in Channel, 18th August 2006 14:14 GMT
We don't think Richard Gere is going to like this one bit: Google appears to have rather carelessly mislaid the whole of Tibet, the once independent state turned autonomous region of China.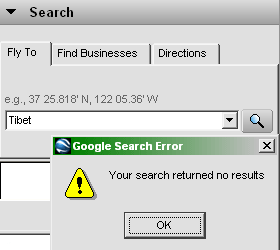 As a quick query on Google Earth confirms, Tibet is conspicuously absent from the search monolith's database, which comes as something of a surprise since even Beijing decided to call the place the Tibet Autonomous Region (TAR) after its military occupation of the country which began in 1949.
The rest, as we all know, is history. While the Tibet issue has become one of Hollywood A-listers' pet causes célèbres and an ongoing source of indignation to lovers of democracy worldwide, the Chinese have got on with the business of dragging the country kicking and screaming into the 21st century (the Chinese version) or systematically raping and pillaging a once beautiful land (according to the pro-Tibet lobby).
The key to China's development of Tibet is its military presence there. Opponents of the regime reckon there to be anything up to 500,000 People's Liberation Army (PLA) personnel in the region. Beijing says there are just three border guards and a small Yorkshire Terrier called Chairman Mao who acts as regimental mascot.
Well, we decided to go and have a look for ourselves - on Google Earth, naturally. And before we start our short tour of Tibet, be warned that before trying this at home, bear in mind that the place is bloody vast and background information is scarce and often wildly inaccurate, especially with regard to Chinese military facilities.
Another caveat: we're assuming for the purposes of our flight over Tibet that the country includes the Qinghai (Amdo to the Tibetans) province to its north-east, as claimed by some pro-Tibet forces: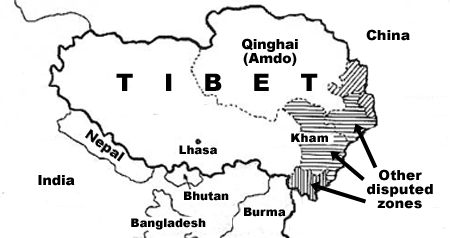 MAP
Following its occupation of Tibet, China quickly got busy building a transport infrastucture to better control and exploit its new acquisition. Among its impressive engineering feats is the Qinghai-Tibet Highway which traverses the Himalayan plateau...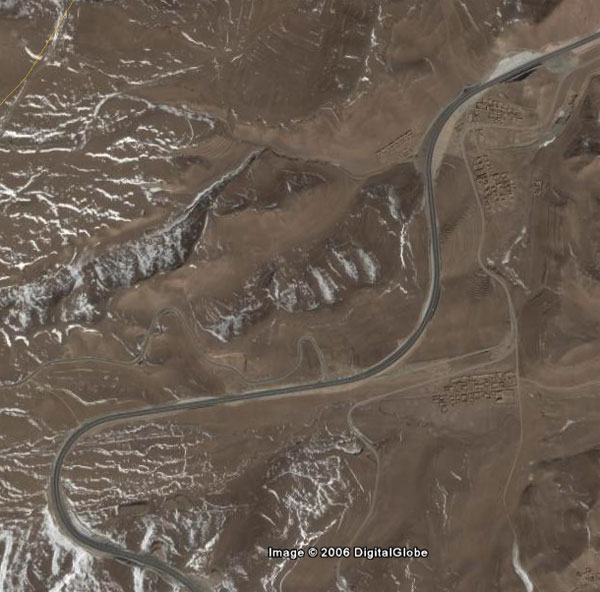 ...cutting through numerous anonymous villages...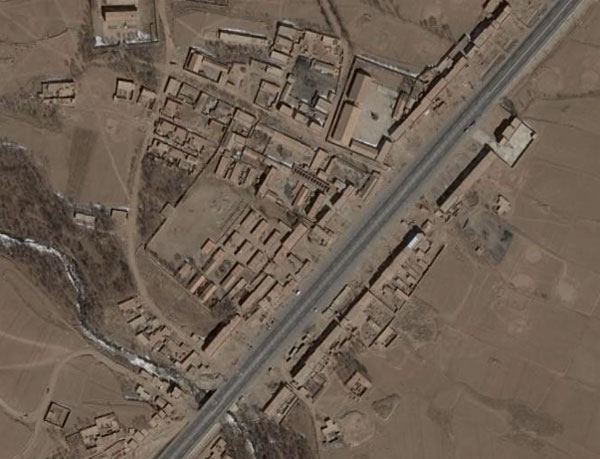 ...and the odd mountain: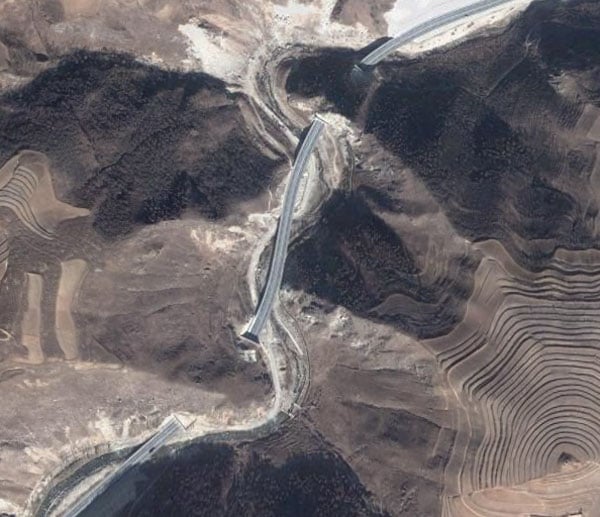 And when you feel like getting out and stretching your legs, try what may be the world's most elevated drive-thru McDonald's:
Sadly, we think burger, fries and a shake may be off the menu here, unless the People's Liberation Army has embraced the free market economy and added a fast food franchise to its security checkpoint operation.
Not content with simply tarmacking their way across Tibet, the Chinese then decided it would be an excellent thing to have a railway linking Xining in Qinghai to Lhasa, at a stroke providing rail links from all of China's major cities direct to the Tibetan Capital. Here's the Qinghai-Tibet Railway at Amdo: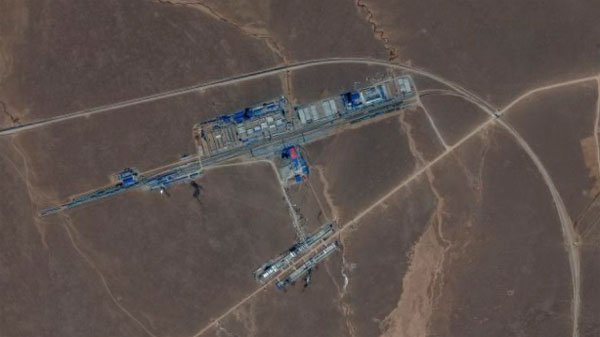 A little further south we have this nice view of a suitably long train on what has been declared the "world's highest railway":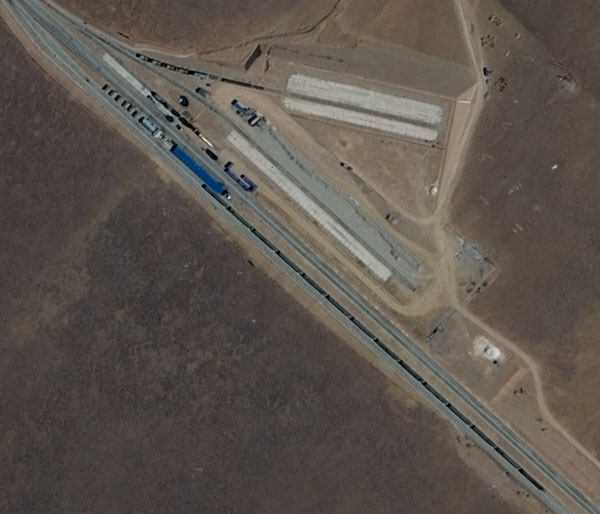 The Qinghai-Tibet Railway boasts an extension of 1,972km between Xining and Lhasa - much of it at an altitude of more than 4,000 metres (rising to a record-breaking 5,072 metres at the Tanggula Pass) - 675 bridges, the 3,345 metre-long Yangbajing tunnel and the showcase Lhasa River Bridge (official photos of its completion in May 2005 here):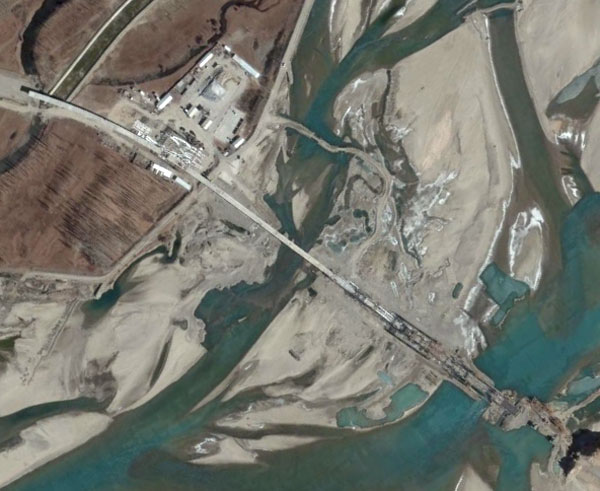 The completed line was inaugurated on 1 July 2006 to much fanfaring from the Chinese and much protesting from tree-huggers concerned at its effect on the environment. Pro-Tibetan groups, meanwhile, cite it as another example of an infrastructure aimed at more efficient exploitation and control of Tibet.
China's military control over Tibet has, until recently, if the black helicopter brigade to be believed, been directed from Chengdu in China, which boasts a nice airbase for the viewing pleasure of the planespotters among you: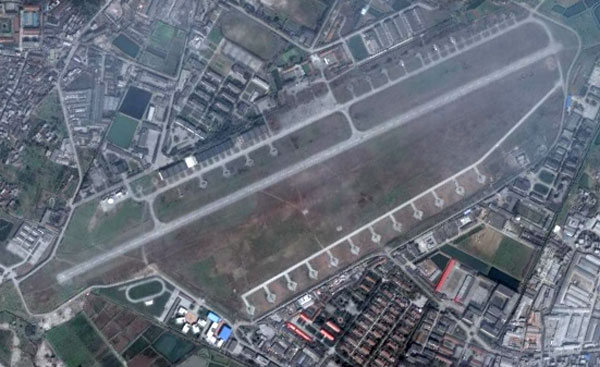 The good news is: they have plenty of helicopters down at Chengdu; the bad news is that they don't appear to be the now-obligatory black: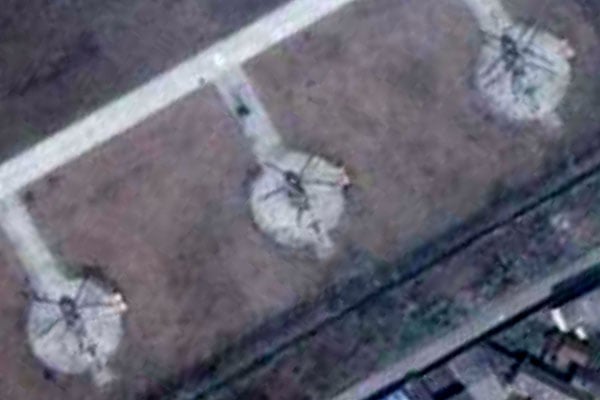 Chengdu may now, however, have handed over command of the "Tibet Military District" to a new facility located somewhere on the road between Lhasa and its airport, seen here, at Gongkar: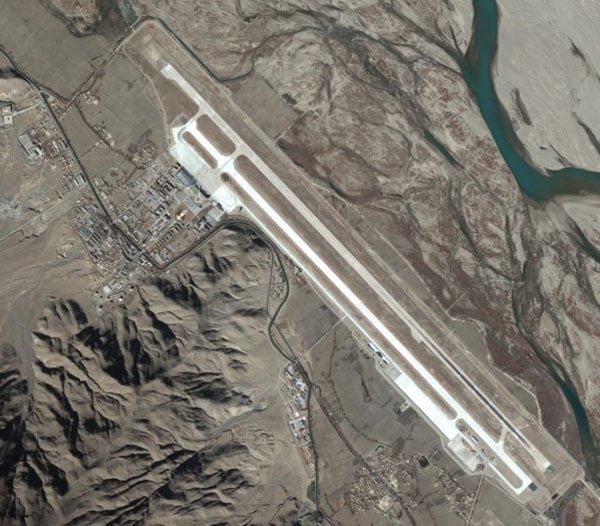 The reason we're showing you this pretty picture rather than one of the rumoured 1 kilometre-long military base with - if the reports are correct, stacks of three-storey buildings and underground bunkers - is that we can't find any trace of it.
Likewise, close scrutiny of Chamdo in the east of Tibet - alleged to house a People's Liberation Army force of note - failed to turn up any conclusive evidence (due to the place unfortunately lying astride a stitch between high and low-res images). Mind you, we did discover that they like their football over there: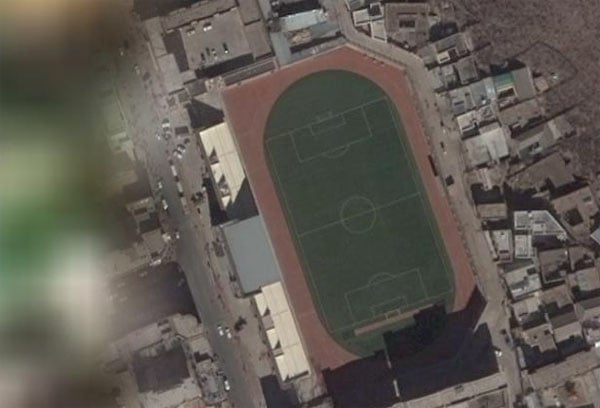 On the other hand, head south a bit for this collection of installations: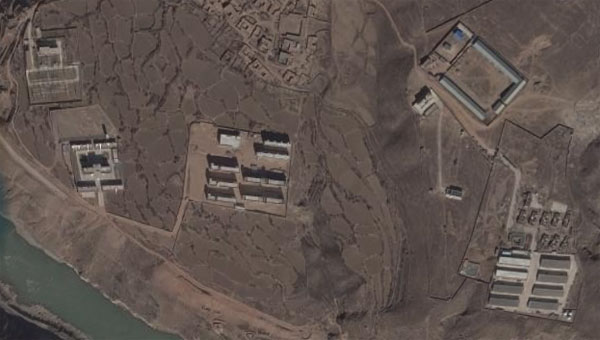 Hmmm, we'll leave it you to decide just how PLA they might be.
Anyone getting that "aw shucks, where are the black helcopters?" sinking feeling is asked at this point to bear with us. Or rather, accompany us down to Shigatsi - also reputed to have a large PLA base. And, lo and behold, even though the place is lo-res, there's no hiding a 5km airstrip: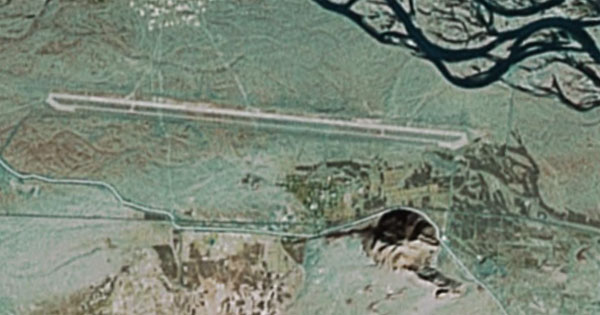 Crikey. Shigatsi's around 160km westish of Lhasa and a short airhop from Bhutan and Nepal. Strategically placed? Looks like it. It's a bit further from our final destination, though (1,300km, more or less). Welcome to Lake Kokonor, way up there in Qinghai: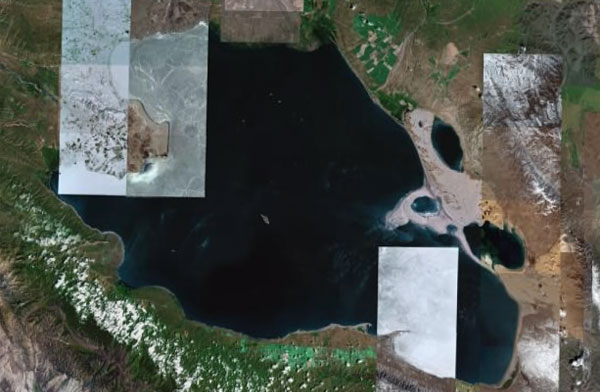 Lovely. Kokonor is China's (or Tibet's, if you will) largest salt-water lake, is considered sacred by the locals, and is an annual stopover point for thousands of migratory birds. It's also surrounded by a whole cadre of Chinese military installations, such as this one...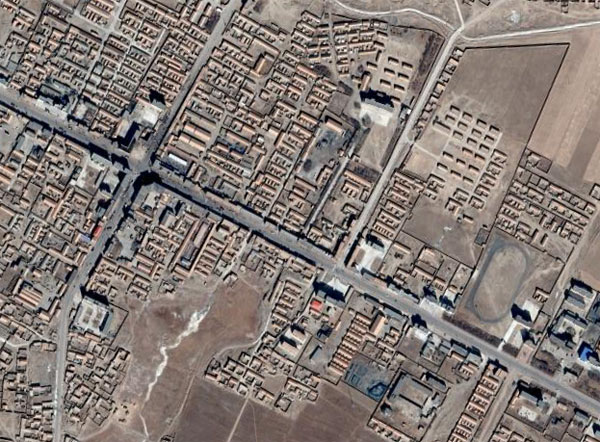 ...and this mystery assemblage of buildings: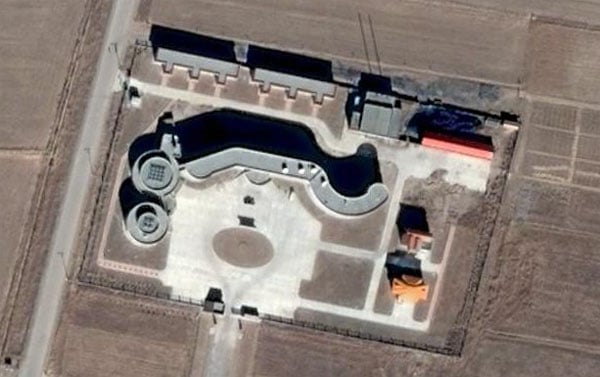 In fact, Lake Kokonor is pretty well China's black ops central, if the intelligence is to be believed. Beijing is reckoned to have nuclear missiles sited around the lake (have a look if you like - they're elusive blighters) and uses the area to conduct various military tests - many of them nuclear.
It'll come as no surprise that much of the rumours about what goes on at Lake Kokonor are pretty well impossible to prove. We can, however, rather satisfyingly confirm that the area hosts China's most secret nuclear research facility - the Northwest Nuclear Weapons Research & Design Academy, aka the "Ninth Academy":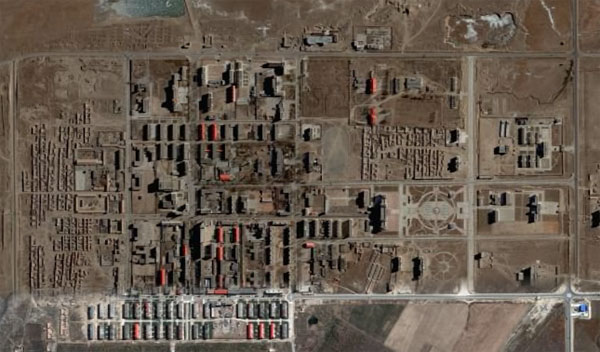 Construction of the Ninth Academy - so named because it was under the jurisdiction of the Ninth Bureau - began in 1958. China's first atomic and hydrogen bombs were developed there and it was a major centre of nuclear weapons research. We say was, because it was reportedly slated for closure in 1987 to become the seat of the snappily-titled "Haibei Zang Nationality Autonomous Prefecture Government of Qinghai Province".
That may or may not be the case. Others claim it is still a nucleus of secret weapons research, including home-grown cruise missiles which can be tested on the conveniently-close Lake Kokonor. Environmentalists, meanwhile, continue to fret over the local effects of radiation from dumped nuclear material from the Bureau.
And this rather tasty conspiracy theory magnet leads us neatly back to our original black-helicopter-scrambling poser: why has Google chosen to cede Tibet to China? We'll leave that to you lot to decide, but as the Dalai Lama never said: "I for one welcome our Chinese overlords". ®