Original URL: https://www.theregister.com/2007/06/22/atlantis_touches_down/
Atlantis touches down in California
Safely back after two-week mission
Posted in Science, 22nd June 2007 21:13 GMT
Brief The space shuttle Atlantis touched down at Edwards Air Force Base in California at 15:49 local time (19:49 GMT) today after bad weather forced a diversion from the planned landing at Florida's Kennedy Space Center.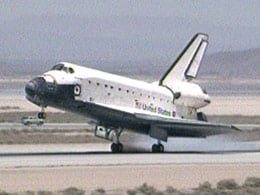 The safe homecoming ended a two-week mission to the ISS, and a return to Mother Earth for Sunita Williams, who'd set a woman-in-space endurance record of 195 days.
Atlantis's jaunt was marked by an ISS computer crash which took out the station's guidance system and environmental controls. While the computers were down, Atlantis used its thrusters to provide attitude control.
Despite the scare, the Atlantis mission successfully deployed new solar arrays for the ISS, and the cantankerous IT has now been brought back into line.
Full details of the touch-down are available from NASA here. ®