Original URL: https://www.theregister.com/2007/06/22/builder_droid_bot_crack/
Japanese firm exhibits droid construction worker
Features 'cantilevered crotch joint', potential for bot-crack in future
Posted in Channel, 22nd June 2007 13:49 GMT
Japanese developers have produced a robot intended for manual labouring, which they reckon will be ready to sell to the construction industry by 2010.
In a press event yesterday, the new HRP-3 Promet Mk II from Kawada Industries walked on a slippery floor, shrugged off a drenching under a shower and "used a screwdriver just as a human would."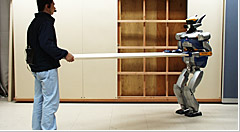 Give me the plank, human.
The somewhat Cylon-like Promet-II is packed with advanced features, according to Kawada. Its articulated limbs and joints offer 30 degrees of freedom, and it has a "highly compact electrical system" which "allows it to forgo the commonly used 'backpack' used on other humanoid robots".
Perhaps best of all, the Promet-II's "cantilevered crotch joint" permits operations in "a confined area."
"We have made a leap towards creating a humanoid that works in a real environment," according to a joint statement from Kawada, Kawasaki Heavy Industries and the National Institute of Advanced Industrial Science and Technology.
Takakatsu Isozumi, Promet-II project manager, said that Kawada aims to sell droid labourers to construction contractors by 2010. An untiring golem style machine slave could be yours for just 15 million yen ($120k/£60k).
There was no word on the droid's ability to whistle or shout jocular sexual commentary at passing human females or perhaps receptionist-bots, diggers, cement mixers etc. The back of the Promet's "cantilevered crotch joint" certainly doesn't show the traditional inch or two of sweaty cleavage customarily flaunted by the true construction professional.
In what could be a flash of either genius or insanity, Kawada says on the product page that it intends to release a Promet-II API to the public. Obviously this could mean talented developers teaching the droids to do useful tasks such as cooking pies, building walls, mixing cocktails etc.
It could also mean a plague of hacked construction bots running amok on the Japanese building sites of the next decade.
More from Yahoo" News and AFP here. ®