Original URL: https://www.theregister.com/2007/11/26/always_on/
The mobile internet - always on our mind
It's the way of the future. Really.
Posted in Networks, 26th November 2007 10:02 GMT
Reg Technology Panel In the technology polls we've been running over recent weeks, we've been looking at the near-future of mobility, in terms of what configurations mobile users would find most beneficial (communications hub, anyone?) and what improvements they feel would make the most difference to their mobile experience (think: battery life and flat-rate access).
All of this begs the question – will it make any difference? If we were armed with devices that gave us constant connectivity with the wider internet, would it really make any difference to how we lived and worked?
The answer is a resounding "yes", according to our merry band of Reg pollsters. As can be seen from the graph, less than 15 per cent saw this as a negative proposition. Indeed, and more importantly, over half of you believe that always-on mobile internet access would become fundamental to how you worked.

Phew. That's quite a finding, not least because of the potential for Doctor Who plotlines. Once more we need to stress the self-selecting nature of web polls – in this case, for example, it's likely that respondents will already have an interest in mobile technologies. And indeed, if we drill down in the data, we can see that respondents with better kit, are more likely to answer "fundamental" than those who just get by.
Even given this skew however, we know from previous iterations of the research that only about 18 per cent consider themselves as mobile power users. The delta between the two figures suggests a latent demand for full-fat mobile internet access, whenever and wherever. Once bitten by always-on mobile, forever prepared to pay the monthly charges, as it were.
This is not such a glib comment... well, it is, but at its heart is a serious point. What's holding back mobile internet access is not just availability and accessibility, but also mobile users need the right kinds of tariff structures and fair use policies to fully take advantage of always-on according to their own needs.
And what are these needs exactly? The chart below is quite telling, as it shows what mobile facilities we find most useful now, compared to what facilities we would find useful in the "ideal" environment.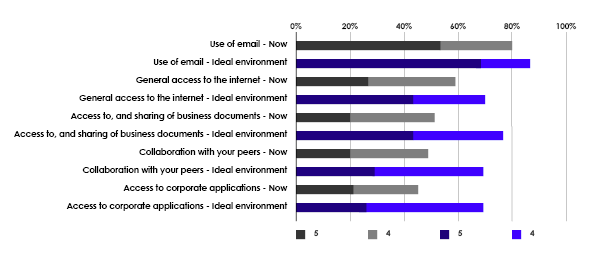 No surprise that email will continue to reign supreme as top mobile tool. What's interesting about the other functions shown in the chart, is that they move up from varying levels of importance, to a general agreement of usefulness – they all hit the 70 per cent mark, plus or minus five per cent. From this we can surmise that mobile users see the ideal environment for all their needs; unlike today, they will be able to pick the right tool for the job rather than having a selection forced upon them due to inadequacies in the current setup.
So, will we all be walking around with internet-enabled sunglasses and fingertip microkeyboards in a few years time? Difficult to say – but then, who would have thought we'd see people talking into thin air or porting saucer-sized Bluetooth headsets.
Sadly, only about 10 per cent of our board of respondents believe they're likely to see any major upgrades to their own kit over the next year, so we're probably talking more about evolution than revolution. When technology passes the always-on threshold, however, you can expect people to use it with impunity. ®