Original URL: https://www.theregister.com/2007/12/06/wikipedia_and_overstock/
Wikipedia black helicopters circle Utah's Traverse Mountain
SlimVirgin, naked short selling, and the end of Web 2.0
Posted in Legal, 6th December 2007 21:35 GMT
Exclusive "We aren't democratic." That's how Wikipedia founder Jimmy "Jimbo" Wales described his famously-collaborative online encyclopedia in a recent puff piece from The New York Times Magazine. "The core community appreciates when someone is knowledgeable," he said, "and thinks some people are idiots and shouldn't be writing."
This is true. Despite its popular reputation as a Web 2.0 wonderland, Wikipedia is not a democracy. But the totalitarian attitudes of the site's ruling clique go much further than Jimbo cares to acknowledge.
In early September, the Wikipedia inner circle banned edits from 1,000 homes and one massive online retailer in an attempt to suppress the voice of one man.
His name is Judd Bagley, and when the ban came down, he hadn't edited Wikipedia in over a year. He was merely writing about the site, from his own domain. The Wikipedia elite blacklisted Judd Bagley because he accused them of using their powers to hijack reality.
Talk of Wikipedia admins trying to seize "the truth" may sound familiar. Famously, comedian Stephen Colbert has poked more than a few holes in the site's commitment to democratic consensus, making fun of its efforts to clamp down on edits deemed less than factual. And the web is still abuzz over the secret mailing list used by top administrators to silence inconvenient voices.
But what happens when, say, the Wikipedia elite decides to take a topic as weighty as the health of US financial markets under its control without informing the public of its decision?
How far will Wikipedia's arbiters of truth go? Come with us down the rabbit hole.
One thousand innocent bystanders
One sleepy evening this October, Cory Hogan stumbled onto Wikipedia while trawling the web for information on US Vice President Dick Cheney. He read the site's extensive screed on the curmudgeonly veep, and before he knew it, he was inclined to contribute his own thoughts to the discussion. But when he clicked on the "edit this page" tab, he was told he wasn't allowed.
A rather menacing message filled his web browser, announcing that Wikipedia edits were forbidden from his IP address. His address, the message said, was a favorite "open proxy" of Judd Bagley and Overstock.com.

Wikipedia bans Traverse Mountain, Utah
Cory Hogan shares his IP range with about 1,000 other homes in Traverse Mountain, Utah, a neighborhood twenty miles south of Salt Lake City, and one of those homes belongs to Judd Bagley. The two men live within two blocks of each other, and they're members of the same church.
When that message turned up on Wikipedia, Hogan's first thought was that Bagley was some sort of shady political henchman for the Vice President of the United States. But the truth is far stranger.
That Traverse Mountain IP address is not an open proxy. It would seem that the address was banned because Judd Bagley has accused Wikipedia's uber-administrators of skewing the contents of four online articles. Yes, just four. But those four articles may sway the fate of billions of dollars spilling through America's stock markets.
When short selling gets naked
Judd Bagley is the head of communications at Overstock.com, the web clearance house based in Salt Lake City, and his boss is the irrepressible Patrick Byrne. Since early 2005, Byrne has waged a very public crusade against a Wall Street trick known as naked short selling. This controversial campaign came to a head in February when Overstock filed a $3.48bn lawsuit against 12 New York brokerage firms, alleging a "massive, illegal stock market manipulation scheme."
For those of you who slept through your school lessons, a short sale is a way of making money when the price of a stock goes down. Anticipating a price drop, you borrow shares from someone else and promptly sell them off. Then, once that drop kicks in, you buy the shares back and return them to the original owner.
A naked short sale works much the same way – except you don't really borrow the shares. Three days after the sale, when it's time to actually deliver shares to the buyer, you fail to do so. Naked shorting isn't always illegal under Securities and Exchange Commission rules, but it is if you're attempting to manipulate stock prices. And Patrick Byrne is sure that such manipulation occurs on a grand scale.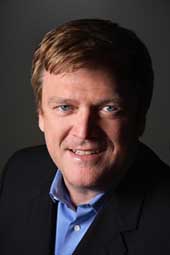 Patrick Byrne
Using this scheme, Byrne claims, nefarious Wall Streeters can eventually drive entire companies out of business. "You can destroy these companies, and when that happens, you don't have to pay the IOUs off," he says. "It's basically a system for being a serial killer of small companies."
In March, Bloomberg Television aired a mini-documentary on naked shorting, and Byrne's views were prominently featured. But for the most part, the mainstream press has painted the Overstock CEO as a raving madman.
"The New York Post ran a picture of me with UFOs coming out of my head," he says. "And CNBC became the I-hate-Patrick-Byrne channel." In fact, he's received much the same treatment from The Register.
One of his most vociferous - and unrelenting - critics is a Forbes.com columnist, book author, and former BusinessWeek reporter named Gary Weiss. If you visit Weiss's blog, you'll see that he spends much of his bandwidth badmouthing Byrne, Overstock.com, and its crusade against naked shorting.
Enter Wikipedia
In late 2005, before he was officially hired by Overstock, Judd Bagley joined Patrick Byrne's crusade. He was working as an online journalist at the time, and that November, he interviewed Byrne for a website he was running called Businessjive.com.
"I started doing a podcast series interviewing entrepreneurial figures," Bagley says, "and Patrick was the first person I approached."
During the interview, naked shorting was discussed, and Bagley soon agreed to host a PowerPoint presentation that Byrne had put together detailing his views on the subject. "The information he gave me [about naked short selling] sounded kinda implausible," Bagley explains. "But the journalist in me started digging a little bit to learn more about this thing, and I managed to bump into all the things he predicted I would see."
A few days later, on January 28, 2006, while checking his site's server logs, Bagley noticed that at least one person had accessed this presentation by way of Wikipedia. Visiting the online encyclopedia for the first time, he found that someone had linked to Businessjive from Wikipedia's article on naked shorting - and that someone else had removed the link.
Bagley soon discovered that this person - identified only by the IP address 70.23.85.112 - had made multiple edits to Wikipedia's naked shorting article, and in his opinion, these edits were patently biased. He believed that someone was preventing the article from telling the whole story.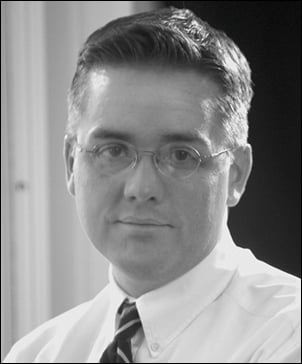 Judd Bagley
"It didn't take long to realize that this was a part of the 'anybody can edit' nature of Wikipedia, which I recalled having heard about," Bagley explains. "A little digging revealed that the user...who removed the links to my site did so as part of a rather sweeping series of edits that greatly skewed the article against what I had learned to be the truth."
Bagley restored the link to Businessjive. A few hours later, the same person removed it. So Bagley restored it again. And it was removed again.
Clearly, someone didn't want Wikipedia referencing Patrick Byrne's rather extensive PowerPoint presentation on naked shorting. So Bagley decided to figure out who was doing this. And why.
SlimWeissGaryVirgin
After digging for six months, Bagley decided that his Wikipedia nemesis was none other than Gary Weiss. He was sure the 70.23.85.112 IP address belonged to Weiss, and he was sure that Weiss later used a Wikipedia account called "Mantanmoreland" to control not only the encyclopedia's naked shorting article, but three others as well: the Overstock.com article, the Patrick Byrne article, and the entry on Gary Weiss himself.
The Mantanmoreland account was created just after Bagley dueled with that 70.23.85.112 IP address. The account's first act was to edit the naked shorting article, and it later created the article on Gary Weiss.
"Gary is deeply conflicted," Bagley insists. "He controls the article about himself, and he controls articles dedicated to things he is the avowed enemy of."
Weiss vehemently denies these charges. In fact, he told us that he's never edited Wikipedia. "I really find it deplorable that you're repeating all these crazy charges," he said, "and would appreciate it if you'd leave my name out of the article entirely."
Nonetheless, Bagley felt he had the evidence to prove his claims, and he decided to bring it to the attention of Wikipedia's top administrators.
His first attempt at this was ill-advised. Using a Wikipedia account called WordBomb, he posted a reference to a lawsuit brought against Weiss. "On July 7, 2006, I decided to alert the Wikipedia community to Weiss's activities," Bagley says. "I did this by adding some true but unflattering details to the Gary Weiss article, expecting Mantanmoreland to object and escalate the matter to the official Wikipedia dispute resolution process, resulting in Mantanmoreland's banning from Wikipedia."
But that didn't happen. Instead, a Wikipedia administrator known only as SlimVirgin swooped in and immediately banned Bagley's account.
Bagley goes to school
After some additional back and forth on the site, Bagley got smart. Or so he thought. He went straight to SlimVirgin with evidence he'd collected.
In this case, he was trying to show that the person behind Mantanmoreland was "sock-puppeting" - pretending to be more than one person - in an effort to promote his own views. "I had links to diffs - the basic units of Wikipedia that show the difference from one edit and the next," Bagleys explains. "Basically, these diffs showed Mantanmoreland having conversations with himself on the site. I figured that was enough to get Mantamoreland booted."
SlimVirgin soon wrote back, saying that the evidence meant nothing. But Bagley questioned whether she even looked at it. So he sent her a few more files, and this time, he included a small script - spyware, in other words - that would ping his server whenever the files were opened.
A few minutes later, he got the ping. But according to Bagley, it didn't come from SlimVirgin. According to Bagley, it came from Weiss. "All I wanted was to know SlimVirgin has opened my files," Bagley says. "Well, it did get opened, but it was opened by Weiss."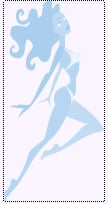 SlimVirgin (as she appears on her Wikipedia page)
AntiSocialMedia.net
"That's the day I knew something rotten was afoot at Wikipedia," Bagley says. He quit trying to edit the encyclopedia, but he spent the next year collecting additional evidence against Weiss and Wikipedia and posting it to a new site called AntiSocialMedia.net.
More than twelve months later, he acquired a Wikipedia database dump - from the site itself - that he saw as proof that SlimVirgin and another administrator called "JayJG" were misusing their authority.
On August 22, Bagley posted information from this database dump to AntiSocialMedia.net. And two weeks later, after other Wikipedia users accused the site's elite of undemocratic behavior, Bagley's IP range and the range used by Overstock.com were banned by Wikipedia's UK press officer, David Gerard.
Overstock employs about 800 people, and since Bagley uses a shared IP range, run by an ISP called Broadweave, Gerard also ended up banning about 1,000 additional homes in Traverse Mountain, Utah.
The BADSITES initiative
Days later, the Wikipedia Arbitration Committee began discussing an effort to ban the mention of certain "BADSITES" on the encyclopedia. And AntiSocialMedia.net was at the top of the list.
"Sites such as Mr. Bagley's - sites that strongly criticize members of Wikipedia - were being associated with stalking and harassing and practically everything up to threatened rape," says Dan Tobias, a regular Wikipedia contributor based in Florida. "People were greatly exaggerating what the danger was from these sites, and even going so far as to insist these sites were so evil that shouldn't be able to link to them under any context, for any purpose, anywhere."
Tobias refuses to take sides in the Bagley-Wikipedia squabble, but he's adamant this initiative was ill advised. "I don't want to be portrayed as being on Bagley's side. I'm just in favor of being fair and balanced with everybody," Tobias says. "I very strongly dislike censorship and any attempt to control what people can say and what they can read."
"I thought this whole thing was vastly overblown and unfair," he adds, "especially on a site that's devoted to the free exchange of information and neutral point of view and considering all view points. It just made no sense."
Meanwhile, Bagley is sure that this initiative was launched simply because Wikipedia's inner circle didn't want anyone to see the evidence he'd posted against SlimVirgin. "They were trying to make sure that if I published more evidence, no one would ever hear about it - because no one could link to it from Wikipedia."
Bagley is not alone
In the end, thanks to objections from Tobias and others, the Wikipedia Arbitration Committee decided against an official ban on AnitSocialMedia.net and other BADSITES. But it would seem that an unofficial ban is very much in place.
Another regular Wikipedia writer, Charles Ainsworth, confirms that anyone outside the site's inner circle is not allowed to edit the articles on Overstock.com, Patrick Byrne, naked shorting, or Weiss.
"If you compare Wikipedia's Byrne article to the Weiss article, the difference is huge," says Ainsworth, an American editor living in Japan. "Weiss and his friends have added tons of negative information to the Byrne article. They really don't like the guy. But the Weiss article? It looks like it came off the jacket of one of his books."
Ainsworth has contributed more featured articles to Wikipedia than all but six other writers. But in October, when he attempted to edit the Weiss article, he was immediately banned from the site for 24 hours by an administrator known as "Durova" - the administrator at the heart of the secret mailing list scandal.
And Durova's ban was seconded by none other than Jimmy Wales.
"Durova [has] my full support here. No nonsense, zero tolerance, shoot on sight," Wales wrote on the site. "No kidding, this has gone on long enough."
Wikipedia responds
What does the inner circle say about all of this? When we contacted SlimVirgin via email and asked for a phone interview, she referred us to UK press officer David Gerard.
And when we asked David Gerard why he banned Bagley and Overstock from the site, he told us he'd banned Overstock's range because the company was guilty of "abuse of the wiki". Via email, he indicated that someone else had banned Bagley's IP range.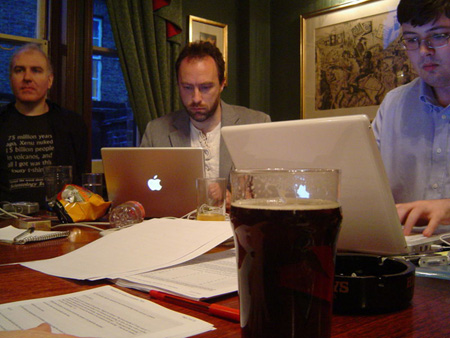 David Gerard (left) and Wikipedia founder Jimmy Wales (center), in a photo (taken by Gordon Joly) from David Gerard's
Wikipedia page, reproduced under the Creative Commons Attribution 2.0 license
He then pointed us to a blog post where he said we would find evidence of Overstock's abuses. This blog post explained that Overstock was banned because someone was flooding Wikipedia with references to five urls assigned to an online travel company called Ski West. In 2005, Overstock.com purchased Ski West, but it sold the company in the spring of this year, well before Overstock.com's IP range was banned from Wikipedia.
When we first corresponded with Weiss for this story, he pointed us to the same blog post.
Meanwhile, posts to Wikipedia show that David Gerard has a personal beef with Bagley. "Bagley's case is that he's been stalking people with quite some viciousness for commercial gain. He even got writeups in the NYT and NY Post, so I can state he's an odious stalking arsehole with Reliable Sources!" Gerard writes. "I urge you to start reading up - he's really at a new and exciting level of odiousness." Elsewhere he adds: "ps: Fuck off, Bagley."
When we responded to Gerard's email, asking for more specifics on the banning of these IP ranges and requesting a phone interview, he did not reply.
Connecting the dots
So what exactly is going on here?
Without a doubt, Judd Bagley has seriously angered the powers that be at Wikipedia. He's even received an email from Jimbo Wales saying: "Your feigned innocence is not very endearing" and "It would be helpful if you could come to terms with the fact that you have behaved very very badly over a long period of time."
There's no denying that Judd Bagley is, shall we say, overzealous when it comes to Wikipedia. We've witnessed his fervor first hand. In this respect, he's a lot like our favorite CEO, Patrick Byrne. But overzealousness is hardly a reason to ban Wikipedia edits from 1,000 homes and an entire dotcom.
Wikipedia's David Gerard says that Judd Bagley and Overstock were banned because they were "spamming" - i.e. posting self-serving messages to the site. But Bagley hasn't edited Wikipedia in over a year, and any spamming from former Overstock subsidiary Ski West is completely irrelevant.
Gerard also calls Bagley's IP range an "open proxy." As Dan Tobias told us, Wikipedia frequently bans open proxies because people can use them to make edits without identifying themselves. But according to Broadweave, the ISP that runs Bagley's IP range, it's not an open proxy - and never has been.
Clearly, this ban isn't about spamming. It's about something else.
If you ask Judd Bagley and Patrick Byrne what's going on, they'll tell you the ban is part of much larger attempt to discredit their views on naked shorting. They believe that a small group of people is using Wikipedia as means of controlling public opinion.
"When you think of how the public consciousness of an issue can develop, one of the first things that's going to happen in today's age is people are going to Google the issue and then read the Wikipedia article that comes up," Byrne says. "So if you can control that article, you can really deflect the discourse."
Whatever the motives behind it, there's no doubt that the Wikipedia inner circle rules those four articles with an iron fist. And as Charles Ainsworth points out, this puts a cloud over the entire encyclopedia.
"Wikipedia, in its way, is of great benefit to the web community," he says. "But I've also been greatly dismayed that Wikipedia has apparently attracted some intelligent but problematic personalities with ambition, secret personal agendas, and cold, ruthless behavior towards other editors and ideas that they perceive as threatening their power, position, or agendas. What's disheartening is that Jimbo and the rest of the Wikimedia Foundation not only don't do anything about it, but they appear to support these charlatans to some degree."
"When Bagley attempted to level the playing field, he was banished immediately," Ainsworth continues. "Obviously, there's something seriously wrong with the way Wikipedia is being managed and administered. I don't know if it threatens the long-term viability of the project or not, but it is cause for concern among those of us who spend a lot of hours actually trying to write quality articles." ®