Original URL: https://www.theregister.com/2008/06/13/google_network_management_tools/
Google preps net neut dowser
'If Comcast won't tell you, find out yourself'
Posted in Networks, 13th June 2008 11:02 GMT
Innovation 08 In an effort to identify traffic discrimination by American ISPs, Google is prepping a suite of network analysis tools for everyday broadband users.
"We're trying to develop tools, software tools...that allow people to detect what's happening with their broadband connections, so they can let [ISPs] know that they're not happy with what they're getting - that they think certain services are being tampered with," Google senior policy director Richard Whitt said this morning during a panel discussion at Santa Clara University, an hour south of San Francisco.
If the country doesn't have neutral networks, Whitt contends, innovation stagnates among application developers. And he believes that individual consumers - as well as Washington policy makers - should join the fight for such neutrality.
"The forces aligned against us are real. They've been there for decades. Their pockets are deep. Their connections are strong with those in Washington," he said. "Maybe we can turn this into an arms race on the application software side rather a political game."
Whitt wouldn't say when these tools would be available – or how they will operate. But he did indicate that ultra-clever Google engineers began work on the project some time ago. We're guessing they were inspired by Comcast - the big-name American ISP caught blocking BitTorrent and other peer-to-peer traffic last summer.
"If the broadband providers aren't going to tell you exactly what's happening on their networks," Whitt told The Reg, "we want to give users the power to find out for themselves."
It's no secret that Google advocates strict net neutrality, or as Whitt likes to call it "broadband neutrality". The real issue, he points out, is the proverbial last mile. "The network in this case is not the internet, but the broadband network," he said, speaking alongside other opinionated network watchers at the latest Innovation '08 panel, a Media Access Project-sponsored discussion meant to explore US internet policy. "What we're talking about is the on-ramps to the internet controlled not only by the telephone companies and cable companies but now the wireless companies."
But there was a time when Google at least considered the other side of this epically contentious argument. In the fall of 2005, when then SBC Telecommunications chief Ed Whitacre told BusinessWeek that certain companies should pay extra to use his pipes for services such as high quality uninterrupted video, the Google brain trust sat down for a brain storm on the matter. And at least one uber-Googler suggested that a neutral network wasn't worth fighting for.
"The question was raised by the top level management at Google: What do we think about network neutrality – about this notion that broadband companies have the power to pick winners and losers on the internet?" Whitt explained. "One position was that in the environment [proposed by Whitacre], Google would do quite well.
"This side of the argument said: We were pretty well known on the internet. We were pretty popular. We had some funds available. We could essentially buy prioritization that would ensure we would be the search engine used by everybody. We would come out fine – a non-neutral world would be a good world for us."
But then that Google idealism kicked in.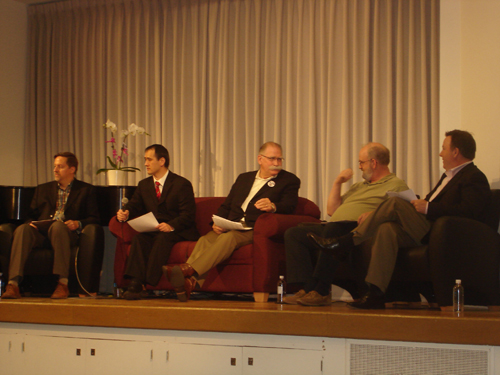 Google's Richard Whitt, George Ou, Data Foundry's Ronald Yokubaitis,
Richard Bennett, Vuze's Jay Monahan
"The other side said: We were a company that was born and raised on innovation. We were born from the internet here in Silicon Valley. We were able to take for granted the fact that we could innovate on the network without permission from anybody - any broadband company, any potential gatekeeper of the network trying to tell us what to do. We could bring innovation directly to the users and let them sort out exactly what they wanted and what they didn't want. Why would we muck with that? Why would we create haves and have nots on the internet?"
Naturally, Larry, Sergey, and the crew went with the second option. And more than two years later, this led to a rough morning for chief policy officer Richard Whitt. The panel also included George Ou and Richard Bennett, two networking-obsessed pals who have vehemently defended Comcast's right to throttle peer-to-peer traffic, and Whitt received more than a few harsh words from Ou.
Ou is adamant that - whether it forbids ISPs from prioritizing apps and services or it forbids them from selling prioritization - neutrality regulation would actually prevent things like video and voice from flourishing on our worldwide IP network. "If you forbid prioritization, you forbid converged networks," he said. "And if you forbid converged networks, you get a bunch of tiny networks that are designed to do very specific things. Why not merge them into one fat pipe and let the consumer pick and choose what they want to run?
"Net neutrality forbids consumer choice. The consumer can't say 'Please prioritize.'"
But Ou didn't stop there. At one point, the discussion turned to the notion of network "transparency." Comcast's greatest sin was that it didn't come clean on that BitTorrent blocking, and the panel was asked if ISPs should at least be obligated to divulge their network management techniques.
"I think pretty much all of us are for transparency. But I'm for transparency not only for the network providers but also for the applications providers," Ou said. "The only American company on this panel that's been doing bad things and not telling people is Google. [They're] filtering content in China."
Cue eye-rolling from Whitt. "George, I resent you bringing this into the discussion," he said. "But the one thing we're doing in China - on search engines based in China - is filtering certain search terms. And at the bottom of the page we have a disclaimer that says 'Warning: Your content has been filtered by the government.' That is transparency."
Whichever side you come down on, one thing's for sure: the neutrality debate is always entertaining.®