Original URL: https://www.theregister.com/2009/02/10/review_smartphone_nokia_n85/
Nokia N85 smartphone
Puts in a big-hitting performance
Posted in Personal Tech, 10th February 2009 09:02 GMT
Review While there's been much talk of touchscreen operation coming to its N series, Nokia continues to roll out conventional additions to its high-end smartphone range that don't demand the spotlight but which still put in a big-stage feature performance.
The N85 slots into the N line-up just below the flagship N96, and there's a distinct family resemblance to it. In fact, the N85 is the natural successor to Nokia's highly popular N95, packing a similar list of features into a slimmer, more compact sliderphone package.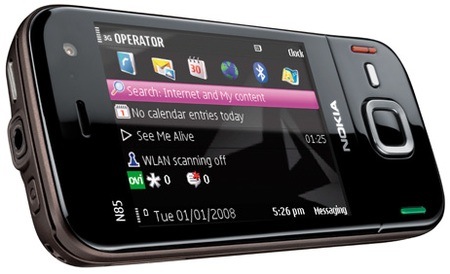 Nokia's N85: flagship features
Running the Symbian S60 operating system, the N85 has much of the top-line gadgetry of the N96 - minus its 16GB memory and UK-irrelevant DVB-H mobile TV tuner. Among its headline features are A-GPS, 3.6Mb/s HSDPA 3G, Wi-Fi, a 5Mp camera and N-Game gaming. And Nokia has introduced an FM transmitter, enabling track playback over the car radio, iTrip style.
The N85 closely follows the design template of the N96, including the two-way-slider mechanism that reveals a conventional numberpad as the front panel's pushed up, and a set of media player controls when the screen slides the other way.
It's a marginally smaller and thinner than the N96, with its 103 x 50 x 16 mm body acceptably proportioned for the amount of gear stuffed inside. At 128g, it feels substantial in the hand and pocket, and the build feels pretty sturdy, despite the plastic panelling. Its rounded edges make it comfortable to handle, while the slider action feels firm enough so it doesn't accidentally open in your pocket. A sprung slider lock on the side prevents accidental button pressing too.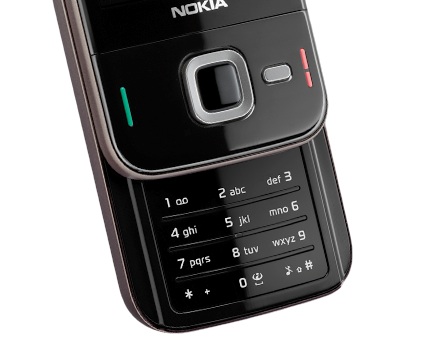 The navpad also works like an iPod clickwheel
The reduced width translates into a smaller screen: it has a 2.6in, 320 x 240 display against the N96's 2.8-incher – though it's still larger than those of most mobiles. It's a 16m-colour OLED display, providing clear and bright viewing.
The glossy black front panel features a navpad that also does iPod-like touch-sensitive scrolling. It's reasonably sensitive to brushing, but not as assured and reliable as an iPod clickwheel, so it can be a bit frustrating when it works faster in some apps than others. A Multimedia key next to the navpad pulls up a carousel of menus for zippy access to audio visual content, maps, games, mobile TV, contacts and so on.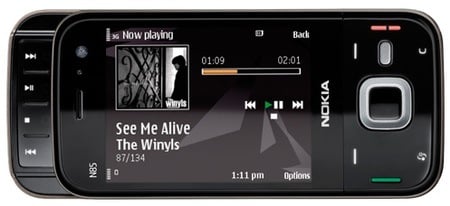 Flip the slider one way for media controls...
Slip the phone into action, and a quartet of additional buttons glow from beneath the black surface – a pair of soft-menu keys, plus a Clear key and the typical S60 menu button. It's tidy and not overcomplicated.
The media player keys on the smooth upper slide panel are similarly backlit. In music and video mode, they take care of regular play/stop/forward/rewind functions, but in other applications, additional key functions appear – such as very useful zoom keys for browsing and image viewing, and dedicated N-gage gaming buttons.
Slipping out the upper slider flips the screen automatically into landscape widescreen view, but there's also a motion-sensor inside the phone, so you can opt to have motion sensing automatic screen orientation too.
The numberpad, like the upper slider, is a flush one-piece panel, but Nokia's done a good job with responsiveness, and it's pleasingly springy for speedy texting.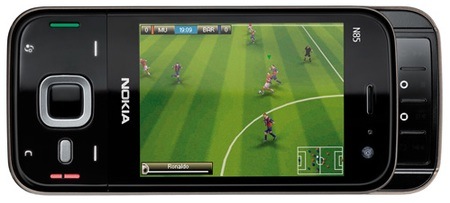 ...and for gaming
The N85's S60 UI is easy to get to grips with. Towards the top of the home screen are half a dozen icon shortcuts, all of which can be swapped for other functions, apps or even website links. Additional home screen help includes info updates from the calendar, music player status, an online and local search facility, and a Share online option for uploading photos and videos. Wi-Fi status is displayed too, along with quick search and connect options for nearby WLANs.
Audio and video entertainment are well catered for here. The N85 comes pre-loaded with an assortment of listening options, including a high quality music player - controlled by the navpad as well as the dedicated slider buttons - an FM radio and a podcasting app.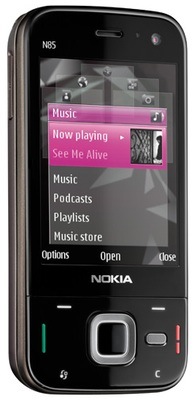 A high-quality music player
The phone comes bundled with an 8GB Micro SD memory card – a welcome extra with the internal user storage clocking up a modest 85MB – and cards of up to 16GB are supported. Nokia scores top marks too for the 3.5mm headphone socket on the top of the phone. A two-part headset is supplied that's a bit better than most mobile earphones. It delivers a reasonable audio performance, but plug in a better set of headphones and you can get cracking sound out of the player, clear, rich and detailed, with full lower frequencies.
Many mobiles have an FM radio, but few have an FM transmitter built in. This very neat extra allows you to broadcast the tracks loaded on the N85 to any suitable FM radio within a 3m range, such as your car stereo or even friends' mobile phone radios). You've access to the full FM frequency range, and it's a doddle to operate.
Video playback is a treat too. The N85 supports MPEG 4, AVC, H.264, WMV, RV, Flash Video, and H.263/3GPP file formats, playing back in full screen mode that looks great for the screen space available. Nokia's Video Centre app lets you browse though a roster of mobile video services and set up video feeds.
The N85 isn't bad at capturing images as well. Its camera capabilities are similar to the N96's: an autofocus 5Mp shooter with Carl Zeiss optics protected by a sliding lens cover - slide it down and the shooter fires up in a couple of seconds. It has a dedicated camera button, and if you don't want to use the slider panel zoom buttons, you can use the volume rocker instead.

There's a 3.5mm headphone socket on top
Like other N-series phones, this one has has a vertical toolbar on the right of the display for fast access to the scene mode, flash, timer, and multi-shot options. Nokia has upgraded the interface so you can add other shooting shortcuts, such as brightness, colour tone, contrast, exposure, light sensitivity and white balance, to the default set.
The N85 doesn't have all the tricksy gadgetry of some sharp-shooting 8Mp models, but the autofocus system works quickly and efficiently, with excellent close-up work. It's capable of taking high quality, finely detailed printable pics, with accurate colour rendition and good auto exposure metering. With only a dual-LED flash for extra illumination, low-light shooting isn't great. Images in dark locations taken more than a metre or two away can still look murky and grainy.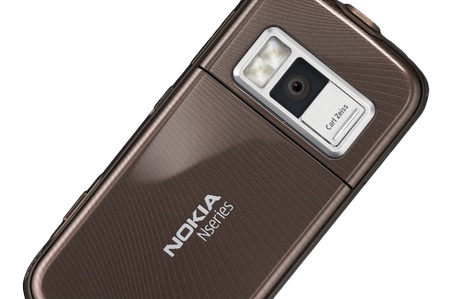 A decent snapper for a 5Mp job
Video capture quality is good, though. Shooting at the 640 x 480, 30f/s limit, images look pretty good for a mobile phone. The N85 is boxed with TV output cables for playing your home movies, videos, games and other multimedia content on the big screen.
Location finding is spot on, with the latest Nokia Maps 2.0 software working nicely with the on-board A-GPS technology. Compared to other phones we've tested, the N85 locks on to satellites quickly, usually pinging up our position on a map in under 30 seconds.
Maps covering the whole of the UK and Ireland are pre-loaded onto the bundled Micro SD card, and additional maps can be downloaded for free. You get the full roster of satnav functionality, but turn-by-turn guidance only for three months - after that, you'll need to cough up extra if you want to carry on using it. Additional services, including traffic info and city guides, can be subscribed to too.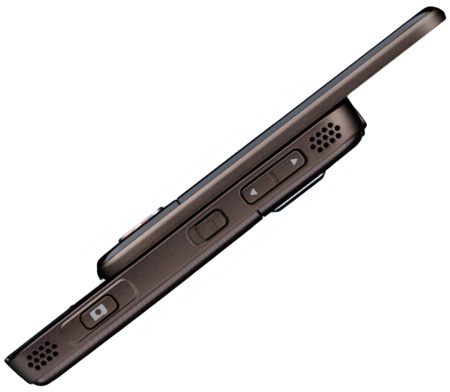 Stereo speakers
With its Wi-Fi connectivity and HDSPA mobile downloads at up to 3.6Mpbs, browsing is a reasonably good experience. The Nokia browser can render pages quickly and supports Flash, while the zoom keys make it easier to negotiate big pages. It's no iPhone, but it does the job adequately.
Gamers will welcome the N85's N-Gage multiplayer gaming and online community. A bunch of games are pre-installed, but unfortunately they're all trial versions, so you'll have to fork out more cash if you want to have them long term.
The N85 takes care of more serious business with a briefcase full of organiser features and tools, including the regulation calendar, notes, calendar, unit convertor, voice recorder and various clock functions. Quickoffice software and a PDF viewer enable document viewing but not editing, unless you purchase - you see a theme here? - an upgrade. Text-to-voice software will read out your messages.

A good all-rounder
Additional software - including the excellent BBC iPlayer - can be grabbed using the Nokia Download! tool. Both the firmware and pre-installed applications can be updated over the air.
In the time we spent with the N85, the phone behaved impeccably when making and taking calls. Sound quality was excellent in a variety of conditions. But we found battery life to be reasonable rather than outstanding. Nokia estimates the N85's battery can clock up a maximum of 363 hours in standby mode or deliver 6.9 hours of talktime on GSM networks, falling to 4.5 hours in 3G operation.
How you manage in the real world will, of course, depend on the extent to which you use the more power-hungry apps, which are the whole point of owning an N-series handset. While we averaged around two days between charges, you can expect rather less if you hammer Wi-Fi, HSDPA or GPS regularly.
Verdict
The N85 is a very likeable, feature-packed handset. It may not break the N-series mould, but it provides most of the N96's gadgetry ground in a smaller - if still not tiny - package. Its performance is right on the money too, and you certainly get plenty for your cash. If you're looking for a high-quality multi-tasking mobile, the N85 is a smart choice. ®
More Nokia Reviews...
| | | | |
| --- | --- | --- | --- |
| 6600 Fold | N79 | 6600 Slide | 5800 XpressMusic |