Original URL: https://www.theregister.com/2009/08/20/review_phone_samsung_s8000_jet/
Samsung S8000 Jet
Pokey processor eclipsed by user friendliness?
Posted in Personal Tech, 20th August 2009 12:03 GMT
Review The main selling point for the Samsung S8000 Jet isn't its OLED screen, or its 5Mp camera, or even its sleek and compact good looks. For this model, Samsung is highlighting a major element of the modern multimedia phone that often gets overlooked – the processor. The Samsung S8000 Jet comes with an industry-leading 800MHz processor – more powerful even than those on the big smartphones – which should make everything about it run faster and smoother.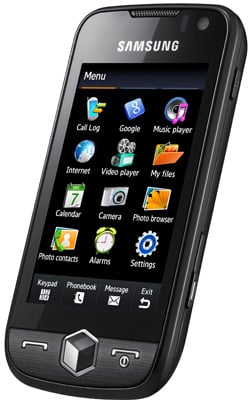 Samsung's S8000 Jet: it's all about the processor
Appearance hasn't been overlooked either, as the Samsung S8000 Jet has a sleek, compact look and at 109 x 54 x 12mm and 110g it's really quite a petite slip of a thing. However, in the hand it feels a little cheap and plasticky to be honest, and though we wouldn't necessarily hold that against it if the specs are up to scratch, we know many prefer something that feels more substantial in exchange for your hard-earned.
The 3.1in active-matrix OLED touchscreen takes up most of the real estate on the front and it is eye-searingly beautiful, with an extremely sharp 480 x 800 resolution. Above it are 0.3Mp camera for video calls, light sensor and loudspeaker, while the space below is taken up with call start and stop buttons and a hexagonal navpad.
On the sides are a volume rocker and lanyard hook, screen lock button, camera shutter button and a menu button, while on top are the micro USB slot covered by a plastic grommet and 3.5mm headphone jack. Around the back is the camera lens (uncovered) and twin-LED flash. It also has a classy-looking prismatic finish, that flashes when the light catches it.
The screen is resistive rather than capacitive. While it may be a little more sensitive than previous examples we've seen from Samsung – which have suffered a little in requiring several pushes or brushes to take effect – it's still not up there with the likes of the iPhone and HTC's offerings yet.

Reet petite
This latest version of Samsung's TouchWiz user interface offers three home screens that you brush sideways to access. Each has a different wallpaper and set of widgets to choose from, and you can customise them to bring your favourite functions to the fore. Fortunately, you can also double up on widgets, having the same one on different screens, which wasn't possible previously.
The Smart Unlock feature allows you to unlock the phone by drawing a key letter on the locked screen. Handwriting recognition is pretty decent on the handset too, although we found it worked best with a fingernail rather than fingertip. You can use the phone's accelerometer to allow you to flip between applications by flicking the handset to the right or left. It's okay, but not really a substitute for pressing a button.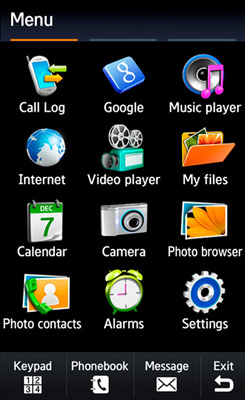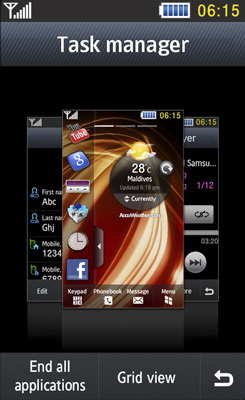 Apart from the Wi-Fi set-up, operation is intuitive
There's also a set of three icon-based menu pages. The menu button that sits next to the camera shutter on the side, opens a cube-based interface that you can rotate sideways and up and down to access the media and entertainment functions. It looks sparkly, but it's not really necessary.
The animated cube does something to show off that 800MHz processor on board and, sure enough, we couldn't really fault it for speed. Graphics never seemed to drag, videos played smoothly and web pages rendered quickly enough. But while we didn't have any problems relating to the processor, we couldn't, hand on heart, say that it was noticeably quicker than other handsets either.
Setting up the Wi-Fi connection isn't quite as straightforward as hoped, and there was a bit of fiddling around with menus to be done before we could get access to full broadband on this quad-band, HSDPA 3G handset. Once configured, however, the browser proved to have a good level of intuitive, time-saving features.
You can switch the address bar to accept Google search and on-page text search as well as URLs and have several pages open at once. The buttons on the onscreen Qwerty keyboard are a little tight, but it flags up the letters as you press them and includes handy shortcuts like www. and .com.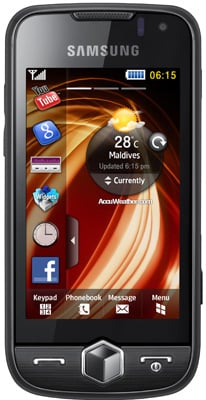 The speedy processor doesn't compensate for the touchscreen response shortcomings
The browser will play Flash video and you can also zoom using the volume rocker or by pressing and holding the screen, though accessing links could be a bit hit and miss, due to the less than sensitive screen.
The camera will deliver pics at a maximum resolution of 2560 x 1920 pixels with a 4x digital zoom and a range of shooting options including panorama, anti-shake plus blink and smile detection, and multishot – up to nine pics, depending on how long you hold down the shutter.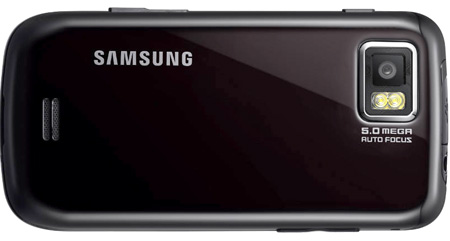 5Mp camera with a dual-LED flash should satisfy most snappers
The panorama option offers the unusual choice of choosing the direction in which you pan – left to right, right to left, up or down. It will also automatically lock on and take the next of three pics as you pan round – a quick and easy option that fits in nicely with the speedy ethos of the phone.
Scene options include beach/snow, sunset, dawn, fireworks, candlelight and backlight, plus the dual LED offers a brighter flash than most. Overall the pictures deliver a reasonable degree of detail and fairly accurate colour balance, despite the actual lack of megapixels. Video meanwhile is in 640 x 480 (VGA) resolution at 30 fps, with a 120fps slow motion option, both of which come across pretty well too.
Sample Shots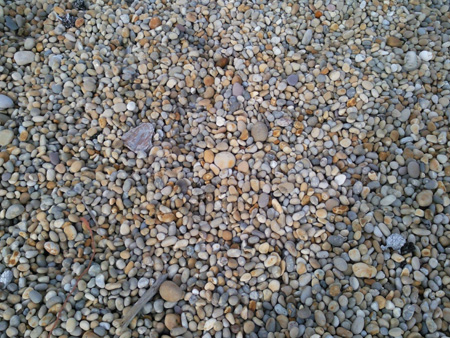 Click for a full-resolution image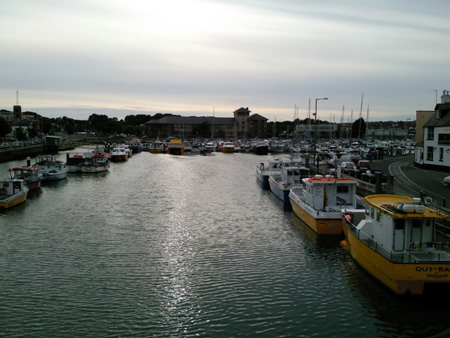 Click for a full-resolution image
Watching video on the AMOLED screen was a joy. The on-board accelerometer flips it into landscape mode automatically, and while 3.1in isn't quite enough to enjoy a full-length film on, for music vids and Youtube clips it looks great. The onscreen resolution was good enough to show off anything we threw at it, and though it wouldn't necessarily resize all file types to full screen, it played all our MPEG 4, WMV and AVI video files without complaint, and can handle DivX and Xvid files too.
The music player supports MP3, AAC, AAC+ and WMA files and comes with an equalizer with 11 clearly distinct presets, and a 5.1 virtual surround option. Yet, this setting seems to have the effect of compressing the music more, rather than opening it out. You can browse your music's cover art in the iPhone's CoverFlow style in landscape mode and choose from a selection of onscreen visualisations.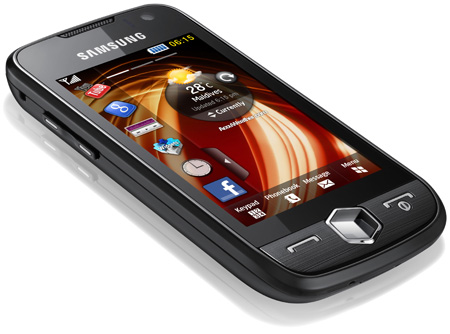 Speed kills: battery merely lasts a day
The FM radio can save dozens of presets and includes station ID info. You can record tunes direct to your phone's memory at three different quality settings and also search for track info, Shazam-style. There's a 3.5mm headphone jack for upgrading the supplied headphones but they're not actually too bad – a little bass-light perhaps and a tendency to sibilance in the higher register, but better than many supplied 'phones we've tried. Call and reception quality was fine too.
The 2GB of memory on board is a good start, but you can increase the Jet's storage capacity with Micro SD cards – you'll need to remove the back cover to get to it, but not the battery. Considering it's got an energy-saving OLED screen, we were disappointed with the battery life of the Jet. Perhaps the powerful processor puts some extra drain on the juice, but the promised 180 minutes of talk time and 250 hours' standby translated into a barely a day of moderate use.
Verdict
The Samsung S8000 Jet isn't a do-everything phone but it's still a very attractive handset, and certainly seems to deliver on its core offerings: speed and ease of use. The OLED screen is a gem and though we would have liked it to have been a smidgeon more touch-sensitive, it's great for viewing videos and web browsing. Our only real problem was the battery life, which didn't quite come up to expectations.
All in all, it's a slick little media phone that delivers the fun stuff with style and flair. ®
More Phone Reviews...

BlackBerry
Curve 8520

HTC Hero

LG
GD900 Crystal

Toshiba TG01