Original URL: https://www.theregister.com/2009/09/25/review_phone_nokia_e55/
Nokia E55 smartphone
Does the business for the Qwerty customer?
Posted in Personal Tech, 25th September 2009 11:52 GMT
Review The Nokia E55 is actually one of a pair of very similar handsets simultaneously released by Nokia. Its brother is the E52, which is pretty much the same, except that it has a standard numeric keypad rather than the E55's SureType-style Qwerty keypad with two letters assigned to each key. That aside, both phones come with Wi-Fi, HSDPA 3G, a 3.2Mp camera, aGPS, FM radio and an outsize battery.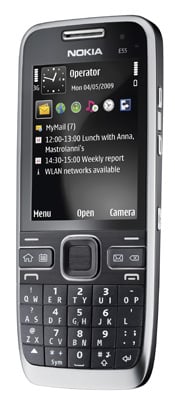 Slim pickings: Nokia's E55 Symbian smartphone
Nokia is claiming that the E55 is the world's thinnest smart phone, which, much like world-class sprinting, is a contest that is increasingly based on very small margins. For the record, Nokia is quoting it as 9.9mm thin, which cuts a mighty 0.1mm off the 10mm E71. No, we couldn't tell the difference when we held them next to each other, but do let us know if you think it's significant.
It's a neat looking device, with chrome-look trim around its plastic frontage and a metallic backplate. Incidentally, this feels a little flimsy, and even came off in our pocket once. The 2.4in screen offers 320x240 resolution and 16 million colours. It's bright and sharp, as you might expect, and not bad in sunlight either.
Below the display are two programmable soft keys and – crammed in on either side of the square, five-way navipad – are four shortcut buttons: home, calendar, messages and a back/delete key. The two on the left can also take you to other functions by long-pressing them. The navipad also does that continuous pulsing light thing we've seen on the E71 and E66, which flashes when you have a message waiting or receive a call.
Call start and stop buttons separate this array from the four-line, 20-key alphanumeric keypad below. It is neatly laid out, but the buttons aren't very distinctive, with a very short travel distance and not much in the way of a click. The result is that it can be a bit tricky to tell when you're connecting. It's not disastrous, but it's certainly not ideal on a phone that makes a virtue of messaging, though we did find ourselves getting more accustomed to it with extended use.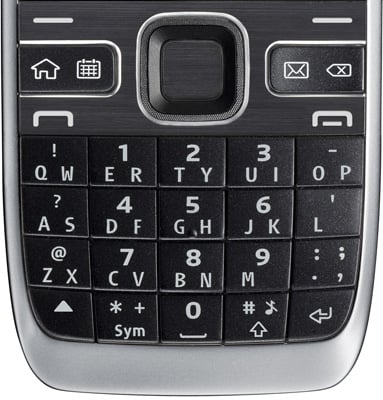 Keyboard compromise should suit most users
That aside, it's easy enough to get the hang of the two-letters-per-key set-up, and while it's not quite the full Qwerty shilling, it'll give you the edge on standard keypads, making it a decent compromise.
Around the sides are camera shutter button and volume buttons surrounding the customary E-series voice commands key. On top is the power key and a 3.5mm headphone jack, while on the left side is a micro USB power slot. This is a first for Nokia and suggests we'll soon be seeing the end of the company's standard charging port. In the meantime, the E55 comes with an adaptor for use with a standard Nokia charger.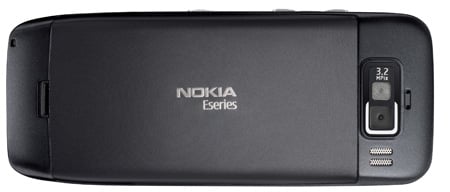 Backplate is a bit flimsy and easily came off in the pocket
The E55 runs the latest Symbian S60 3.2 operating system backed by a 600MHz ARM 11 processor. It's fast but, as with Symbian handsets generally, there's often the feeling that it could go a little faster when switching between apps. The icon-based UI is efficient and has loads of configuration options. Like previous E-series phones, you can switch between business and personal modes, which can include separate themes and alerts, as well as changing the six-strong shortcut toolbar at the top of the home screen.
Messaging proved easy enough to set up, with only email address and password required for our BT Yahoo account. Corporate accounts using integrated servers such as Microsoft Exchange are trickier, requiring numerous details. Usefully, settings include the option to switch between text or HTML while you're viewing an email, or you can opt to have your messages read to you by a male or female voice. Text prediction was reassuringly reliable, offering completed word options as you type and it learns as you go, so you only need to spell out new words once.
Call quality on this quad-band phone is generally good, due in part to the E55's active noise reduction, which helps to cut out some of the background clutter. However, this can, apparently, cause in a little echo at the other end. We occasionally found ourselves wishing the loudspeaker could be turned up just a little louder too. Incidentally, the button between the volume buttons doubles as a mute control when you're on a call.
The contacts system has room for loads of info, including addresses, birthdays, notes and a picture. You can also assign ringtones including music tracks to individual contacts and search for names directly from the home screen.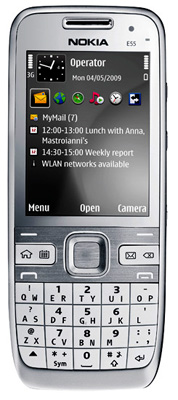 A comprehensive range of apps are included
The browser might have to bow to large-display touch-screen rivals, but with HSDPA or Wi-Fi, it's quick and mostly hassle-free. Turn the phone on its side for the accelerometer to switch the screen resolution to landscape mode. While the menu options seem limited at first glance, there are actually twelve shortcuts available with the keypad, including zoom, keyword search, full screen mode, page overview, home page shortcut and toolbar.
There's a bit of a learning curve involved in using this, since not all of the options are available using the menu, but it's a decent enough system once you get the hang of it. With its page overview function, pop-up barring, visual history and support for Flash video, as well as dedicated apps for Facebook, Youtube and Myspace, it amounts to an efficient little package.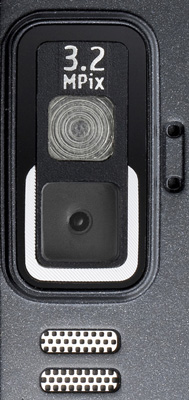 No frills optics, but acceptable for snaps
The camera is accessed by holding the shutter button on the side and comes alive in about five seconds – so it's not great for quick snaps. There's no autofocus, and none of the fancy Carl Zeiss lens malarkey that comes with Nokia's N-series. There is a 4x digital zoom though, with a warning bar that supposedly reminds you that the picture quality is liable to deteriorate to the point where it's not really worth taking the pic.
While there's no macro setting for close-up shots, there are seven scene modes to help you choose the correct light settings. Along with a timer, there's also a 6x multi-shot setting and a so-so LED flash, as well as an additional VGA camera on the front for video calls.
The panorama function is interesting, allowing you to take five pictures, beginning from either right or left through 180 degrees. Once you've taken the first picture you move it around until the camera automatically lines up and snaps the next one. This makes it very easy to use, but it's not 100 per cent accurate and there can be some ghosting effects if you move the lens too quickly.
Pics can be geotagged too, using the E55's aGPS transmitter, which is backed by Nokia's Ovi Maps. This found our position easily enough, even indoors, so long as we were near a window. For a 3.2Mp camera, picture quality isn't too bad if you take a bit of care with the settings, though it doesn't handle light gradations very well, and soon shows signs of noise in less than perfect light. Video records at 15fps and can be a little jerky. Overall, the quality proved to be a little better than we were expecting.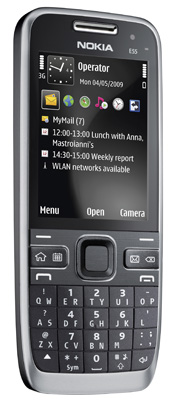 Not the first choice for movie viewing, but should be fine for occasional use
Movie playback is acceptable but the display is a bit small for extended viewing. Vids are automatically resized to fit the screen and there's not much in the way of controls, just pause/play, fast forward and rewind. Movie buffs should note, the E55 comes with 100MB on memory on board and a supplied 2GB microSD card, accepting cards up to 16GB.
Sample Shots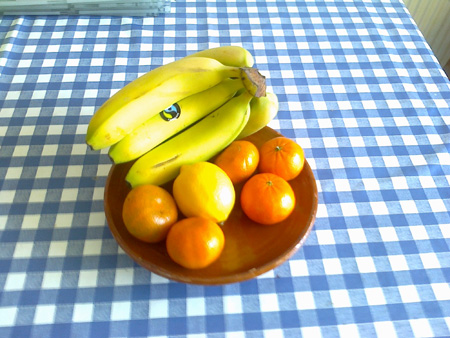 Click for a full-resolution image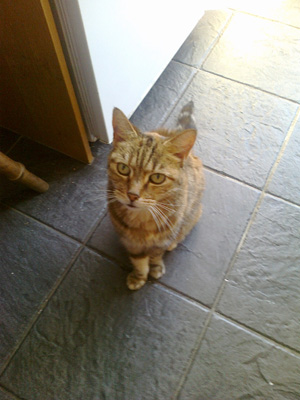 Click for a full-resolution image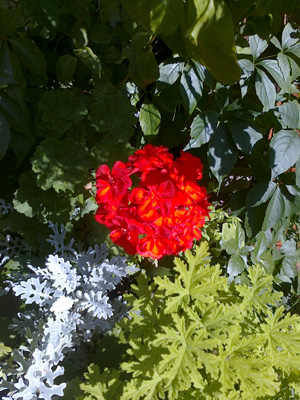 Click for a full-resolution image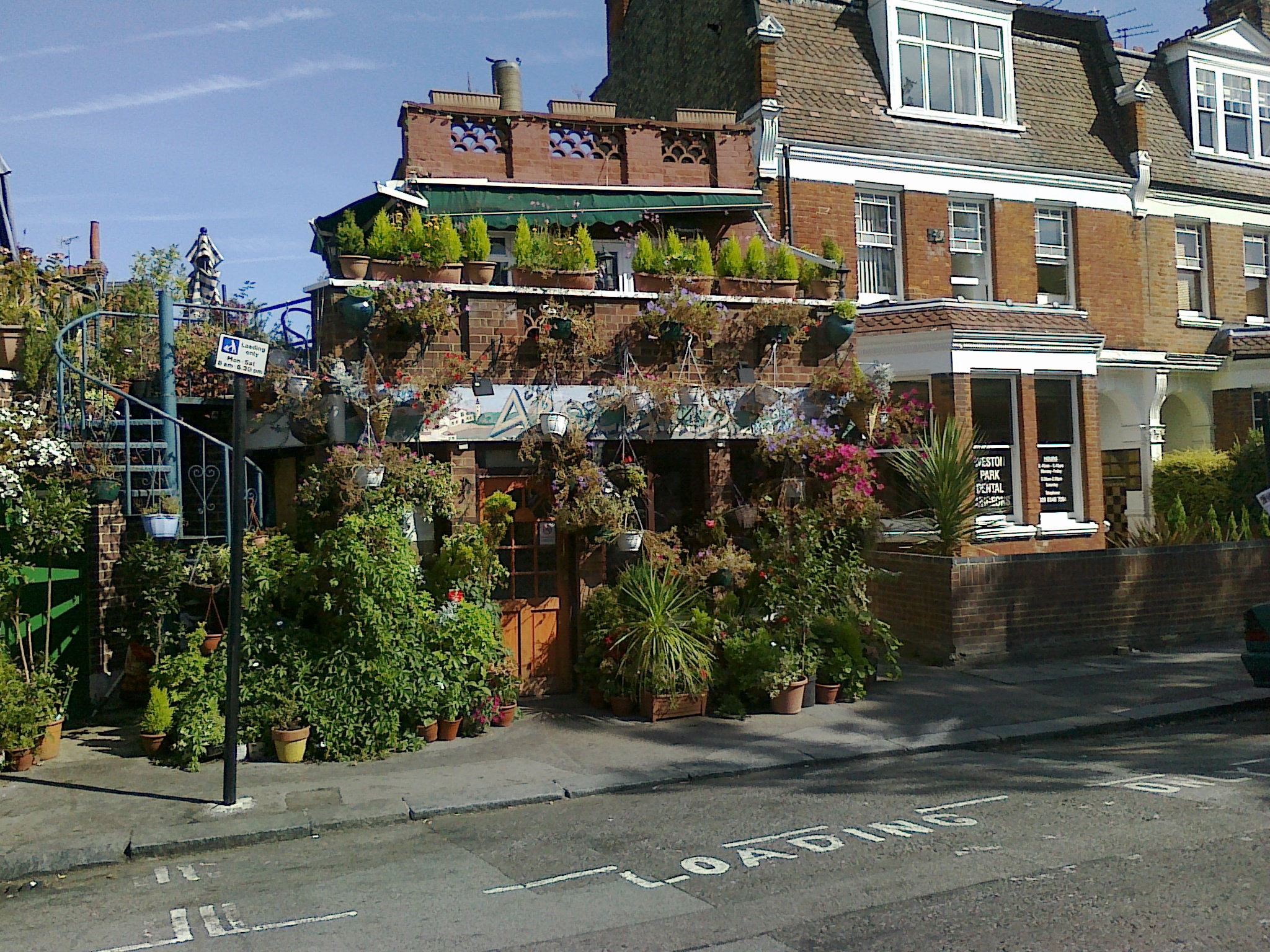 Click for a full-resolution image
Playback through the supplied headphones is tinny and thin, and the bass setting on the six-setting graphic equaliser doesn't do much to improve it. The midrange and high-end are impressively clear however, with a fair degree of detail. The 3.5mm headphone jack makes upgrade easy though, and there's stereo Bluetooth on board for connecting wireless headphones. You'll need the wired variety for the FM radio, which uses the cable as an aerial.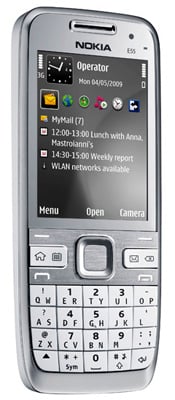 USB charging suggests the end for Nokia's ubiquitous PSU connector
The latest version of Nokia PC Suite is easy enough to use, despite being a bit clunky. Drag and drop your content onto the phone and it will automatically assign its place in the phone's memory according to the type of file it is – music files go in the music folder, video to the video folder etc, though other data files such as Word docs tend to get dumped into the Others folder. It offers the option to convert some media files for playback (it can handle MP3, AAC and WMA audio files, as well as MP4, H.264, H.263 and WMV for video) too.
There's a full version of QuickOffice, which allows you to view, edit and even create Word, Excel and PowerPoint documents as well as a PDF viewer and file zipper. Additional app downloads are also available from Nokia's online shop, though the selection is paltry compared to what's on offer for the iPhone or Windows Mobile devices.
Nokia's stats promise talk time of up to eight hours and standby of up to 29 days. It didn't measure up to this in practise (they never do, do they?) but it still managed an impressive three days of moderate use before we had to hook it up the mains, which is pretty good going for a smart phone.
Verdict
The Nokia E55 is an extremely neat and powerful business handset. The SureType-style keyboard layout is a practical compromise between Qwerty and standard numeric keypads, though the keys could have done with just a smidgeon more feedback. Messaging is up to par, as is the browser once you've taught yourself the shortcuts. Camera and media player aren't among the best, but they're far from the worst and easily pass muster if you don't intend either to be the main focus of your phone. ®
More Phone Reviews...

LG GD910
Watch Phone

Samsung
S8000 Jet

BlackBerry
Curve 8520

HTC
Hero