Original URL: https://www.theregister.com/2009/10/08/review_pc_tune_up_sofware_vista/
PC tune-up software: does it really work?
Part Two: Windows Vista
Posted in Software, 8th October 2009 12:02 GMT
Round-up Installing tune-up and registry fixing software was hit and miss when we tested on a five-year-old Windows XP laptop. Faster Microsoft Office and Windows boot-up times were possible with some software packages, but occasionally performance took a dive and a similarly priced Ram upgrade thrashed the rest of the field.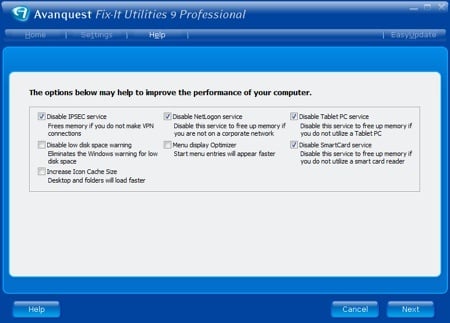 Some of the services Avanquest Fix-it Utilities 9 offers to disable can speed up performance
This time - in the second of our three-part investigation; we'll be looking at Windows 7 in due course - we've tested the same five tune-up applications on a newer, faster computer. There's a caveat: this computer runs Vista. That makes start-up time much slower than on the old XP laptop and the potential benefit of tune-up software greater.
The five applications on test explicitly say – in their advertising – that they will speed up your computer or, more carefully, they are "designed" to speed up your computer. Again, we've added a Ram upgrade into the mix to try and gauge where your money is best spent: hardware or software. The upgrade costs £30 and doubles the basic 2GB Ram to 4GB - although it's only 3.5GB in practice, due to the 32-bit Windows limitation - and is a similar price to the applications on test.
The test system is an 18-month-old reviewers PC running Windows Vista Ultimate 32-bit. It includes an Intel Q9450 quad core processor, 2GB of 800MHz DDR 2 Ram, a 320GB Seagate 7200rpm hard drive, an AMD ATI Radeon HD 3850 256MB graphics card all plugged into an Intel X38 motherboard.
A freshly installed copy of Vista takes under 90 seconds to boot-up on this PC, but after a year's use and many program installs - and removals - it doesn't feel particularly nippy any more. In fact, Vista SP2 takes over three minutes to boot up. Ubuntu Linux, in comparison, only takes 41 seconds.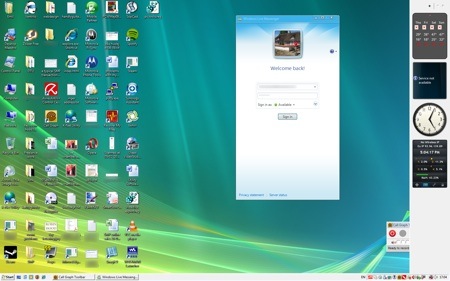 Using Desktop Maestro V3.0's Minimal Services setting reduced performance and made our PC ugly, ugly, ugly
Click for a full-size screenshot
An application that could speed up this computer is, in theory, a nice alternative to reinstalling Vista, which would add a day or two of reinstalling programs, configuring settings, and backing up and restoring files.
As well as a start-up time test, we also ran Office 2007, Photoshop CS4 and Left 4 Dead benchmarks, each designed to reflect real-life use as closely as possible. To ensure a fair test, anti-virus, Windows Updates, indexing and system restore were disabled, and we reloaded exactly the same hard drive image before each software package was installed. The two Ram setups were both tested.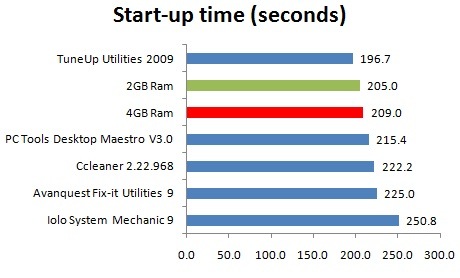 TuneUp Utilities 2009 takes the lead, although there was quite a high margin for error
Shorter bars are better
We used the idiot-proof 'one-click' performance optimisations, registry fixers and registry defraggers offered by each tune-up application, followed by two restarts and then testing. Once we had run all the benchmarks once, we rebooted and benchmarked again, then rebooted and benchmarked a final time.
Anyone with Vista experience knows the hard drive seems to be endlessly busy, especially at startup. Although we tried to keep things consistent by disabling Vista's indexing, updates, anti-virus and the like, we ended up on with a 95 per cent confidence interval of ±13.4 on the stock system, which means we can only say for sure that Iolo's System Mechanic 9 was slower. This result flies in the face of what we experienced in with Windows XP article, where System Mechanic was the quickest booting setup.
When confronted with such a poor result, Iolo blamed the lack of an internet connection, saying "the engineers are wondering if the 'unplugged' state is an issue vs. being plugged in and just not having access, which should be easily accommodated). They have seen Windows stall when a software program requests network/internet access and Windows goes into a wait-state while it hopes the wire gets plugged back before returning a 'can't connect' response to the software".
We didn't test with an internet connection because it adds inconsistencies to our results. But everyone goes through periods of not being plugged in to the net – perhaps because they're on the move with a laptop, or when their modem is turned off – which suggests using System Mechanic 9 in Vista may be a disadvantage.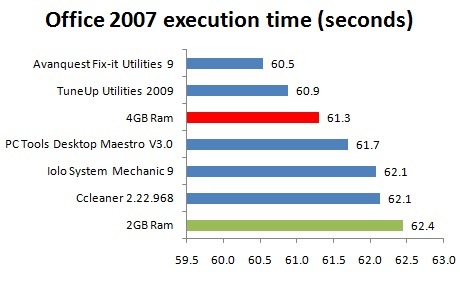 Microsoft Office 2007 performance is improved, albeit marginally, by tune-up software and extra Ram
Shorter bars are better
We were pleasantly surprised to see the software all make a positive difference to Office performance in Vista, using DMS' Clarity Studio. Fix-it Utilities did a poor job on our XP system, but the tides have turned in Vista. TuneUp Utilities did well in XP and continues to do a good job in Vista. Increasing the amount of memory doesn't have as big an effect as on an older, memory-bound XP laptop, probably because 2GB Ram is plenty for Office to work with.
We have to admit, the limitations of our Photoshop CS4 benchmarking mean the benefits of additional Ram aren't truly reflected here. We used the first four parts of DriverHeaven's Photoshop Benchmark V3, which is a simple script that times a number of transformations applied to a high quality image. We found a notable increase in performance in the first quarter of this test - up ten per cent - with a Ram upgrade, but the other three tests were constrained by the rest of the PC. The gap between the different tune-up applications is insignificant.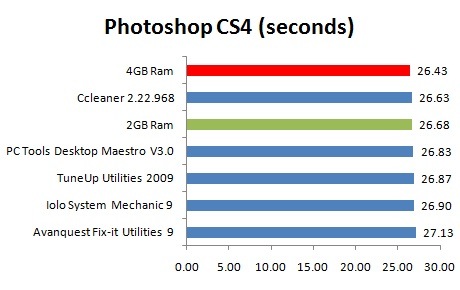 Photoshop CS4 will run better with 4GB Ram
Shorter bars are better
Many hardware geeks can prove you get massive gains in gaming performance when you add extra Ram, but this isn't always the case. In the first person shooter Left 4 Dead, there was only half a frame per second increase in performance - nothing to improve the gaming experience. If we had turned up the quality settings, enabled anti-aliasing and upped the resolution, the Ram will have been more effective.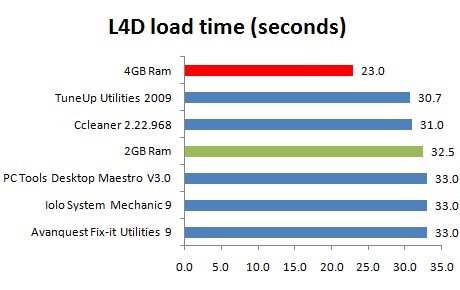 Gamers rejoice: Left 4 Dead load times were slashed with additional Ram
Shorter bars are better
But this is a real, day-to-day usage PC and on playable settings - above 60f/s - the Ram doesn't make a notable difference due to CPU and GPU bottlenecks. Load times were all much the same, except for the 4GB PC which sliced 9.5 seconds off the 2GB setup.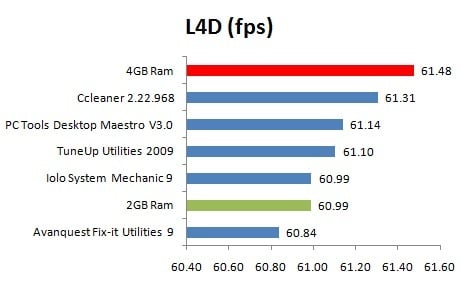 Frame rates don't always shoot up with more Ram
With all the benchmarking done and dusted, we recorded how much free Ram there was. More Ram makes for a more responsive system when you run lots of programs at once, so the upgrade is a no-brainer. But, just as with our XP laptop, the tune-up applications also made more Ram available on our Vista PC too. System Mechanic 9 led the way, just as it did on our XP laptop, freeing up 70MB of memory.
All these programs like to meddle with the registry and claim to compact it, but in reality there are very few changes made, apart from Fix-it Utilities 9 which actually bloated our registry a little. PC Tools Desktop Maestro 3.0 claimed a registry space saving of eight per cent, but we couldn't detect it.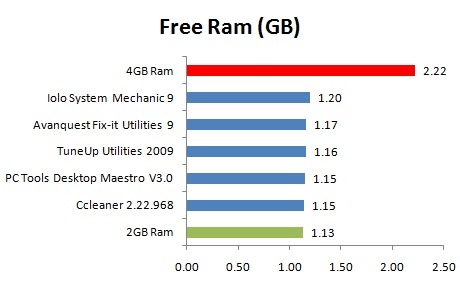 There is more Ram available across the board
Our results do not show the ability of these applications to fix problems and make performance improvements beyond their automatic "button-solutions". Nor do they show instances where performance dived after tweaking the button-solutions.
PC Tools' Desktop Maestro 3.0, which costs £39.95, was one such app that caused system performance to dive when we selected the wrong setting. The results above where made using the "Recommended Services" setting, but after choosing the "Minimal Services" setting - as recommended by PC Tools for best performance - our Vista machine suddenly looked terrifically ugly.
It also made Microsoft Office 2007 perform a solid 12 per cent slower, to which PC Tools responded: "Desktop Maestro is not specifically designed to improve Microsoft Office software, rather than the Windows Operating System that you are using."
Desktop Maestro needs a makeover and some new tricks, and it's getting one later this month, apparently.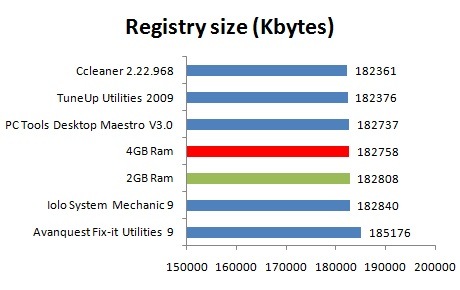 Registry meddling is a big part of what these tools offer
Avanquest's Fix-it Utilities 9, which costs £29.35, has got a lot to like. It provided a small boost to our Office performance, outperforming the 4GB system. It is feature-packed, bundling virus and spyware protection - provided by Vipre - and secure file shredding. Fix-it Utilities was, however, the only application that changed the page file size on our Vista PC. While it made the page file bigger on our low-end XP laptop, it made the page file smaller on our Vista PC, reducing it from 2345MB to 512MB. We're slightly baffled by this decision, unless Avanquest has evidence that typical PCs with 2GB Ram don't use the page file much.
The down sides to Fix-it Utilities 9 are the profiles it offers (making you choose between office, gamer and security… but who doesn't want security) and it took three hours to perform its initial one-click optimiser, mostly due to it running its own hard disk defragger. But, just like in our XP tests, we couldn't detect any performance improvement due to the third party defragmenter.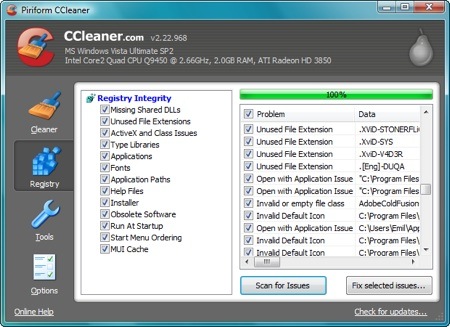 Ccleaner will claim to fix a heap of registry problems and is good for competent users
CCleaner, which is a free download, doesn't have any of the bells and whistles tacked onto commercial tune-up/registry fixing applications. What it does have is a simple interface, easy-to-understand categories and a Startup editor, which is where the biggest performance improvements can be found. The downside with the Startup editor is there are no descriptions, so you need to know exactly what you're doing if you're going to tinker.
TuneUp Utilities 2009, which costs £30, produced some consistently good start-up and Office 2007 results. However, we experienced two Explorer crashes with TuneUp Utilities 2009 in Vista, the only crashes during our entire testing stint. TuneUp denies it was its application that did the damage. Aside from the crashes, TuneUp Utilities 2009's interface is top notch, with clear descriptions and a great start-up manager.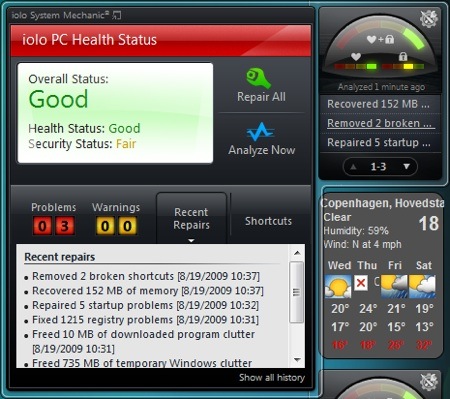 System Mechanic 9's sidebar gadget is a novel little addition
Iolo's System Mechanic 9, which costs $49 (around £29), has the same neat interface the XP version has, but adds a gadget to the sidebar so you can monitor recent repairs and how "healthy" System Mechanic thinks your PC is. Using the one-click solution to optimise and speed up your PC disables Windows Live Messenger, which we re-enabled to make for a more fair test. Boot-up times were a long way behind the rest of the field and, if Iolo's explanation of no internet equals poor boot-up times, then Iolo needs to make a change to System Mechanic 9, because it's a flaw the other applications don't have.
Conclusion
PC Tools told us the market for these "utility tools" has suffered a slight decline in recent years, due to basic tools being increasingly bundled with operating systems. The value of premium tools can be difficult to see, since we found the one-button optimisation wizards and registry fixing functions didn't improvement performance significantly - at least, not without affecting functionality.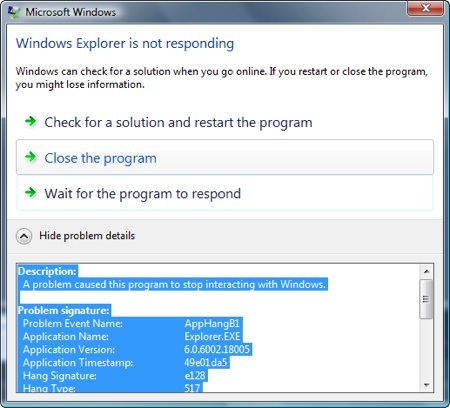 We experienced two crashes when testing with TuneUp in Vista, and none with the other apps
You will, however, get a boost by using the more detailed tools to switch off unused services and forgotten programs, although this is one way of reducing functionality. When we were testing the apps on Windows XP, we found we could shave a good 18 seconds off our startup time with every tune-up application on test by laboriously turning off unused programs and services, but with Vista this improved by 44 seconds after we selected 14 programs and services that we weren't using any more, or had never used.
Meddling with the registry and Windows services is a tricky game, with Desktop Maestro in particular coming a cropper several times by pushing performance in the wrong direction. The other applications represent less of a risk and, besides, you can always restore an old registry if things go wrong.
Ultimately, we can say if you're trying to reduce your Windows start-up time, extra Ram will help if you don't have a lot - 512MB, say - while tune-up applications may help you find more performance if you have 2GB or more. ®
Verdict: Windows Vista Apps

Tune-up Utilities 2009
Rating 65%
Price £30
More Info Tune-up

CCleaner
Rating 65%
Price Free
More Info CCleaner

PC Tools Desktop Maestro 3
Rating 40%
Price £40
More Info PC Tools

Avanquest Fix-it Utilities 9
Rating 40%
Price £30
More Info Avanquest

Iolo System Mechanic 9
Rating 40%
Price £30
More Info Iolo