Original URL: https://www.theregister.com/2009/11/20/google_chrome_os/
Google Chrome OS - do we want another monoculture?
Microsoft ball breakers. Strings attached
Posted in Channel, 20th November 2009 00:16 GMT
Yes, Google has open-sourced Chrome OS, its much-discussed browser-based operating system. But as usual, the open sourcing only says so much about its openness.
After all, this isn't something you can load on any PC. And it's not much of an operating system. You can't load local applications - not even one.
As part of its crusade to move more and more of our lives onto the web - and onto its own web services in particular - Google has shunned the desktop entirely. And in doing so, it has shown a certain Apple-like quality: Like the Jobsian cult, Google is intent on tightly coupling hardware and software. The company - dare we say - is closing the market to certain hardware.
But the ultimate irony is that after years of criticizing Microsoft for bundling its OS with its browser, Google has nearly made them one and the same. Yes, you can run third-party applications - but only web applications, online services of the sort offered most notably by, well, Google. And you certainly can't use a third party browser.
According to Google VP of product management Sundar Pichai, Google is placing bold restrictions on Chrome OS hardware. "We are working on the Chrome OS image - the software - but it addition to that, we are actually going and working with partners to specify components at the hardware level. We really want software to understand the underlying hardware so we can make it much faster and more secure. It's an important part of what we're trying to do," he said in Thursday's webcast announcing the open sourcing of the code.
"As a consumer, you cannot download the Chrome OS on your current machines. You will have to go and buy a Chrome OS on the market." Most notably, the operating system does not run on hard drives. It only runs on solid state devices. And Pichai said it will only run with certain wireless cards.
Now we know why Dell's name is missing from the list of twelve Google hardware partners. Google is working with Acer, Asus, Freescale, Hewlett-Packard, Lenovo, Qualcomm, Texas Instruments, and Toshiba on commercial devices. It's designed to run on both x86- and ARM-based netbooks.
We care, we really, really care. Oh yes!
Yes, Google is working with third-party manufacturers - it's not building the thing on its own - but there's still a fair amount of the Apple in its approach to hardware. "While netbooks today are very popular, we do understand there some usability issues out there. We really care about the end user experience," Pichai said.
"We're going to be working with our key partners very hard to make sure you see lightly larger netbooks, essentially netbooks that can accommodate a full-sized keyboard and a much more comfortable touchpad. We care about the displays. We care about the resolutions people get on these displays. And those will all be part of the specified reference hardware."
Come to think of it, there's a fair amount of the Apple in its software approach as well. Like the inaugural iPhone, Chrome OS will not run third-party applications. At least, not applications of the traditional kind.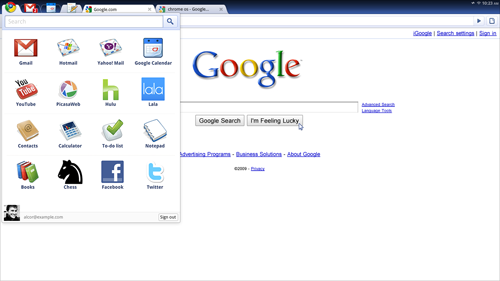 Chrome OS with app menu (click to enlarge)
When a reporter compared the move to iPhone 1.0, Pichai said: "Third-party apps will work, but only web applications...Even the apps we are writing will all be web applications. The browser works very well on bigger form factors. On phones, you see these applications as native applications because the web has challenges [on phones].
"Our mobile team is working very hard to push things there. But I think it is different on larger form factors."
And, yes, the ban extends to third-party browsers. Chrome OS is limited to Chrome. Naturally. The only way to run the OS with a third-party browser, Pichai said, is to grab the open source code and do your own surgery.
Not that you would expect anything else from a Chrome OS. Google is unveiling a new paradigm of sorts, and you can certainly argue that with the browser becoming the OS, the old bundling argument doesn't quite apply. But the Redmondian irony is there nonetheless. Microsoft's OS pushes people towards Microsoft apps. And Google's OS pushes people towards Google apps - beginning with the browser.
Call us dumb businessmen, but...
Of course, Google trotted out its boilerplate about how it's merely trying to make life better for Joe Netizen. Asked about the role of advertising in the new OS, Pichai dodged the question. "We are fortunate that as the web gets better and people use the web more, it benefits us as a company," he said.
Asked if this was Google going head-to-head with Microsoft, co-founder Sergey Brin went so far as to imply the project had no business aim whatsoever. "Call us dumb businessmen," he said. "But we really focus on user needs rather than think about strategies relative to other companies and what not."
It's worth noting that once again, Google has chosen to introduce a major product during a big week for Redmond. But the official line is that Chrome OS is no more than a gift to you. "There's a real user need to be able to use computers easily," Brin said. "We believe the web platform is a much simpler way, where the machines are essentially stateless or cache-like."
The new OS shuns not only local applications but local data. Pichai did indicate there would be ways of caching data locally. This may include audio and video, ebooks, music, and games. And web applications that tap the caching standard built into the fledgling HTML5 will offer (limited) offline access as well.
Even then, it would seem that devices will be rather tongue-tied when they lose their net connections. But Pichai played down such talk. "Our point is very simple: If your cloud is down, it affects any computer you're on. If you're using webmail on another machine, you still lose webmail." Of course, when net connections die, other machines can still run local apps - and access a hefty amount of local data.
What's more, web-based applications have yet to reach the same level as desktop apps. And Pichai acknowledged this. At least initially, Chrome OS is intended for a limited audience. "There are applications today that are not available on the web," he said. "There will be some things this will not be able to do."
Clearly, this is not an operating system for, say, high-end gaming. But Google is working to provide audio, video, and other so-called rich media. Like the Chrome browser, the operating system supports the fledgling HTML 5 video tag as well as Adobe Flash. And engineering director Matthew Papakipos said Google is "doing a lot of work with codec hardware acceleration. It's not enough to run things through a traditional decoder. We're also working to hardware accelerate those as much as possible wherever possible."
In short, everything that runs in the Chrome browser will run in the Chrome OS. Not that anyone expected anything else. Today, the OS does not support Microsoft's Silverlight. But Picai said Google is working to build additional plug-ins for the platform.
Printing? He said the company is exploring some "innovative printing technologies." But these are not yet in place - and he did not elaborate.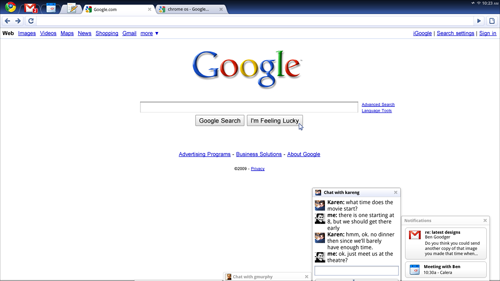 Chrome OS with panels (click to enlarge)
All of which raises the question: How is any of this different from running today's Chrome browser on today's netbooks? Well, Google has tweaked the browser interface a bit, adding specialized tabs specially for applications - and a kind of application control panel. Plus, there are other in-browser panes that pop with certain web apps.
But the UI is still very much up in the air. As it stands, Google has merely offered up a few "user interface experiments" as part of the open source project. At this point, the biggest difference is that the OS doesn't run local apps - and doesn't run with all hardware.
In this way, Google says, it's working to improve both speed and security. In shunning hard drives, it's reducing boot times. And in shunning local apps, it's attempting to lock down individual services. The OS confines each web application to its own sandbox.
Google is also hoping to improve the security of the OS itself. The goal is to build a platform that can check its own integrity and reload itself as needed.
But regardless of Brin's claims, the new model pushes users towards Google. That means more opportunities to collect your data - and serve you ads. Whatever you think of Chrome OS - it may work and it may not - always remember that Google is, at heart, an advertising company. ®
Update: This story has been updated to clarify that Chrome OS will run on both x86 and ARM machines.