Original URL: https://www.theregister.com/2011/02/16/review_steelseries_wow_peripherals/
Steelseries World of Warcraft mouse and keyboard
Steampunk peripherals – how very 19th century
Posted in Personal Tech, 16th February 2011 13:00 GMT
Review During the knuckle-grinding twilight hours spent levelling my Worgen warrior chick in World of Warcraft Cataclysm I had been pondering when I would get a go on some dedicated peripherals. Lucky for me Steelseries has seen fit to supply some goodies.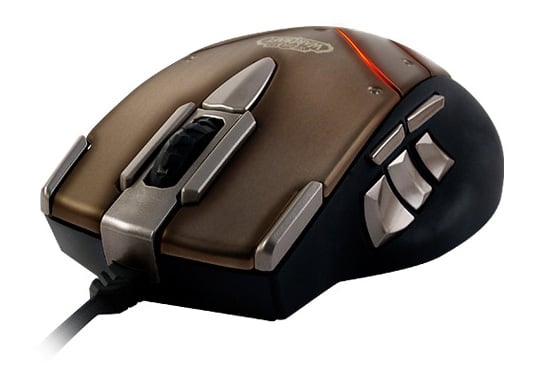 WoW your friends? Steelseries' Cataclysm mouse
First out the bag is the World of Warcraft Cataclysm MMO gaming mouse, the box looks like something from the auction house of Gnomeregan, all fatty fatty and burnished steel, a steampunk fantasy. And big ... yes very big, which should have prepared me for the sheer scale of the monster that lay inside.
I was a little shocked to find no literature in the massive box just a leaflet with direction to the Steelseries website to download the latest drivers and firmware. Smart ethical move, good for the environment, you say. I want pretty stickers, I would counter. After a fairly nifty installation it's onto some customisation. Luckily, I really like the look of the software – so red and black and flamey. Giving me almost infinite colour options to illuminate the mouse, and also being surprisingly easy to use, this is a real selling point for this product.
Compared to the Razer Spectre mouse I have been using (and loving) this beast seemed massive. Even though it was hard to reach some of the 14 buttons, I found it moves really smoothly across my dedicated Deathwing Steelseries mouse mat, mainly due to the very large surface area on the bottom. The burnished steel coating is definitely an upgrade from their last wow mouse that was prone to losing its metallic lustre after a couple of heavy raids.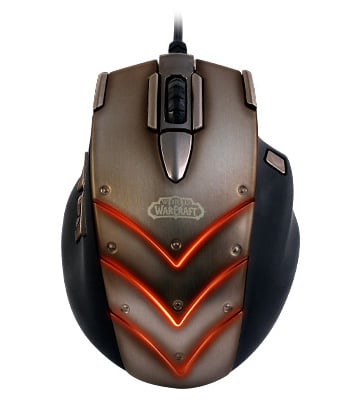 Customisable buttons and colours too
Most of the buttons are assigned default functions but it's very simple to customise them in game. Since the Catacalysm expansion, naturally, I have more characters and I really liked that I could assign up to ten different custom profiles, including my Tauren Hunter and Worgen Warrior. This mouse did make a difference to my game play, allowing me to cast spells faster and select enemies on the fly, but is really only worth the expense if you're a serious raider.
Key features
Time to haul out my other new acquisition: the Steelseries Shift Cataclysm Keyboard. Like the mouse, this is a fatty keyboard and hardly fitted on my desk when I attached the wrist rest but this doesn't affect the functionality and it worked perfectly in WoW, the custom macros helping out in many a PVP battleground.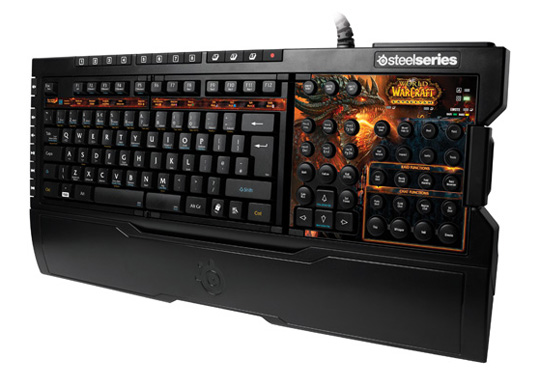 The Cataclysm keyboard features removable keysets for gaming and general use
What makes this keyboard unusual is the ability to install a specialist World of Warcraft keyset. So for everyday tasks you can comfortably type on a standard keyset with a number pad and the swap it over while raiding in WoW for speedy access to dedicated macros.
Changing the keysets takes no time at all and is simple enough for even my addled brain to get to grips with. Simply release the latch, remove keys and replace keys with the preferred keyset. The keyboard recognised which keyset I installed and also loaded my personalised macros instantly. The keyset you have removed doesn't just lie around getting in the way for ferrets to stomp on as it folds into a neat little square easy to tuck away out of woozle reach.
Out of all the dedicated WoW bits and bobs on this keyboard, the feature I like best, because am all about the lazy lazy, are the hotkeys for checking your bags (where's my top hat?) follow, whisper and emote. There are plenty more, including some cool raiding keys, but anything that can actually save me from having to type/dance is worth the hype.
The actual feel of the keys can't compare to the rubber touch of my Razer Marauder and while being good quality weighted keys, they aren't anything special.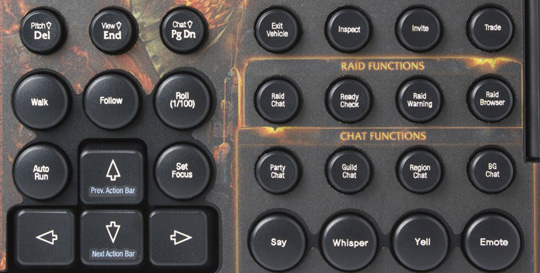 Hotkeys abound
With some of the pros out of the way, I reckon you can probably guess my first massive con of this product: it's big and ugly Even though it displays an impressive decal of Deathwing himself, this keyboard isn't about the pretty pretty. My mates made a point that I was being overly girly and shouldn't moan about something geeks wouldn't even notice. Well I can go along with this to a point, but ergonomically I didn't find it particularly comfy either. Over time, I can imagine this could impact on gameplay and aggravate geeks all round.
Spaced out
My main technical moan is that the spacebar is split (required to allow the keysets to fit properly) which effectively means you have two spacebars, and to me this is just plain fiddly and stupid. Fiddling around with this stuff will remind you of the disappointing Christmas when you got Duplo instead of Meccano. It's like some kind of dumb Lego land for geeks.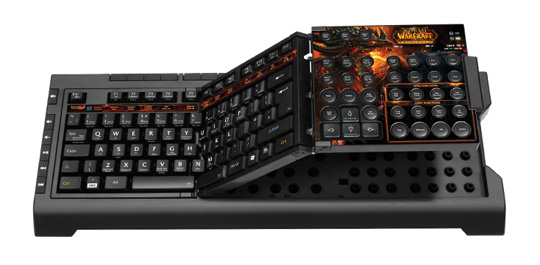 Keysets fold away neatly when not in use
Verdict
I have seen some super flames on forums in regards to the installation of the software for this keyboard and lack of support, however, I didn't run into any problems myself. Moreover, there are some useful features on both the mouse and the keyboard, but the latter certainly is in need of refinement. Still, ardent WoW gamers will certainly appreciate the benefits, as grumbles aside, these Cataclysm peripherals appear to do exactly what they say on the tin. ®
More Gaming Gear Reviews…

Razer
StarCraft II
peripherals
Sony
PlayStation Move
Microsoft
Xbox 360Kinect
Ten Essential…
Gaming Mice