Original URL: https://www.theregister.com/2011/04/21/musk_mars_dragon_claim/
Multimillionaire's private space ship 'can land on Mars'
Elon Musk's amazing claim for 'Dragon' capsule
Posted in Science, 21st April 2011 11:59 GMT
Famous upstart startup rocket company SpaceX, bankrolled and helmed by renowned internet nerdwealth hecamillionaire Elon Musk, has once again sent its goalposts racing ahead of its rapidly-advancing corporate reality.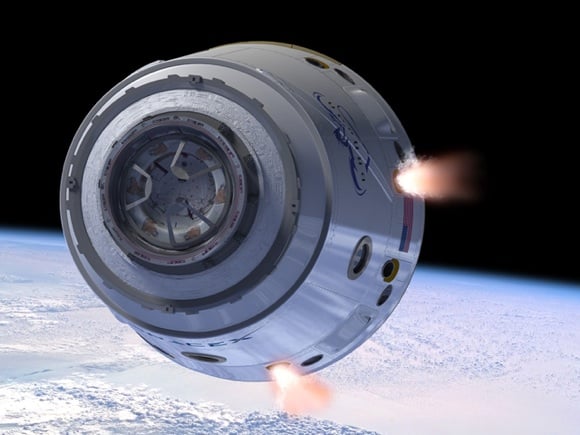 A proper Dragon can breathe fire as well as fly
The plucky challenger has stated that its "Dragon" capsule is not merely capable of delivering supplies to the International Space Station: it is - potentially - also capable of carrying astronauts to the space station and back down to Earth again.
In a statement released yesterday, Musk and SpaceX also make the bold claim that the Dragon, once fitted with modifications that the company is now developing under NASA contract, would also be able to land "almost anywhere on Earth or another planet with pinpoint accuracy, overcoming the limitation of a winged architecture that works only in Earth's atmosphere" (our emphasis).
The current version of Dragon, which has successfully flown to orbit and back once in a test flight launched by a SpaceX-made Falcon 9 rocket, is intended for unmanned supply flights to the ISS in the same manner as Russian Progress and European Space Agency ATV ships. Achievement of this capability by a company like SpaceX, which is not yet nine years old and which only recently passed the 1,000-employee mark, is quite remarkable enough: this puts SpaceX on its own at roughly the same level of space punch as the 19 allied nations of the ESA.
Not content with that, SpaceX has always said that Falcon 9-launched Dragon is intended to become a manned craft. The firm intends to win NASA business transporting astronauts to and from the space station in the imminent post-Shuttle era, when the only vessels able to move crews to and from the ISS will be Russian Soyuz ships.
There are other contenders for this work, of course. The Orion ship from NASA's now largely-cancelled post-Shuttle "Constellation" plan is still being built, though at the moment there are no firm plans for a man-rated rocket to lift it into space.
There are other "commercial crew" ISS-ferry contenders besides SpaceX, though these generally plan to launch their capsules or spaceplanes atop boosters from the established US rocket industry rather than building their own. (Boeing is the exception with its CST-100 capsule, as Boeing is also part of the established rocket base - and it has said that CST-100 could go up on a Falcon 9 if NASA chooses.)
Under a $75m NASA deal announced this week, SpaceX will fit Dragon with the only thing it lacks to make it safe to carry people - a so-called "launch abort" system. Launch abort is to manned rockets what ejector seats are to jet fighters; a way of firing the crew safely away from the craft in the event of a disaster and bringing them down to a safe landing. Rocket stacks, being basically huge lightweight towers full of explosives, are particularly dangerous during launch and so an escape system for astronauts is especially desirable during this stage of flight.
It can land people on Mars... but how would they get back?
The traditional means of launch abort is a so-called "tractor" system fitted in the form of a spike attached atop the capsule. In the event of the launch stack blowing up beneath it, angled rockets in the spike fire, blasting exhaust down past the capsule and heaving it rapidly away from the disintegrating boosters. This is the system which was fitted to the Apollo moon rockets of yesteryear, and was to be fitted to Orion in the event of it ever launching with people inside.
Lately there has been talk of "pusher" (or pressor, if you will) systems, fitted beneath the capsule to fire it away. If unused, as one would hope, these could then be used as orbital manoeuvring systems rather than being discarded after launch like tractor spikes. Boeing's CST-100 is expected to feature one of these: so is the space capsule to be designed by Blue Origin, the space firm founded by Amazon chief Jeff Bezos.
As ever, SpaceX intends to swerve off the beaten track - and even the to-be-beaten track - and go with a different method. This will see NASA's $75m used to fit the next model of Dragon with side-mounted "Draco" rockets. These will furnish it with launch-abort escape capability if needed: they will also enable the Dragon to get its occupants back down to Earth throughout any orbital mission (as opposed to being jettisoned just minutes after launch like a tractor spike).
Assuming no need for emergency forced landing, as one would hope, the Dracos will have another purpose: they will function as retro-rockets during descent to landing - either on Earth or another planet, apparently. In the case of Earth this will also permit an accurate setdown on a precise spot, permitting the capsule to come down safely in a limited area on land rather than requiring a vast area of ocean for splashdown. This would reduce costs and make re-use easier.
"With NASA's support, SpaceX will be ready to fly its first manned mission in 2014," boasts Musk, who is not merely CEO at SpaceX but Chief Designer to boot.
Now that Dragon has flown unmanned to orbit and returned successfully, that ambition to make a manned flight doesn't seem impossible at all: certainly not as impossible as it seemed in 2002 that Musk and his team would put a ship in orbit and bring it down again in just eight years. By comparison the efforts of other ink-drenched "New Space" firms like Blue Origin, Virgin galactic et al seem positively insubstantial.
What does seem impossible - very improbable, anyway - is the idea that a Dragon might in the reasonably near future make a landing on another planet: not just the Moon, then, but presumably Mars. On the face of it a Dragon landing on Mars would seem to have little point as the capsule would not be able to take off again.
But Musk makes no particular secret of the fact that his goal is to put people on Mars as soon as possible - in fact to establish a self-sustaining colony there, so that the human race could survive in the event of some disaster befalling planet Earth. Presumably he's thinking of Dragons setting down on Mars, being refuelled, and then perhaps being lifted back to orbit atop boosters running on locally-produced methane or something.
The only thing that's for sure here is that based on the story so far it would be unwise to totally discount what Musk and SpaceX say - no matter how far-fetched it may seem. ®