Original URL: https://www.theregister.com/2011/07/25/review_apple_mac_os_x_lion_pt2/
Apple Mac OS X 10.7 Lion Part Two
The cat scan continues
Posted in Software, 25th July 2011 12:17 GMT
Review You find me in better spirits compared to my anxious state during last week's experimentation with OS X Lion. A weekend of sanity makes quite a difference. That is, sanity achieved through the cathartic process of a clean instal.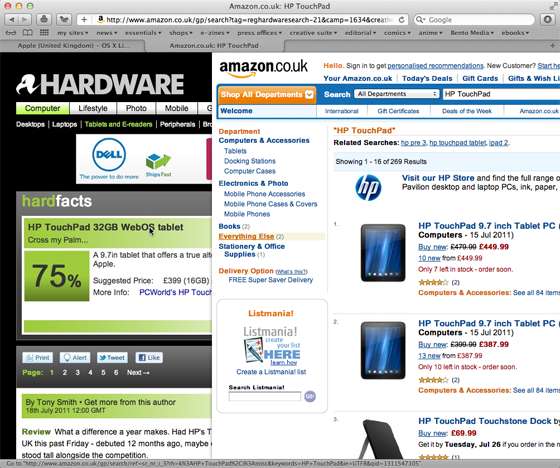 Swipe your fingers sideways across your Magic Mouse or Magic Trackpad to slide forward and back between web pages in Safari
The steps leading to this were awkward. The OS X Lion installer is only available as a Mac App Store download to Macs running OS X Snow Leopard, and it commits seppuku upon completion. With some fiddling, I managed to make my own OS X Lion installer DVD, backed up my startup volume, erased it and ran a squeaky clean installation.
Does it need saying? My iMac now runs very happily under OS X Lion.
It does not, however, run as well as it does on the MacBook Pro. This operating system was clearly devised with MacBooks in mind, hence all the clever multi-touch Magic Trackpad gestures that don't work on a - duh! yesterday's technology! - Magic Mouse.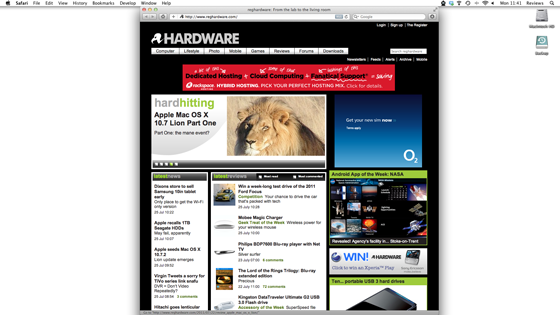 Bah, how can I be expected to read this tiny little web page?
Like many Mac enthusiasts upon discovering this, I considered ordering a £59 Magic Trackpad for my iMac... but of course that's exactly what Apple wants me to do, so I refuse. Flailing around with multi-touch gestures is all very well but trackpads lack the swift accuracy of a mouse pointer, or for that matter a Wacom tablet and stylus.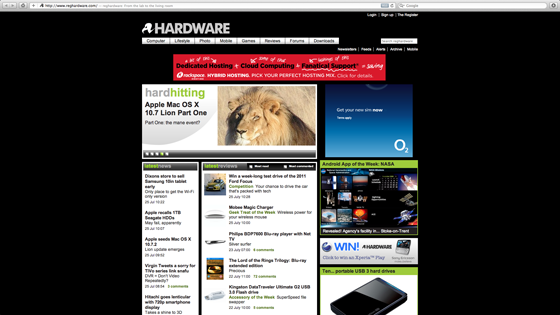 What I need to do is click on the Full-Screen button and... oh
Wacom sells ex-demo Bamboo tablets for £59, by the way. Despite Apple punishing me for being so shortsighted as to buy a mouse with my iMac, I have warmed to OS X Lion. I have found it to be both stable in use and comfortable to use, and the £21 price is admirably low.
Resize matters
Feel free to browse the full new-feature set of the operating system at Apple's website. Here, let's focus only on the features that caught my eye, starting with the bits I like.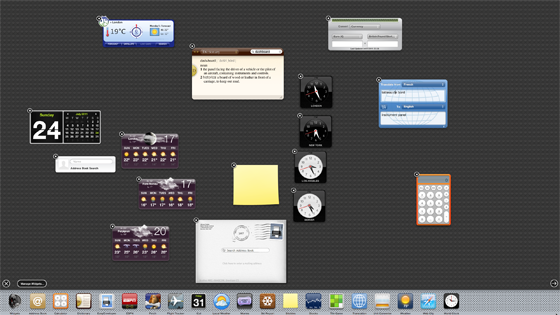 Dashboard Widgets now appear in their own space, apparently on top of a Lego board
Click for a larger image
In interface design, Apple has relented and taken a few tips from other operating systems. At long last, you can resize windows by dragging on any of its edges. You can copy files from one Finder window to another using the Copy/Paste commands (no Cut/Paste yet, though) and even copy files directly out of application File Open/Save/Export dialogue windows.
Incidentally, Apple has reversed the scrolling direction from the traditional mouse approach (swipe down to scroll down) to a tablet approach (swipe up to scroll down). It takes some getting used to, especially if, like me, you work with multiple operating systems, but OS X Lion lets you switch back to traditional scrolling if you want.
An optional feature called Resume remembers all your running programs and open documents between restarts just as your Mac does when waking up from Sleep mode. Do keep your wits about you, though, as bad habits can cause confusion: shutting down your Mac while your documents are open means that they'll try to re-open at your next startup, possibly without you realising it, thereby risking inadvertent edits, locking files for others on a network, and so on.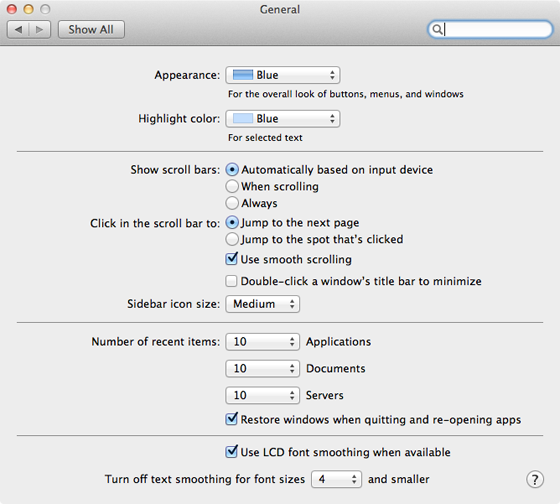 Untick Restore windows... if you want to kill off Resume
Before you ask, Resume respects private mode in web browsers, so any videos of loving couples you may leave on-screen should not make an unwelcome return for sloppy seconds after a restart. If you're risk averse, you can deactivate Resume from General in System Preferences.
Accessibility is not my area of expertise, I'm ashamed to say, but I like the new loupe cursor - Apple calls it 'picture-in-picture zoom' - that provides a magnified rectangle of whatever your mouse pointer is hovering over. This could be especially useful to those of you risking your eyesight by over-indulgence in the aforementioned videos.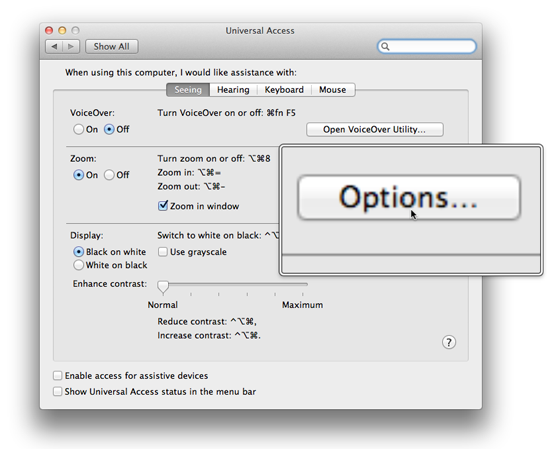 Universal Settings offers a Picture in Picture mode when 'Zoom in window' is ticked
AirDrop, a feature that establishes on-the-fly, router-free, peer-to-peer Wi-Fi connections between Macs for file transfer, is splendid in the way it just works. You don't need to launch a special utility to enter settings: you just click on 'AirDrop' in the left-hand panel of any Finder window and it'll find any Macs running OS X Lion nearby. When you drag files onto their icons, the recipients are prompted to accept or reject the temporary connection. It's so easy. A great network tool spoiled only by its refusal to work over Ethernet too.
Apple insists the connection is firewalled and only looks for other Macs within a short range. I considered borrowing a third Mac and try to hack into one of these connections from outside my window, but as a journalist I run the risk of a public beheading in the current anti-hacking climate. Clearly, AirDrop is yet another feature devised with MacBook users in mind. Hey, I'm just saying.
The same goes for Full-Screen Apps, which optionally hides the menu bar in supporting applications. How often would I want to do this on a 27in iMac? And how useful would it be on a 15in MacBook?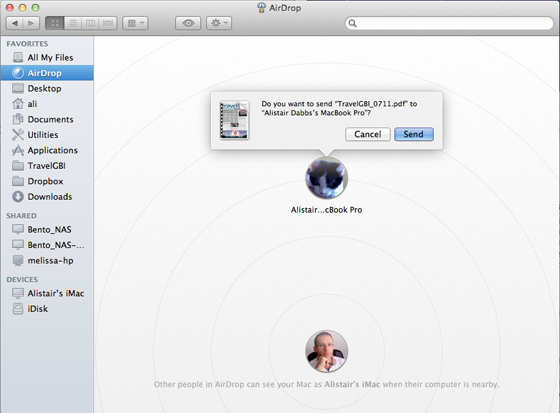 Instant Wi-Fi without a router: AirDrop links computers on the fly provided each Mac is running Lion
It may take a while for app developers to introduce updates to support Full-Screen Apps. This is true also for OS X Lion's Auto Save and built-in versioning features. The combination of being freed from Cmd+S drudgery while being able to revert a document to how it was three saves ago is lovely. The bad news is that I could only find the feature enabled in Apple Pages so far.
If you use Apple Mail, you should appreciate the iPad-style three-panel window and enhanced Exchange support. Apple says it has improved searches in Mail, but I think it has worsened. For example, it appears to be no longer possible to search for 'Sent To' partial e-mail addresses.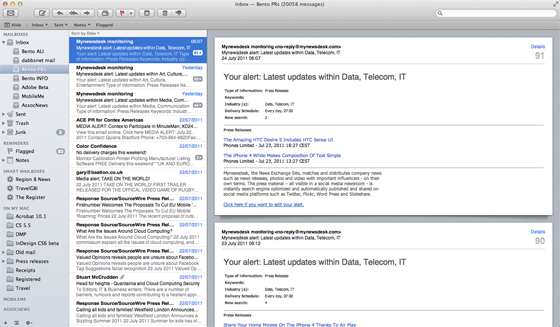 Conversations are a bit one-sided: even if I responded, my email wouldn't be included here
Click for a larger image
Supposedly, your search text appears as a 'token' in the search field, whereupon you can narrow down the results. In practice, these tokens only appear when you search for something really obvious such as a full-text user name, and fail to appear at all for much else.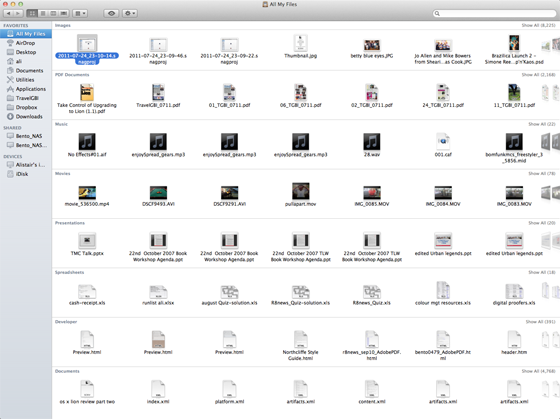 All My Files is supposed to provide an 'organised view' of my computer – it looks a bloody shambles to me
Click for a larger image
Messages with the same subject line are grouped together iPad-style too. Apple calls them "conversations", although since they don't include your replies, these conversations are a bit one-sided.
Another curious addition is the All My Files view in Finder windows. Instead of showing you the content of the current folder, this feature picks a seemingly random handful of the millions of files on your hard disk and shows them to you in horizontal-scrolling rows. There must be a good use for this but it eludes me. Your troll-like suggestions and insults are welcome, as ever.
Still, being able to arrange icons first by a category - filetype, say - and then sort each category - alphabetically, by modification date, or somesuch - is good. But the CoverFlow-style display (above) needs some whitespace at the start and end of rows, Apple.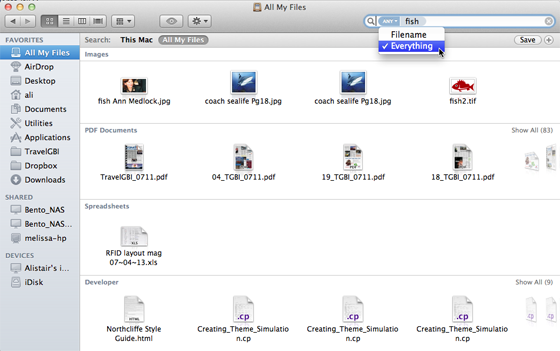 The cleverness of 'tokens' in searches leaves me cold. You can do this much in Snow Leopard
Click for a larger image
Verdict
In short, OS X Lion is a decent upgrade for Macs but a great one for MacBooks. Everything from FileVault 2 - encrypt everything, not just your home folder - to FaceTime - video chat on the move - screams 'mobile!', while sedentary users look on and mutter 'that's nice'. But for £20.99, who's complaining? ®