Original URL: https://www.theregister.com/2011/09/28/wtf_is_hbbtv/
WTF is... HbbTV?
Net connectivity for your telly done properly
Posted in Personal Tech, 28th September 2011 13:00 GMT
Connected TV is all the rage. Every major brand has its own IPTV platform, such as Panasonic's VieraConnect or Samsung's Smart TV, offering a mix of catch-up services and additional content like movie trailers and YouTube access.
As it stands, content providers need to work with TV and set-top box makers to integrate their offerings with each manufacturer's IPTV UI. It's a costly business, and while a vendor will be eager to work with popular services, such as the BBC's iPlayer or Google's Picasa, it may be less keen to enable other, less well-known online content sources. That restricts the range of content available to TV owners.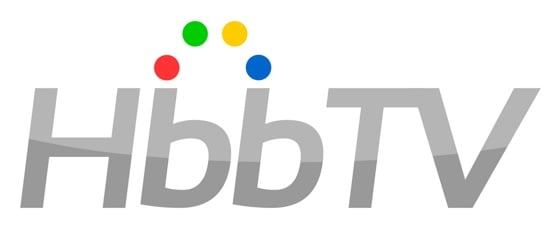 But moves to standardise IPTV are underway. In the UK, the YouView project is set to launch early in 2012. It will bring a common interface for catch-up and online video services, though there's also some competition in the form of the new streaming services being launched on some of the data channels.
Look across the English Channel and the situation is slightly different. Many of the TVs launched at this year's IFA consumer electronics show featured support for a technology called HbbTV. In the UK, HbbTV is going to be included in the next generation of Freesat boxes, due early 2012.
So what is HbbTV and why should you care about it?
The evolution of teletext
In the old analogue days, teletext services like Ceefax and Oracle were provided using the lines at the top of the picture transmitted during the "vertical blanking interval" (VBI).
The VBI is the time it takes a CRT's electron gun to move from the bottom right of the screen to the top left. During that time, the screen-lighting electron stream is turned off - hence the 'blanking'.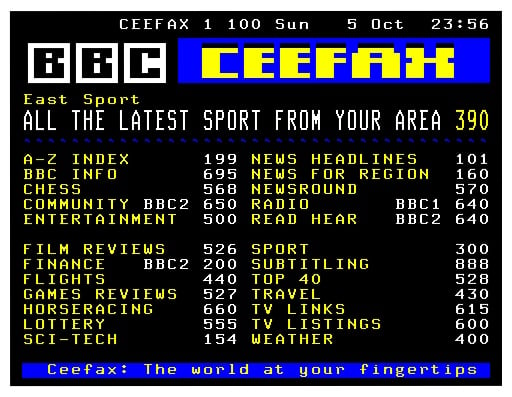 Ceefax, the BBC's Teletext service
Source: Wikipedia
A British invention, teletext came to be widely used around Europe too. While the UK decided to make the move to digital TV with a new interactive system, MHEG 5, in many other countries that didn't happen. Instead, the data for text services would be transmitted as part of the digital TV signal, not separately, and then inserted into the VBI by the set-top box or TV, allowing the decoders in sets to display it just like its analogue counterpart.
So, while the UK has the red button for interactive services, other countries still use teletext.
MHEG, although an ETSI standard (ES 202 184), was largely defined by the capabilitis of the chips developed to support it in TVs and set-top boxes.
More recently, MHEG has been enhanced with the "Interaction Channel", which is used to deliver content like BBC iPlayer and applications from the internet. A small, core application is delivered through the digital TV stream in blocks using a data carousel. When all the blocks arrive, the application can be assembled and launched - and then load content through an internet connection.
HbbTV
At its most basic, HbbTV – short for Hybrid Broadcast Broadband TV – is similar to MHEG in that it too can have an application delivered to the television using a data carousel. That application can likewise load additional content from the internet. HbbTV is also an ETSI standard (TS 102 796).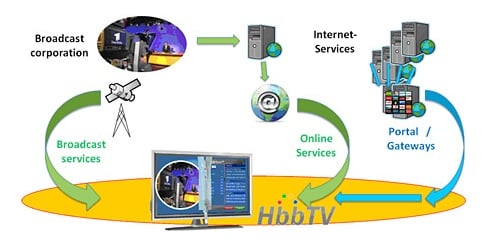 HbbTV doesn't depend on a particular broadcast link or on a particular IP link - it'll work with either
Source: HbbTV Consortium
But MHEG applications usually require a broadcast stream to launch them. You can't simply stick an MHEG application on the home page of an IPTV front end such as VieraConnect, for instance.
HbbTV applications, however, can be delivered from an application portal in the TV and delivered solely over the internet. So it can support content services from providers who don't have broadcast channels available to them.
HbbTV is based around technologies that will be more familiar to web developers than those of MHEG, including CE-HTML, a specification that includes XHTML, CSS, Ajax and Javascript. Crucially, that makes it accessible to considerably more coders than MHEG, with its more esoteric tech, does. In short, with HbbTV, its supporters claim, content providers can build and release apps that link to their material more quickly.
HbbTV's Javascript API has extensions to provide for TV functionality, such as handling channel changes. And it starts out with an explicit expectation that host TVs have a minimum display resolution of 1280 x 720.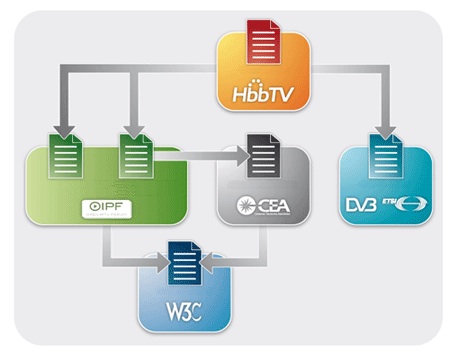 The HbbTV spec corrals standards and technologies, including CE-HTML, DVB and JavaScript, from many existing organisations, such as the Open IPTV Forum and the W3C
Source: HbbTV Consortium
The HbbTV spec also contains a contribution from the Open IPTV Forum, which has defined a set of audio and video formats that should be supported over broadband. Essentially, HbbTV relies on the AVC (H.264) codec for both standard and high-definition video, with either E-AC3 or HE-AAC for audio. Audio streaming services use either MP3 or HE-AAC.
Those who missed out on surround sound with the earliest Freeview HD boxes will be pleased to know that transcoding to AC3 (Dolby Digital) is also mandated by the HbbTV specification.
It's worth noting that it's possible for a single receiver to support both MHEG 5 and HbbTV, as will be the case for the next generation of Freesat boxes, for example.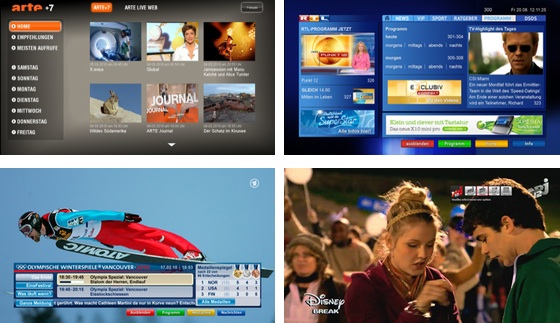 HbbTV services from among the many rolled out on the Continent
So, rather than being revolutionary, HbbTV is a pulling together of existing standards to create a platform designed to be straightforward to implement, and to enable easy development of applications.
Compared to YouView
So, how does HbbTV compare to YouView? YouView is broader in scope, in that it's a complete system with a consistent front end and a centralised EPG. It's intended to be built into branded boxes.
That has caused friction among UK content providers, some of whom feel they, not a consortium, should be free to define the UI that fronts their IPTV services.
As simply a building block, HbbTV makes that possible. There's no central authority co-ordinating all the different things that individual channels do, to enforce a unified experience. It's more like the way that both ITV and the BBC make their catch-up services available through Freesat's red button: they use the same technology, but look different.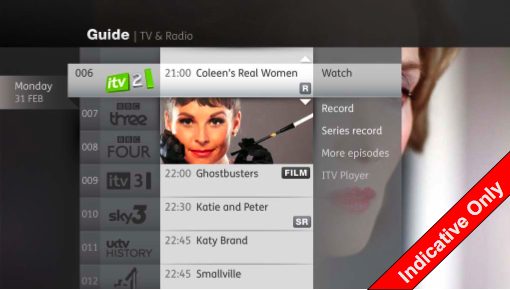 Whatever the final YouView UI looks like, it'll be a consortium-controlled experience
There's another key difference too: HbbTV is already out there and in products you can buy now. Many broadcasters already have HbbTV applications deployed on both satellite and terrestrial services, particularly in Germany, where ARD, ZDF, RTL and even QVC have services, together with Franco-German arts channel Arte.
With other countries in Europe also deploying HbbTV, it's likely to end up costing relatively little to include in sets as a matter of course.
For the UK, with YouView already delayed and initially targeting terrestrial users, using HbbTV means Freesat won't be left behind when it comes to supporting the extra online features that all the major TV platforms will be pushing in their bid to keep viewers in front of the telly. ®