Original URL: https://www.theregister.com/2011/11/24/spaceship_design/
What should a sci-fi spaceship REALLY look like?
Saucers, flying caravans and floating oil rigs...
Posted in Science, 24th November 2011 11:00 GMT
People making sci-fi movies have it easy.
If you're designing alien technology, not even the most determined pedant could claim with any authority to know how a real Imperial TIE fighter might look.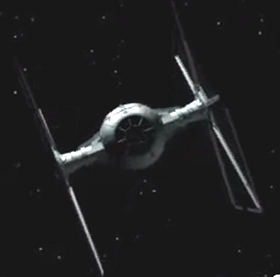 The TIE fighter (as imagined by George Lucas).
If you're making a film about war, or journalism, or (especially) computer hackers there's always some wiseacre at the back of the cinema ready to tell you why your guns, newsroom or (especially) Ruby script looks wrong.
But still the Hollywood spacecraft designers stick to certain rules when assembling their plastic or pixel models of otherworldly craft.
Is that because they're all taking the same scientific advice? Or because they're all copying each other's homework?
Syd Mead is a hugely influential "visual futurist" who has designed starships and other future-tech wonders for films such as Star Trek, Aliens, Blade Runner and Tron.
I asked Syd about designing movie spacecraft, and whether there were any established rules to follow:
"Anything 'alien' suggests something that, well, is alien to our humanistic experience, perceptions, etc. Therefore, to propose that alien can be defined other than a generalization of 'weird' is sort of pointless. Now, let's move your question into the realm of popular entertainment. Any commercial enterprise, to be successful, needs to resonate with an averaged-out recognition. Let's assume that the average level of perception in the commercial audience is about that of a 10- or 11-year-old.
"If you put together a really weird alien thing, nobody would know what it was, it wouldn't complement the story/movie/TV production and the 'alien' whatever would simply become a distracting element. So, alien stuff is configured to look strangely 'familiar' though with a twist. That is successful alien design for movie/TV/book content use."
We had to wait until the 1950s before alien invasion movies came into style. The first movie spacecraft were launched from Earth and looked more than a bit like bullets. It seemed reasonable to Georges Méliès in 1902 that we could fire men to the Moon inside a huge artillery shell*.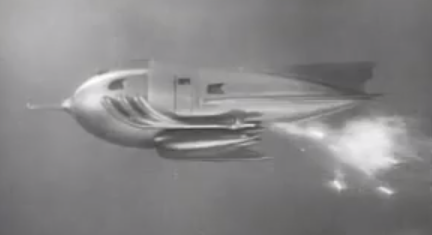 The amazingly realistic Flash Gordon rocketship.
Even some 30 years after Méliès the creators of the long-running and influential Flash Gordon movie serial showed the peroxide adventurer travelling to Mongo in a streamlined rocketship that looked for all the world like a Fifties caravan. Or, to the makers of pioneering porn parody Flesh Gordon, something else entirely.
Lawrence M Krauss is Professor of the School of Earth and Space Exploration at the Arizona State University, but he's probably best known as the author of The Physics Of Star Trek. He's pretty sceptical about the need for streamlining: "The silliest thing about alien spacecraft, which are designed only to travel in space, is that they are made to look aerodynamic, which is of course unnecessary, since there is no air…remember the Apollo LEM? That is how aerodynamic a spacecraft needs to be..."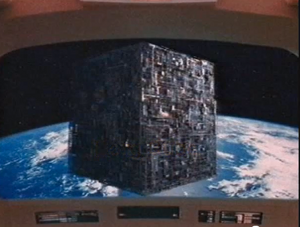 The Borg's Cube (Star Trek): as aerodynamic as it needs to be...
Ironically it's perhaps the most streamlined ship of all that has dominated our idea of how an interplanetary runabout might look.
It was in the early 1950s that the Flying Saucer really gripped the filmmakers imagination. Sure flying disks had been popping up in Chinese and Indian legend for several centuries but it was the alleged sighting by Kenneth Arnold on June 24, 1947, that changed our idea of alien spacecraft forever.
Eyes like saucers..
The fact that Arnold's original report of a crescent-shaped craft was misquoted by news reporters is hardly material. Saucers they were called, and it was saucers that came to dominate the imaginations of credulous 'contactees' and Hollywood special effects technicians alike.
The beauty of the saucer, of course, is that it's inexpensive to fake. As a million ill-advised amateurs with a Super 8 camera and a hubcap have proven over the years.
Probably the grandest and most memorable saucer of the 1950s sci-fi boom was the great glowing disc from The Day The Earth Stood Still (1951). Perhaps it was because it was just about the first 'alien ship' that anyone had ever seen (most pre-50s space travel movies involved outbound traffic) that it was so influential.
The menacing tripods from HG Wells's War Of The Worlds became, in their 1953 cinematic adaptation, floating ovals that resembled, if not a KP Disco, then at least a KP Skip.
Saucer-shaped ships went on to feature in movies ranging from the surprisingly thoughtful This Island Earth (1955) to the predictably daft Earth Versus The Flying Saucers (1956).
The conviction that the disc was the ideal shape for an interstellar runabout was so persuasive that even Earthmen had adopted the design by the release of Forbidden Planet (1956).

Dalek saucer
Although those timelessly evil pepperpots the Daleks went with a pleasingly retro saucer/conservatory hybrid for the 1966 Doctor Who feature film Daleks: Invasion Earth 2150 alien invasion movies had largely fallen out of style by end of the Sixties. But the Sixties were the decade of Star Trek. Fêted as a show that beneath its space-western skin had a certain scientific rigour, it also featured a dizzying variety of spacecraft configurations. Discs, cubes, Birds Of Prey; did any of them make any sense?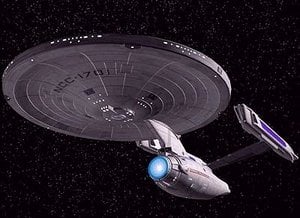 Star Trek's Enterprise: up and down should mean nothing...
Geoffrey Landis is a scientist at the NASA John Glenn Research Center, where he works on Mars missions and on developing advanced concepts and technology for future space missions. Helpfully, he's also a Nebula and Hugo award-winning sci-fi writer. If anyone knows about this stuff, he does:
"Probably the silliest design of all time is the Star Trek 'Enterprise'. It's obviously built with a clear notion of which way should be 'up' - but what does up or down mean in space? Why make the habitat section in the form of a saucer, anyway (except, perhaps, as homage to the old Kenneth-Arnold style UFO shape)? And, since the engines are so far off the centreline, why doesn't it only fly in loops?"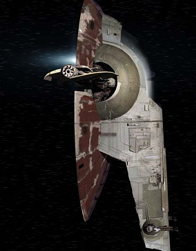 Slave 1, from Star Wars
Despite its geometric issues the Enterprise 'engine on a stick' approach was an influence on other TV sci-fi shows such as Blake's 7 and (later) Firefly.
The classic saucer wasn't dead though. The Millennium Falcon from epochal sci fi game-changer Star Wars is probably the single most beloved spacecraft in fiction, and it's at its heart a pimped-out saucer.
Probably the most interesting bit of spacecraft deign to come out of Star Wars was the Slave 1, personal runabout of bounty hunter Boba Fett. It's like nothing else in science fiction, with no clear 'up' or 'down' orientation and a shape that can only be described as an art deco doorhandle.
Even that was suspiciously smooth though: for mad, exuberant lack of streamlining the doomed Nostromo, from Ridley Scott's Alien was a solitary example of Lawrence Krauss's maxim. It was a spacecraft that didn't look anything like a saucer, or a needle, or an aeroplane. When connected to its payload it just looked like a run-down oil refinery that happened to be travelling at around the speed of light.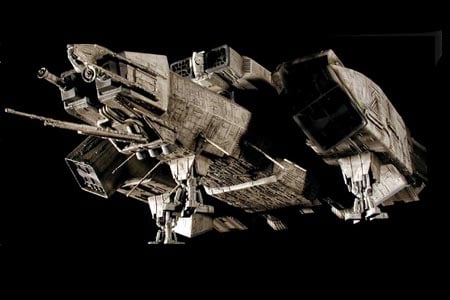 The Nostromo, from Alien
From solid discs to moving panels and flaps
Adding spoilers and fairly lights to the featureless flying discs of the first big screen saucer boom was still very much the order of the day though. The featureless flying saucer that brought Klaatu to Earth in The Day The Earth Stood Still had evolved by the release of Close Encounters Of The Third Kind (1977) into a vast, light-bedecked mothership.
The same notion informed 1985's Cocoon and to a certain extent the illuminated ballcock that finally takes ET home. Even Neil Blomkamp's District 9, from 2009, featured a spavined half-wrecked cousin of Spielberg's flying city of lights.
The curious evolutionary process that took us from smooth featureless flying discs to the rusted, weatherbeaten saucer hovering above District 9 isn't about to stop though. The current hot trend is for moving panels and flaps.
Even though no modern film maker has thought it wise to give alien invaders a ship with actual wings, the superfluous trim tab is abundantly in evidence in recent sci-fi actioners such as Skyline, Battle: Los Angeles and Cowboys & Aliens.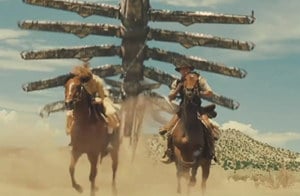 Cowboys and Aliens
The lumpy, bumpy, rocket-bedecked alien fighter craft in Battle: Los Angeles are a fine example of an effect that was simply not possible with computer animation even a few years ago.
When George Lucas showed us his grubby, complex X-Wing fighters in Star Wars he did it with models and sometimes full-scale mockups. It's an expensive and inflexible method, but in 1977 it was the only game in town.
Sail away...
By 2002, in the (almost) all-CGI Attack Of The Clones Lucas could show the villainous Count Dookoo making his escape in an interstellar clipper with a huge retractable sail that's markedly similar to some of the real designs being put forward for the next generation of interplanetary explorers.
Those solar galleons are still no more than wishful thinking for now. If we allow that (in the absence of any first-hand evidence of alien spacecraft) the advances in our image of alien craft are driven less by scientific research and more by the evolution of special effects technology where do we go now?
What's realistic in a world where even the 'real' spaceships are imaginary?
Geoffrey Landis again: "Of the 'realistic' ships designed by Hollywood, far and away the most realistic would be the 'Discovery One' from 2001: A Space Odyssey. The space colony from Babylon 5 would be another ship that looks like some engineering thought was given to its design, with spin-induced artificial gravity."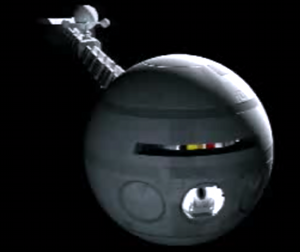 The Discovery One from 2001: A Space Odyssey
It's interesting that even in science fiction's worlds of pure imagination the Earthmen's ships are always that little more soberly-designed than those from other planets.
The funny thing is, it ought to be the other way around. The mile-wide steel pizzas of Independence Day look positively conservative compared to the laser-powered interstellar sailing ships of current scientific theory.
The future of sci-fi ships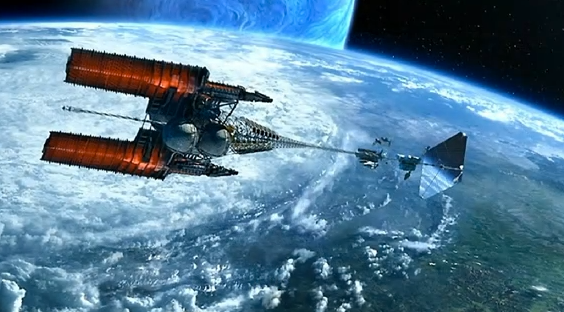 The ISV Venture Star
The ISV Venture Star, from James Cameron's sci fi epic Avatar, is probably the closest approximation of a realistic starship of the current cinema crop. Not least because it owes more than a little to the speculative but entirely serious Valkyrie antimatter-powered design dreamed up by Cameron's fellow Titanic scholar Charles Pellegrino.
Limited by what audiences will accept on one side and the current rendering power of a Silicon Graphics workstation on the other there's always bound to be a certain amount of repetition, even by the best filmmakers. There's a rotating space station and a streamlined space shuttle in George Pal's 1954 Conquest of Space that prefigured 2001 A Space Odyssey by some 15 years.
But, now that CGI technology can make more or less anything we can imagine, what will the imaginary spaceships of the far future look like in the near future? Prospective movie starship designers should take a note from Syd Mead:
"There is a sort of standardized geometry throughout the universe which conforms to chemical and molecular geometry. The six-sided hexa...configuration is a natural occurrence. A successful 'alien' spaceship would be geometrical with an organic envelope suggesting a shape-shifting morphology and a perfect linkage between the 'mechanical' and the 'organic."
Of course for real surrealism, maybe it's best not ask a designer: The 1980 Star Wars clone Battle Beyond The Stars dipped into a rich well of loopy imagination by running a competition for schoolchildren to send in their spacecraft designs, the maddest of which were mocked up and used as props in the film.
The result is some of the craziest interplanetary frog-ship and jellyfish raider architecture you might ever hope to see. Shame it's not a better film, really.
When it comes to otherworldly engineering, surely the loopier we can be, the better. What I think our special effects people need to do is, forget the audience's preconceptions, set aside the work of their predecessors, and do something truly daft. ®
* It still seems reasonable to the habitués of numerous right-wing messageboards who despair of our overcrowded prisons.
References