Original URL: https://www.theregister.com/2012/04/20/something_for_the_weekend_loser_computer_users_who_read_ebooks/
What kind of LOSER sits in front of a PC...
...to read a book?
Posted in Personal Tech, 20th April 2012 11:00 GMT
Something for the Weekend, Sir? I have just wasted half a day at the London Book Fair, hoping to discover some new e-book readers with a view to reviewing them for El Reg.
Expecting to wade waist-high through stacks of competitive continental European brands, I was disappointed to find that the exhibition's Digital Zone was dominated by companies offering to produce ePubs - which I dare say many El Reg readers are perfectly capable of doing for themselves already - or announcing e-book commerce offerings at stultifying presentations.
Where was the hardware?
Perhaps you're wondering why I think this matters. After all, we already have several perfectly serviceable e-book readers on the market: Kindles, Kobos, Sonys and a veritable fertilizer silo of the kind of indescribable no-brand turds that used to sit in Maplin shop windows but no-one would buy.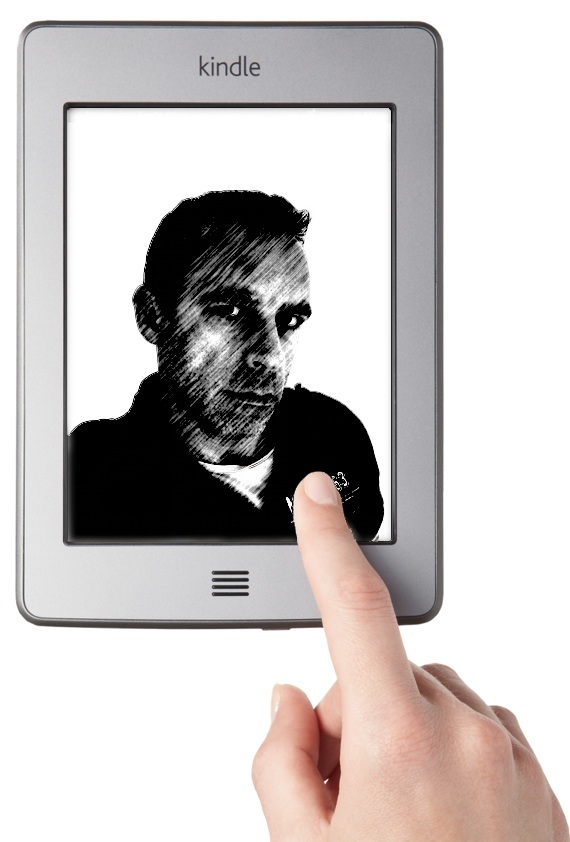 Sure, there are also products from Elonex, Bookeen and so on, but I suspect these only exist in the virtual reality of online comparative reviews on tech websites. I've never met anyone outside the field of IT nerdalism who has heard of them, let alone bought one with money. And that's your lot.
I discount iPads and 10in Android tablets: they are dreadful e-book readers. They're big and heavy, and can only be read indoors. They run out of battery power at the end of the first day of your holiday whereupon you realise you've left the charger at home.
Scratch smartphones too. I love them for a lot of things, but they make shitty e-book readers. Trying to read a book half a sentence at a time drives me mental.
And forget about e-book reader software on your desktop and notebook computers too. What kind of loser sits in front of a computer to read a book, for fuck's sake? The same Johnny-no-mates that boots up in order to play Solitaire?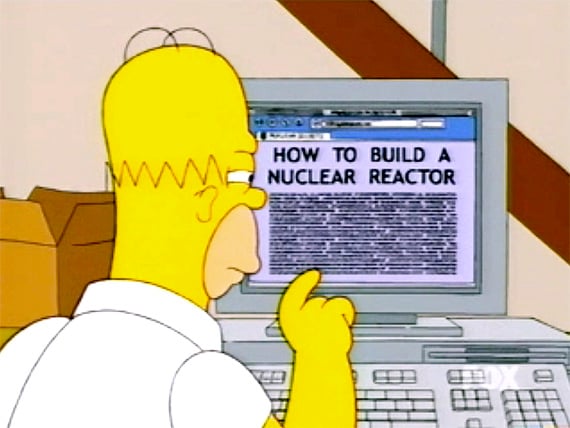 Source: 20th Century Fox Home Entertainment
Beyond the idle fantasy of forlorn Adobe developers still working on the lamentable Digital Editions in a shed somewhere on a Californian allotment, this concept of e-book readership is a load of bollocks – and it always was.
Oh, touched a nerve, have I?
I'm just winding you up. I'm clearly not writing about all e-books: naturally, non-fiction and reference works need to be accessed on devices of all sizes. Nor am I writing about picture books and magazines, which look fabulous on 10in tablets.
For my purposes here, I'm only concerned with the kind of e-books that are "read for pleasure": in bed, on holiday, on the sofa on a Sunday afternoon, on a train during the daily commute, and so on. Inevitably, my ideal format for an e-book reader is something akin to a book but thinner and lighter – hence the aforementioned Kindles, Kobos and Sonys.
That's not a lot of choice, though, is it? Not when you realise that German residents can pick from a much wider range, including such unfamiliar names as txtr (sic), OYO and the catchily titled Weltbild and Hugendubel. Germany has been a hotbed of e-reader development for at least the past five years, arguably out-developing the rest of the world, not that you'd know it here in the UK.
Tablets don't count
Nor do we get proper - ie. widely sold and fully supported - access to kit that Americans have been toying with for ages, such as the Nooks, BeBooks or even the Android-based Amazon Fire.
Back wandering through the aisles at the London Book Fair, the only new e-book readers I could find in this world gathering of the publishing industry were a prototype Pyrus on the TrekStor stand and a row of tentative but unappealingly chunky crap from a Chinese manufacturer looking for European distributors. Expect to see these stocked in Maplin at some point.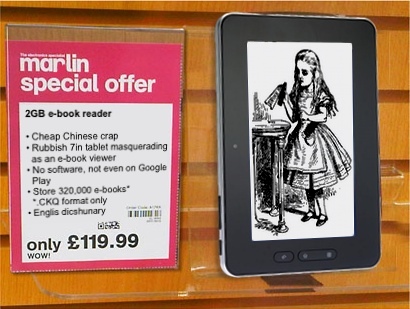 The only other e-readers on show were two Kindles on the Amazon stand - literally; they only had two actual devices - and the current Kobos on the Kobo stand. There was also an over-enthusiastic man on an otherwise creepily vacant Nokia stand who tried to convince himself that his company wasn't on the verge of financial collapse by showing me how the forthcoming Lumia 900 smartphone will download my books, organise my photos, extend my life expectancy and suck my cock.
As usual, I ended up arguing with everyone about encrypted e-book copy protection - more accurately described as "built-in obsolescence" - the inability to lend e-books to friends and family, and the requirement for a PC and USB cable simply in order to import certain books onto an e-reader even if it has it own Wi-Fi or 3G connection.
For some reason, the rep on the Kobo stand didn't like it when I asked where my encrypted books will go if his company goes tits up in a few years from now. I can understand why people never like it when I ask what will happen if they go out of business, but it annoys me that they haven't considered the possibility.
Their response is always: "Everything will be fine, don't worry your pretty little head about it", which is total bunkum because what they're really thinking is: "I won't care because I'll be unemployed/dead/in the Cayman Islands with your money."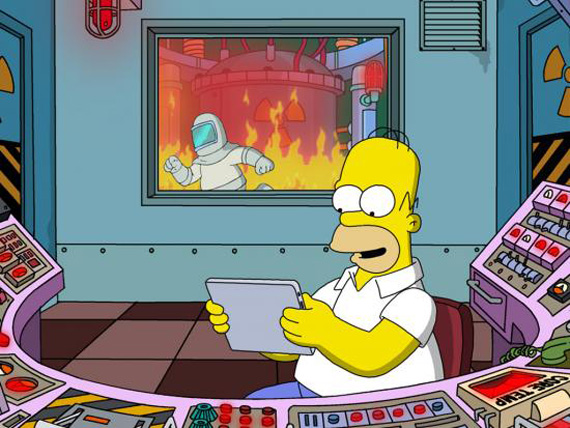 Source: 20th Century Fox Home Entertainment
What I was looking for at the London Book Fair was a competitor to Amazon Kindles. While Amazon's enormous success in retail has given it the financial clout to develop a near-perfect e-book ownership experience - if you ignore the dopey .MOBI file format - it is surely not beyond the capacity of smaller organisations to do something similar. It might have been rocket science when Amazon first devised the Kindle devices and Kindle store, but today it's more like basic maths: eReader + Wi-Fi + cloud.
I appreciate that having more choice doesn't mean those choices will be better – as indeed we discovered with the privatisation of British railways and we will presently discover when the government's NHS reforms settle in – I don't enjoy being spoilt for lack of choice. ®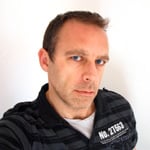 Alistair Dabbs is a freelance technology tart, juggling IT journalism, editorial training and digital publishing. He won't tell you which eBook reader device he owns but he uses it primarily to feed his pulp sci-fi addiction. Print books are nice too: his dad owns a couple of first-edition John Carter of Mars books in their original dust-jackets. Heh.