Original URL: https://www.theregister.com/2012/05/10/product_round_up_arm_mini_computers_the_best_and_the_rest/
Best and the Rest: ARM Mini PCs
New shoots from an old acorn
Posted in Personal Tech, 10th May 2012 06:00 GMT
Product round-up
The Best...


The Raspberry Pi – if you can get your hands on one – isn't the only small, inexpensive ARM computer around these days. There are quite a few options with varying speeds and price points. So here we take up ARMs with a full review of the ARMini – uniquely British offering that is currently the fastest and the most costly player in this arena – and take a look at a range of alternatives for ARM enthusiasts.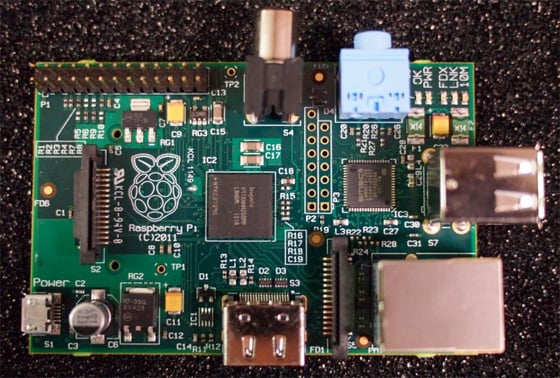 Missing from the larder: a slice of Raspberry Pi
The ARMini is considerably quicker than the Raspberry Pi, which despite a powerful GPU has only 256MB of Ram and a 700MHz ARMv6 core – but then, a bare Rπ is less than a twentieth of the price.
ARM's family of CPU cores is complex and the nomenclature doesn't help – the Raspberry Pi's ARM11 core implements the ARMv6 instruction set, whereas the Beagleboard's Cortex-A8 is an ARMv7, which is a dual-issue, superscalar CPU, meaning about twice the instructions-per-clock.
Raspberry Pi supremo Eben Upton claims that the device is only about 20 per cent slower in actual use, but then, 256MB RAM is not much for running a modern graphical Linux desktop, either.
It's also worth noting that the most popular Linux distribution, Ubuntu, only supports ARMv7 or better, so the latest version you can run on an Rπ is the long-obsolete and unsupported Ubuntu 9.04 – but big-name alternatives available include Fedora and Debian.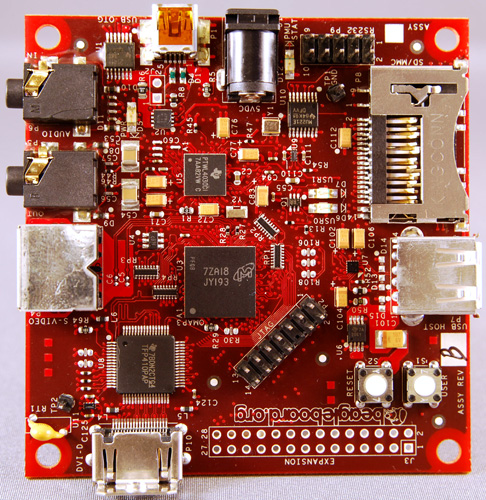 Best of breed? The Beagleboard
Source: Wikimedia
Saying that, though, the Raspberry Pi is nearly an order of magnitude cheaper than anything else out there. As Upton puts it: "It's not entirely clear to me why the Beagleboard is so expensive. Somebody in that Beagleboard value chain has got to be making a pile of money – I mean, $175 for a Pandaboard or $100 for a Beagleboard? Somebody's got to be amassing a pile of cash there, because that's a $10 chip in that device. I don't know why they're so expensive."
ARMini
R-Comp Interactive's ARMini is a modern, British-built desktop PC designed to run the ARM chip's original operating system, RISC OS. It isn't a completely new machine; rather, it's a custom bundle of a Beagleboard and various bits of supporting hardware inside a mini-ITX case, together with a customised build of RISC OS. The aim is to provide a smooth experience to existing RISC OS users.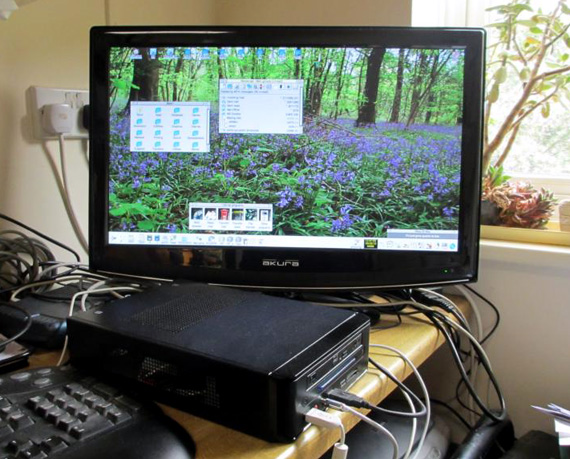 A typical user environment?
At £599, the ARMini is more expensive than the basic model of the considerably smaller and more powerful Apple Mac mini – and you don't get a lot of hardware for your money. The case is slightly larger than an external 5.25in drive, and alongside a lot of empty space, there's the tiny 3in square motherboard, an HDMI-to-DVI adaptor, a USB hub and an 8GB thumbdrive.
A slimline internal DVD-RW drive is now included for no extra cost, although our review unit was the earlier model that lacked one. There's also 14cm-long external power brick.
The main board is the higher-spec Beagleboard-xM – 1GHz Cortex-A8 CPU, 512MB Ram, on-board Ethernet – running the shared-source RISC OS 5. Together, the storage and Ram provided aren't much in 2012, but then, by modern standards RISC OS is not merely tiny but minute, as are its apps. Even with a suite of freeware and some demo files, only about 750MB of the thumbdrive was occupied. RISC OS itself lives on a micro-SD card in a slot on the Beagleboard.
It's not a lot just shy of £600, but what you're paying for is integration. The review unit came preloaded with RISC OS 5.17 from RISC OS Open Ltd, the company behind the freeware shared-source version, but R-Comp offers a free download that upgrades the machine painlessly to 5.18, together with updates for the bundled apps. I also tried an upgrade to the experimental 5.19 and it worked flawlessly.
The ARMini includes licences from both Castle – owner of RISC OS 5, the shared-source fork – and RISC OS Ltd, vendor of RISC OS 6, the proprietary commercial version. Although you're not running the commercial RO6, R-Comp's build of RO5 includes some enhancements taken from it – so, for instance, when you change screen mode, a confirmation dialog box appears and the machine times-out and automatically reverts goes back if you don't click one.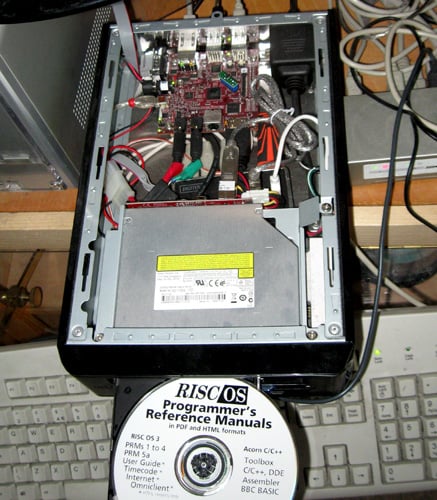 The RISC business
This is a handy addition – RISC OS's screen-mode support is a bit palaeolithic. It can't read your monitor's capabilities over EDID and the Beagleboard's GPU is working at the outer limit of its abilities driving a big modern flatscreen, so invalid mode settings and an unusable display are a real risk. Indeed, in testing, I found I could only get a display with an HDMI cable – using the DVI port yielded no picture.
Acorn Antiques
R-Comp bundles a large number of custom monitor profiles to get the best out of the GPU, including support for 40Hz operation at 1080p resolution. Other additions include custom icons for the SD and MS cardreader slots and support for FAT32 media.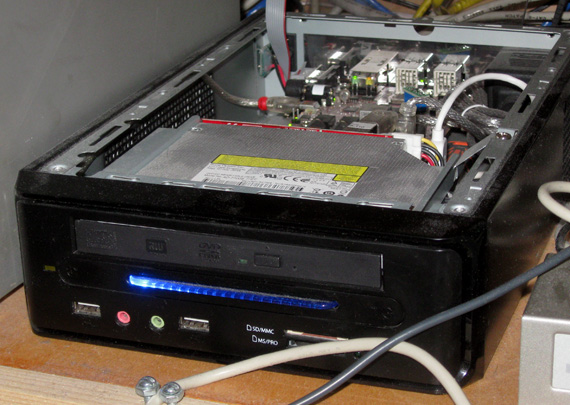 SD and Memory Stick cards slots up front
The company has also added a selection of apps to the basic RISC OS system, so you get the Fireworx word processor-cum-spreadsheet, Netsurf web browser, TapirMail email client, plus network clients for Windows CIFS, FTP, NFS and NTP, games, utilities and more.
RISC OS is pretty basic by modern standards, but then, it's a 1980s OS that predates both Linux and Windows 3. But what it lacks in technical refinement – no swap-backed virtual memory, no multiuser support, only very basic security and memory protection – it makes up for in responsiveness. It's blisteringly quick. It boots in seconds, apps open instantaneously and windows redraw faster than the eye can see. No OS has felt this fast since BeOS.
If you're jaded by a world full of samey X86 boxes and have fond memories of the RiscPC or older Acorns, then the ARMini is a lovely little machine. It's pretty much plug in and go – at about twice the speed of the 600MHz Iyonix, let alone the 400MHz A9home, the two preceding native RISC OS computers. One snag is that as it's a pure-32-bit system, old 26-bit binaries from Acorn hardware won't run, but R-Comp hopes to make the Aemulor 26-bit compatibility layer available for the machine at some point in the future.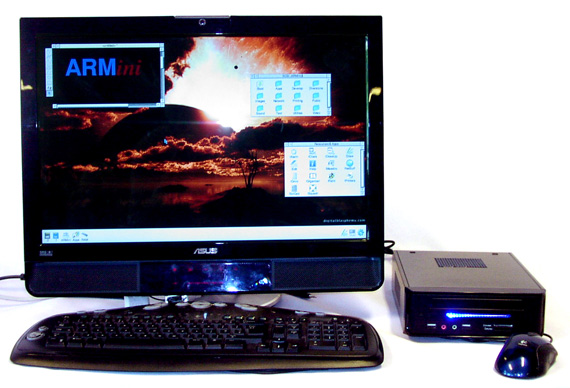 But it has to be said: it's expensive. Even with the RISC OS licences, it's hard to see how R-Comp can justify the price. Even with worst-case pricing, a Beagleboard-xM is about £155, the Linkworld 820-01 case £40, a Platinum thumbdrive £20 and Belkin seven-port hub £15. RISC OS is installed on 5MB of a 4GB microSD card – call it £15. That's about £250 of components; adding the internal audio and USB connections and so on – surely under £300?
RISC OS 6 is £49. Assuming Castle wants something comparable for a commercial licence, there's still an Apple-beating 33 per cent margin in there somewhere. That's a lot even for a pre-installed, ready-to-use machine – but still, it's the fastest RISC OS machine ever. It's very nearly the cheapest, too – only the 1992 Acorn A3010 cost less when new.
...and the Rest
BeagleBoard-xM

If you're a Linux type and you can't get a Rπ, need more CPU performance or a more current version of Ubuntu, then a Beagleboard-xM is a much better deal than an ARMini. You could build your own Beagleboard system for around £200-£250 and it will be a far more capable than an Rπ – albeit at about ten times the price.
But this is just scratching the surface of low-cost ARM systems. If you want something complete and ready to go like an ARMini, then the main options are CompuLab's Trim-Slice or SolidRun's CuBox.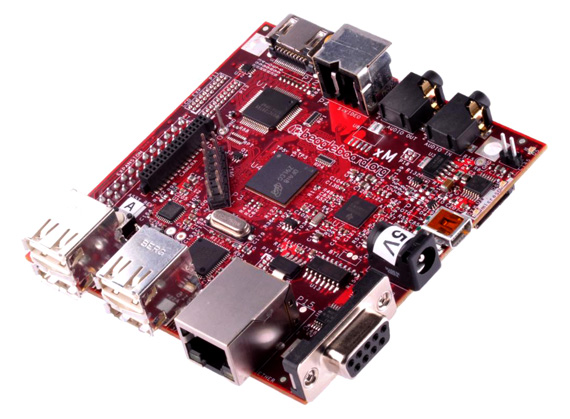 CuBox

The CuBox is claimed by its makers to be the world's smallest desktop PC: it's a 2in cube, weighing under 100g and running on less than 3W. Available since the start of 2012, it has a single-core 800MHz ARM v7 core, 1GB of RAM, GigE, SPDIF and eSata ports – less powerful than the Thin-Slice, but well-spec'd for a tiny media player with local storage. It comes with a 2GB microSD card preloaded with Ubuntu, but can also dual-boot with Android.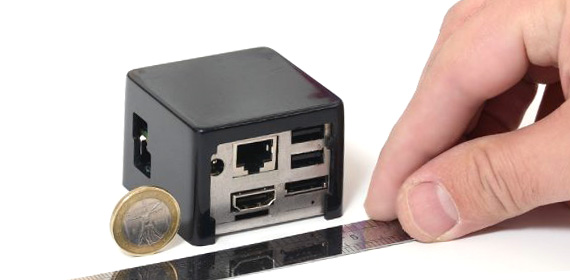 FXI Technology CottonCandy

Even smaller is the CottonCandy from Norwegian outfit FXI. The form-factor of a USB thumbdrive, the machine can also plug directly into an HDMI port. It has few connections – a microUSB connector and a microSD slot and the two host ports – but it packs in a 1.2GHz Cortex-A9 CPU, quad-core Mali 400 GPU, 1GB of RAM and both 802.11b/g/n Wi-Fi and Bluetooth 2.1 + EDR. It's currently only on pre-order, though.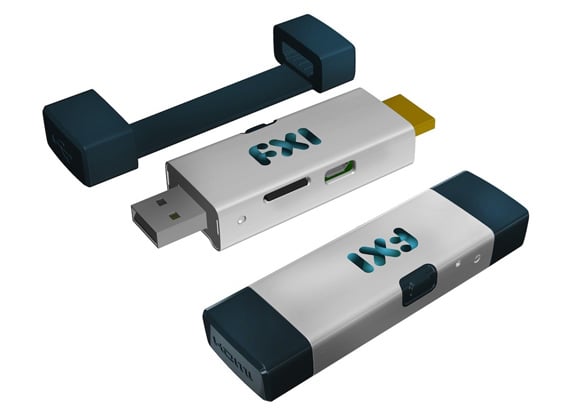 Pandaboard ES

If you're willing to get your hands dirty and build your own system, a more powerful alternative to a BeagleBoard is the Pandaboard. These sport dual-core 1GHz or 1.2GHz Cortex-A9 CPUs, 1GB of RAM and both Wi-Fi and Bluetooth. The Pandaboard looks likely to be the successor to the Beagleboard in the RISC OS world, but for now the port is still rather immature and unstable – and it's very unlikely that RISC OS will ever support more than a single CPU core. However, the devices run various Linux distros and Android.
Despite Eben 'Raspberry Pi' Upton's comments, Texas Instruments have admitted to subsidising the price of the Pandaboard to keep it down to $174. The original PandaBoard shipped in 2010; the more powerful ES version, which appeared in late 2011, currently offers the most bang for your buck in small ARM systems.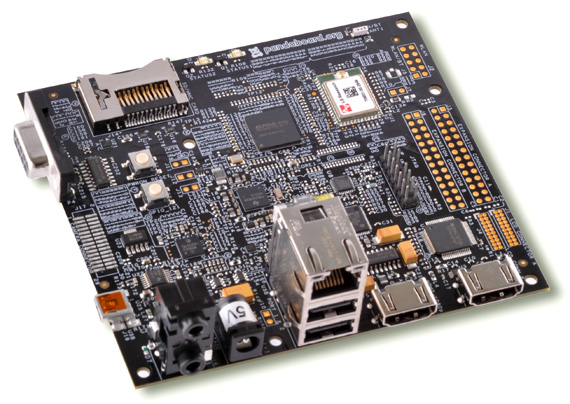 Rhombus Tech Allwinner A10

Allwinner's A10 CPU is already shaking up the ARM market dramatically in China. It's a 1.2GHz single-core Cortex-A8 based System-on-a-Chip with a Mali 400 GPU for just $7 in large volumes. Rhombus Tech plans an open-source circuit-board in the physical form-factor of the old PCMCIA card – also known as EOMA-68.
This will be around $100 at first but the company foresees it falling to around $41 as volumes ramp and conceivably as low as $15 in mass volumes. If it meets its maker's claims, this means the board will be a considerably more open device with a price firmly in Raspberry Pi territory – although it will need a host board with a suitable slot to use it. ®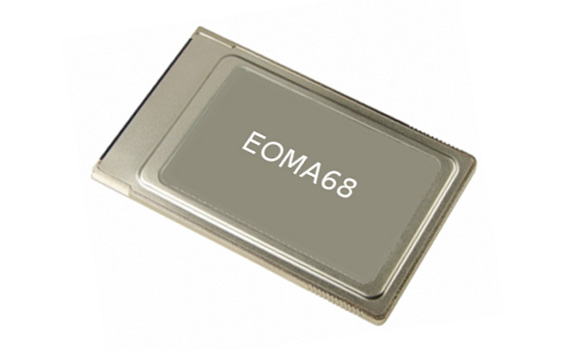 Trim-Slice

The Trim-Slice is a high-spec (by ARM standards) ultra-small-form-factor desktop from the creators of the Linutop. It has a 1GHz Nvidia Tegra 2 dual-core ARM9 CPU, a 1GB of RAM, 4 USB, Gigabit Ethernet and HDMI ports, with options of Wi-Fi, an SSD or an on-board 2.5in SATA hard disk. On sale since early 2011, it's a relatively venerable device and comes with Ubuntu.