Original URL: https://www.theregister.com/2012/06/06/anu_plasma_drive_funding/
Plasma drive starts with pee
ANU gets funding for space drive test facility
Posted in Science, 6th June 2012 23:35 GMT
The Australian National University is preparing to build a plasma drive test facility on the back of an $AU4 million funding injection (No, I'm not going to explain the headline yet).
The facility, to be built at the Mount Stromolo observatory, will create a "space-ready" test-bed for a plasma drive designed at the ANU's Space Plasma Power and Propulsion laboratory at the School of Engineering and Physics.
The drive is unusual: chief researcher Professor Rod Boswell, of the Space Plasma Power and Propulsion Laboratory says it doesn't need moving parts or a grid – meaning it can use a wider variety of fuels than most plasma drives currently on the drawing-board or under test.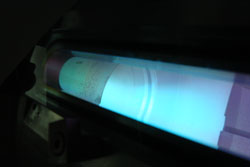 A 2009 plasma drive test-firing at ANU
Whereas most plasma drives use noble gases like xenon as their reaction mass (so that the superheated reaction mass doesn't degrade the drive's components), Professor Boswell told The Register his design can use practically anything for fuel.
"There are no moving parts or grids – this design is just a cylinder," he said. "All the important parts that contact the propellant are either glass or ceramic."
That means "we can use any type of propellant, including piss," he said. "In the International Space Station, there's a system that extracts water from urine, known as the 'Russian piss-presser'. The result ends up with a pH around one – we could easily use that.
"Xenon is expensive – why not use what's already there?" he added.
Of the $AU4 million, Boswell told The Register, most will be spent constructing a 3x4 meter space simulation chamber that will be used to space-qualify the drive. That will include the vacuum chamber and the various test systems needed to gather data about the drives performance with "no strings attached".
During tests, he explained, the drive will be operated using a spacecraft power bus, and all communication with the drive will be via telemetry, as if it were in space.
At this stage, he said, the drive is being tested for deployment on a technology development satellite. The plasma drive is designed for satellite maneuvering rather than launch: "You have to be in space for it to work."
Collaborators in the project include the ANU's Research School of Astronomy and Astrophysics, European firm EADS-Astrium, and the Surrey Space Centre at the University of Surrey, UK. ®