Original URL: https://www.theregister.com/2012/07/05/review_samsung_chromebox/
Review: Samsung Chromebox
Terminal decisions
Posted in Personal Tech, 5th July 2012 11:21 GMT
Moan, moan, moan: that's how I suspected this review would come across as I pondered on my initial impressions of Samsung's Chromebox – its Mac Mini-styled desktop computer that runs Google's Chrome OS. You know, the online operating system that turns your computer into paperweight when there's no internet connection. And then I paused for a moment – this is a Samsung product, but my heavy sighs and mutterings have little to do with the hardware.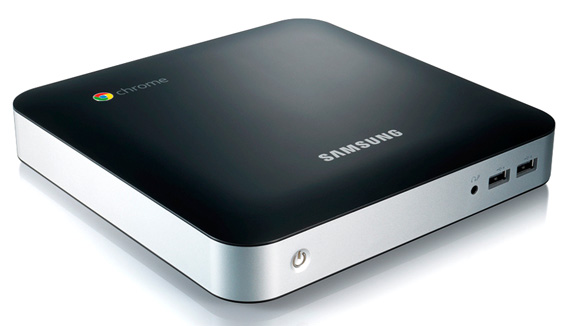 Samsung's Chromebox Series 3 XE300M22 Chrome OS cloud computer
So is this review going to be another kicking of Google's Chrome OS? As if you hadn't read enough of those grumbles or even seen it coming. Few products are perfect, and some are unique. And there are numerous variations in between but to stick with conventional personal computing models for the moment, the Samsung Chromebox is just like any other PC – sort of.
After all, the hardware that Samsung offers isn't exactly game changing. There are six USB 2.0 ports, a couple of full-size DisplayPort connectors and a DVI output. Alas, no HDMI, but you get Gigabit Ethernet, dual-band 802.11n Wi-Fi and Bluetooth 3.0 plus a mic/headphone combo socket at the front.

Full size DisplayPort connections and DVI, but no HDMI
Inside is a 1.9GHz Intel Celeron B840 CPU, which, while not likely to win any prizes at sports days, is a step up from previous versions of this chip family and performs more akin to an old Core 2 Duo. You get 4GB of DDR 3 Ram clocked at 1333MHz, but a mere 16GB SSD. Unsurprisingly, the Samsung Chromebox utilises Intel's integrated HD Graphics core. The unit itself, featuring a plastic top and bottom with metal sides, is a fairly lightweight 800g. Like the Mac Mini, it has vents in the base and gets warm rather than hot.
Currently PC World is selling the Samsung Chromebox for £280, so given those internals and the fact that there's no optical drive, screen or any other peripherals and this particular reseller will flog you a 2.4GHz Celeron-powered Asus for the same price, might give one pause for thought.
And there you have it, Samsung's Chromebox is just a typical desktop PC – sort of.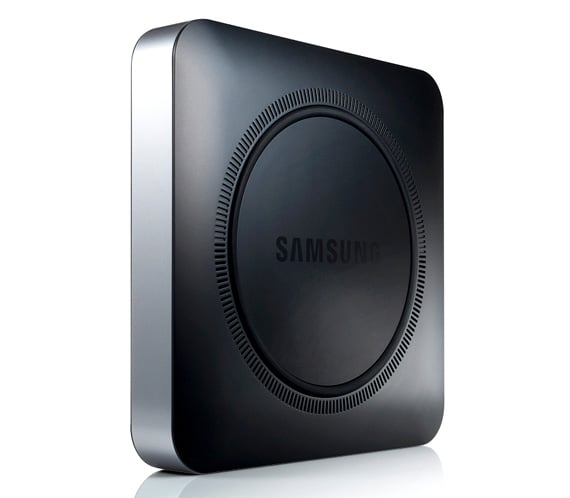 Underside vents look not too unlike the Mac mini
I say typical, because what is PC hardware other than a showcase for a software platform? Buy a Mac and you need to learn its quirks and dabble with the iLife media applications along with iCloud services, if you're that way inclined. Likewise, a Windows PC will endeavour to tempt you to experiment with OEM bundled basics. A simple sign-up will get you Microsoft's SkyDrive suite of apps and storage – the silver lining to its cloud services. However, these operating systems have been around a while and are very familiar on many levels.
Make a grab for it
In essence, Chrome OS is just another platform to learn that's just a bit different to what you're used to. Hell, Linux has the same problem. And that's where the resistance lies for mainstream users. That, and the Chrome OS fatal flaw: without the internet, it doesn't do much that's useful. But as most of us are connected – our desktop PCs in particular – it's a gamble that Google's Chrome OS seems happy to make.

Chrome OS isn't unique in trying to get users to think different
Google isn't unique in moving the goalposts with the tried and trusted models. I'm still grappling with Mac OS X Lion's quirks and, rather than bend to Apple's current vision of doing things, I'm constantly looking to find workarounds so I can do routine tasks as quickly as before. Having an OS that nags you because it woke up after an upgrade and now thinks you're stupid, is a tedious affair, but I digress.
Talking of stupid and tedious, have you tried printing on Chrome OS? It'll keep. Let's kick off with the out-of-the-box experience. It's quick to start, that's for sure. Google reckons eight seconds and I concur. This speed makes the hardware appear much more nifty than it would be running another platform. With peripherals plumbed in, you go through the motions of language, keyboard type and network connection. Ignore the licence agreement – like you'll read it, huh? – log in or create a Google account and then choose a pretty picture. And you're in.
What you're in though, is a bit of a mystery. The hints splash page confused me immediately. One of its arrows points to window resizing on the display page – fine, I'm with you – but the others are not pointing at anything within the page, but beyond it. However, I thought this was some kind of Windows Metro trick where menus would appear if I hovered around a corner long enough. But in this case, I needed to think outside the box. A dock launcher on the left has shortcuts to apps and the right corner is home to various preferences. I guess if the splash page had matched my screen size properly, these helpful hints would have been a more obvious from the off.
One of the first things I did was to tweak the speed of the mouse – an old wired Logitech that crawls without its native drivers. I'm sure it's not the only mouse that will behave this way on Chrome OS. The next thing on the list was to learn to take screen grabs. Now this should have been easy, but the help menu says Control + weird looking icon that is nowhere to be seen on the cruddy Dell keyboard I'm using. The Help doesn't even say what it's called.
Configuration details are patchy but you can switch between releases
A bit of Googling on Googliness – which feels suspiciously like the serpent eating its tail – and the answer appeared on Chromebook Central, a Google forum where folk regularly share gripes about undocumented changes. The quirky, not so Qwerty key is: Switch to your next window. But that didn't help either, as it's not marked on this keyboard. So, switch to your next function key and see what happens. A few prods later and Control + F5 caused the screen to blink. Ahh, that's better. The images end up in the local Downloads folder.
Do you copy?
Dragging screen grabs out of the Downloads folder and into USB drive, reported that it was 'pasting' these files. However, much to my surprise, it completely cleared out the Downloads folder, effectively moving all of its selected contents. Mmm, not the sort of behaviour one expects from a drag and drop to an external device...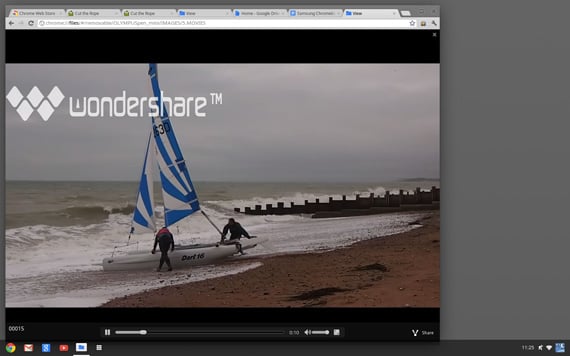 QuickTime .mov files from cameras play, but with an unsubtle ident for company
Back on Chromebook Central, there are moans that there's no DVD support, something I'd presumed might function more out of good manners than anything else. The truth is, you can't play a studio DVD movie release – it doesn't even show up as a disc. However, you can plumb in a DVD burnt for data storage and grab files from it. It'll even play any of your own movie files from the disc. And while not officially supported, QuickTime .mov files played too, though with the Wondershare watermark emblazoned on the screen. I tried a .mov upload to Picasa but that failed, however images sent direct from the DVD worked fine.
Now, Cloud Print. I can see the office networked printer from where I'm sitting, but the Chromebox can't see it at all. It needs me to run the Chrome browser on my Mac, log in to Google and then locate the printers on the network that I can then make available for sharing to the Chromebox. The alternative is a Cloud Print ready printer – they are out there, but not here. Another option is to have a USB printer connected directly to a Mac or PC and share it that way. Alun 'Android' Taylor tells me this works fine for him.

A sign of progress: 20 minutes later and still nothing had changed and nothing did change – delete job
It's tempting to detail every bend in the road in my Cloud Print experience, but it's not going to be thrilling reading. In short, it printed twice and not the single page I'd configured in the settings but the whole screed.
Following an afternoon of log-in screens popping up, PDF creation and printers going offline from the Cloud Print listing, I realised there was probably going to be no end to this due to one single word: beta. Cloud Print is a beta product and it doesn't seem there yet – at least, not for networked printers.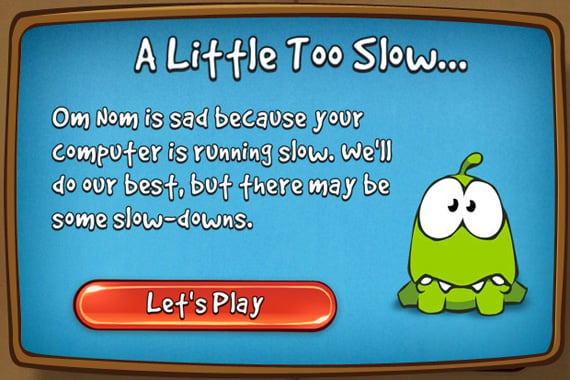 So much for gaming – perhaps you're better off playing this on a tablet
I tried a bit of gaming and Cut the Rope reported it was a slow PC – and this is one of Chrome store's featured apps. Go to the Picasa site and it tells you the computer is incompatible. You need to get to it from the Picasa web albums log-in page instead, which wasn't entirely obvious either. The function keys aren't reliable – screen dimming never worked – it either does nothing or kills the brightness completely, so you have to use the display controls to brighten it again.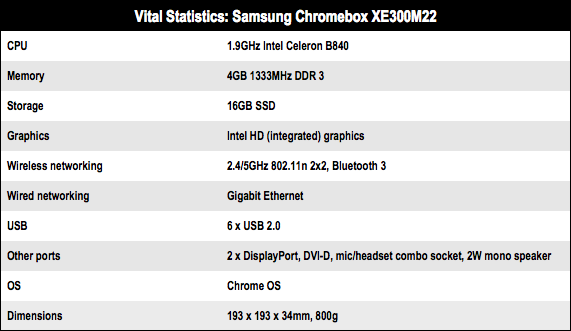 Sorry situation

First attempt to open a downloaded Word doc failed – clicking the browser refresh function worked

Copying a file from DVD produced this error, even though it did actually copy OK to the Downloads area on the SSD

Clicking for more info on an app in the Chrome Extensions web page delivered this result

If you've not used Picasa before, you'll need to make sure you've set up a profile first

The main Picasa page reports that your computer is incompatible – nice

Picasa video upload fail: the file did end up on the site, but wouldn't play

Cloud Print is in beta – 'nuff said

No MKV support and no suitable player apps available either

Logging in again to the resume from last session screen – a refresh brought up the site but not the same page
Clouded vision
So is the Samsung Chromebox really like any other PC? Well, it can be if you fancy running Linux on it. Ubuntu will instal if you set up the Chromebox in developer mode by flicking the switch buried inside the Kensington lock hole. Incidentally, it's marked as the "Newton" switch on the motherboard.
However, this approach isn't really what the Chromebox is about, although given its six USB ports, you could easily assume it is designed to work with everyday devices. An optical drive – yes, but for home grown data retrieval only. I even plumbed in a LaCie USB floppy drive and that worked – although the same problem of data being moved, rather than copied, occurred here too. Moreover, Samsung's original Galaxy Tab only showed the internal USB storage, but the 8GB micro SD card – that shows up on a Mac or PC – was ignored.
The list goes on, but can you really blame Samsung for the shortcomings of the Chromebox? Sure it's a different way of computing, and having a virus-free up-to-date OS has its appeal, but it's also a rather flaky OS and that's not really Samsung's fault at all. If anything, it suggests that offering a terminal-style computer brings with it the temptation to deliver an unfinished product. And rather than this being an app or two that users could decline to instal, it's the whole kit and caboodle.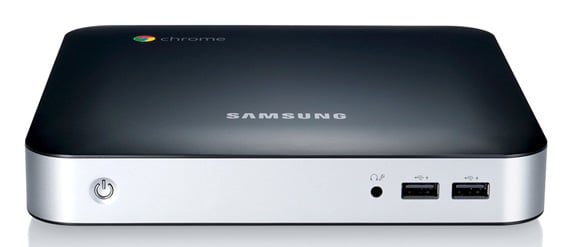 Attractive hardware but Chrome OS is a mindset that won't appeal to everyone
Verdict
So, moan, moan, moan? Well, I guess so but that's resistance for you. Google Chrome OS takes you out of your comfort zone and the grumbling starts because you have to learn to do things differently. Beyond Google's own compulsive yearnings to fondle every modicum of data you produce, Chrome OS has integration with other devices for data sharing at its heart, but alas, not by simply plugging them in.
The trouble is, it doesn't integrate with user expectations particularly well, no matter how many USB ports Samsung can add to its Chromebox. As far as the hardware goes, it works, but to really drive users to consider Chrome OS as an alternative, we need to see some really attractive pricing. After all, regardless of what Google's OS may offer users, it also demands that they make sacrifices and, given the established alternatives at similar prices, who on earth feels the need to do that? ®