Original URL: https://www.theregister.com/2013/01/18/7_reasons_windows_rt_was_doa/
Microsoft's ARM blunder: 7 reasons why Windows RT was DOA
Redmond's low-rent tablet OS was doomed from the start
Posted in Software, 18th January 2013 23:14 GMT
Analysis Industry doomsayers were circling Windows 8 like buzzards before it even launched, but they picked the wrong carcass. Microsoft's real 2012 roadkill was Win8's ARM-powered cousin, Windows RT.
The chattering class's comparisons of Windows 8 and Windows Vista are premature – it will take several more quarters before we can gauge how Redmond's latest OS will play out in the marketplace. But with the holiday season behind us, it's now plain that Window RT is a flop.
Let's be clear: we're not slagging Surface, Microsoft's design-minded line of convertible tablets. By most accounts, Surface is a compelling piece of kit from a hardware perspective. The prospect of Microsoft launching an Intel-based Surface with Windows 8 Pro later this month should have Redmond's OEM partners tugging nervously at their collars.
The problem is that Microsoft chose to launch Surface based on an ARM processor running Windows RT, a misguided stab at a tablet-centric user experience that hoped to capture something of what made Apple's iPad so successful. Instead, Redmond delivered an oddly hobbled OS that's neither fish nor fowl, one that falls somewhere between Windows 8 and Windows Phone 8 – but with the advantages of neither.
For all Microsoft's hype around Surface RT, customers aren't buying it – literally.
According to the latest estimates from UBS analyst Brent Thill, Microsoft has sold only around 1 million Surface fondleslabs since the line launched in October 2012. And Thill was an optimist; he expected Redmond to shift twice that many.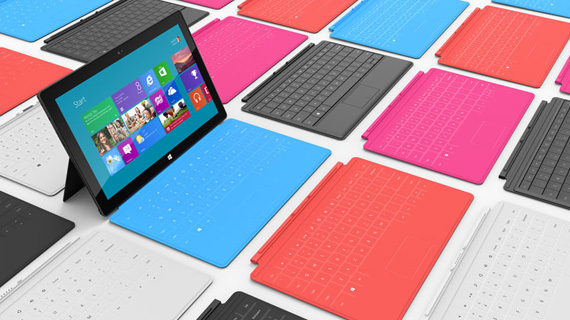 A rough illustration of how many Surface slabs running Windows RT that Microsoft has sold so far
But even sales of 2 million would have been a pittance. Apple sold 14 million iPads in the three months before the holiday season, and that was considered a "disappointing" quarter.
So what went wrong? The fact that Surface is a newbie in a market with a deeply entrenched leader takes some of the blame, but that's not the whole story. The ARM-powered Surface falls flat on multiple levels, and any other vendor who tries to sell a Windows RT device will face the same problems.
1. Windows RT devices are too expensive
Before the Surface launch, gadget fans were rubbing their hands at the prospect of a Windows-powered fondleslab at a price that would compete with the likes of Google's Nexus 7. Lenovo, one of Microsoft's OEM partners, said to expect a raft of Windows RT devices priced as low as $300. Some analysts predicted Surface would be even cheaper.
No such luck. Instead, Surface RT arrived with a price tag of $499 for the lowest-end model – the one without a keyboard. Other vendors followed suit with their own Windows RT devices priced the same or even higher. Lenovo's IdeaPad Yoga 11, for example, lists for $799 – a far cry from $300.
Just why Windows RT slabs cost so much isn't clear. Maybe system requirements make high price tags necessary. Maybe Microsoft's license fees have something to do with it (in addition to the OS, all Windows RT devices include a copy of Office 2013).
Whatever the reason, the prices don't make sense. Customers would be better off waiting for tablets based on Intel's new "Clover Trail" Atom platform, due this year. They'll cost about the same as today's Windows RT devices, but they'll have beefier specs and run full Windows 8.
One analyst suggested that if Surface RT is to be competitive, Microsoft needs to cut its price down to at least $399. Even that sounds a little high to us.
True, the iPad is no cheaper than the current crop of Windows RT devices. But Apple is a master at marketing products as high-end, aspirational items for sophisticated consumers. That's never been Microsoft's strong suit. What's more, Apple's rich developer ecosystem means customers can just plain do more with their iPads than they can with any WinRT device – which brings us to our next point ...
2. The software stinks
Play with a Surface RT for a few minutes and you're intrigued by how sophisticated and fun it seems. Use it for a few hours or days and the charm soon wears off. Again, the problem isn't the hardware but the Windows RT operating environment that runs on it.
Sure, it comes with Microsoft Office – almost. The version that's bundled with Windows RT can't handle any add-ins, and it doesn't support documents or templates that include macros. Power users will not be impressed. What's worse, you're not allowed to use it in a business setting without purchasing a separate, commercial-use license – technically, at least – so there goes some more cash.
But the real problem is that – with the exception of Office – the only programs that will run on Windows RT are apps from the Windows Store. A recent jailbreak hack that allows users to load desktop apps is largely academic, since only Windows programs that have been compiled for the ARM architecture will actually launch – and there aren't any.
That leaves Windows RT users with few options. Microsoft isn't saying how many apps are in the Windows Store, but according to the independent website MetroStore Scanner, there are fewer than 40,000. Even Research in Motion's BlackBerry 10 platform has more developer engagement than that, and it hasn't even launched yet.
Worse, from what we can see, only a fraction of Windows Store apps are actually useful. Many are outright junk – although Microsoft seems to be working on pruning those out. Of the top 30 highest-rated apps, more than half are published by Microsoft itself, and many of those come bundled with the OS.
When third-party apps do add value, they often feel half-baked, with details glossed over and major features missing. Many of the ones we've tried simply aren't as good as similar apps for other mobile platforms, and they're certainly not as good as the software we're accustomed to using on Windows.
3. Microsoft is competing with itself
The bottom line is that Windows RT isn't Windows – and we mean that quite literally: Windows RT is Windows in name only.
Windows RT borrows all of the new and unaccustomed features that made customers leery of Windows 8, but it leaves behind most of the familiar aspects that make Windows 8 accessible to longtime Windows users.
What's more, it's a poor fit with traditional Windows network environments. Office 2013 RT doesn't include Outlook, and Windows RT's built-in Mail and Calendar apps are lousy substitutes. Neither can Windows RT join an Active Directory domain, so forget about Group Policy and other tools used by Windows IT managers.
That's a tough story for Redmond to sell, let alone for Windows RT OEMs to explain to customers. Given how different a Windows RT device is from a machine running any other version of Windows, past or present, the Windows RT brand actually confuses customers more than it informs them.
As it happens, Dell's PC business prez Jeff Clarke warned Microsoft of this very issue, and recommended that it drop the Windows brand from RT devices. Steve Ballmer reportedly nixed the idea.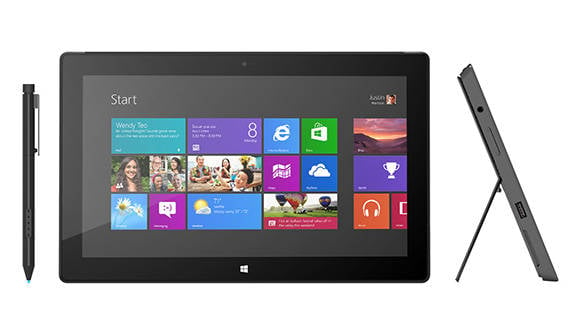 Surface Pro doesn't just give you an Intel processor running full Windows 8. You get a pen, too
Meanwhile, Redmond is readying the Surface Pro, an Intel-powered device that will look virtually identical to the Surface RT but will run full Windows 8. Microsoft's OEM partners will also bring a dizzying array of Windows 8 tablets and convertibles to market this year, including the aforementioned Clover Trail devices.
How will retail sales reps possibly be able to differentiate all of these devices from Windows RT kit? The easiest explanation is that Windows RT is just like Windows 8, only with half of the features removed. By pitting an inferior product against its own flagship OS in this way, Microsoft has all but doomed Windows RT to failure.
4. Microsoft is competing with everyone else, too
Windows 8 isn't the only OS that's vying with Windows RT in the slab space, either. There's also iOS, which remains the tablet market leader with a greater than 50 per cent share. That's just for now, though; Android tablets are poised to overtake the iPad in the coming year, particularly now that prices have dropped below the $150 mark and will likely sink even lower in 2013.
Given such heated competition, it seems strange that Microsoft would try to flog not just one tablet OS but two different ones, particularly when some analysts predict that it will take four years for Windows fondleslabs to capture even a 10 per cent share of the market.
But maybe we're not supposed to view Windows RT devices the same as we do other tablets. Maybe we're meant to see them as a new category of portable connected device, somewhere between a tablet and a traditional PC.
Let's suppose we're meant to view a Windows RT device as an inexpensive, low-powered computer in a highly portable form factor. It runs a Microsoft OS, but its small screen, underperforming processor, and limited hardware resources make it best suited for lightweight tasks, basic word processing, and browsing the web. Fair enough?
Hang on, though. That sounds suspiciously like a netbook – and we all know what happened to netbooks. The same customers who had a hard time justifying netbook purchases in recent years will struggle to see the value in Windows RT devices, particularly given the proliferation of low-cost, full-featured Windows notebooks.
Meanwhile, the current Ultrabook push means customers who want Windows and have money to burn can get their gadget fix from any number of slim, sexy laptops – not to mention the upcoming wave of "convertibles," which look a lot like Surface but don't skimp on power. With so many other options to choose from, Windows RT increasingly looks like a product in search of a market.
5. Windows RT is too closed
We all know why Microsoft wanted in on the app store game. Apple's iOS walled garden has given it a massive revenue stream, one that helped make it the most valuable company in the world. Redmond is banking that Windows' huge installed base gives it a similar opportunity with the Windows Store.
While fanbois seem content to hand Apple the reins to their computing experiences, however, vendor lock-in has always been an issue for Microsoft customers. And everything about Windows RT seems designed to railroad customers into using Microsoft's software and online services.
Just for starters, you have to sign up for a Microsoft account before you can install any apps from the Windows Store. That's true for Windows 8, too, but it chafes more on Windows RT because on that platform, the Windows Store is the only place to get software of any kind.
Naturally, that means you're pretty much stuck with Office 2013 as your productivity suite, too. There's no easy way to uninstall it, and you can't install a competitor such as LibreOffice without jailbreaking the device. (What's more, Microsoft now says it is "investigating" the aforementioned jailbreak hack, presumably with the aim of disabling it.) Your only alternative to Microsoft's suite is to use an online service, such as Google Docs.
If you do choose that option, however, you had better hope the service works with Internet Explorer. While Windows 8 allows users to install alternative web browsers, Windows RT does not. It doesn't allow any web plugins, either, and Flash content only works on certain, Microsoft-approved sites.
And if all these limitations sound like headaches for users, consider what they mean for OEMs. Apple makes its own hardware, so it makes sense that the iOS ecosystem is so vertically integrated. But what incentive is there for independent OEMs to buy into a similar model for Windows RT devices?
Microsoft controls the entire Windows RT ecosystem from end to end. Any new Windows RT devices will have to compete directly with Microsoft and Surface. And hardware makers are already seeking alternatives to platforms from big vendors in the smartphone market – why wouldn't they want the same for tablets?
Windows RT is all about placing restrictions on users, developers, and hardware makers, and with the device market already as crowded as it is, it's late in the day to expect such a strategy to succeed – even for a giant like Microsoft.
6. Hardware OEMs haven't bought in
Given all the drawbacks of Windows RT, it's no surprise that hardware makers have cold feet. Earlier this month, Samsung became the latest vendor to back out of plans to build RT devices, citing the lack of "very clear positioning of what Windows RT meant in the marketplace and what it stood for relative to Windows 8."
Other erstwhile Microsoft partners have been leery since the beginning. HP – the on-again, off-again leader in global PC shipments – passed on building a Windows RT device, and the head of its personal systems division later quipped that he'd "hardly call Surface competition" for HP's own products.
Toshiba was originally on board, but it canceled its Windows RT plans in August, citing supply-chain delays – which sounds like a convenient excuse.
Acer supposedly hasn't canceled its planned device, but it has delayed its launch until the second quarter of this year at the earliest, claiming "the RT market has to evolve." If you recall, Acer CEO JT Wang was never keen on the idea competing head-to-head against Surface.
Close Microsoft partner Nokia is reportedly pressing ahead with plans to build a Windows RT-powered fondleslab, but that's hardly a huge win for the platform, seeing as how Nokia's Windows Phone–powered Lumia handsets aren't selling as well as expected.
HTC, too, says it will ship RT devices in 2013, but not until the third quarter – and even that is "tentative".
All this points to device manufacturers not being sold on Windows RT. Worse from Redmond's point of view is that they're growing less and less so. We wouldn't be surprised if more of the "delayed" devices from Microsoft partners slip into vaporware status before year's end.
What this means for you is fewer Windows RT devices to choose from, versus a glut of incoming devices running Windows 8. Unless the prices of Windows RT devices fall dramatically this year, we think we know which way customers will go.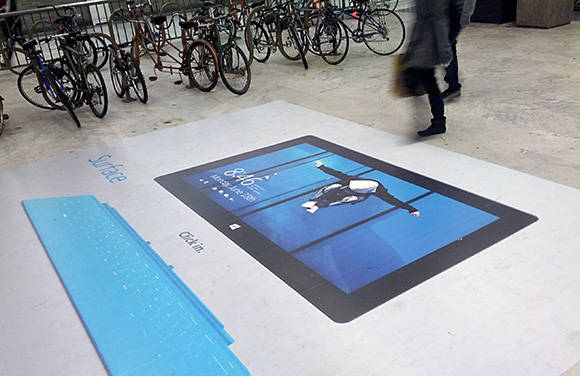 Microsoft is marketing Windows RT on every available surface (pardon the pun) – but who is it trying to reach?
7. Microsoft's marketing sucks
For all its faults, Windows RT might still have stood a chance if Redmond had managed to communicate who its audience was meant to be. But it hasn't. Three months after the Surface RT launch, it's still hard to say who the target market for an RT device is.
Microsoft's first mistake was to focus all of its marketing efforts on its Surface hardware, rather than the OS that runs on it. The words "Windows RT" never even figured into its campaign. Buy a Surface, it seemed to say, and the OS comes with it; no need to worry. But as we have shown, running Windows RT instead of full Windows isn't an advantage. It's a "gotcha".
Microsoft desperately needed to explain to consumers why removing all of the familiar functionality from Windows 8 makes Windows RT devices preferable to the Windows PCs they already use. It also might have explained what – other than the larger screen – makes a Windows RT fondleslab superior to a handset running Windows Phone 8.
Instead, we got TV ads featuring college students snapping and unsnapping their Surface slabs from their $120 Touch Cover keyboards. Lots of snapping. Not much actual work getting done.
Microsoft's Surface print ads and billboards are equally cryptic. The bold, Apple-like displays treat us to photos of Surface juxtaposed with shots of young people bouncing on trampolines, diving into waves, and riding skateboards on ramps. Yet none of the above activities calls for a connected device like Surface, that we're aware of, unless you count former Windows boss Steve Sinofsky bolting wheels onto his fondleslab.
We kid, but this point is critical: for all that Microsoft has invested into developing Windows RT and Surface, it has completely failed to craft clear messaging that sells the product on its merits and explains what kind of customers will benefit from it.
The obvious conclusion? There aren't any such customers. Windows RT is an OS that nobody asked for, sent in search of a market that's already well served by other options. Even ignoring everything else that's wrong with it, that's reason enough for it to go down in history as one of Microsoft's biggest bombs. ®