Original URL: https://www.theregister.com/2013/03/11/feature_ten_serious_sci_fi_films/
Ten serious sci-fi films for the sentient fan
In space, no one can hear you ponder the eternal verities
Posted in Personal Tech, 11th March 2013 12:00 GMT
Feature Zap guns, robots, lightspeed-smashing spaceships and bikini-busting princesses do not real science fiction make. Just ask George Lucas.
Star Wars defined movie SF in the mind of many a mainstream viewer. But while the film and its sequels and, er, prequels certainly provide the sci-fi enthusiast with thrills a-plenty - guilty or otherwise - they're not true science fiction. Or at least not good sci-fi. Cowboys and Indians in space - yes; SF - no.
Good science fiction, you see, is about big ideas. It's about exploring the human condition of the times in which it's written or filmed. Sorry, but a reducing good and evil to a force generated by intelligent bacteria in the blood of all living things is no meditation on the eternal verities.
Serious sci-fi can excite and delight, but it should also make you think. Star Wars pretty much lopped the legs off serious sci-fi movie-making with a scientifically implausible laser sword, but it didn't kill it off entirely. There have been some gems made since then.
Not that there were too many beforehand. The 1950s was dominated by alien invasion horror, while the 1960s saw sci-fi fall in popularity as it became clear human beings would soon be exploring space for real. Fortunately, the decade's troubles - the Cuban missile crisis, drug culture, Vietnam, a increasing emphasis on young consumers - provided fertile ground for a brief resurrection of good sci-fi flicks in the early 1970s.
The decade saw the release of the likes of The Andromeda Strain, Demon Seed, The Final Programme, The Illustrated Man, Logan's Run, The Omega Man, Slaughterhouse-Five, Westworld and more. Even Lucas' own THX 1138. But these are not among our top 10, presented below in release order.
As ever, feel free to disagree and tell us in the comments why we really, really should have had Amazon Women on the Moon in the list.
The Day the Earth Stood Still

You don't have to be of a religious bent to appreciate this 1951 second-coming parable. Angular-faced Michael Rennie's Klaatu doesn't have to be nailed to a tree to save us from our sins, but he does get shot by a GI with an itchy trigger finger, allowing him to sneak off and walk among us mortals for a brief time as the seemingly ordinary Mr Carpenter (Geddit?!?!)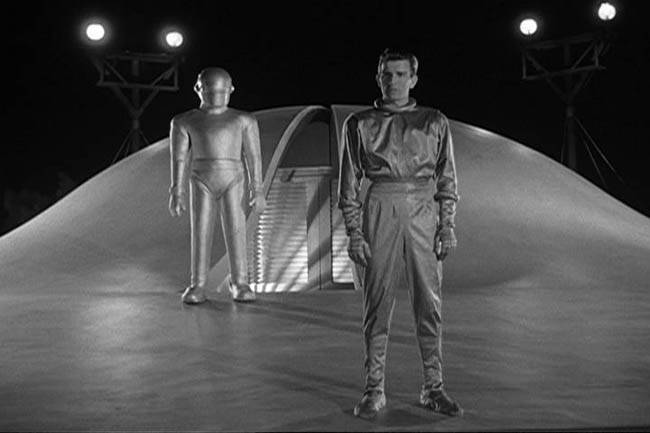 War, what is it good for? Absolutely nothing
Source: 20th Century Fox Home Entertainment
Turns out we're not as bad a bunch as the militaristic response to the arrival of Klaatu's saucer in central Washington might suggest. If we can just get over our desire to blowing the seven shades out of each other, "Grow up or else" is Klaatu's dire warning at the end of the picture. A mere 11 years later, in 1962, we came awfully close to realising what he meant, and you have to wonder if we'll ever figure it out. Forgive them, Lord, for they know not what they do...
Director Robert Wise
Writer Edmund H North
Release 1951
Notes Famous for the eerily silent robot, Gort, he of the tank-melting laser vision and smooth, jointless chassis. Klaatu barada nikto!
Forbidden Planet

Yes, it's hard to take the baggy trousers, the cook who seems to have wandered straight off the set of South Pacific and Anne Francis' shockingly pointy chest seriously, but this was the 1950s, for Asimov's sake. If written SF had yet to break The Fuck Barrier, movie sci-fi was even more virginal, yet Forbidden Planet, in reworking the Immortal Bard's Tempest, presents an adventure that requires a brain to enjoy, not just a pair of eyes and a box of popcorn.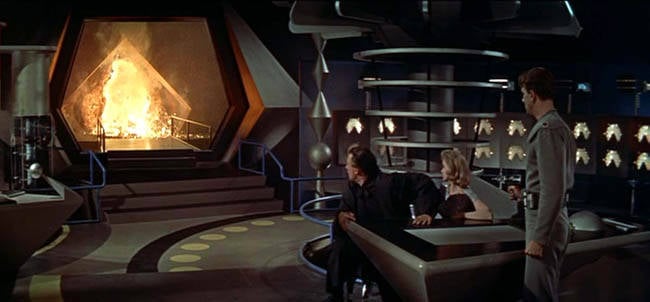 Bloody hell, it's the Krell
Source: Warner Home Video
You can't fault the special effects, courtesy of Disney's animators, especially the jaw-dropping cyclopean interiors of the Krell city. It's appropriate that their domain lies deep inside their world - Forbidden Planet is concerned with the interior, home of dangerous human emotions like lust, jealousy and monsters, monsters of the id...
Director Fred M Wilcox
Writer Cyril Hume
Release 1956
Notes Forever Jung, Forbidden Planet remains notable for its splendid, long pre-CGI effects, and for featuring Leslie "Police Squad" Nielsen in a serious role. Shamelessly ripped off in the Doctor Who story Planet of Evil.
2001: A Space Odyssey

Stanley Kubrick's attempt to turn sci-fi into a serious movie genre - no man-in-suit monsters, no flying saucers, no screaming chicks - presents a world where advanced technology (for the late 1960s) has almost entirely dehumanised the people living in it. Boffins and spacemen - they're all as cold as the airless lunar surface under which they discover an alien beacon awaiting the arrival of a species sufficiently evolved to uncover it.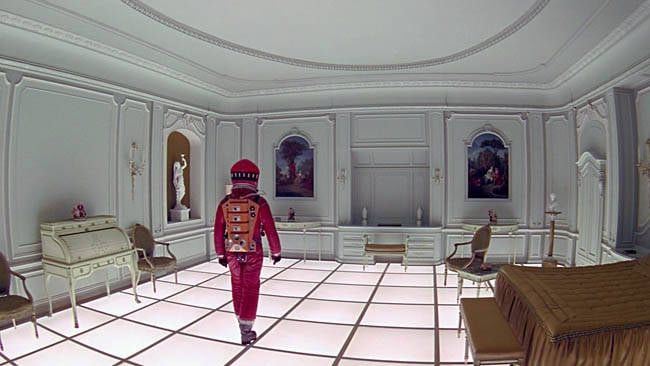 Kubrick's surreal Heaven
Source: Warner Home Video
Worse, technological supremacy has given mankind delusions of grandeur - our attempt to play god and create life leads to failure when artificial intelligence HAL is forced to become too human and fib. He can't cope and kills the crew - and the hope we're ready to become quite as god-like as the makers of the Monolith. It also has aliens as a metaphor for God - they're certainly advanced enough. Powerful intellectual stuff, but it's a hard journey for sci-fi fans who prefer the black-and-white not-so-nuanced philosophy of Star Wars and its successor.
Director Stanley Kubrick
Writer Stanley Kubrick and Arthur C Clarke
Release 1968
Notes Yes, the 1960s styling grates today, but the pre-CGI star gate sequence remains one of SF cinema's most arresting episodes. The space craft photography is very special too.
Planet of the Apes

Only the man who created The Twilight Zone's dark view of inner space could have worked Pierre Boulle's bizarre allegory into a sci-fi classic with a true twist in its (prehensile) tale. But that's what Rod Serling's script gives us: an adventure in the far future that makes us question our own prejudices.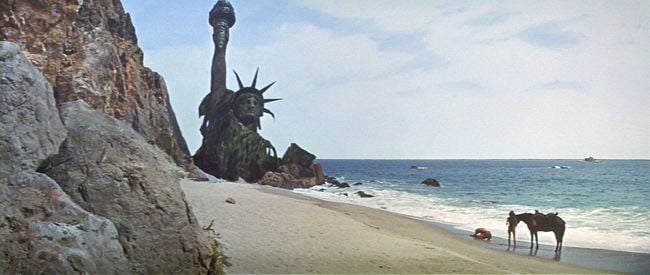 Taking liberties
Source: 20th Century Fox Home Entertainment
Forget Chuck Heston the wrinkly old gun fanatic, and enjoy Chuck Heston the granite-faced anti-hero so disillusioned with the human race's self-destructive sabre-rattling that he has to he fling himself off into space to get away from it all. But he's brought down to Earth with a very literal bump, crashing landing on a world where humans are speechless animals and apes rule supreme. And they're just as bad as we are: hubristic, blinkered, dogmatic, dismissive of the different and preferring the comforts of easy religion to the harsh facts of life. Goddamn us all to hell!
Director Franklin J Schaffner
Writer Rod Serling and Michael Wilson
Release 1968
Notes The source of a quartet of stock sci-fi sequels notable only for building on the paradoxical notion that chimps returning to the past from the future establish the conditions for the apes to succeed man. Timey-wimey.
Zardoz

"I hope I die before I get old," wailed Roger Daltrey less than a decade before John Boorman wrote and filmed Zardoz to warn us that if our desire to stay forever young is ever fulfilled it will be a Really Bad Thing. The result: total stagnation, societal collapse and an end to progress. We'll be left with a handful of privileged immortals living in a bucolic idyll sealed in from the world outside, where gangs of raping, killing Brutals - led by a wildly mustachio'd Sean Connery in his undies - prey upon the dead-eyed survivors.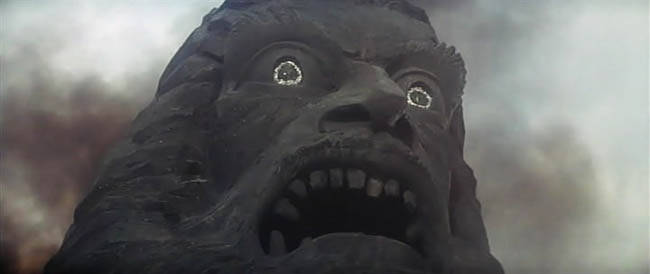 'The gun is good! The penis is evil!'
Source: 20th Century Fox Home Entertainment
So it's not just immortality we should fear, but gated communities too. Boorman had the wit to understand that his arty cinema audience were, ironically, the ones most likely to surrender to the temptation of withdrawing from the world and leaving it to the proletarian hordes. And he had the sense of humour to admit to the same Educated Middle Class failing in himself. Meanwhile, Zardoz's warning remains as relevant today as it did in the early 1970s.
Director John Boorman
Writer John Boorman
Release 1974
Notes A computer based on the infinite pathways light can take in a crystal? It may yet happen.
Close Encounters of the Third Kind

A man-meets-aliens movie that doesn't involve heavy weaponry and acid for blood. And isn't a metaphor for the evils of Communism, either. Steve Spielberg's first movie after Jaws is no adventure story but a meditation on the human quest for the meaning of life. An encounter with an extraterrestrial craft drives Richard Dreyfuss' Roy Neary to the brink of madness, turning his back on wife and child, hearth and home in his quest to come to terms with a world that he has been forced to accept is rather bigger than the 'burbs, which he rejects first by trashing his house and later by leaving the planet altogether.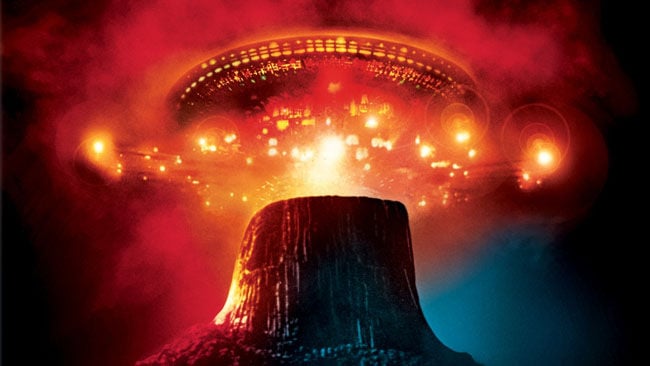 Flying saucer or Christmas tree?
Source: Sony Pictures Home Entertainment
In an era of cynicism, Spielberg's movie is resolutely uncynical and positive - even a military cover-up scheme is pragmatic rather than paranoid. And if it equates the superior flying saucer folk with the innocence of a child - literally: just see how closely Carlo Rambaldi's animatronic alien resembles toddler Cary Guffey.
"Monsieur Neary, I envy you," says Francois Truffaut's Lacomb as Dreyfuss is about to board the alien vessel in his quest for the ultimate answer. Who doesn't?
Director Steven Spielberg
Writer Steven Spielberg
Release 1977
Notes Go for the original, theatrical version, a tighter and more impressionistic work than the shorter, over-sentimental Special Edition version or the unnecessarily extended Anniversary Edition.
Star Trek: The Motion Picture

Generally - and rather oddly - disliked by Trekkies, the first Star Trek on the big screen remains closer to the spirit of the original TV series than the Star Wars-fuelled space operas that followed it. While the sequels focused on the Enterprise's plucky, increasingly plump crew falling foul of stock space villains, this movie had an eye on the bigger picture. The plot device of a threatening alien presence bearing down on the Earth was superannuated even in 1979, but Trek creator Gene Rodenberry used it as a platform to ponder the eternal verities: the strength of friendship, the quest for spiritual fulfilment and the question of what it means to be human.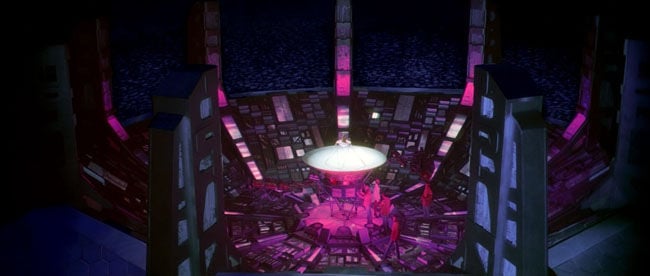 Shock horror space probe
Source: Paramount Home Entertainment
To be fair to its detractors, it is over-long, and the Enterprise takes far too long to encounter the living vessel V'ger. They also complain about the protagonists' characterisation, but that's the whole point of the story: it's only by becoming more intuitive and less coldly logical - regaining their true selves and their pivotal relationship - that Kirk and Spock can understand V'ger and save the day. V'ger likewise, by vicariously enjoying Decker's metaphorical final-reel shag with the bald lass.
Director Robert Wise
Writer Gene Roddenberry
Release 1979
Notes The Director's Cut edition adds four minutes to the run time, mostly with extra "because we can" effects shots, though it is arguably a better edit than the original.
Blade Runner

You've enjoyed it for its dark dystopianism. You've gawped at its dazzling special effects. You've pondered its peculiar script and continuity errors. You've even been amazed by its prediction that Atari will still be producing videogames in 2019 and Pan Am still flying. Now go an enjoy it for its intelligence. Blade Runner, like so many Ridley Scott movies, be more interested in its visual style than its substance, but here at least is a film with some meat to it. Human meat, to be precise, whether it's the fruit of a mother's loins or a test tube. Natural people or artificial people - both are equally viable and of equal value.
Is Deckard a human or an Android? If you need to ask, you've missed the point of the film.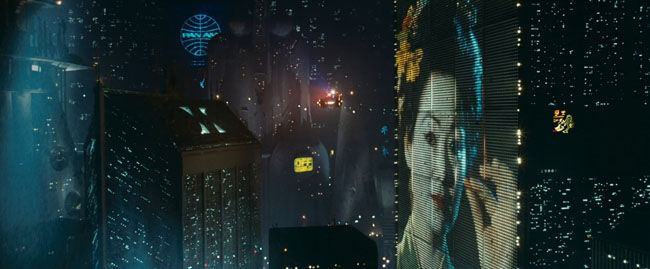 Ad nauseam
Source: Warner Home Video
It's other theme is that life is short so it's important to enjoy it while you have it. A cynic might say we're born solely to snuff it - "Wake up, time to die" - and that's clearly where the moody, wet Blade Runner is coming from. Best make the most of it, then, whether you have three years remaining or many, many more: "The light that burns twice as bright burns half as long," as replicant boffin-in-chief Eldon Tyrell, played by Joe Turkell through impossibly thick bottle-bottom lenses, says.
Director Ridley Scott
Writer Hampton Fancher and David Peoples
Release 1982
Notes Original cut or one of the many others? It's a vexed question. Certainly Scott's Final Cut is the best of the remodelled versions, though you may miss the film noir voiceover or even the jarring out-of-the-smog ending.
Gattaca

Gattaca was made in the late 1990s, but its 1960s styling, studied minimalism and deliberately inappropriate design cues - who would send astronauts into space in a business suit? - harks back to the dystopian independent sci-fi cinema of the early 1970s. But, at the time, its subject was bang up to date: where might the then-new genetic manipulation take the human race - and what were the moral implications?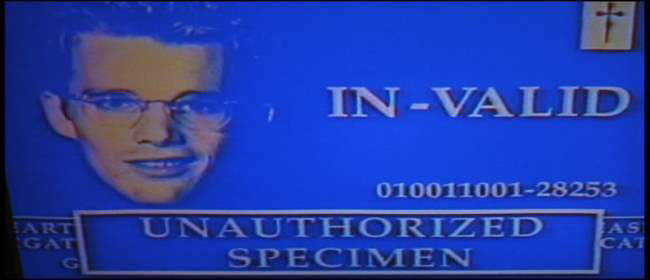 Too dweeby to be a spaceman? The DNA says so
Source: Sony Pictures Home Entertainment
Ethan Hawke's Vincent Freeman can't become the spaceman he's so desperate to become because his genes aren't sufficiently well-tailored. Eugene Morrow's (Geddit?!?!) are, so he provides Freeman with substitute samples to allow his friend to appear to be the Right Stuff. It's no surprise that Freeman, for all his perceived failings, is right for the job. Likewise, Gene, played by Jude Law, may have well-rated DNA but it hasn't stopped him becoming a depressive and attempting suicide.
So it's an escape story, with the tension ramped up as Alan Arkin's gene policeman gets ever closer to exposing Freeman's fraud. Will Freeman ever get free, and leave behind girlfriend Irene Cassini to take part in a mission to Saturn? Yes, the symbolism is a little overdone, but this is as smart as late 20th Century sci-fi gets.
Director Andrew Niccol
Writer Andrew Niccol
Release 1997
Notes Also available (just about) in a "special edition" with an extra scene featuring "genetically deficient" famous figures, including Einstein and Lincoln.
Solaris

Whether it's the George Clooney-starring, Steven Soderbergh-directed 2002 remake or the Andrei Tarkovsy 1972 original - both derived from Stanislaw Lem's 1961 novel - Solaris explores how we cope with the death of someone close to us. Both movies send astronaut Chris Kelvin off to a ship orbiting the titular planet, which turns out to be a living organism that's so alien its attempts to study the humans and to communicate inflict psychological trauma on the ship's crew. Psychologist Kelvin ought to be able to help, but - of course - he brings with him problems of his own, in particular the death of his missus by suicide.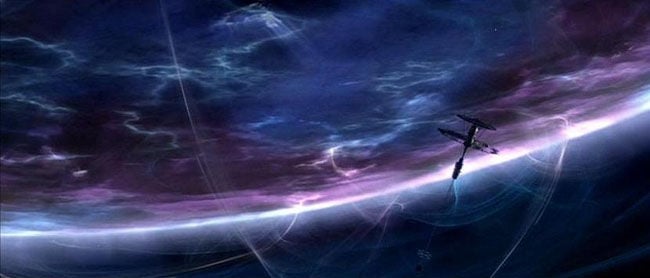 Emotional fireworks
Source: 20th Century Fox Home Entertainment
The planet is, of course, benign and really only trying to help, but in reincarnating Kelvin's lost wife it succeeds only in tipping him further over the edge. Lem was interested in the barriers impeding communication between very different lifeforms, but the movies have extra resonance from their interest in grief and loss. Is it better to let someone go, or try to keep them alive in our thoughts? It's a question a movie can only ask, not answer. Not a flick, then, for folk seeking certainties.
Director Steven Soderbergh
Writer Steven Soderbergh
Release 2002
Notes We favour the 2002 which, though slightly more sentimental than its intellectually stimulating but hard-going Russian predecessor, comes in at half the length: an hour-and-a-half compared to more than three hours.