Original URL: https://www.theregister.com/2013/03/12/feature_intel_centrino_notebook_brand_ten_years_old/
Intel's Centrino notebook platform is 10 years old
The brand and the technology that made the world mobile
Posted in Personal Tech, 12th March 2013 09:00 GMT
Ten years ago, Intel decided notebook computers needed a boost. The technology wasn't new, but while a fair few mobile workers had portable computers, and some even had modem cards or were using Bluetooth-connected phones to reach the internet, laptops weren't seen as a truly mobile networkable device.
And so the chip maker coined a new brand, Centrino, to promote the notion.
Centrino combined Intel processor, chipset and networking products into a platform laptop makers could buy and build new systems around. Doing so would give them the right to use the Centrino brand, which, with vigorous advertising from Intel, would, they hoped, hook in punters.

Intel's Centrino initiative derived from two trends. Laptop sales were on the rise, and with the arrival in 1999 of Wi-Fi wireless networking technology - which conveniently coincided with the real availability of home broadband - more and more locations were offering wireless internet access at speeds well in excess of what mobile telephone tech could provide to users away from home and out of the office.
Notebook shipments hit 30.5 million in 2002 - 23.5 per cent of all the PCs shipped that year, according to IDC, a market watcher, up from 22.5 per cent in 2001. Demand for mobile computers was beginning to boom, despite higher though falling purchase prices and lower performance than that offered by desktop PCs. Punters were getting keen on easily accessible, mobile computing, but laptop battery performance was too poor for notebooks to be reliable for pick up and go usage. The internet was a killer application for a new generation of users. While wireless technology was available to the wealthy and to businesspeople with IT staff to fit it, it wasn't a standard feature for the rest of us.
Intel decided that if it was to push forward sales of notebooks - and thus sales of its own, more pricey chips - it needed to tackle both of these barriers.
Inside Intel is was realised that the company's current mobile chips, back then pared down versions of desktop parts, were not sufficiently power efficient. An Intel team in Haifa, Israel was tasked to build a mobile-specific processor with a low power consumption as a key design goal. But the new chip also had to match the performance of the latest Intel mobile chip, the Pentium 4-M.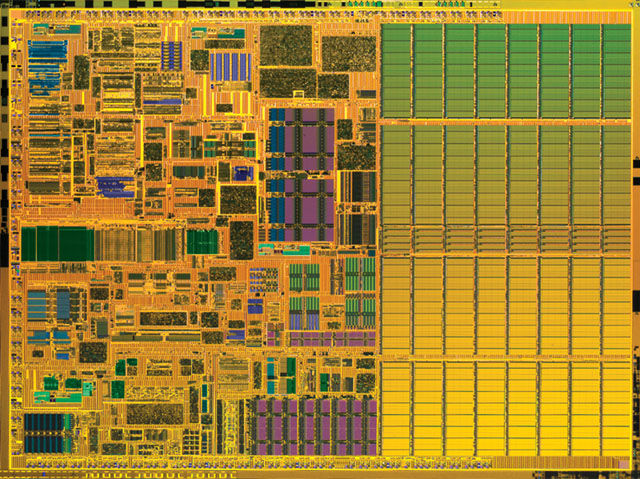 Inside the first Pentium M: Banias' die
The result was Banias, a 130nm, 77 million-transistor chip that was based on Intel's then previous generation of processor, the Pentium III and its P6 micro architecture. Banias comprised the Pentium III core connected to the Pentium 4 bus interface to allow it to use modern motherboard designs. It had a 400MHz frontside bus clock. Intel's Streaming SIMD Extensions (SSE) 2 instruction set was added too, again to bring the part up to date.
Intel's engineers in Haifa extended the company's existing SpeedStep technology to increase the number of possible clock frequencies the chip could dynamically switch to, the better to cut power consumption when the host machine was idling or running lightweight applications. The team also upped the chip's Level 2 cache size to 1MB to allow more data and instructions to be retained on board the processor, reducing the number of wasteful calls to main memory. The cache was segmented into units which could be run at a very low power level when not being accessed.
Finally, they introduced Micro-ops Fusion, a technique the combined two of the CPUs native instructions, converted from the standard x86 instruction set retained for compatibility, into one in order to execute the pair more quickly than they would separately. The faster instructions are processed, the quicker parts of the chip can have their power cut to reduce overall energy consumption levels.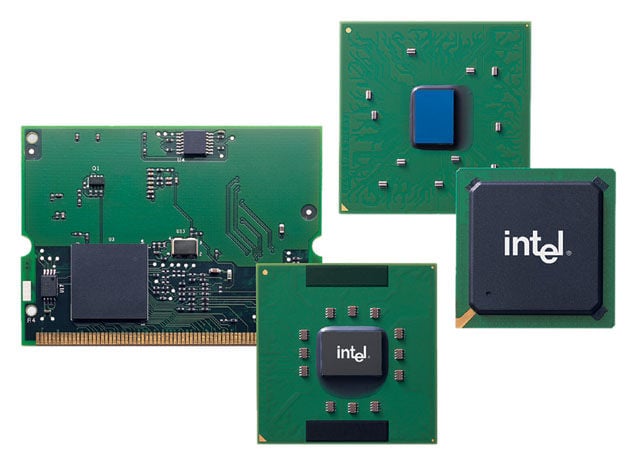 First-generation Centrino components: Wi-Fi card, CPU and two-part chipset
The upshot was a chip capable of consuming a maximum of 27W, falling to just 5W when idling. The benefit, Intel said, was clear in a Centrino system's battery life. Using MobileMark 2002, "the industry's first benchmark testing a combination of battery life and performance", the company was able to show that a Centrino-based system might deliver up to five hours of battery life, compared to about four hours with a Pentium III M system and about three hours with a mobile Pentium 4 M-based systems.
"On the same benchmark, Intel Centrino mobile technology offers 41 per cent faster performance on multitasking office productivity applications compared to a mobile Pentium III 1.2 GHz, and a 15 per cent improvement compared to the mobile Intel Pentium 4 M 2.4GHz system," the chip maker noted. Of course, it didn't say which of the 1.60, 1.50, 1.40 1.30GHz Banias launch Pentium M processors it had used.
Chip off an old block
The Haifa team also produced the Intel Mobile 855 Express chipset family to support Banias with memory control and I/O logic, with USB 2.0 support and the ability to manage up to 2GB of 266MHz DDR among its features. Two forms of the chipset would debut with Centrino: the 855PM and the 855GM, the latter with Intel's Extreme Graphics 2 core on board.
The third component was the Wi-Fi adaptor card. Intel executives had already noted the arrival of Wi-Fi, the wireless networking technology based on the 1999-ratified IEEE 802.11b standard, itself derived from work by NCR and AT&T and released under the WaveLAN brand. By 2003, Wi-Fi was becoming more widespread, albeit slowly, thanks to its use of unlicensed spectrum in the 2.4GHz band. During the early part of the decade, early adopters were kitting out homes and offices with Wi-Fi base-stations. On the back of broadband connections, enterprising businesses were offering free or cheap internet access to the public in order to encourage visitors to their shops and sites.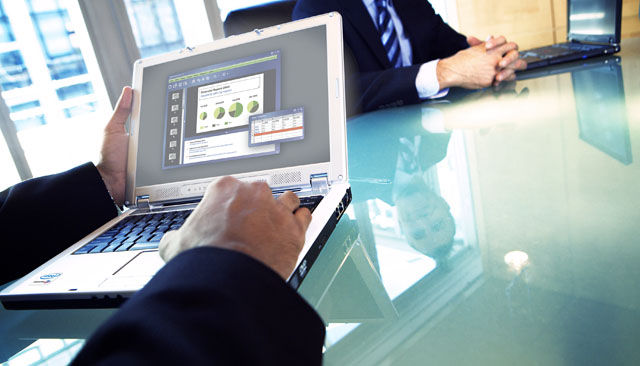 Centrino made laptops thinner, a little
Apple was one of the first notebook makers to embrace Wi-Fi, though it initially pitched its 802.11 support with a brand of its own, AirPort. It launched its first AirPort devices in the summer of 1999: an add-in adaptor for the iBook laptop and a base-station to feed it. By 2003, the adaptor was being offered as an option for all of Apple's laptops and desktops, and would some become part of each machine's standard build. Early that year, Apple upgraded AirPort to the recently approved 802.11g standard, which upped the theoretical peak throughput from 802.11b's 11Mbps to 54Mbps.
Apple's engineers were quicker than Intel's - or rather the third-party suppliers of its Wi-Fi adaptor cards were. Intel's first Wi-Fi mini-PCI board, codenamed Calexico, but brought to market as the Intel PRO/Wireless 2100, was an 802.11b offering. Centrino would get plenty of stick in the early days for lacking this leading edge feature.
Intel paved the way for Centrino first by briefing journalists and developers during its Intel Developer Forum conference at the end of February 2003. An ad campaign, 'Unwire', followed on 3 March 2003. It was devised by New York agency Euro RSCG MVBMS, now called Havas Worldwide.
Unwired
"Centrino mobile technology is designed to enable wireless capabilities in smaller, lightweight PCs and make them truly mobile," said Pam Pollace, then vice president and director of Intel's Corporate Marketing Group. "To help illustrate the freedom and flexibility that Centrino mobile technology brings, the 'Unwire' ad campaign humorously depicts people moving their work to surprising and unusual locations."
The ads presented businesspeople computing from their desks in unexpected places - such as a diving board, an airport 'people mover', a golf course driving range and an open-air sightseeing bus - surrounded by crowds unaware of the odd presence of a desk un-tethered from its office. Each concluded with the pledge: "On March 12, Intel will not only change how you work, but where you work."
Come the 12th, and Intel's then CEO, Craig Barrett, took the wraps off Centrino. The launch, he said, heralded a new way of working for computer users, "allowing them to communicate, be productive or be entertained wherever and whenever they want.
"Our focus on integrating all the elements of mobility allows Intel Centrino mobile technology to deliver an outstanding wireless computing experience and marks the first time we've put a combination of technologies under a single brand. This breakthrough innovation, together with industry-wide investment and Wi-Fi hotspot deployments, brings new computing and communications capabilities to businesses and consumers, adding value to mobile PCs."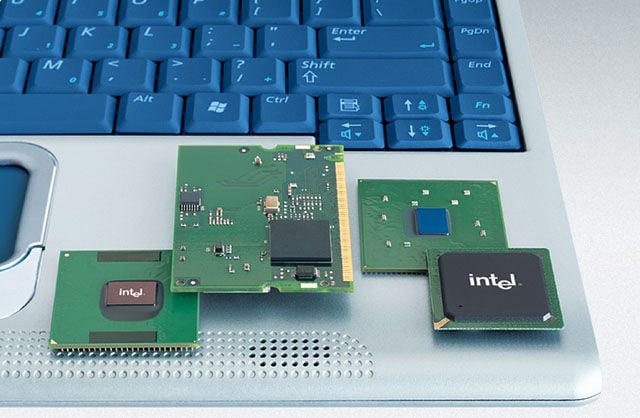 Centrino inside, kind of
Not only the components but systems based upon them were ready to buy at the time of Centrino's launch. "Intel Centrino mobile technology-based notebook PCs are available immediately from leading computer makers worldwide," the chip maker said. "System pricing will start as low as $1399, comparable to today's mainstream notebooks."
Buying a Centrino laptop was easy. So was getting a base-station for the home or office. Getting online when out and about was rather harder back then. To help changed that, Intel said it would provide a list of Centrino-compatible public wireless hotspots - reckoned back then to be moving toward a world total of 118,000 by 2005, according to market watcher IDC.
Extending Wi-Fi
Intel put together a hotspot verification programme, allowing certified hotspot owners to put Centrino stickers in their windows, the better to signal Wi-Fi support to roving computer users. As with the laptop branding, Intel's plan was to encourage manufacturers and service providers to promote its products under the guise of signifying wireless compatibility.
Intel would go on to drive up Centrino performance while lowering system power consumption, first with Dothan, a 90nm die-shrink of Banias, released in 2004 and refreshed a year later. The first half of 2006 saw the introduction of the 65nm Yonah, part of Intel's Core family, followed in the latter part of the year by Merom, a Core 2 version. A 45nm release, Penryn, debut in 2008; 2009 saw the arrival of a Core i incarnation, aka Clarksfield.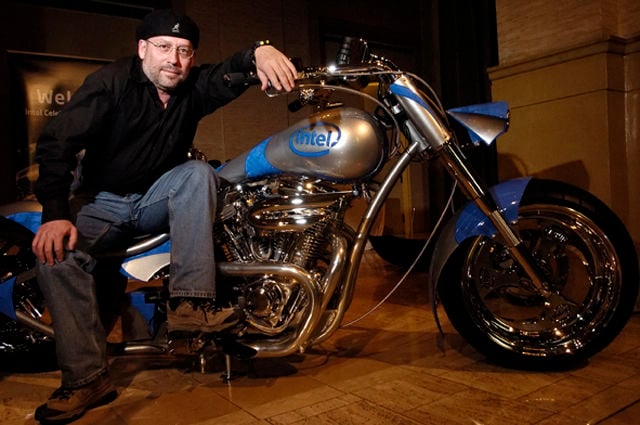 Centrino chief: Intel's Mooly Eden
Since then, Intel has pushed the series into the 32nm era with Arrandale and Sandy Bridge, and 22nm with Ivy Bridge. Of course, by the latter years of the 21st Century's first decade, Centrino processors had ceased to be separate from Intel's mainstream mobile processors. Indeed, the Core/Core 2/Core i lines owe as much to Intel Haifa's work on Banias and its immediate successors as they do to the Pentium 4, probably more.
In fact, the technological developments enshrined in Centrino had, by 2010, become not only so much a part of the chip giant's other notebook and even desktop processors, but also part of any standard laptop, that the brand was no longer required as a flag bearer for a new type of portable machine. By then all laptops were Centrino laptops, all those based on Intel chippery, at any rate. So Intel put the brand into semi-retirement as the name not of a mobile computing platform but as the umbrella brand for its wireless cards.
Centrino's legacy
Centrino chip development was overseen by Mooly Eden, then director and general manager of the Israel Development Center in Haifa, a role he was given in 1999. He worked his way up the technical and management ranks after joining the chip giant in 1982. The success of Centrino propelled Eden to run first Intel's global mobile marketing - anyone who has ever spoken to Eden knows he has the gift to the gab - and then, in 2005, to manage its entire Mobile Platforms Group. Four years later he took charge of Intel's PC group. Today he manages Intel's Israeli operation.
Centrino was undoubtedly a success, not only showing that x86 laptops could be made to run for extended periods of time without restraining performance, but that users really did want mobility not only of computing power but of internet access too. Of course, Wi-Fi hotspot coverage was expanding already and would have continued to do so without Intel's input. The chip company would have certainly devised ever-more power efficient notebook chips without the Centrino initiative, but the by combining components and promoting the brand, Intel undoubtedly gave mobile computing a mighty push forward.
From 23.5 per cent of PC sales in 2002, notebooks' share of the overall personal computer market hit 40 per cent in 2008 and by 2011 had pushed past 55 per cent. This conquest of the PC market would have happened without Centrino, but it would have taken longer.
Of course, nowadays users are increasingly turning to tablets for their mobile computing needs. The platform may not suit everyone, but for many people tablets win over laptops because they're more portable, have a longer battery life and run the applications they want to run.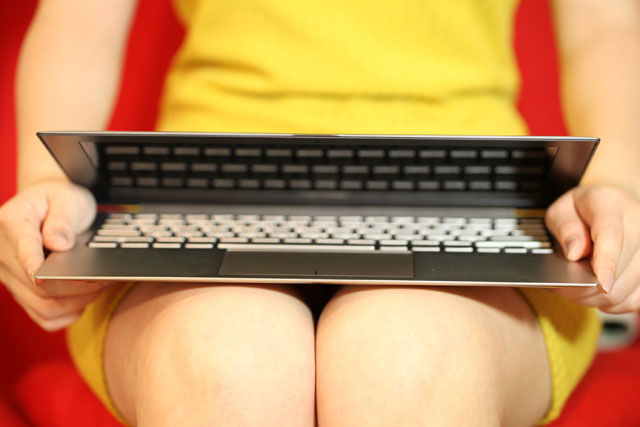 Ultrabook: Centrino's successor
That's one reason why Intel's latest notebook initiative, the Ultrabook, hasn't proved the success that Centrino was in the day. Like Centrino, Ultrabook wraps up technology that would have come to define laptops anyway. Notebook computers were always going to get thinner and to lose optical drives eventually. Neither Ultrabook nor Centrino were revolutionary, but Centrino, by making wireless connectivity a standard and by bundling components as a platform, helped drive demand. That, in turn, increased sales volumes, which lowered prices and drove demand even more. This at a time when more and more consumers were coming to computing for the first time. They naturally gravitated to notebooks - and low-cost Centrinos in particular.
With those folk now turning to tablets, they're not upgrading their notebooks, so Ultrabooks are staying on shelves and remaining expensive. Intel's newest strategy is to pitch Ultrabooks to business, in part by stressing how the skinny form-factor has allowed vendors to build machines that are more tablet like. ®