Original URL: https://www.theregister.com/2013/05/22/roundup_smartwatches/
Smartwatch face off: Pebble, MetaWatch and new hi-tech timepieces
Tick, tock, Tweet
Posted in Personal Tech, 22nd May 2013 09:04 GMT
Product Round-up If the rumours are to be believed, Apple and Microsoft are both developing "smartwatches" - wrist-worn gadgets that do rather more than simply display the time.
The Apple rumours kicked off after smartwatch-pioneer Pebble's Kickstarter campaign generated kilometres of column-inches, and with Cupertino on the case, it wasn't long before Redmond was said to be on it too.
Apple - if it is indeed working on a smartwatch - is new to the game, but Microsoft has form. In 2004, it partnered with a number of watchmakers, including Citizen, Fossil, Swatch, Suunto and Tissot on a scheme called Spot: Smart Personal Object Technology. Spot watches tuned into a US service called MSN Direct which broadcast news, weather, stocks, film times, horoscopes and other time-sensitive data over FM frequencies - the sort of information we now pick up on our phones.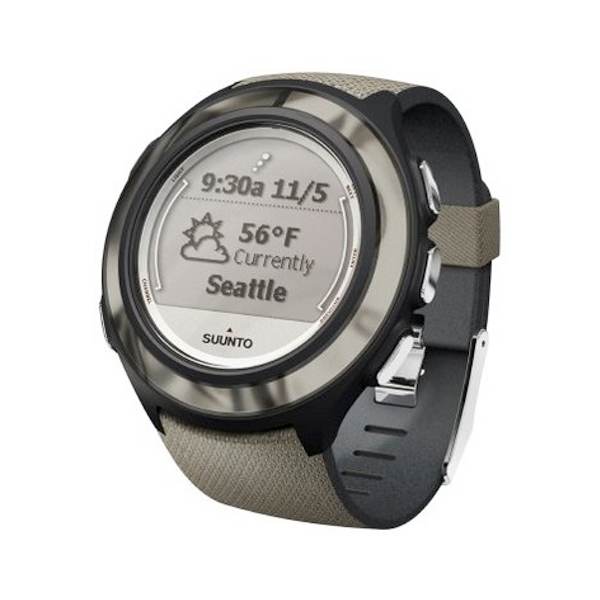 Suunto's Smart Personal Object Technology timepiece
In fact, for all the current buzz around the smartwatch, tech'd up timepieces have been making headlines for the past decade or more. A quick survey of past Register write-ups reveals Motorola demo'd a phone-in-a-watch in February 2000, six months before IBM engineers showed off a proof-of-concept watch running Linux.
The early Noughties saw a number of no-name Chinese companies pitch Dick Tracy-style watchphones, and Japan's venerable telco NTT DoCoMo even shipped one itself in 2003. Five years later, Korea's LG had a go, building its offering around Windows Mobile 6.5, a move that encouraged Microsoft CEO Steve Ballmer to strap one on during a Mobile World Congress keynote the following year.
Not to be outdone by its arch-rival, Samsung unwrapped a watchphone of its own, the S9110, in 2009, only four years ago. It's believed to be working on a successor even as we speak.
Vendor led
Of course, the watchphones to date have been more about what vendors are able to make, rather than what punters actually want to use. Inevitably, they required Bluetooth headsets, gadgets that most phone users clearly don't care for given how few of them you see being used on a daily basis.
Bluetooth is handy for transmitting data short distances between devices over the air, and is particularly useful for smartwatches: it can be used to wirelessly stream notifications from smartphone to watch. That's the approach taken by all of the new generation of smartwatches - the Pebble, the MetaWatch, the WIMM One, the I'm Watch, the Cookoo and others. This approach has been aided by the arrival of Bluetooth 4.0 and its low-power mode to make streaming such data burn through less battery charge; maintaining a communications link by radio is a significant power drain for these tiny gadgets. As we shall see, they will try to minimise any exchange of information.
Sending notifications over a Bluetooth link isn't new. In 2006, Sony's phones division, back when it was Sony Ericsson, released a Bluetooth-connected watch in partnership with Fossil. The MBW-100 was a standard timepiece that could flash and beep to tell its wearer that an email or an SMS had just arrived. A year later, the pair extended the line with models sporting LCDs revealing a caller's ID.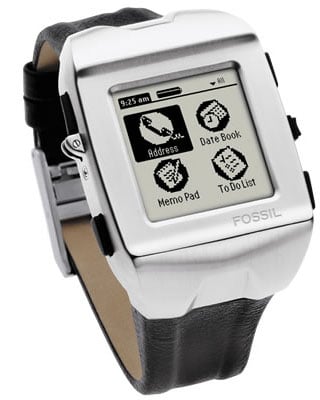 Palm not palm: Fossil's Wrist PDA
Fossil is one of the watchmakers most closely associated with the smartwatch. In addition to the Microsoft Spot gig and its work with Sony, it also teamed up with Palm to release a tiny wrist-worn personal organiser in 2005, complete with a minuscule stylus to tap the Wrist PDA's 160 x 160 pixel, inch-square touchscreen.
Fossil was a year late getting the Wrist PDA to market, and the device was never a strong seller, even though it was priced at a not unreasonable $250. But then no other smartwatch has managed to set the world alight either. Microsoft knocked Spot on the head five years after it was launched - itself a year or so before watches became available to buy - due to insufficient sales.
LG still lists its GD910 watchphone on its website, but no one in the UK appears to be selling it. Samsung's alternative is similarly all-but-impossible to lay your hands on. Sony's partnership with Fossil ended some years ago, but it still offers a smartwatch, the Android-based SmartWatch, for a mere £89. SmartWatch, with its 1.3-inch OLED panel, is an evolution of LiveView, the small second-screen Sony pitched back in 2010. Neither has had punters falling over themselves to get hold of one.
Nor has Motorola's answer to the Sony offering, the MOTOACTV, the music player-cum-phone accessory it launched in 2011. Aimed more at the fitness freak than the general watch-wearing punter, MOTOACTV is less a smartwatch, more a wrist-worn MP3 player and rival to the likes of Nike's Fuelband tracking device for runners. TomTom is heading in the same direction with its upcoming GPS-enabled Runner and Multi-Sport gadgets.
The next generation
In fact, arguably the most successful smartwatch to date wasn't really a watch at all - or very smart, come to that. It was Apple's sixth-generation iPad Nano, a compact music player built around a 1.5-inch, 240 x 240 pixel touchscreen and therefore broadly watch-sized - a number of accessory makers quickly released clip-on wrist-bands to allow Nano users to wear their players that way. Apple knew they might: it coded the player with a set of watch faces to display as a screensaver.
Hence, in part, the widely held belief that Apple has a smartwatch in its labs. It's a logical successor to the old Nano. The first sixth-gen Nano came out in 2010, but Apple never equipped it or its successors with Bluetooth and a companion iOS app to ping over iPhone notifications. If Apple does have an iPhone-connectable wristwatch kicking around, it clearly hasn't believed there's a market for such a device to date.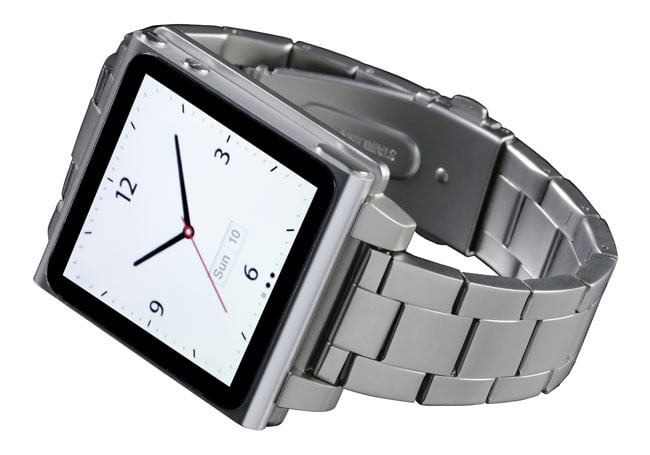 Ad hoc watch: Apple's iPod Nano 6G in a Hex Vision Metal strap
Indeed, the lack of success experienced by other attempts to sell smartwatches suggests there's no great desire for this kind of product. Quite apart from the technological limitations - well, limitation: it's really the short battery life that most hinders existing smartwatches - there's the fact that, by and large, folk seem quite happy carrying their ever thinner, ever lighter mobiles in their hands, or in close reach, to be able to readily check the screen for notifications. Why, then, do they need a watch to do so too?
Two trends suggest they might. First, phone screens are getting larger. But taller and wider screens makes smartphones less suitable to casually carry in your hand, and so people may turn to smartwatches so they can tuck their "phablets" away until they need them. With more people using phones for social networking, let alone email and texting, there are ever more incoming items they want to be notified of without having to whip out an almost-tablet every few minutes.
Then there are the watch makers, who may see in smartwatches not so much a new market to tap, but a way to make their existing timepieces more attractive to modern buyers. Casio is already there: it's currently offering a Bluetooth-equipped member of its teen-friendly G-Shock line to kids keen to have a watch that'll tell them about Facebook updates. Casio undoubtedly realises that while almost all youngsters have a time-telling phone, fewer and fewer are bothering to wear a watch. Linking watches to phones may give kids a reason to buy one too.
Compounding interest
And for all the practical, technical and level-of-demand arguments against smartwatches, it remains the case that Pebble, for one, has managed to raise more than $10 million through crowdfunding site Kickstarter - it was only seeking $100,000 - since it started asking for money more than a year ago. Some 68,929 people have pledged money to date, and more still have put down advance orders.
ABI Research, a market watcher, reckons that demand will grow, and that more than 1.2 million smartwatches will be shipped this year.
"The strong potential emergence of smartwatches can be attributed to several reasons," said ABI senior analyst Joshua Flood. "Contributing factors include the high penetration of smartphones in many world markets, the wide availability and low cost of MEMS (micro-electromechanical systems) sensors, energy efficient connectivity technologies such as Bluetooth 4.0, and a flourishing app ecosystem."
Miniaturisation is removing past smartwatches' bulk without sacrificing too much battery life, which is helped by the advent of Bluetooth 4.0.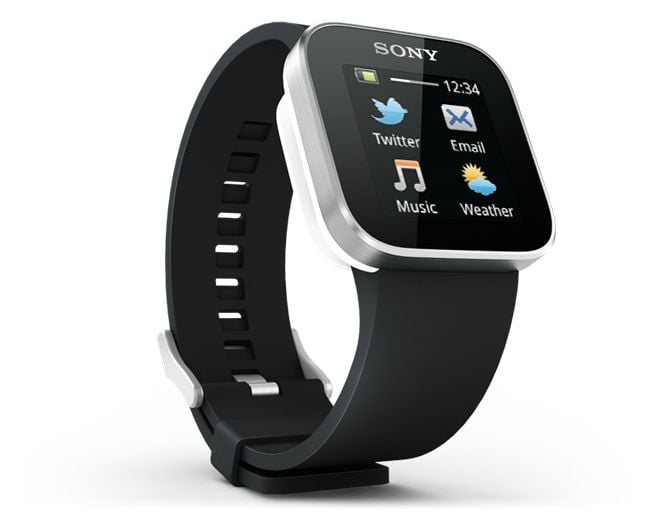 Sony's Smart Watch
Pebble's approach is also different. Casio and others have followed an old line: their smartwatches just relay notifications from a phone. Pebble's offering does too, but it's also an app platform in its own right, potentially using the connected phone to create a bridge to the internet.
Pebble shows there's a new interest in smartwatches, and that these gadgets need not be the bulky boxes of yore. If Apple does get involved, its marketing skills could enthuse even greater numbers of people in the notion. Just in case Apple does so, or perhaps to take an early lead, Samsung seems to be laying the ground for a rival offering: the Galaxy Altius, screenshots from which leaked online in February 2013.
For now, though, there are six main challengers. Casio is the only established player and is going up against relative newcomers ConnecteDevice, Martian, MetaWatch and Pebble Technology. I also hoped to take a look at Italy's I'm Watch smartwatch, but the firm was unable to send me a review unit in time.
Casio G-Shock GB-6900AA

Casio's Bluetooth-equipped G-Shock is the only smartwatch here from a well-known manufacturer of watches. It should come as no surprise, then, that the GB-6900AA is also the best timepiece here, packing in all the features you might expect in a watch produced by a firm that's been punching this kind of thing out for decades.
Beneath the G-Shock's youthful shiny black plastic exterior sits a typical quartz movement driving a white-on-black LCD. The backlight button is dedicated to the function, so you don't waste power pressing it to apply settings, as is often the case with digitals. The case is said to be water-resistant to a water pressure of 20 bar - equivalent to a depth of about 200 metres, but this is not a diver's watch so don't expect it to survive anywhere near that depth.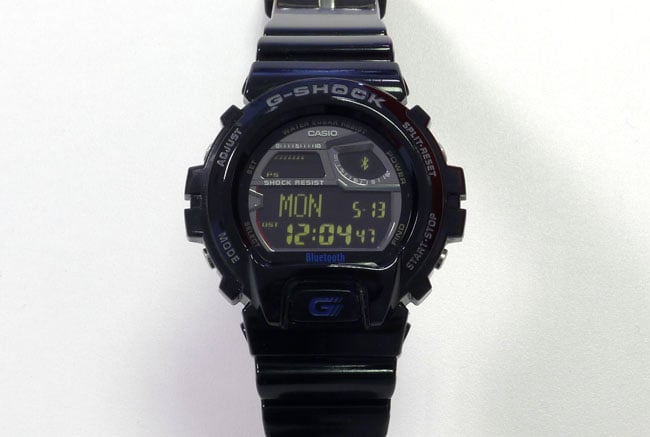 The GB-6900AA get the usual comprehensive digital watch with local time, a world-time mode, an alarm and hourly chime, a stopwatch and a countdown timer. All good stuff, so at least if you're disappointed with the "smart" side of the story, you at least have a decent watch on your wrist.
And, yes, I was disappointed with the smartwatch side of things. Common to all smartwatches is the use of an app on your phone to ping over notifications when calls come in, emails are received, diary appointments are imminent and so forth. Casio's app is unfortunately only available for iPhones, and because it uses Bluetooth 4.0 to reduce the wireless sub-system's energy drain, only the 4S and 5 models.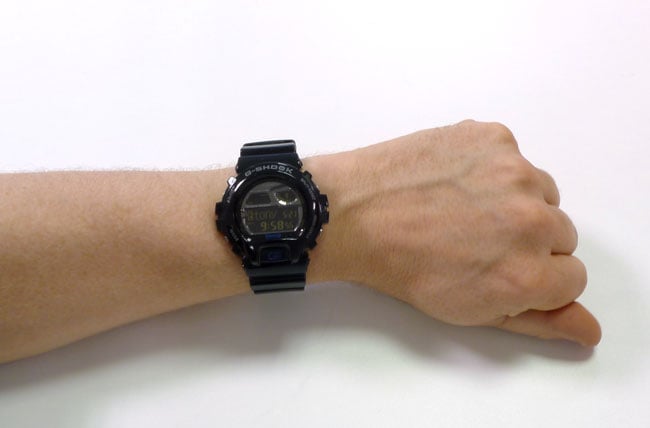 If you're still running iOS 5, you won't get Facebook or Twitter alerts because the app taps into iOS 6's accounts database, rather than store the login information itself. Yet the G-Shock+ app requires you to enter email account details, of which you can enter several, and choose to check IMAP or POP servers for messages. So why not directly log into social network accounts, too?
"With an iPhone, caller information is not displayed," Casio warns, but since the watch only works with an iPhone, that means no user is told who is calling. The app can't tell the watch when a text message has arrived, which is a major omission. At least it will tell you when an entry in your calendar is coming up, though this functionality was added only this month.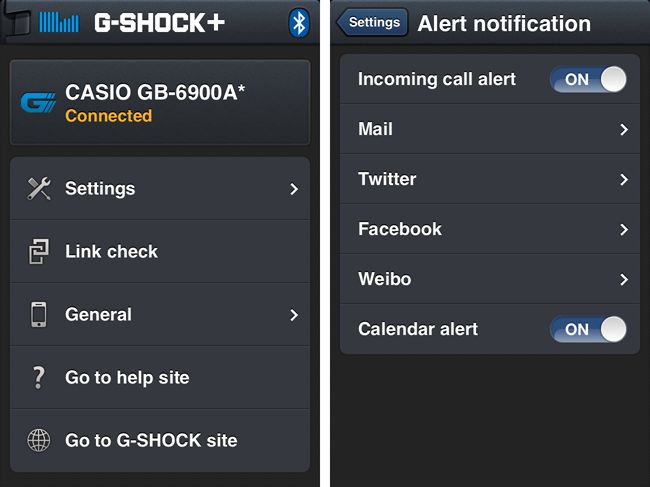 Notifications appear on the main time display, their type indicated by a suitable icon. There can be a delay with email: the app polls at either 5-, 10- or 15-minute intervals to conserve power, and only the emailer's address is shown, scrolling across a six-character window, though it will stop after a short period. A calendar alert simply displays the word "Calendar" on the watch, not the details of the event. You can tap the watch's Adjust button to clear the notification, but you can't tap it to look at it again.
The Casio will vibrate when the distance between phone and watch exceeds Bluetooth's reach, and you can push the watch's Split/Reset button to sound an alarm on your phone to help you find it. These are features common to all smartwatches, as is the ability to automatically reconnect to the phone when they're back in range, though it can take several minutes to connect - more if you have to make the connection manually, which you will if you turn Bluetooth off on either device, or quit the app.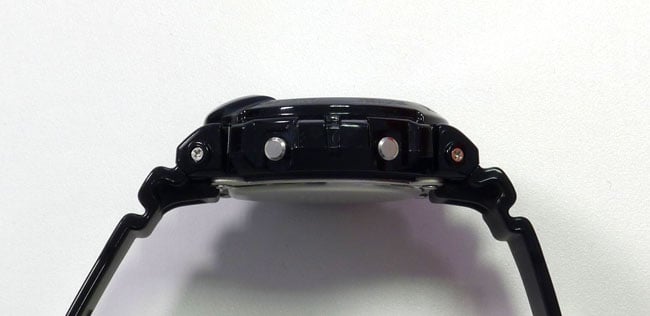 I also had to reconnect manually every morning, either iOS or the watch having powered down its Bluetooth link overnight, presumably after a set period of link inactivity. Manually reconnecting is just a matter of holding down one of the watch's buttons for two seconds. To be fair, it will reconnect on its own, eventually. But it's hard not to notice the absent Bluetooth icon and to want to get the link going pronto in case you miss something.
One nice touch is that the watch can take the phone's time, ideally set by the network, as a reference, but there's no indication of the phone's battery status, which would be handy.
I quite like Casio's G-Shock as a watch, even if the design is a tad "yoof", but it needs more work if it's to stand up against rival smartwatches.
Price
£160
App platforms
iOS
Case
Diameter: 50mm; thickness: 17.5mm; material: plastic
Strap
Length: 256mm; width: 20mm; material: plastic
More Info
Casio
ConnecteDevice Cookoo

The Cookoo is novel among smartwatches in that the watch bit is entirely separate from the smart part - all they have in common is the casing, which is claimed to be water-resistant to 50m. You set the mechanical analogue face manually, and the Japan-made movement is powered by its own battery. This cell is good for three years of time-keeping, claims ConnecteDevice.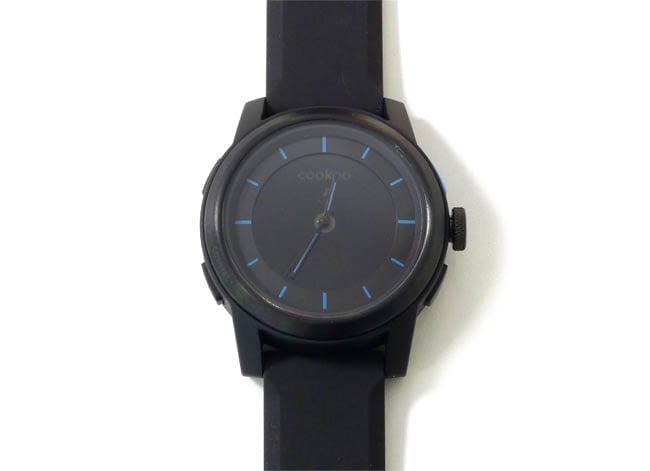 The advantage is that the Cookoo still functions as a watch even when the Bluetooth-based notification system has run out of charge, or has been turned off, though it also means your watch can't use an internet time server or your phone's clock to stay in sync. I don't like the fact there's no date readout, and the minimalist, blue-on-black Swatch-style design won't appeal to everyone, either. It's not an overly large watch - the diameter is 44mm - but it is thick: 16.33mm front to back. It's comfortable to wear.
Behind the hands sits a white-on-black LCD screen with a backlight that glows for a moment at the press of a button. Icons tell you when your Cookoo is connected to the phone by Bluetooth 4.0, when a call comes in, and when a Facebook post or tweet has been received by the phone. It'll warn you your phone's battery is almost out too, and notify you of alarms and calendar entries - though you'll still have to look at your phone to find out what they are: there's no caller ID or message readout, just the icon to tell you what kind of notification has been received.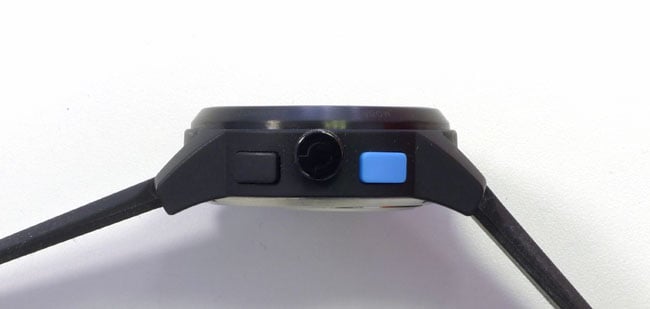 There's a coloured button on the side of the watch to acknowledge a notification and hide it. With a longer press it also enables and disables the notification beep and/or vibration. A third button powers down the Bluetooth link, whether you need to conserve power or you're about to take a flight and need to switch off radio-spaffing gadgets. A second battery, for the Bluetooth system, isn't rechargeable, but ConnecteDevice includes a spare in the box - it's a CR2032, so easy enough to find if you need a fresh one - and it reckons each should last a year, less if you get lots of notifications or watch and phone frequently move out of range of each other.
A fourth button is customisable, though for now you have pick three out of four possible choices: find your phone; remotely trigger the phone's camera shutter; check in on Facebook; and save your current location on a map presented by the companion app. The three actions are selected with short, medium or long presses of the button. It'll also work as a media player remote control, though this disables the custom functions.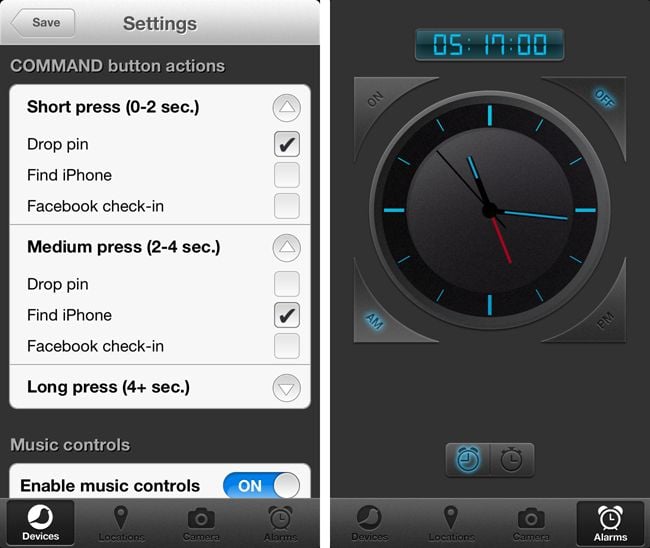 ConnecteDevice promises more custom button choices in future, but this is contingent on app updates. So far there's only an iOS app, though an Android version is being considered, ConnecteDevice tells me. The app is clearly a work in progress: there's no notification for incoming email or text messages yet, for instance, which limits the Cookoo's utility somewhat, though ConnecteDevice is keen to talk to developers who want to support its gadget in their apps. With no alphanumeric display, you'll still have to check your phone to see who texted or called.
And that's the Cookoo's fundamental flaw. It's inexpensive and looks good, but for now it's really just an alternative to your phone's own bleeper and buzzer. The Casio G-Shock is less functional, but at least I can see who an email is from and choose whether I want to pull my phone out to find out more.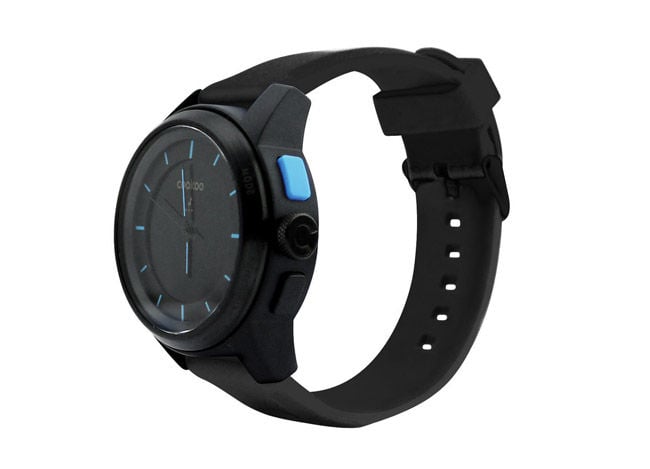 In addition to extending the Cookoo's functionality, ConnecteDevice has some issues to fix too. All my Twitter mentions were registered by Cookoo twice. Then there's the inevitable short range of a Bluetooth link - it's easy to exceed it. The result: the watch bleeps regularly, and the phone makes an annoying cuckoo call - even with the ringer disabled. You can set the watch to just vibrate in this situation - which is what most other smartwatches do; they too suffer from limited Bluetooth propagation - but you can't turn off the irritating cuckoo noise.
If you're going to have to keep your phone close to avoid this, or to see who has just texted you, why bother with the watch at all? Unfortunately, ConnecteDevice has no compelling answer to that question.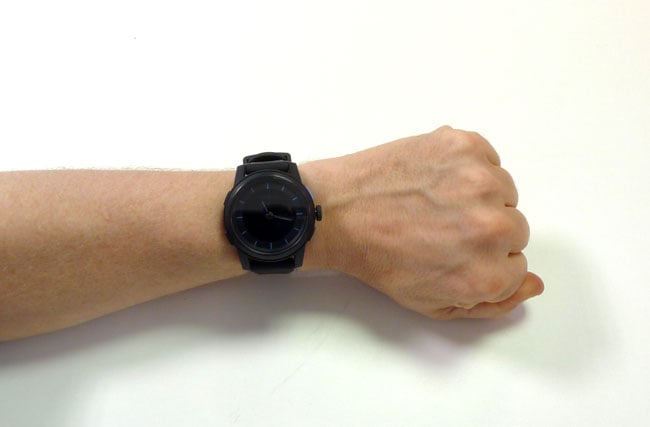 Price
$129 (£83)
App platforms
iOS
Case
Diameter: 44mm; thickness: 16.3mm; material: plastic
Strap
Length: 255mm; width: 22mm; material: plastic
More Info
Cookoo
Martian Watches Victory

Want to know what the Victory is all about? Think Bluetooth headset on your wrist: this watch has its own microphone and a speaker, allowing you to tap into your phone's own voice control system, and to make and take calls. It's the only smartwatch reviewed here that does this.
It's a risky approach. How well the voice control works depends on the handset, not the watch. But I suspect users will be more likely to blame the Victory when the process proves unsatisfactory. Apple's Siri was spectacularly unable to call a number in my address book, but rather than insulting the Cupertino crew for this failing, I just felt silly talking to my wrist over and over again. And I wasn't even doing in public.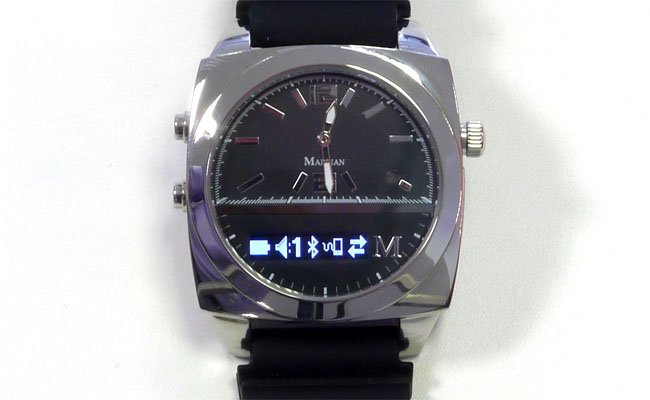 Not that you have to use voice: the Victory's mic is sufficiently sensitive to pick up what you say with the watch at waist level, but not any further away from your mouth. I'd recommend wearing it on the inside of your wrist, military fashion, as it'll feel more Blake's 7, less Dick Tracy.
If this voice business doesn't appeal, the Victory is still useable as a remote notification system, with email, SMS messages, Twitter mentions, Facebook direct messages, to-do reminders and calendar appointments all causing the watch's LED light to flash once and the details to appear on the Victory's single-line OLED panel: the sender or caller followed by the Tweet, the subject line of the email, or the first 40 characters of a text message, say. And the voice control link allows you to respond without pulling out your phone.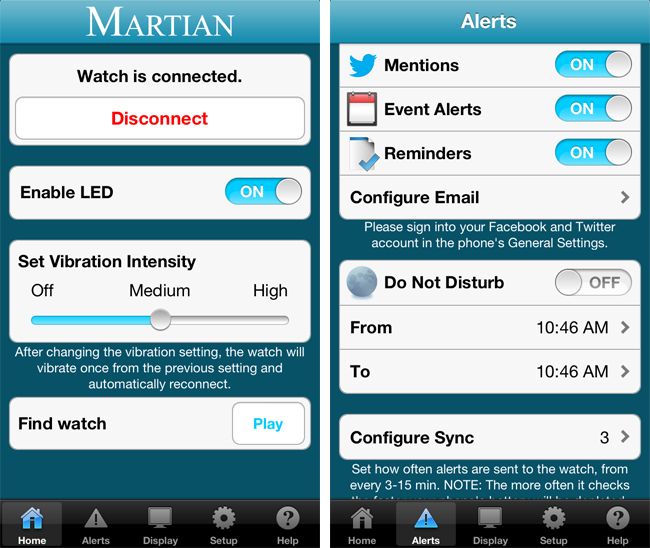 Most of this functionality requires the use of Martian's app, in either of its Android and iOS forms, though you can do some very basic set-up on the watch itself and the voice command system only needs the watch-to-phone Bluetooth pairing, which can use either regular Bluetooth or its low-power incarnation. Tap the watch's status button and it will present a line of icons for battery and connection status - and also the current date, absent from the watch's manually set analogue face. It'll also show the local weather and the time in another location, if you set these up in the app.
The app taps into the phone OS's account database or apps provided by individual services, though while the Android version will talk to Google's Gmail app, its iOS equivalent won't communicate with Mail. To pick up email notifications on an iPhone, you need to key your server details into the iOS app, and only IMAP servers at that. Alas, only a single email account is supported.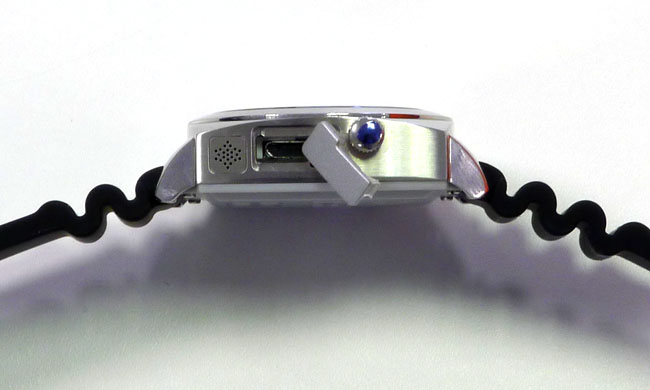 The Android and iOS versions of the app are almost identical in functionality, differing only to meet the requirements and features of each mobile OS. The Android version, for instance, has an extra alert option: "Installed app notifications", which seemingly allows the Martian app to send over system notifications from any other app installed on the phone. That's the idea - I found it didn't work when I asked for alerts from the Email app, for one.
Martian tells me it is putting together a developer forum and will launch later this year a software development kit (SDK) for Android and a limited one for the iPhone too.
The Martian app also allows you to set a do-not-disturb period - handy for bedtimes or theatre evenings - and to disable the out-of-range warning, which is discreet, in any case. You can increase the frequency at which the app polls for notifications and pings them over to the watch. The more often this occurs, the quicker the Victory's battery will drain, of course.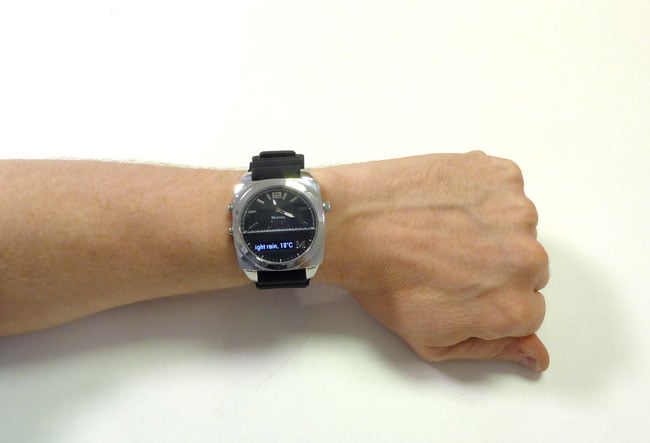 Martian claims the Victory will operate for seven days on a full charge, falling to two hours if you make extensive use of the voice facility. The analogue face is powered by the single on-board battery, but it'll keep going for up to 30 days. Charging is easy: just plug in a micro USB cable. However, the USB and mic/speaker holes mean the Victory isn't water resistant.
Personally, I'm not so keen on the Victory's semi-circular analogue face. But it's not an unattractive watch, with a certain retro charm. Its metal casing means it's heavier than the Cookoo or the Casio, even though it's actually smaller in size. I'd expect better build quality in a £200 watch - the mic grille was poorly set on my sample - but you're paying for technology here, not watchmaker craft.
The Victory's clear, easy-to-read OLED readout makes all the difference. It shows more characters and more types of information than the Casio scrolling display does, and certainly more than the Cookoo's icons-only panel. A fresh firmware update, released as I was testing the watch, senses a tap on the glass and re-displays the most recent notification in response, though only within a minute of its receipt. Even without voice control, this is the most functional of the notification-centric smartwatches.
Price
$299 (£193)
App platforms
iOS, Android
Case
Diameter: 41mm; thickness: 13.3mm; material: metal
Strap
Length: 265mm; width: 21mm; material: plastic
More Info
Martian Watches
Metawatch Frame

MetaWatch's smartwatch platform, available in two designs - Frame, reviewed here, and Strata - is to an ordinary watch what a modern smartphone is to an old, voice-centric mobile: yes, you can use to tell the time, but it does a whole lot more besides. That extra functionality is defined by the apps you run on it, not what the manufacturer thinks you need. Unlike the watches I've discussed so far, which are really just notification relays, MetaWatch is much closer to the notion of a smartwatch.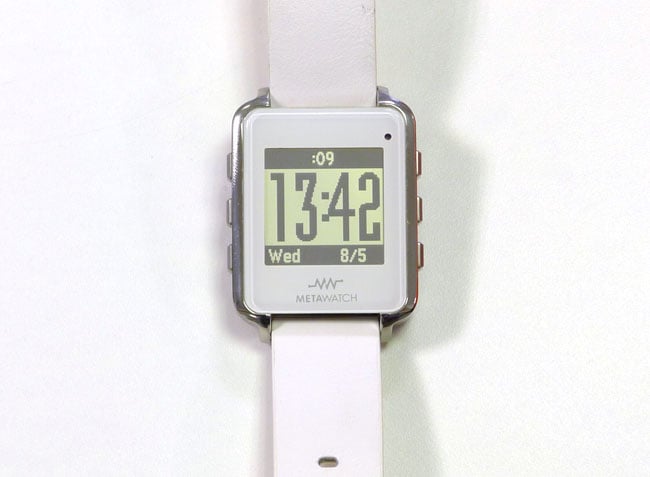 Apps here are called "widgets", presumably because of the implications of using the word 'app'. MetaWatch's widgets are at-a-glance information readouts fed from the connected phone; turn Bluetooth off and they're not even savvy enough to remove now-past calendar appointments, for instance. Apart from the clock face, the Frame becomes frozen in time when the link to the phone is cut.
The Frame's face is almost entirely given over to LCD - there's no separate analogue or digital face alongside it - and it's segmented into four regions, each of which can hold a widget. A bit like Windows 8 home screen panels, MetaWatch widgets can run in a single region; in two, either vertically or horizontally; or across all four. Grabbing four regions isn't a problem because the Frame has four pages on which to place widgets. A button - one of six - cycles through the pages.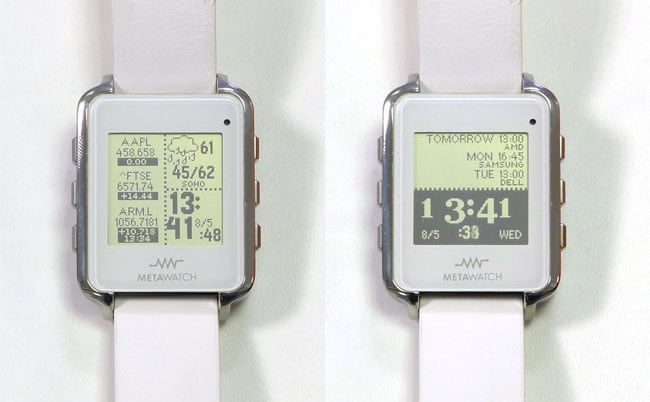 The widgets give you access to information you might normally get by glancing at your phone. Now you need only look at your wrist. Out of the box, the Frame comes with clock, stock price, weather, a Chinese calendar, phone battery charge and calendar readouts, all in various sizes.
If you're an iPhone user that is. The Android version of MetaWatch Manager is limited to clock and calendar widgets, and not in all of the possible layout configurations even then. There are several third-party alternatives available for Android, most notably Metawatch Community Edition and MetaWatch Mgr Noah Edition which expand the notification functionality considerably, but at the cost of complexity: the user interface is confusing, and I rarely got the results on the watch that I expected from how either third-party app had been configured. Buttons, for instance, stopped doing what they were supposed to.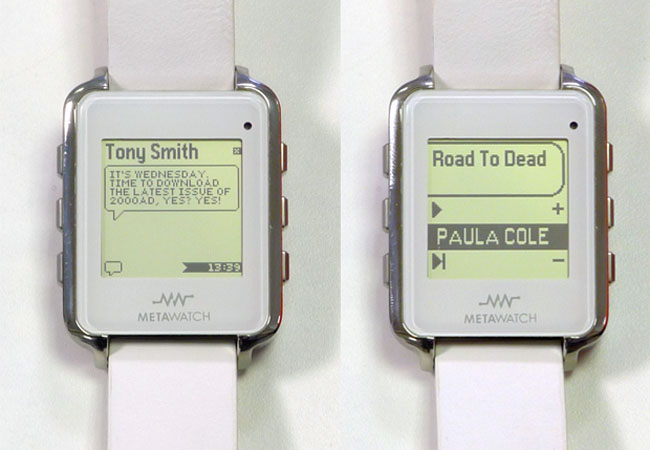 MetaWatch's own app lets you place widgets on the Frame's screen and to set up each widget. But it, like the third-party apps, is a work in progress. There's no Twitter or Facebook notifications yet, for example, on either iOS or Android. And there's only one watch face, even though the use of an LCD means MetaWatch could offer dozens to choose from.
Metawatch's array of widgets is limited right now, but it's encouraging developers to create additional ones that can be loaded onto the Frame through MetaWatch Manager. You can download an iOS widget SDK now, and there's an Android version on the way. The app is also used to set the Frame up and to notify it about incoming calls, SMS messages and emails, and to trigger upcoming appointment alerts. Notifications grab the whole screen until dismissed. The most recent notification is retained, and can be viewed again with a button press. Some of the notifications could be better designed to contain more information than they do, particularly for email.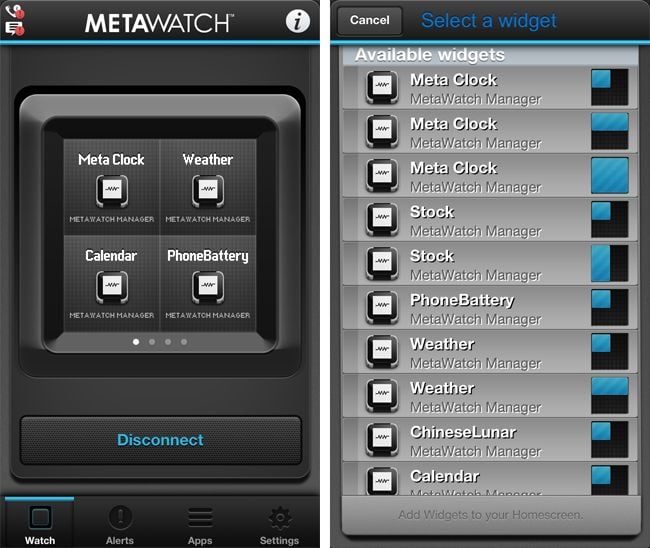 There's work to be done on the device's own software too. Widget-free pages are not automatically hidden, for instance, which is sloppy. It must be possible - the third-party Android apps let you set this. MetaWatch provides music controls, but only to step through an alphabetic list of all the songs on your phone. You can't select anything other than the next track on the list, even if you select a track or album in the phone's player app. Skipping tracks is slow - it tales a couple of seconds to get the next track's data - so you may as well pull out your phone. But the MetaWatch is handy for briefly pausing playback.
Battery life may prove an issue too, though this depends on your platform of choice. iOS's overly complex Bluetooth stack means communications are less efficient here: MetaWatch quotes 3 to 3.5 days of runtime, while Android users will by up and running for up to seven. Charging is easy, though: MetaWatch has fashioned a clever clip which fits onto the body of the watch to touch four charging pins. The clip is fed with a standard micro USB cable and can transmit data - for firmware updates, for instance - as well as power. With no USB socket, the Frame is thin and very comfortable to wear.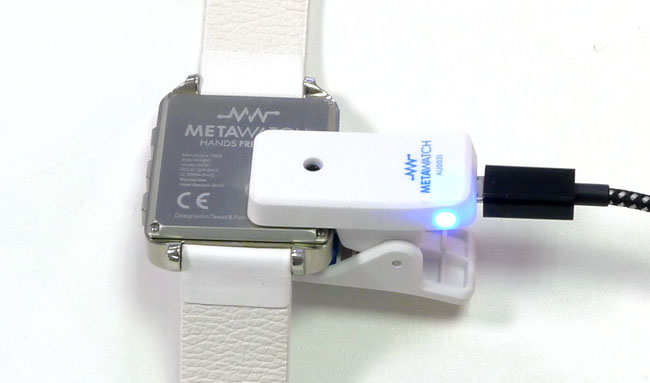 The Frame is water-resistant to three atmospheres of pressure, so it'll stand up to splashes and brief immersion but you won't want to take it swimming. MetaWatch's Strata has five-atmosphere water resistance if you need a smartwatch you can swim with in shallow water.
The Frame is an attractive enough watch, but its 96 x 96 pixel screen gives the user interface a rather retro look, unfortunately. The Frame's jagged text and chunky graphics remind me of the interface I saw on the Fossil Wrist PDA back in 2005. No surprise, this: MetaWatch's principals were previously leading lights in Fossil's tech division. The Frame's LCD uses natural light for illumination - there's a button-triggered backlight for nighttime - and is easily readable in bright sunlight.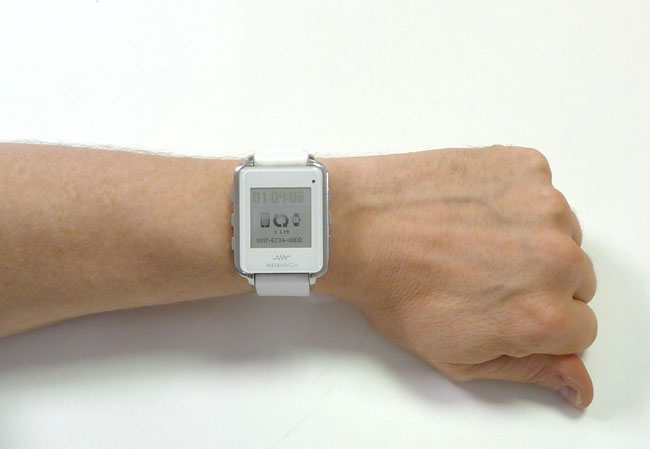 Price
$199 (£129)
App platforms
iOS, Android
Case
Size: 46 x 42mm; thickness: 10mm; material: metal
Strap
Length: 255mm; width: 21.5mm; material: leather
More Info
MetaWatch
Pebble

Eric Migicovsky and his pals have form when it comes to smartwatches. They were the team behind the InPulse, a colour-screen smartwatch launched in 2011. The InPulse didn't quite set the technology world alight, but Migicovsky and co's follow-up, the Pebble, has, in part due to its huge successful - and well promoted - Kickstarter funding campaign.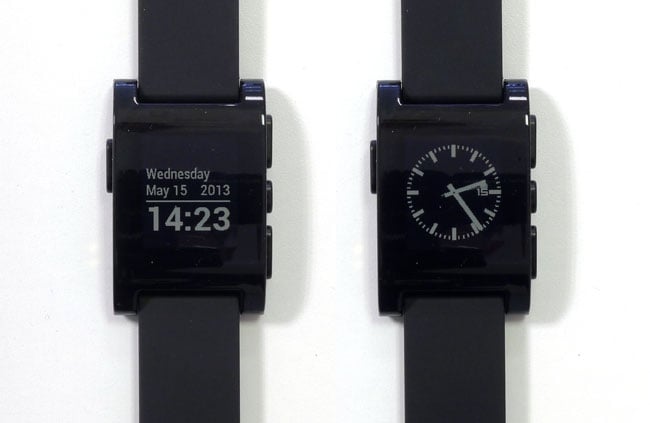 From a hardware perspective, Pebble is clearly the second-generation InPulse. The screen is roughly the same size - 1.3 inches - but the resolution higher and built from a much more power-efficient LCD technology, though this time it's monochrome, not that that's any real loss. The InPulse had a standard micro USB port to charge the battery; the Pebble has a tiny, magnetically attached charging head instead that helps keep the new device sealed. Once again, there's an ARM7 micro-controller on board, plus a stack of motion, magnetism and ambient light sensors.
Like the MetaWatch Frame, the Pebble sports a slim, rectangular casing. It's made from glossy plastic rather than metal, so looks more like a sports accessory than a fancy wristwatch. The Pebble is light and comfortable to wear. With a 144 x 168 pixel display, the Pebble's screen can present text and graphics that are rather more smooth than those on the 96 x 96 pixel MetaWatch, though there's clearly room for improvement. It's not a grayscale display - it's a one-bit per pixel panel - so we're back to dithering.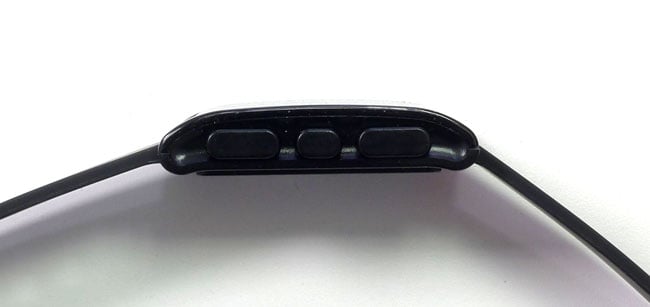 The Pebble comes with a selection of watch faces, and an SDK called PebbleKit is available from the manufacturer's developer site which lets you create your designs. There are already a couple of sites collating punters' watch faces, of which hundreds are now available.
Pressing the Pebble's menu button switches in a scroll-through list of options and apps. Again, the PebbleKit SDK allows C coders to start building their own software to run on the smartwatch. It also includes APIs to help programmers tie the Pebble to their Android and iOS apps. There's now a separate SDK containing code for sports-specific applications.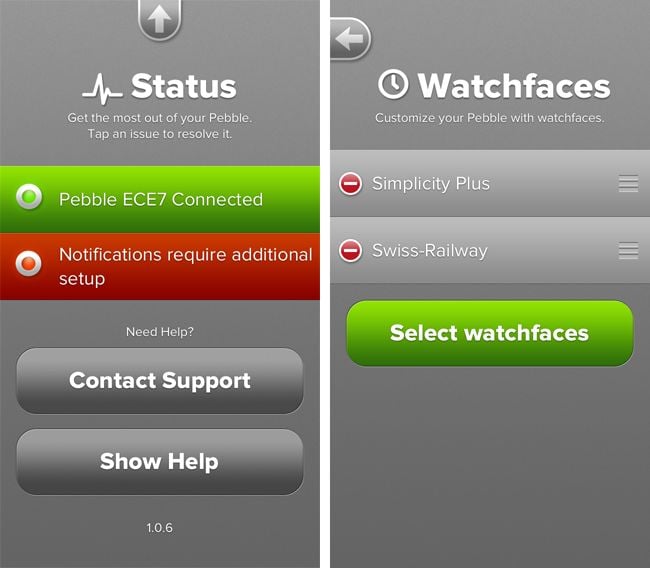 The Pebble was released in 2012, but we're still in the platform's early days. The hardware continues to be made available through a series of small production runs, and the firmware, apps and SDK are all works in progress. The SDK was massively updated while I was writing this roundup, and Pebble Technology tells me it intends to update the watch's firmware every three weeks or so.
As it stands, the watch comes with a music control app that controls your phone's player, playing and pausing the current song, or stepping through the tracks in the album or playlist you've selected. You can't yet use it to navigate through all of your phone's music to choose which album to play. There's an alarms app too, to set four one-off alerts that'll trigger in the coming 24 hours, each sounded by the Pebble's surprisingly aggressive vibrator.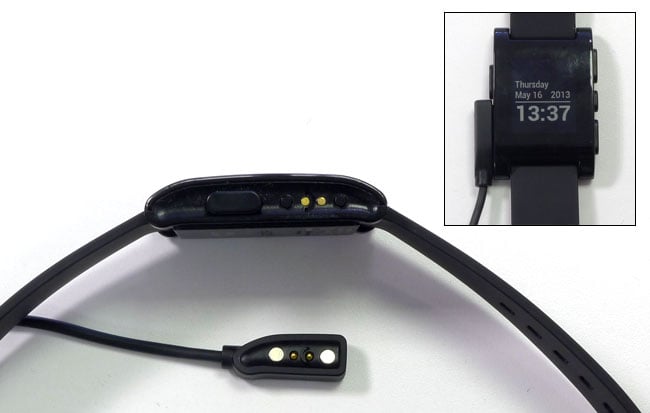 The alarm is essential because Pebble won't yet relay reminders and diary appointment alerts triggered on the host phone, at least not on iOS, though it does so on Android, which also supports Google Talk chat. It also does mail, text messages and such, all through iOS's and Android's own notification mechanisms. Essentially, phone notifications are duplicated on the watch. Whatever details are included in the notification are presented full screen in plain text to get as much information on the screen as possible. Unfortunately, you can't pull up a notification you've cleared.
Incoming calls register on the Pebble screen too, which nicely allows you to reject unwanted ones and answer wanted calls. A vigorous shake of your wrist and on comes the backlight. But the battery readout is bizarre: the tiny icon appears only when certain charge levels are reached, not permanently. So it's not only easy to miss, but you'll find your Pebble dying on you if wait to be told to charge it. If it dies, it resets the clock.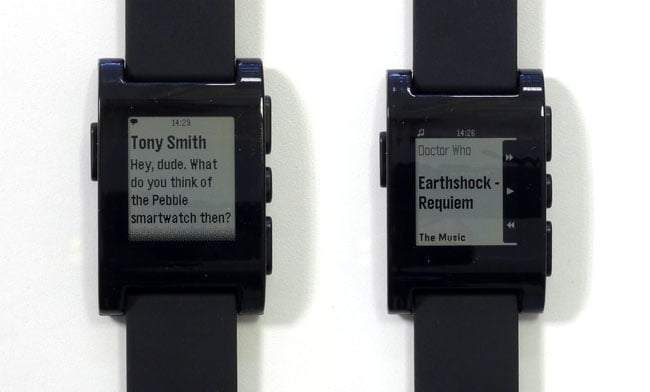 Pebble has its own mobile app, but this is currently limited to sending over downloaded watch faces, though it will be simple to upgrade it to handle apps in due course. The Android version is used to set up notifications too.
Pebble Technology is already committed to a rapid update programme, and now that it's a year old and, more importantly, has just secured $15 million in funding, refinement and development of the Pebble firmware and apps will hopefully be accelerated. The new SDK gives third-party developers much better scope to tie their apps into the Pebble - as popular jogging app RunKeeper already has: it sends progress info to the Pebble's screen during one's exercise - and to put new apps on the watch itself.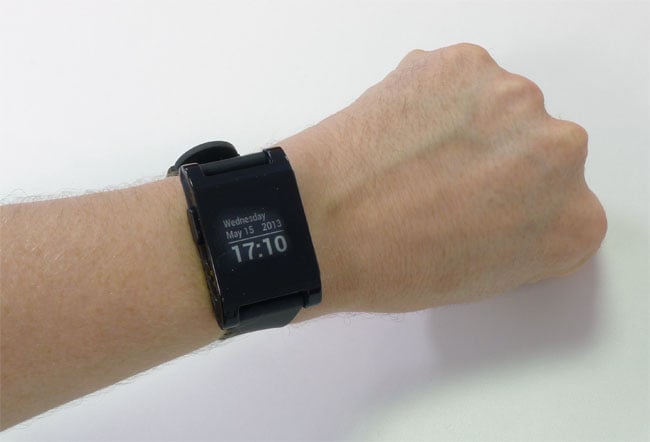 Price
$150 (£98)
App platforms
iOS, Android
Case
Size: 50 x 35mm; thickness: 10mm; material: plastic
Strap
Length: 255mm; width: 22mm; material: plastic
More Info
Pebble
The Reg Verdict
A fair few Reg readers no longer wear watches because they can find out what time it is on their phone or computer. Me, I like my watch precisely because I don't have to resort to either of those devices. And I like the notion that a watch can tell me, at a glance, many if not all of the things I currently have to whip out my phone to check.
Right now, though, the latest generations of smartwatch, so called, are not ready to do that. All of the watches I looked at lacked some key functionality that compromises their utility.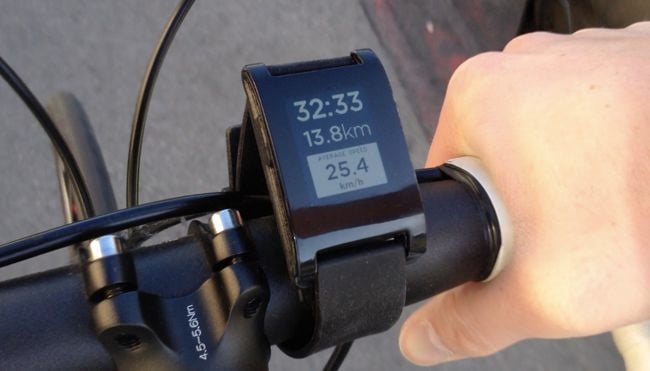 Not just for time-keeping
There is a basic feature set common to all devices: warnings when the Bluetooth link is lost, call alerts, phone finding and message notifications. But there's little consistency on the latter: different phones feed over different types of message depending on which services their apps support. Those with multi-platform apps don't always deliver the same services on both Android and iOS.
Another differentiator is battery life. A rechargeable cell will give you up to a week's operation - or so I found - and you have to get into the habit of sticking them on the charger. The proprietary connectors of both the Pebble and the MetaWatch are innovative, but there's a real advantage to micro USB: most folk have several cables, at home and at work. With the non-standard wiring, there's a good chance you'll be caught out without one.
The alternative is the replaceable but single-charge lithium batteries found in the Casio and Cookoo. These usually last five years or so, but Bluetooth reduces this to a year, the vendors claim. Thankfully, button batteries are readily available and easy to fit. They're less eco-friendly than their rechargeable cousins inasmuch as they tend to be thrown away as household waste, but they're way more convenient. And you only have to worry about the power dying every 50 weeks not every seven days.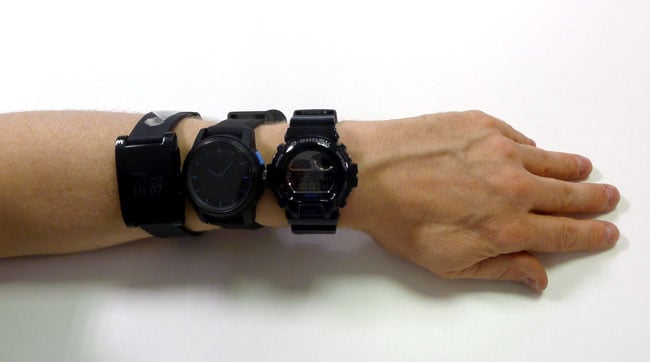 A watch too far?
Of the watches focused on relaying notifications, only the Casio and the Martian have a readout that gives you sufficient information to know whether the incoming text, email or call is worth dealing with immediately. The Cookoo is attractive and cheap, but only tells you an event has taken place on the phone. The Casio is most like a regular watch, but its display is limited. The retro-styled Martian tells you more and has the added advantage of a voice link to your phone. It also works with Android, unlike either the Casio or the Cookoo.
But notifications aren't really enough. Yes, there's some value in having a hands-free display that tells you of incoming messages, but surely most of us are now well accustomed to keeping phones close anyway. We can hear the handset's own beeps and buzzes, even if we can't see them.
Watch plus
So I want more than notifications. I want to be able to quickly see what appointments I have coming up and more, PDA style. And I want the smartwatch to be able to display information from a broad array of apps and run software that doesn't need a phone or an internet connection nearby to be useful.
Only the Pebble and the MetaWatch have the potential to do this, and of the two of them only the MetaWatch actually does so, albeit only on iOS. You can get it to operate as comprehensively with an Android phone, but you need to be a masochist. A major update of the watch's app is required. It's coming, I'm told.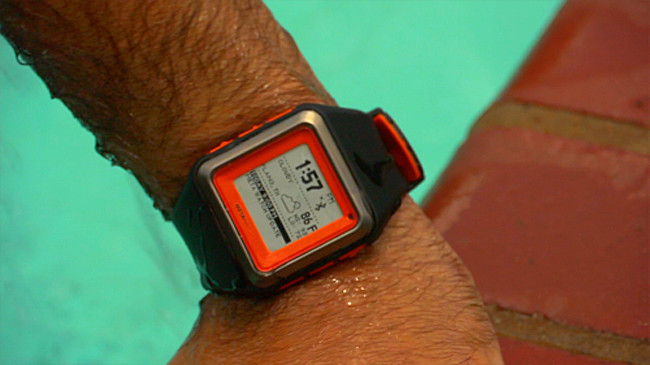 No need to switch when you dip
If MetaWatch is more functional on iOS than Android, it's the other way round for Pebble, which has better tech - the screen in particular. More to the point, Pebble seems to be developing faster than MetaWatch and a more extensive community is growing around it.
These are early days for both platforms: developers are only just beginning to see what they can do, and the functionality they deliver is constantly changing through frequent firmware updates.
And we've yet to fully explore the possibilities of so-called Personal Area Networks (PANs) in which any or all of our watches, phones, Google Glass-style eye-level displays, tablets, pedometers and other gadgets communicate and share functionality automatically and on demand.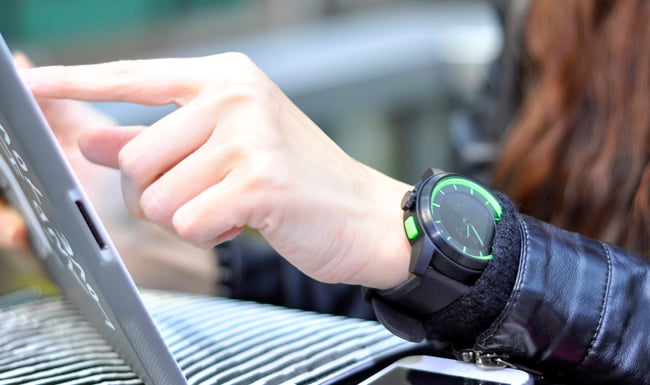 One day all your gadgets, including your watch, will work together. Maybe
If your watch warns you of incoming calls and messages and, like the Martian, can relay audio, and your tablet provides you with a big screen, does your phone need to be anything more than a wirelessly connected data modem?
That's some way off and requires a lot more automatic yet secure connectivity technology than current devices possess. But this level of wearable computing will soon be possible if not commonplace. Perhaps, then, the wristwatch, which has yet to find a place among modern tech toys, will once again become indispensable. ®