Original URL: https://www.theregister.com/2013/08/19/amazon_gartner_magic_quadrant/
Amazon's cloud dwarfs all others, Gartner finds
It's Bezos' world, say the Magic Quadrant cultists
Posted in SaaS, 19th August 2013 23:15 GMT
The disciples of Gartner's Magic Quadrant have sallied forth to reveal the latest findings of their uncaring quadrilateral god – and the results show that Amazon is the one true cloud, followed at a distance by enterprise supplier CSC.
The magic quadrant is Gartner's way of ranking technologies, and sees the analyst firm plop companies into four squares, split by an x axis representing "completeness of vision", and a y axis for "ability to execute". Good technology is up and to the right, bad technology is down and to the left. Strange it may seem, but Magic Quadrant rankings matter an awful lot as they give companies the chance to sling an easily understandable diagram in front of some MBA-educated executive and point to their company's name and say, "You see, Mr. Exeutive, we're here and the others are all down there, so clearly you're going to want to go with us for your mission-critical IT" – or so we imagine.
The infernal infrastructure-as-a-service magic quadrant report was published by Gartner on Monday, and marks Amazon as a "leader" of cloud technologies, trailed by CSC, and with other companies such as Microsoft and Rackspace hovering around the so-so center. IBM, meanwhile, languishes in the bottom left corner, highlighting the gulf of expertise between the old IT companies and the predatory customer-focused guile of Amazon.
Other evaluated companies included HP, GoGrid, SoftLayer, Fujitsu, Virtustream, Tier 3, and Joyent in the "niche player" section, and Dimension Data, Savvis, and Terremark in the top left "challenger" section.
Rackspace sat at the dead center of the chart, and in its report Gartner gave the company's tech a mild drubbing, but praised its "outstanding" marketing. Rackspace's marketing costs jumped 26.5 percent in the company's most recent financial quarter, while the company saw its margins fall as it got into a bloody price war with Amazon.
One eye-brow raising fact to creep out of the quadrant is the scale at which AWS operates, which dwarfs deep-pocketed rivals including Microsoft.
"AWS is the overwhelming market share leader, with more than five times the compute capacity in use than the aggregate total of the other fourteen providers in this Magic Quadrant," the report says. "It has by far the largest pool of capacity, which makes its service one of the few suitable for batch computing, especially for workloads that require short-term provisioning of hundreds of servers at a time."
This figure reflects the amount of revenue-generating IT assets both real and intangible – cores, VMs, provisioned RAM, et cetera – in use by the providers, Gartner research vice president (and author of the report) Lydia Leong tells The Register.
It also indicates that although capital expenditures are a good indicator of the possible potential scale of a cloud provider, they can't tell you anything about utilization.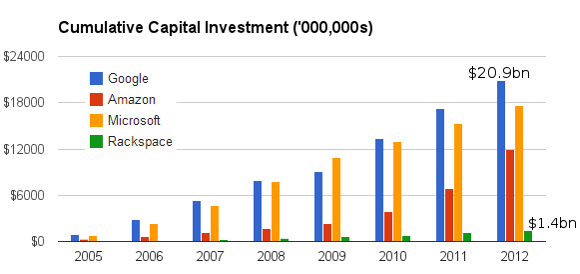 GoogleSoft may have dropped big on CapEx, but it's Amazon that is raking in the green
Though the financial results of major cloud operators indicate that Google and Microsoft have outspent Amazon on capital expenditures (pictured), the Gartner findings show that Amazon is the one approaching higher asset utilization for cloud.
To assemble the quadrant, Gartner analysts used customer references, hands-on trials of service offerings, public information from cloud providers, surveys of over 75 cloud providers, and an unspecified number of candid service-provider interviews.
The market at the moment may be defined by Amazon, but Gartner expects a more competitive cloud-computing marketplace in a year or so, pointing to the surprising success of Microsoft, the coming general availability of Google's IaaS, and IBM's integration of SoftLayer as all signs that "this market is becoming considerably more competitive".
Unless, of course, the NSA spying revelations snuff it out entirely and we witness the Balkanization of cloud into distinct legislative and political regions. But if that happens, it's going to take a few months for us to get the data in the coming financial quarters of the megaclouds. ®