Original URL: https://www.theregister.com/2013/10/22/ryanair_boss_twitter_qa/
Ryanair boss Mike O'Leary hits Twitter: 'Nice pic. Phwoaaarr!'
Not quite as mouthy about baggage charges, refunds
Posted in Legal, 22nd October 2013 12:04 GMT
Ryanair boss Michael O'Leary took to Twitter yesterday in what was either the PR coup of the year or an unmitigated disaster, depending on how wily you reckon he is.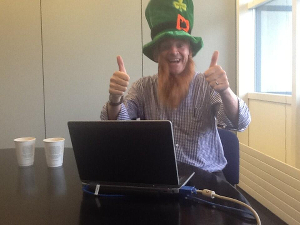 O'Leary tweets a picture of himself to kick things off...
O'Leary opened himself up to a torrent of abuse when he offered twits the opportunity to #GrillMOL on Twitter, leading to a rather lively exchange.
Staff seem to have forgotten to teach him that things you write on Twitter can be seen by the general public. He either did not get the potential repercussions of tweeting "Nice pic. Phwoaaarr! MOL" to the first questioner, a woman, or he simply didn't care.
Many people though it was somewhat offensive for a CEO to address a customer that way in the course of his professional life, but subsequent tweets indicated it wasn't exactly an isolated incident. After a flurry of responses like: "@Ryanair how is it appropriate for an airline CEO to be a sexist pig?", O'Leary responded: "Just found out what hashtags are. Learning on da job! Always compliment ladies pics".
He went on to continue to tweet "Nice pic" to female questioners, along with such gems as:
@alexkitch Not seats but beds. Mile high club anyone? #GrillMOL

— Ryanair (@Ryanair) October 21, 2013
Already overtime, but will extend this for 10 more mins to allow the pretty girls as questions #GrillMOL

— Ryanair (@Ryanair) October 21, 2013
As with most Twitter Q&As, customers took the opportunity to air their grievances with the budget airline to the man at the top, asking questions like: "If you were to do it all again, would you prefer to be an egotistical narcissist?" and "Were you born an arsehole or has it progressed throughout your life?".
However, O'Leary was not only unfazed by the abusive tweets, he seemed to actively enjoy them:
@OriginalRogue @StuartMRobinson Dat's an outrageous slur. All four of four RYR flights are fuelled with Lep wee and my bulls**t! #GrillMOL

— Ryanair (@Ryanair) October 21, 2013
@LDLDN Wrong airline DJ. We wear blue uniforms not green. I agree with ur views of green-flecked airlines! #GrillMOL

— Ryanair (@Ryanair) October 21, 2013
He also seemed savvy enough to avoid answering any real questions about things like baggage charges, refunds and the distance of Ryanair's chosen airports from the cities to which they purport to fly:
#GrillMOL @Ryanair Tried to send you a question on Twitter but it ended up on Facebook instead. Still, by your standards that's close enough

— Andy Gilderdale (@AndyGilder) October 21, 2013
#GrillMOL why don't Ryanair ever publish the price, up front of a flight? I want a price, take it or leave it. Are you embarrassed to do it?

— colin frew (@forty118) October 21, 2013
#GrillMOL You cost-cut everything we can see, with no care for passenger comfort. How can we believe you don't also skimp on safety?

— Kevin McGee (@K__McGee) October 21, 2013
®