Original URL: https://www.theregister.com/2013/12/28/cache_in_the_attic_05_sinclair_sovereign/
El Reg's contraptions confessional no.5: The Sinclair Sovereign
You knew you'd arrived when you owned... a calculator
Posted in Personal Tech, 28th December 2013 08:00 GMT
Cache in the Attic Time was when having a calculator felt about as hi-tech as owning smartphone does these days. Lester Haines relives the experience when these small objects of desire weren't just about doing the numbers, but were even touted as status symbols.
Sinclair Sovereign
Having risked the lives of the specialist team members tasked with penetrating my attic's imposing junk mountain in search of vintage kit, I was delighted that – after several hours working with pit props and caged canaries – they emerged triumphant with a little bit of Brit design history.
Fondling once again the Sinclair Sovereign's slim, elegant form, I was reminded that its pressed-steel body once represented the very pinnacle of the luxury calculator pyramid.
Released in 1976, the Sovereign was Sinclair's pitch at the top end of the number-crunching market. The company had already made its mark with its 1972 "Executive" and 1973 "Cambridge" models, making Clive Sinclair - to British minds at least - the inventor of the pocket calculator.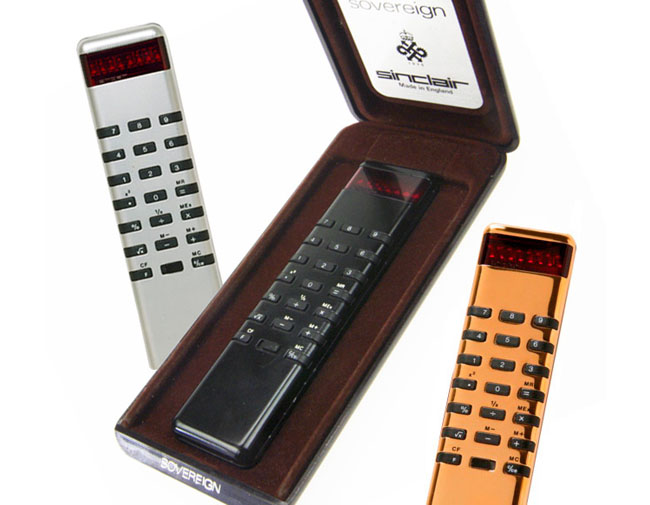 Centre stage is Lester's original Sinclair Sovereign
My calculating collectible is the basic black model, (see pic) cradled in its decidedly retro flock-lined plastic case. I don't recall how much I stumped for it way back then, but Sinclair also knocked out a chrome-plated version at £30, or for the truly flush, a gold-plated marvel at £60 (also pictured).
If a quick net search into the calculator's history is to be believed, a couple of lucky men-who-had-everything found the silver-plated Liz II 1977 Silver Jubilee edition in their Xmas stockings. Legend has it two solid gold Sovereigns were also produced. Presumably, these are still sitting on the desks of Bond-style villains where for almost 40 years they've been used to impress lackeys and calculate the building budget for volcanic lairs.
The Sovereign secured a 1977 Design Council Award for John Pemberton, the man responsible for its sleek lines, although technologically it was on a hike to nowhere.
The calculator boasted a battery-hungry 8-digit LED display, at a time when LCD screens were on the ascendant. Two 1.35V mercury button cells provided the juice - a pretty lamentable supply if I recall correctly. While the batteries did hold out, you got to enjoy percentage, memory, square root and square functions accessed via the Sovereign's minscule plastic buttons.
Since the original cells aren't easy to come by round these parts, I bodged a couple of modern equivalents into the case in the hope I might be able to bring readers a view of the awe-inspiring display.
Sadly, it wasn't to be. Although the 30-something calculator worked for a couple of minutes, the LEDs quickly faded before I could hit the shutter button. Accordingly, I've abandoned further attempts to get the Sovereign working, and decided to enjoy it doing what it always did best: looking sexy. ®