Original URL: https://www.theregister.com/2014/04/10/how_to_run_xp_on_new_windows/
Cheat Win XP death: Your handy guide to keeping snubbed operating system ticking over
Little-known tool to save you from the XPocalypse
Posted in On-Prem, 10th April 2014 11:04 GMT
How to Windows XP's date with destiny has passed. As of Tuesday, Microsoft will NOT be releasing any new security updates. With one in five PCs still running Windows XP, there's a chance you are among those whose computer is now running an unsupported operating system. What now?
Doing an in-place upgrade to Windows 7 isn't a good choice. Yes, it will keep all your apps and settings, but it'll also preserve all the clutter and crud that slows down an old Windows install, and you're limited to 32-bit Windows 7. You really need to nuke and start over.
But there's another, little-known way to replace your old, unsupported OS with a new one that's safe, current, gets updates and comes free of charge. The answer: run Windows XP as a zombie OS on something else.
Chances are you're using WinXP for a particular application that's incompatible with 64-bit Windows; backwards compatibility with legacy code was dropped to keep the size and complexity of the operating system down. Vista was the first 64-bit version of Windows to see much adoption, and its users suddenly found that some of their beloved but ancient apps didn't work any more.
So, Windows 7 introduced a workaround: Windows XP Mode. This is a free download for Windows 7 Pro and above, comprising two files: a compressed virtual machine containing a complete, pre-installed copy of XP Pro, and a copy of Microsoft's free desktop hypervisor, Virtual PC, preconfigured to run that copy of XP with desktop integration – so XP windows appear on Windows 7's desktop and so on.
This has been dropped in Windows 8.x – the newer OS has its own built-in hypervisor, and by now, you're meant to be running 64-bit native apps anyway.
However, XP Mode remains a free download, and with a little work, you can get it running on the cheaper editions of Windows 7, on Windows 8.x – and even on Linux (Ubuntu in my case). All you need is a different hypervisor.
If you're a committed VMware user, then the freeware VMware Player will do, but otherwise, Oracle's VirtualBox is free and open source. You only need proprietary code for the extension pack, which adds USB2 support among other things – but it's still gratis.
You can download the XP Mode VM freely from Microsoft's website, but to do so, your PC needs to pass Windows Genuine Authentication – so here's a handy list of direct links that will serve you the file directly, whatever OS you're running. Once you have the file, you'll need a grown-up archiver to unpack it, such as 7Zip.
You need an XP licence, of course – the copy in the VM is keyed against VirtualPC's emulated hardware and will fail when running on VirtualBox, so you're going to need a valid XP Pro licence key. Microsoft handily includes a key in the download file ("sources\XPM\KEY"), but the chances are it won't work. Of course, you may well have one on a sticker on your PC case or knocking around somewhere.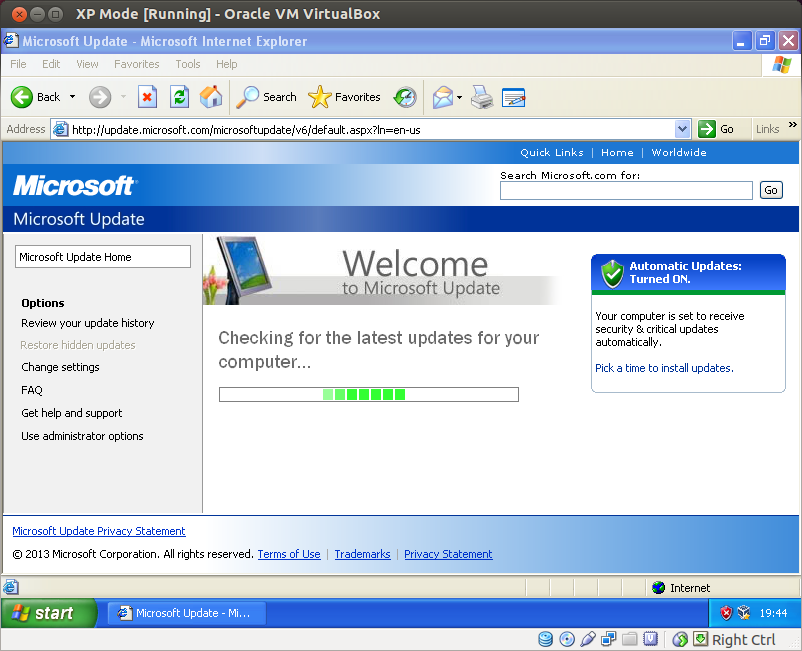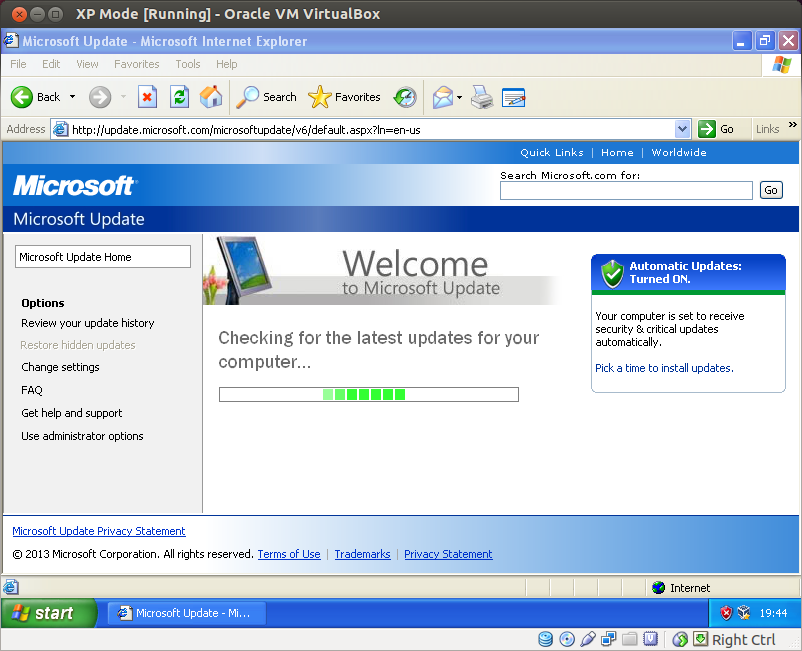 Just in case you thought running Linux had banished Windows Update forever... (click to enlarge)
Once you've unzipped the download file, you'll find another archive ("sources\xpm") inside it. Extract that, too. In there is a VirtualPC VM image and its virtual hard disk ("VirtualXPVHD").
Next, create a new Windows VM – I called mine "XP Mode". Move VirtualXPVHD into your new VM's folder ("~\VirtualBox VMs\XP Mode"), insert a full stop in the appropriate place ("VirtualXP.VHD"), and when VirtualBox asks whether to create a new virtual HD or use an existing one, choose it.
Now you can boot your new VM. It has to go through the final stages of setup – that's your chance to set it to a UK keyboard etc – and then it will finish loading. The snag is that the VM has the "VirtualPC Integration Components" pre-installed, and they won't work under VirtualBox, meaning that the VM will lock up.
You'll have to forcibly power off the VM, restart it, uninstall the VirtualPC gubbins, try to shut it down, watch it freeze again, close it, and reboot it again. It should restart OK, at which point, you can install the VirtualBox additions and reboot it again. Now, you're in business, and you also remember why you wanted to get rid of XP in the first place.
What comes next
Once it's working, the rest's just fine-tuning. The VM is already on SP3, but still, there's the usual tired old round of updates to do: it'll probably take a few passes through Windows Update. You can save a little time by going into Control Panel | Add or Remove Programs | Add/Remove Windows Components and removing absolutely everything except IE.
You don't need Media Player inside your VM and you don't need to waste time updating it, either. Assuming you've got lots of RAM, I recommend giving the VM 3GB – it's about all XP can use – and disabling the pagefile.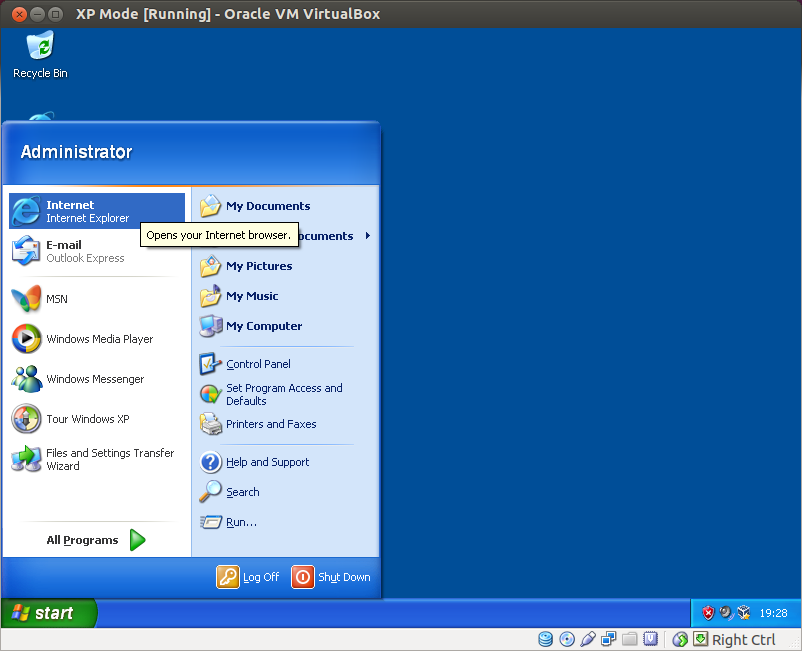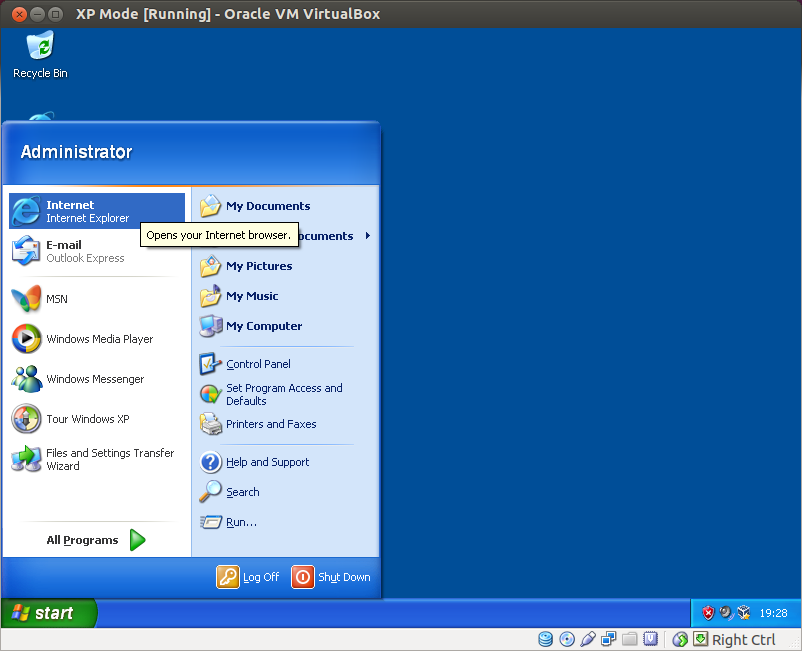 Once the VirtualBox extensions are installed, XP runs just fine... (click to enlarge)
Unless you have legacy intranet apps that require IE6, you can save some more time by downloading and installing IE8 before XP has a chance to download and install umpteen hundred patches for the old version.
Windows Update will take hours anyway, but since it's a VM, you can use your host OS for other things while the update chugs away. If you don't have a preferred antivirus, MS Security Essentials will do the job. Don't forget to enable Automatic Updates, after which, if you don't need IE, you can remove even that... and you're done.
The VM is just for your indispensable Windows apps – the idea is to use the host OS for Internet access, email and everything else. Don't access the internet from the VM. Now Microsoft has stopped updating XP, it won't be safe - the XP Mode site carries a hefty warning from Microsoft saying how it, like Windows XP, no longer benefits from technical support.
The last step is to enable VirtualBox's desktop-integration features (VM menu | View | Seamless). This is where it helps to be running Linux distro Ubuntu as I did, with its vertical Launcher. This lets you leave XP's taskbar at the bottom of the screen and they won't get in each other's way. If you prefer the more Windows-like environment of Mint, say, then you can make XP's taskbar vertical, or put it at the top, so that you can easily get at both.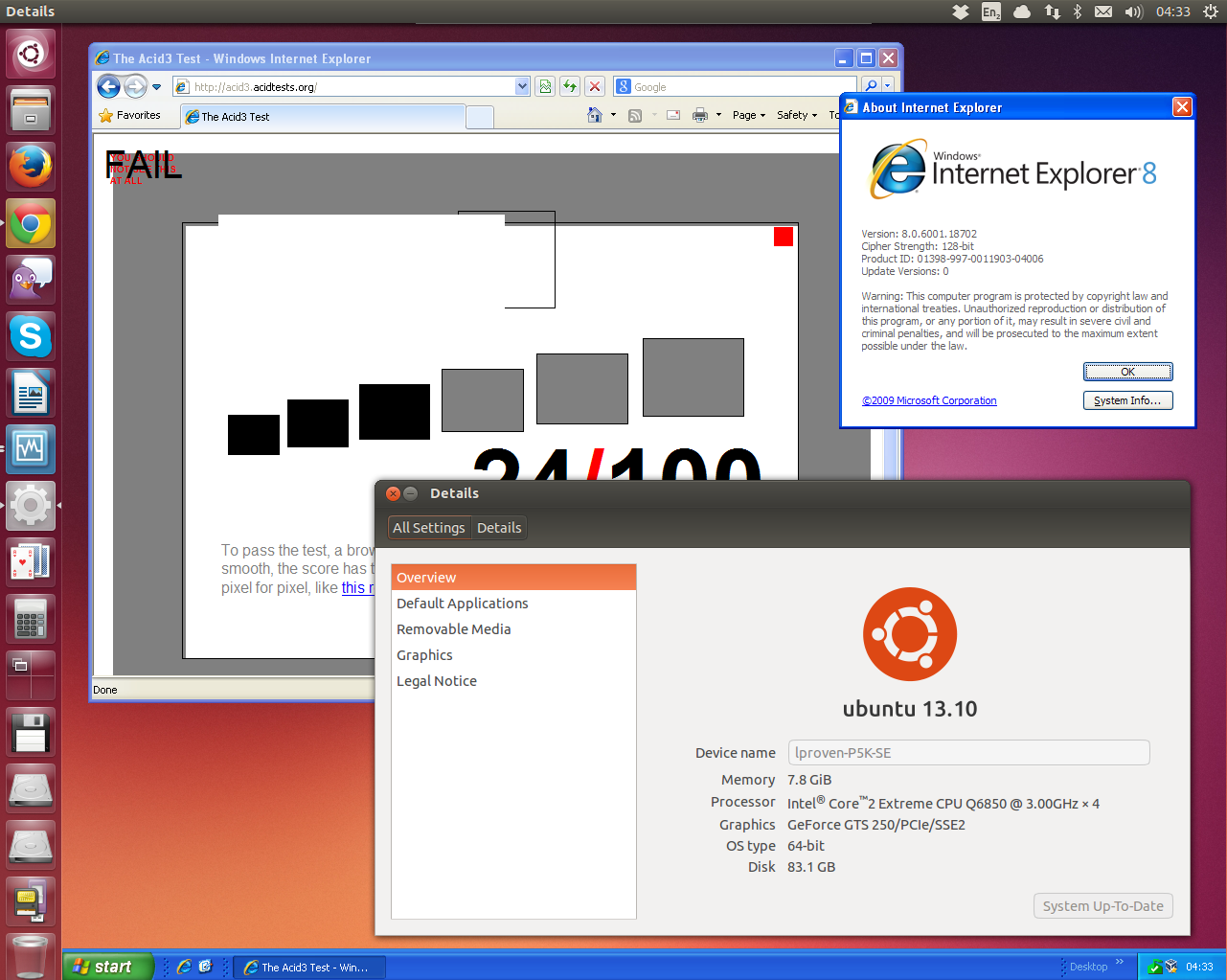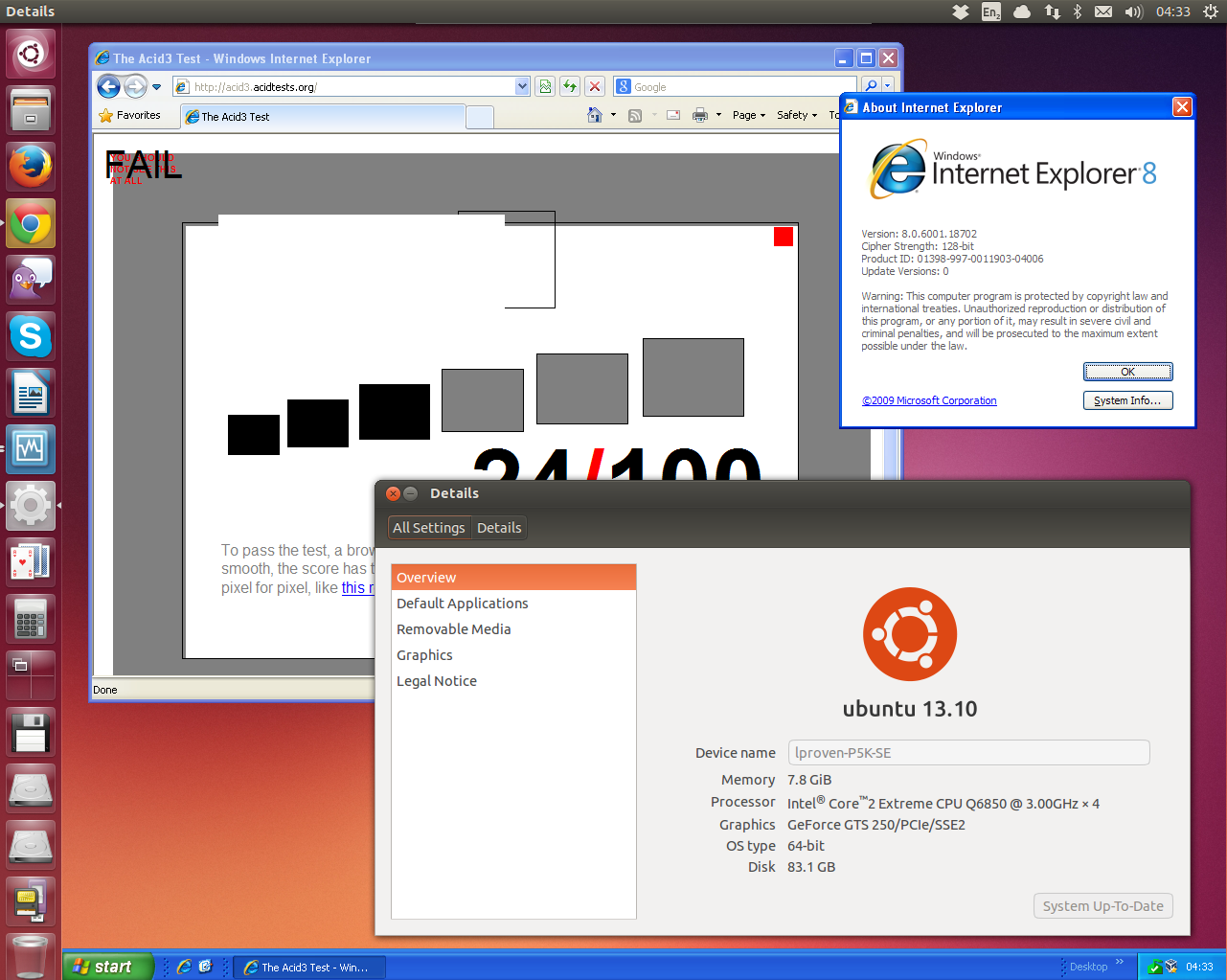 Windows XP and Ubuntu in perfect harmony, thanks to Microsoft (click to enlarge)
OK, this is not a perfect solution, but it is quite a low-hassle approach plus the tools don't cost anything - handy in these cash-strapped times. But you do reclaim the support safety net.
What's more, this approach doesn't need antivirus or antispyware, and comes with an integral firewall and drivers for pretty much all current hardware. Meantime, you also get a fresh, sandboxed, clean and virus-free copy of XP Pro. It runs Windows apps with near-perfect compatibility, right on the host's desktop, complete with a shared clipboard and so on.
The best bit? You can continue to run Office for Windows or other line-of-business software, while transitioning gradually to some other solution – native Linux apps, Windows ones that will run cleanly under WINE (meaning that you can dispense with a Windows instance altogether), or possibly even VDI. Ubuntu comes with a perfectly usable Remote Desktop client, Remmina, so you don't even need a copy of Windows for that.
That's one way of escaping the XPocalypse. ®