Original URL: https://www.theregister.com/2014/07/25/the_odf_revolution_will_not_be_digitised/
UK.gov's Open Source switch WON'T get rid of Microsoft, y'know
What do you mean, we've ditched Redmond in favour of IBM?!
Posted in Channel, 25th July 2014 11:36 GMT
Analysis Freetards are elated: Call-me-Dave's people in the Cabinet Office have done the right thing and backed the Open Document Format as the default government file format.
From now on, all electronic documents produced and used by Whitehall and government agencies must use the Open Document Format (ODF).
ODF is the open specification for document markup, as employed by suites like OpenOffice.
Microsoft is not happy: in selecting ODF, No.10 Downing Street rejected Microsoft's Office Open XML (OOXML) or supporting a dual standard of OOXML and ODF.
"Microsoft believes it is unproven and unclear how UK citizens will benefit from the government's decision," sniffed Redmond.
The decision is a big one: it opens the door to host of open-source, web-based document creation and management suites against Microsoft's Office. Government is a big piece of the action in anybody's book as it spends more than £7.6bn annually on information and communications technology (ICT).
The UK public sector is reported to have spent more than £200m on Office alone since 2010.That's a considerable chunk of money up for grabs – and one that Microsoft stands to lose.
It's ODF's biggest win since the German city of Munich, which in 2004 began ripping out Windows and Office from 15,000 PCs for a combination of the ODF-friendly – and then non-Oracle-owned - OpenOffice and Linux (Ubuntu and Debian).
Six years after the project started the city's mayor reckoned Munich had saved $56m, in addition to regaining control over its technology roadmap rather than relying on the whims of a single supplier.
Nice victory, but Microsoft won't be crying itself to sleep
Those cheering the UK government's declaration of ODF see it in similar terms: a way to break free of the controls of a single suppler with a proprietary agenda. Data belonging to the government and of the people has been liberated from the frozen fingers of a closed-source suite.
But is there really anything substantial to this victory beyond a slap round the chops for Microsoft?
Well, sorry to break it to you, ODF fans, but don't expect Microsoft to slink out of Whitehall and for the revolutionaries to rush in like it's St Petersburg in 1917. A shift in where and how the government uses Microsoft products is already underway.
No.10's decision to mandate ODF followed months of consultation with the Cabinet Office on open standards and was announced by Francis "Mad Frankie" Maude. During that time there was intense lobbying from Microsoft, as well as from those who supported ODF.
You thought this meant something big would happen? Think again
Given Microsoft's huge stake in government, and the natural inertia that legacy IT and supplier relationships can produce, the ODFers are both relieved and happy that UK.gov went their way rather than stick with what they have and knew in Office. Unfortunately for ODF, it's largely limited to the desktop.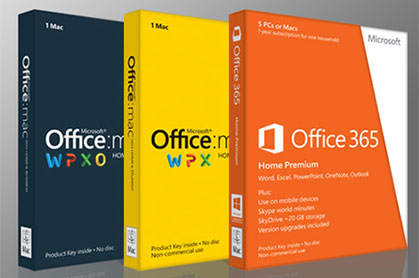 Office 365: Microsoft's pushing it hard - and it's ODF compatible
While there are millions of these machines in government, desktop-based software doesn't feature in either Microsoft or No.10's strategic direction.
Office 365 is Microsoft's main product aimed at the documents and collaboration market – the software giant is pushing this heavily while revenues for desktop Office are slowing. Indeed, Redmond claims Office 365 is the fastest growing business line in its history. Last week it claimed to have 5.6m users.
Software-as-a-service, meanwhile, just happens to be the direction that No.10 wishes to go in, too. No.10 wants to cut IT spending and it's doing this in part through the G-Cloud purchasing framework for government. The idea here is to stop buying licenses for on-premise software or entering multi-year deals with large technology suppliers.
Rather, the government wants smaller deals with software purchase being carried out as a service. You pay more in the long run, but the up-front cost of the service is lower. And here's the problem for anybody hoping this week is the beginning of the end for Microsoft in the UK government: Office 365 works with ODF and is on G-Cloud.
If you still want to cling to the desktop, Microsoft has added full ODF support - after years of dragging its feet - in Office 2013.
There's no alternatives, folks. Meet the new
boss

supplier, same as the old

boss

supplier

You could call it pragmatism, or surrender, or the fact Microsoft has chucked the community a concession just as Office on the PC has stopped being as strategically vital as it was in the 2000s when Microsoft came up with OOXML.

The only big SaaS alternative is Google, with Docs. This does not support ODF and is not listed on G-Cloud – instead you need to go through small suppliers.

ODF fans' biggest success story has been the City of Munich, as mentioned above with those 15,000 PCs going OpenOffice and Linux. But that was a major upgrade project which started before Google Docs was a glint in Larry Page's eye, and long before Office 365 entered Steve Ballmer's mind as a riposte.

Eleven years later, with cloud-based document services coming at a lower up-front cost, a huge Munich-style upgrade in Whitehall is completely at odds with the dynamics of our times and so is unlikely to happen.

In short, ODF is last decade's battle and the victory has been overtaken by the future.
The future, as seen by us
But let's back up. I don't buy into the idea the cloud is the only future and the desktop is dead. There are millions of acres of documents, written in dying formats supported solely by old versions of Microsoft's Office.
The data in those documents needs to be liberated and ODF is seen as the way to do this – modern-day editions of Office also support ODF. Just don't expect to install open-source OpenOffice on the desktop and open your old Microsoft Office docs. It won't work – many documents won't display properly. Even worse, macros – the thing that makes Office really unique – don't work in primary ODF suites.
Making old Office docs work in ODF suites will be the new battle.
It's here that the new opportunity will slowly open, with companies other than Microsoft scrabbling to enter into IT projects with government to make ODF suites work with their macros and make their Office docs work properly in these new, open-source suites.
That means an opportunity will open up for IBM, a patron of the ODF standard from the beginning. The company is also a backer of the Apache OpenOffice project.
It means work for a host of SMBs, too – the kinds of companies that have worked on getting Munich's once-Microsoft-dominated IT infrastructure working on open source.
After months of lobbying, the ODF revolutionaries got their wish; it's a new day for Microsoft and a new world for them. Yes, the status quo will change but expect it will lead to reform rather than get overthrown. New players will enter now there's more fun, and more government money, for everyone; just don't expect to see the back of Microsoft. ®