Original URL: https://www.theregister.com/2015/04/14/review_microsoft_lumia_640/
Life after Nokia: Microsoft Lumia 640 budget WinPho blower
Ticks all the boxes and then some, as long as Win10 doesn't ruin it
Posted in Personal Tech, 14th April 2015 14:28 GMT
Review Is the Nokia Microsoft Lumia 640 an Office subscription with a free phone, or a phone with a free Office subscription? Either way, it's likely to be the biggest mobile device for Microsoft since the days of Zune and Kin – and the company is getting more aggressive with its marketing.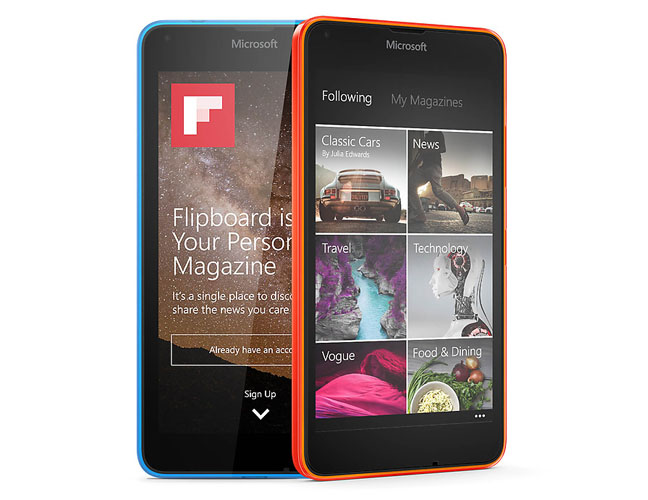 Office stationery: Microsoft's Lumia 640 Windows Phone
The deal here is: you get a 640, which, on the high street is currently £120, and get a year's subscription to Office 365 Personal bundled with it. In the UK the Office alone normally sets you back £5.99 a month or £59.99 for a full year, and gives you Office on one Mac or PC, plus one tablet, and one phone.
Personal includes Outlook, Access and Publisher, plus 1TB of storage and an hour of free Skype calls. That's a deal bettered – and only if you have a have a family or affinity group – by the Home tier, which gives you five seats for £79.99 a year.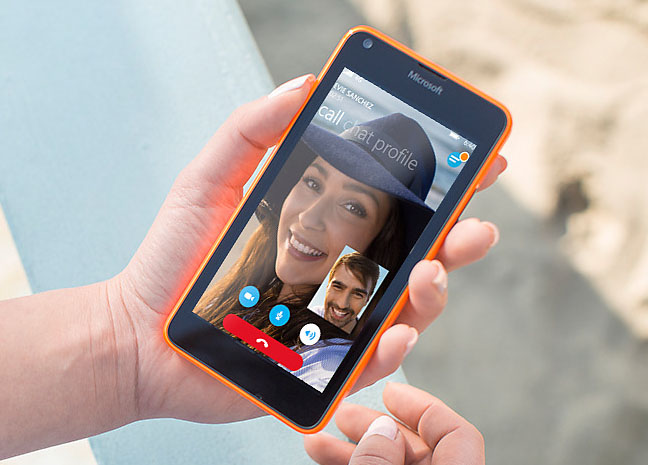 Skype calling deal thrown in
Microsoft says it's the "hero" budget phone for this year, meaning it gets a big push. Created by the former Nokia phones division, it put a lot of effort into the detail of devices expected to sell a lot. It's larger than its predecessors – 5-inch versus 4.5-inch – in keeping with the appetite of the market for ever-larger phones, although the resolution is no mobile retina display at 1280 x 720-pixels and 294ppi. It comes with fewer compromises than its predecessors, all the while aiming at a launch street price of close to £100.
To meet the same price target, the Lumia 520 and 630/635 predecessors dispensed with the selfie camera, LED, automatic brightness control, and the greaseproof (oleophobic) coating on the display. Consequently, in very low light conditions you had to put up with poor photos, and an always-smudgy screen. Add to that the frequent need to adjust the screen brightness manually.

Alas, no dedicated camera button
The Lumia 640 remedies all four failings of the Lumia 630/635, although the selfie cam isn't pulling up any trees. The main camera turns out to be excellent in decent light – better than more expensive rivals – and the phone gets Gorilla Glass.
With the clanking omissions rectified, it becomes hard to fault the value on offer here. For this price, you get everything you'd expect for the money and some deals will inevitably see the device fall to £100 or less, SIM-free.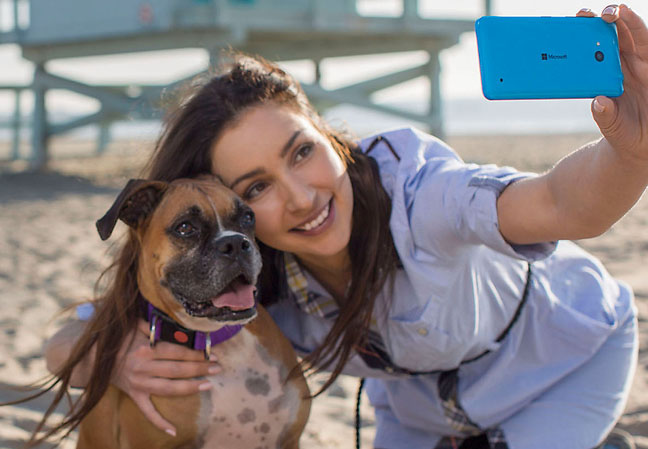 The all-important selfie cam is a mere 0.9MP
The appeal here comes not from any hardware gimmicks, nor a Windows app ecosystem – which lags behind rival Android in scope, quality and the freshness of updates – but from Windows Phone's ability to do the old featurephone "basics" more smoothly and comfortably than a 'Droid.
Whether it's bouncing between messaging and phone, or sharing a photo, Windows Phone does the job with less fuss and clutter than the more open and extensible Google system, and it feels far more personal and modern than an iPhone.
Vocal point
Microsoft makes a huge deal of the voice assistant Cortana, but it's a fairly standard feature on phones today and really has only niche appeal. For instance, getting it to read stuff out when you're driving, or set reminders when there's no-one around to be irritated.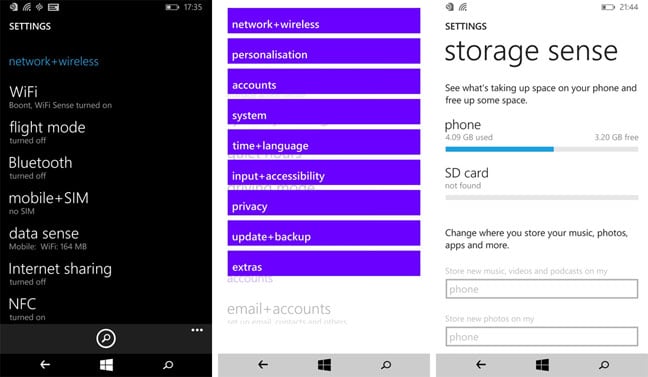 Settings menus and storage overview
More practically, there's a bundle of installed software that looks decent – Microsoft's own News, Sport, Finance, Food, Travel and Health apps are good for starters – while the Here Drive navigation and Here Maps are sophisticated and mature. My review model, an unlocked UK retail device, was also bundled with Skype, OneNote, Facebook, Barclays Pingit app, Fitbit, Gameloft and the MixRadio streaming music service.
One hidden gem is Lumia Storyteller, which makes a short movie out of collections of photos and videos. Many phones have a similar app these days, but Storyteller is as good as any.
The Lumia 640 is the first phone to run on the latest version of Windows Phone: 8.1 Update 2. The only visible difference is that the 40+ settings are now grouped, and each one can be pinned to the Start Screen.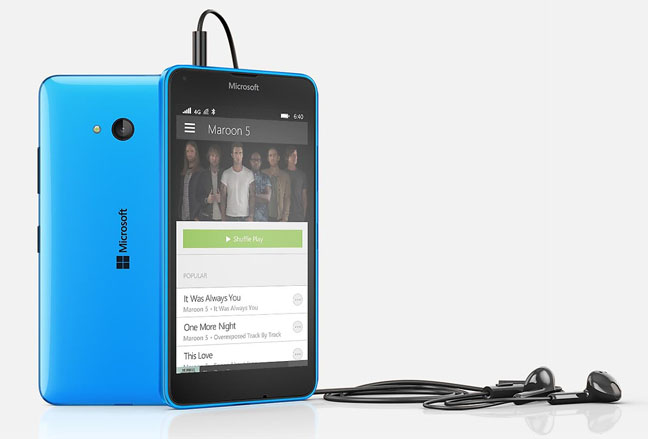 MixRadio allows streamed music to be captured and played offline
The device felt solid, if a little slippery with its gloss finish, and I liked the optical effect where the rim round the display appears to be translucent – at least on the cyan-coloured model. Indeed, cyan makes a return to the Lumia range after a couple of years – a couple of years during which Apple copied Nokia and launched kids'-sweetie-coloured phones of its own. The 640 also comes in sober black and white.
Call quality was excellent and the ringtones unmissably loud. Battery life should easily see you through a day – more if you turn off background tasks with the battery saver setting.
I saw little difference loading web pages than with faster phones. Like the latest Motorola Moto G 4G El Reg reviewed recently, this Lumia uses a noticeably speedier quad-core 1.2GHz Snapdragon 400 than many budget rivals, and cheaper Lumias, which use the creaky Snapdragon 200.
Having 1GB of RAM makes a difference when several pages are loaded, as last year's Lumia 630/635 was hampered here with 512MB of RAM. As far as storage goes, the 8GB internal storage is complemented by a micro SD card slot supporting up to 128GB.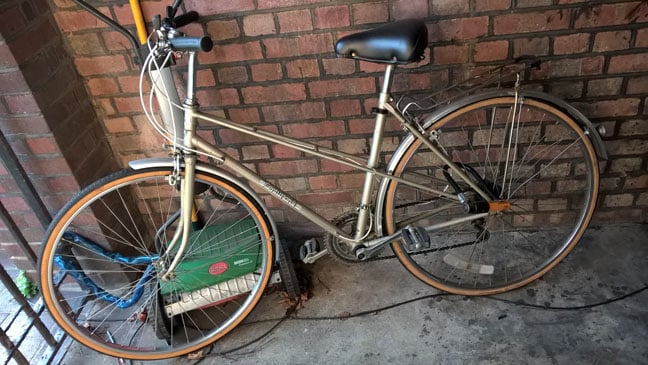 Click for a full-resolution image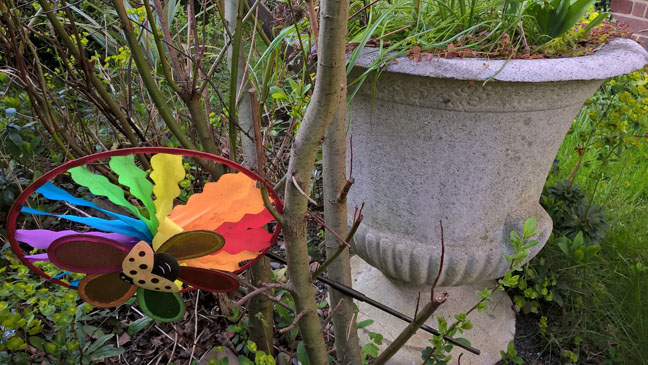 Click for a full-resolution image
The imaging delivers surprisingly good results at this price point. The Lumia Camera app fires up quickly and offers both straightforward point-and-shoot settings and more sophisticated manual controls – all of which are on the tiddly side.
A mysterious "Rich Capture" option promises you HDR processing, and indeed you can take a few in succession. But if you go to review the results, each Rich Capture image takes around ten seconds or more to load.
I suspect most people with a Lumia 640 will want decent shots taken quickly, which this does, and a selfie button. You need to download an app from the store to get the beautification benefits of Microsoft's Selfie app, which, given the target market, should be there by default. Video shoots nicely at 1080p.
UI usurping update awaits
The display panel doesn't have the spectacular contrasts of more expensive panels, and looks yellowy compared with a top-range display. Even so, it's markedly better than cheaper Lumias, and most impressive in direct sunlight, where rivals fade horribly. Thankfully, the automatic brightness display is present, a bugbear of the 630/635,
I'd have liked to have seen a dedicated camera button, and for usability, the pop-up navigation bar fixed on by default. I've complained in previous reviews about the soft navigation bar, it's on the thin side, but it does seem better-behaved now.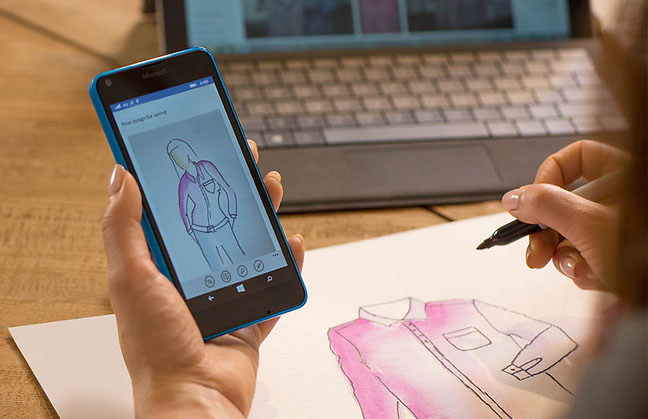 A 5-inch screen and micro SD expansion for photo fanatics on a budget
All that said, there's a cloud on the usability horizon with the name "Windows 10".
At some point, probably this year, a Lumia 640 owner will be offered a free upgrade to the latest Windows Phone. And if the finished result looks anything like the current Windows 10 for phones Technical Preview, then much of Microsoft's usability advantage will vanish overnight, leaving new users with puzzling ways of doing things.
This "upgrade" looks a lot like a generic Android skin, removing the advantages of being able to swipe through an app's panes with your thumb, access the menu easily (which has been moved out of reach), and a squinty small system font in many places replaces a large font.
Bonkers, it is. But apparently taking away a phone UI people love and replacing it with a desktop UI people don't is regarded by the Head Shed at Redmond as some kind of strategic masterstroke.
That's the only negative to this deal. And hopefully, Microsoft will see sense before releasing it.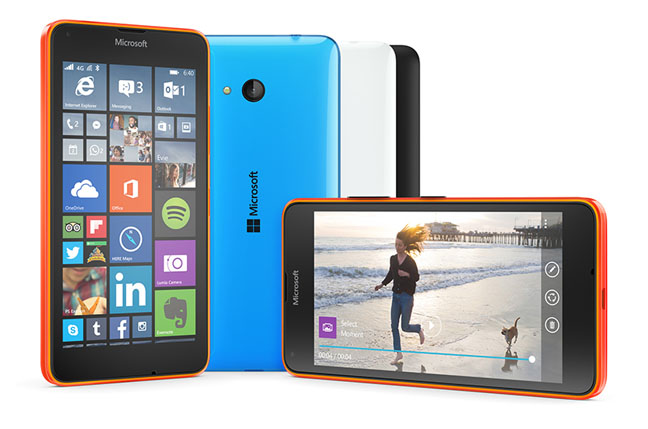 Looks like a winner, so long as WinPho 10 doesn't spoil things later
The Reg Verdict
The Lumia 640 fixes all the major omissions of its predecessor, and all models officially sold here will support 4G. (Developing markets have the option of a dual-SIM 3G version).
Ignore the misleading £170 price tag on the Microsoft site – like many vendor sites, it's inflated to make partner reseller deals more attractive. Indeed, it's currently £120 at Carphone Warehouse, and compares well with phones that are £40 more, like Motorola's solid Moto G LTE.
The Lumia 640 is fuss free, with a consistent and usable UI and decent bundle that make it an attractive proposition even without free Office thrown in. It can be confusing with so many Lumia models: you have to look closely to tell the difference between the ill-fated Lumia 535 and the Lumia 640 – and the 640 is a far superior phone.
A rough comparison with the Moto E LTE – a phone that hits that magic £99 price point – reveals the Lumia has better cameras, better battery life and basic operations are faster. Also, I didn't experience random lags as we did on the Moto E and the latest Moto G 4G. If you don't have a problem putting 5-inches in your pocket, it's an outstanding proposition. ®