Original URL: https://www.theregister.com/2015/11/06/blackberry_priv_review/
BlackBerry Priv: Enterprise Android in a snazzy but functional package
A phone for grown-ups that doesn't suck
Posted in Personal Tech, 6th November 2015 05:01 GMT
Review If somebody told you six months ago that the best Android phone of 2015 would have been made by BlackBerry, you'd have thought they were a bit mad. BlackBerry didn't really make phones any more, and what phones it made were marketed as a secure alternative to the Mad Max badlands of Android.
And if anyone had dared suggest that BlackBerry would produce a contender for 'Phone of the Year', you'd assume they were totally deluded. Didn't BlackBerry itself admit it has created niche products for government and regulated industries?
But, amazingly, neither proposition seems unreasonable today.
BlackBerry's new Priv is the real deal in two ways.
In recent years, sophistication has been sacrificed for simplicity. Back in the 1990s and early noughties, PDAs and smartphones competed on rich features, to tech savvy users. The "consumerisation" of technology in the post-iPhone era has led to software being dumbed down. The Priv is not only a very rare thing – an enterprise-focussed Android – but more besides: it attempts to bring a professional grade software stack and features to a top line and beautifully designed consumer product.
The Priv justifies itself on aesthetic, not merely utilitarian grounds. Nobody is ever going to have to apologise ("my boss made me carry one") for carrying a BlackBerry Priv. Not for years has a phone attracted so much curiosity.
The Priv looks conventional, but unfolds to reveal a QWERTY keyboard. It uses stock Android, but is "injected" (as opposed to "hardened", which isn't a word anyone would sensibly attempt to use with Android) with the unique crypto identifier found on BlackBerrys. And it's running BlackBerry's own software "crown jewels".
BlackBerry is selling the Priv on the basis of its superior security and privacy. For some, that's a hollow boast. The Priv runs Alphabet Inc's Android software, notorious for its abundant and sprawling attack vectors, while Alphabet itself is a ruthless consumer data processing company. Almost everything Alphabet's Google does, from cars to thermostats, is designed to collect and process personal information. Alphabet has even attempted to patent a range of cuddly children's toys that hear and see everything, and transmit it back to Google.
In case you're feeling paranoid, even Alphabet's executive chairman, Eric Schmidt, shuns his own company's Android software and continues to use a BlackBerry.
But many enterprises and professionals have given up fighting the tide of BYOB, and for them, having staff use a Priv will be more justifiable than having to cope with what their staff may bring in anyway, while the Priv will be far more acceptable to the staff. Android with BlackBerry's 'Crown Jewels' ported over, even in their version 1.0 state, is simply a better Android.
The Priv is very much a first attempt at integrating a platform with an app stack that doesn't always mesh smoothly with the underlying platform; there are a few signs the Priv was rushed onto the market: there are quirks and annoyances. But for the most part it succeeds, and offers so much more functionality and convenience than generic slab rivals, it simply demands the serious user's attention.
Hardware and design
Slider phones have their ancestry in the two-way pager era, and slider smartphones with physical QWERTY keyboards were pretty common in 2010 and 2011. Even Dell made one. But the market moved faster than the designers, as the public rapidly got used to typing on glass.
The Priv borrows the premium curved glass screen introduced on Samsung's Edge phones this year, which not only looks terrific, but is practical. It's allowed BlackBerry to make a slider device much slimmer and more comfortable than the sliders of yore, which were basically two fat slabs stapled together. When you close the device, the guts of the Priv appear to disappear inside the display. It's a very clever and understated bit of design.
The slide action is superb, the bottom edge of the display forms a ridge, which can be flicked up with the thumb to reveal a four row QWERTY keyboard. This is a touch-sensitive design unique to BlackBerry, and made its debut on the Passport. The QWERTY doubles up as a trackpad for precise cursor positioning, or scrolling through text, or back swiping to delete a word at a time.
For the first day or so of using the Priv, you're wondering why it's a slider at all. The Blackberry virtual keyboard is in a class of its own, while typing on tiny keys is a habit many of us have "unlearned". After a while, though, you start to pocket the winnings. Snap open the slider and start typing, and it performs a universal search, like the iPhone's Spotlight, but with a few tricks up its sleeve. Or, you can configure each alphabetical key to remember two shortcuts – apps or actions. I quickly got to associate the snap with a search.
The device resembles an Edge+, it's nicely weighted, and never felt cumbersome. BlackBerry said it could have made a slimmer device but wanted to include a hefty 3410mAh battery for all-day use. The radius glass curves are host to a permanent overlay – which I'll cover in a bit – which invokes an app BlackBerry calls the "Productivity Bar". This gives two touch access to unread messages, favourite contacts, tasks and your calendar agenda. In this first iteration of the software, the curves aren't used for much else. I expect as the software matures, it will find more uses, as Samsung has. And I'd expect the Bar to get richer, too.
Reception and call quality are solid for a 'droid, although I found the front-facing speaker delivered less than it promised. Perhaps I'm used to the booming depth and volume of the HTC One series, and BlackBerry's own Passport and Z30, but the Priv speaker should be louder. The audio on video playback was also a little too quiet.
BlackBerry phones have never been renowned for their imaging. Back in the distant past, RIM would say that cameras on phones were a security liability that enterprises would never accept. The 18MP main camera was excellent, and its low-light video particularly good. The 2MP selfie cam falls short of flagship standards, but I doubt anyone attracted to the Priv belongs to the selfie demographic.
I did find the side volume and power buttons a tad sensitive, turning the volume down when I didn't want it. The only significant hardware shortcomings here are the absence of a fingerprint sensor – which is a huge convenience and surely a must on a "security focussed" device – and on European SKUs, there's no Qi wireless charging. That's a bit annoying, as Qi is more established in Europe than in the US, where you'll be able to buy an identical but Qi-enabled Priv. IKEA sell Qi-enabled furniture.
However, the software is the real story here. Let's see what BlackBerry has just bombed Android with.
Behold, Android has a new software stack
BlackBerry could have basted Android in a very heavy skin, in an attempt to make the turkey look like one of its traditional BBOS devices. But necessity, and perhaps time constraints, obliged them to take a different route. BlackBerry has also said it wants to make the experience a familiar one for Android users.
So BlackBerry took stock Android and ported over their own "Experience Suite", which back in March it announced it would port to Android and iOS. Most of the semantics of "stock" remain intact.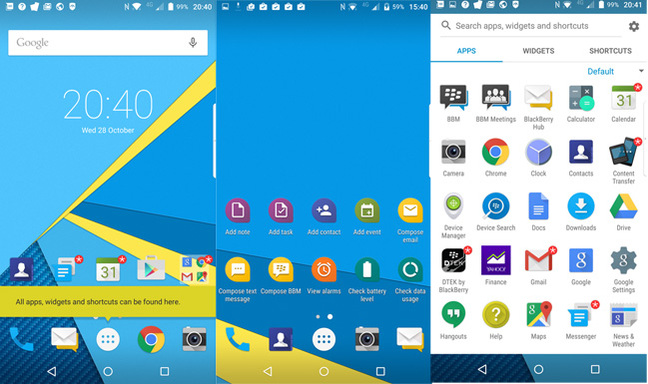 The Suite includes a message aggregator – the Hub – a virtual keyboard, the aforementioned Universal Search, and some PIM apps: Calendar, Tasks and Notes. Along with a lightweight launcher. It might not sound like much, but these things matter a lot. On BB10, the Hub is a permanent "underlay" – viewable with one gesture, and the same gesture drops you back to where you were. The marketing department calls this "peeking".
Not being able to control the platform, BlackBerry had to do the best it can to replicate the experience. What the Android BlackBerry Hub is, is a really rich email client, with integrated calendar, that also aggregates Notifications from social networks like Facebook and Twitter. (The big ones, but not all.) Appointments appear at the top of this message list.
I was delighted to find that the Hub is also a calendar server: Microsoft users who've been stiffed by the company's appalling recent Android software will take heart here: I could use all my Outlook calendars (and Exchange groups) without needing Microsoft Outlook.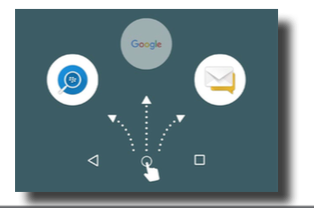 BlackBerry allow you to launch the Hub or Search from anywhere
The BlackBerry launcher is deliberately designed to resemble stock, with very few deviations. One addition is that home screen app icons can invoke one of their widgets with a swipe over the icon – they advertise that capability with the three dots. I found this cut down on clutter, and the number of home screens I needed.
The virtual keyboard is the first thing you'll notice. It's a straight port of the BB10 VKB. While I rate the Windows Phone VKB highly – it has a singular genius for untangling wordsthathaverunintoeachother – the BlackBerry virtual keyboard is in a class of its own. It has a gimmick – which you can take or leave – where word suggestions appear over a phonetically similar letter, and these floating word suggestions can then be flicked up. But I find the VKB more useful for the flick down gesture (which cycles through alternative keyboard layouts) and the backswipe-to-delete gesture, which few others have implemented (Fleksy is one). The downward swipe integrates nicely with the physical keyboard, and you can use the same gesture there to provide alternative characters. It sounds complicated, but its easier to use than describe.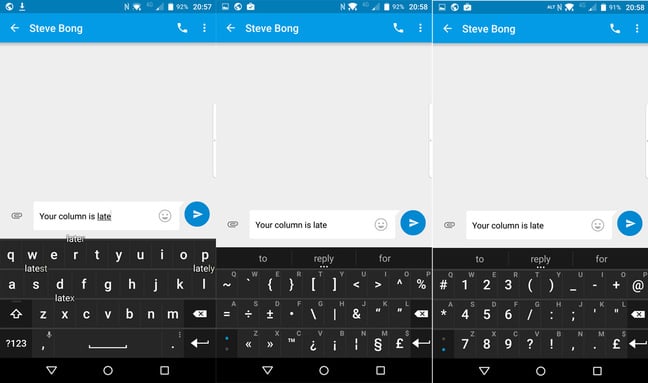 BlackBerry doesn't indulge in shipping a heavyweight launcher, instead it mostly follows the Android conventions. It hooks into the default Android "Now" gesture invoking either Universal Search or the Hub. And the hub, a glorified email client and notification aggregator, is really the star of the show.
Into the Hub
The Hub has some nice surprises in store. You can "snooze" an email for later action; the action is triggered by arriving at a particular location, logging onto a particular network connection, or after a given time delay. In practice I found this quite handy for bunching up work emails (for the commute in) and personal emails (for the commute home).
It seems so obvious to give a user this kind of reminder, you wonder why nobody's done it before. But then we are in the Noddy Era of consumer software. The Hub's email filtering is also much richer than on rivals.
BlackBerry's also included its own Calendar here and as already noted, it acts as a calendar server too. A calendar set up through the Hub will be viewable through third party apps, like DigiCal.
More rudimentary is the Tasks app. It taps into your Exchange tasks without you having to set it up discretely, but it doesn't respect Exchange folders, simply dumping stuff in a list. The intention is good, but we're talking 0.9 level implementation here. Hopefully it will improve to the level of its BB10 equivalent which respects Exchange folders and Evernote notebooks. On BB10, the hub is this constantly updating, but manageable, events list. I don't doubt BlackBerry wants to achieve this on Android.
Despite the rough edges, it bears contrast with Microsoft's costly and ill-judged catch-up spending spree. Microsoft has spent half a billion dollars acquiring companies only to offer just a fraction of the BlackBerry suite's functionality. If you're a Microsoft shop that never touches BlackBerry, you should be hopeful that somebody is providing competition and choice on Microsoft's home turf, a customer base that Redmond doesn't seem to value any more.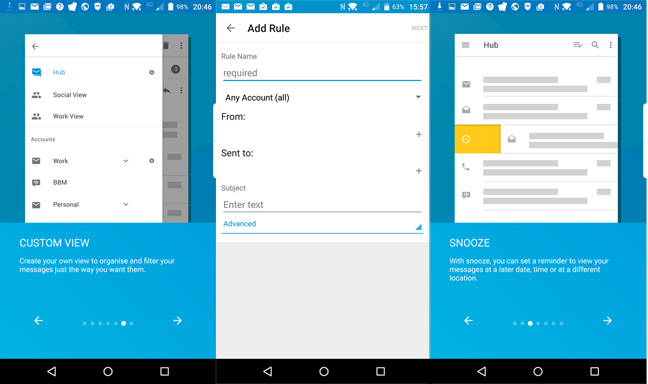 Rules: You can define how the Hub app functions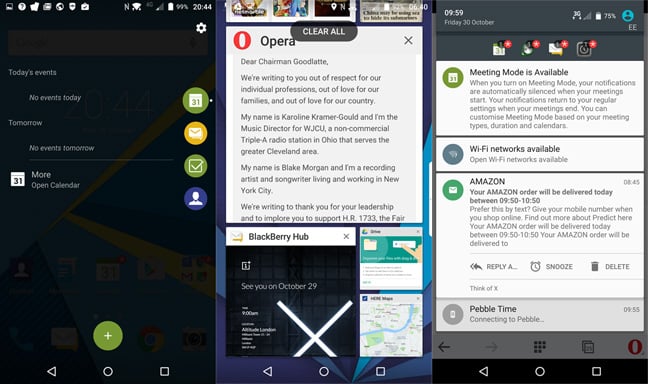 Left: an edge swipe starts the 'Productivity Bar', an overlay
Center: the App Switcher resembles BB10's task switcher: swipe sideways to clear the app from the list
Right: Many Android notifications still squirt out uncontrollably
BB10 users might consider the whole BlackBerry-on-Android move a regressive one: the Hub doesn't tame Android's Notification diarrhea. Android has always been an annoyingly chatty and fussy personal companion, and even on the Priv, its notifications still spurt out. It's weird; Google is supposed to be the "information company" ne plus ultra of the "information age", but Google is remarkably indiscriminate in what it Hoovers up, and equally indiscriminate in what it spits back out at you.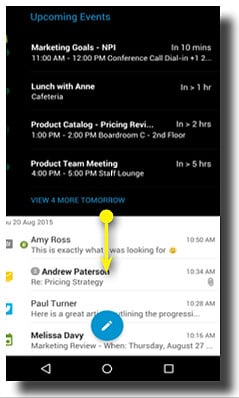 The Hub app, with integrated Calendar events
Ideally this would disappear, and the Android pull-down shade would be a handy shortcuts pull down, much as BB10's is, and Apple's little popup is. Another way it isn't integrated is finding that the Hub may throw you out to another application (BlackBerry's SMS app) for responses. Again, BB10 loyalists won't find this as smooth as BB10. But for almost everyone else – more than 99 per cent of the market – BlackBerry's Android Hub is a smashing convenience.
Priv brings over BlackBerry's picture password unlock, and has a rudimentary app called DTEK, which is similar to the diagnostics you find on Chinese 'droids. It will monitor apps performing permission overrides, and which apps accessed which permissions. It'll also remind you if you haven't set a password lock. But not much more. I expect with Android M, DTEK will be much more capable. The Priv runs Lollipop 5.1.1.
And the verdict is...
It may be a "Hail Mary" pass, but BlackBerry's arrival on Android adds bags of choice and maturity to the platform – not just for enterprises but more sophisticated punters.
Snapdragon 808 Hexa-Core, 64 bit; 3GB RAM; 32GB storage + MicroSD Slot taking cards up to 2TB Curved 5.43", 540 DPI,2560 x 1440 resolution 18MP rear/2MP front camera 3410 mAh battery 147mm (184mm open) x 77.2mm x 9.4mm; 192g
Imaging and media (very pic heavy)
The Priv has an 18MP main shooter, and it's a capable unit, resembling the BB10 camera. You can shoot with the filters on. It focuses very quickly (using phase detect auto focus) and can snatch 4K video, but not slow-mo – at least not in this version of the Camera software. The front camera is a humble 2MP – but then this isn't really a phone for the selfie crowd, but for grown ups.
I found it performed particularly impressively in twilight, and low-light video was impressive. Here you can see it trying to capture a decent range of colour, in shots some 20 to 25 minutes after sunset. In trying to capture a panorama, some barrelling is evident (check out the lamp posts that frame the modern flats), but this isn't unique to this camera. Unless you're a slow mo junkie or a selfie obsessive, this camera will do a nice job for you.
Click to enlarge any of the below pictures to full size.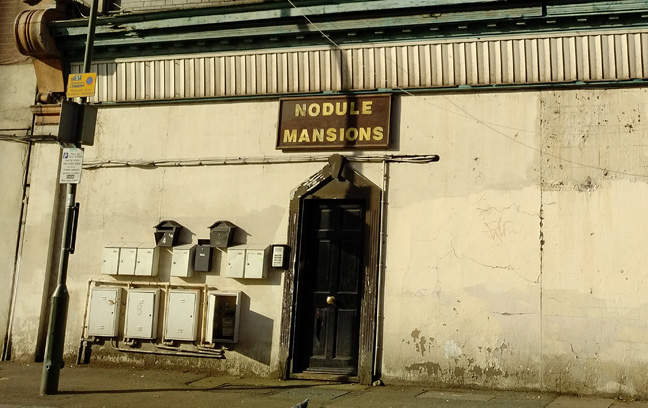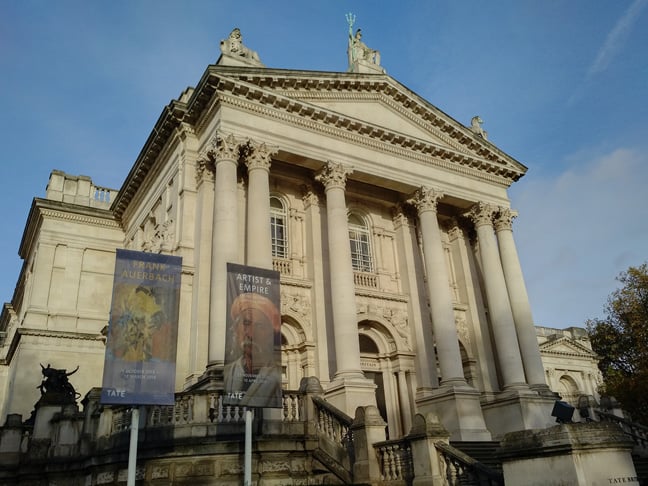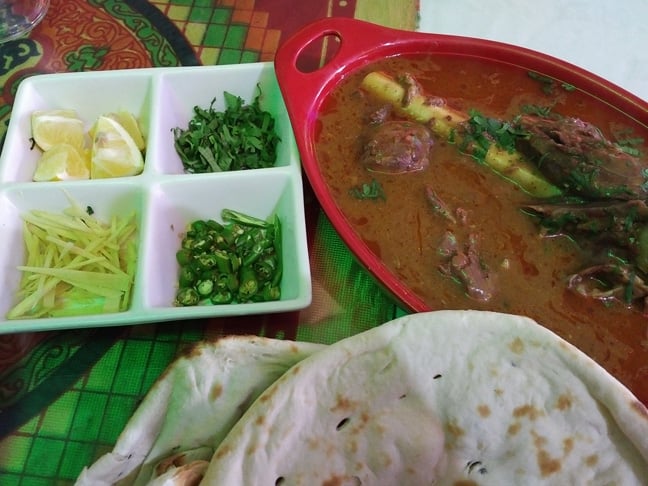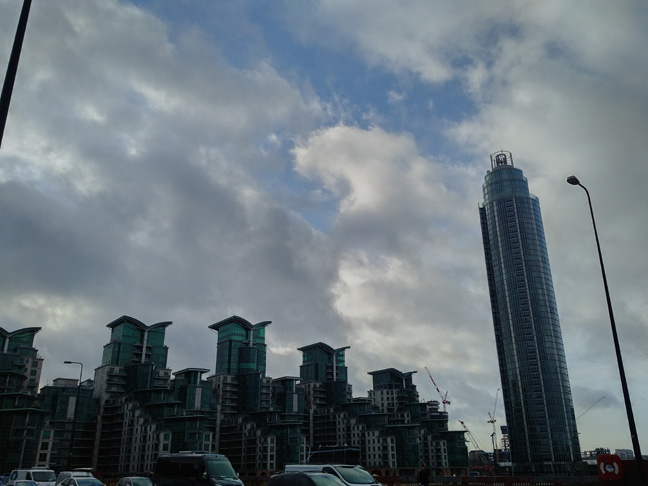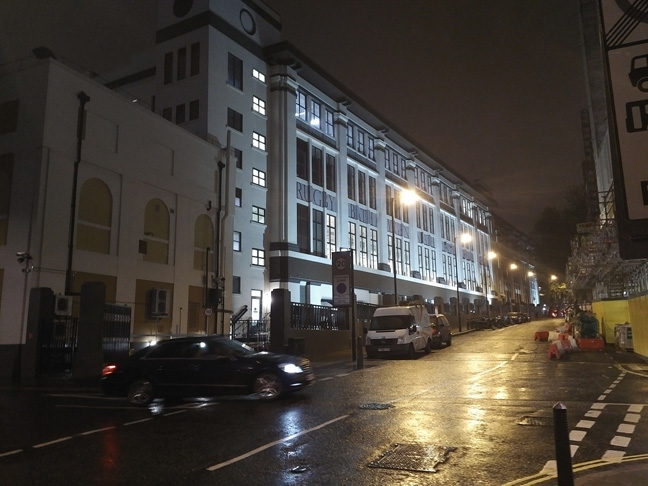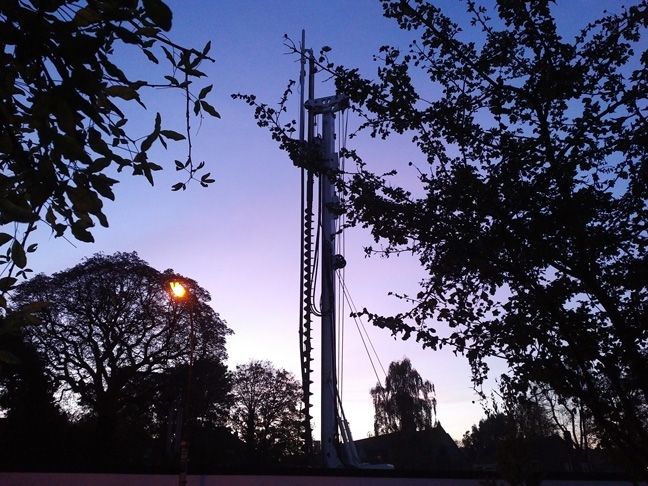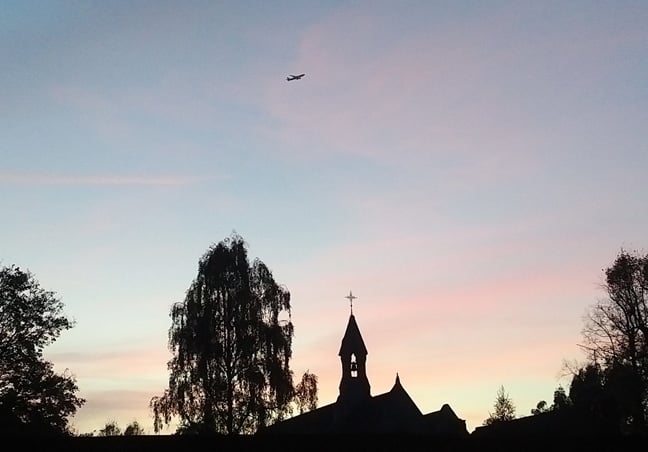 Cropped and zoomed
®