Bringing connectivity to rural areas can involve lobbying MPs and signing petitions, but it can also involve knocking on doors, digging up sheep fields and climbing around on the roof in search of bandwidth.
Over the last seven years I've tried all the alternatives, from satellite broadband to community networks, not to mention searching shops for a "modem" when necessary, and while my not-spot is not as not as it used to be I'm still not reaching the broadband nirvana of 2Mb/sec.
Living in one of the more remote parts of Scotland was always going to present a challenge when it came to internet access, but one doesn't imagine trying to get some bandwidth will lead to being ostracised by the neighbours, owning enough ladders to scale a decent castle wall, or securing a job at The Register either.
Seven years ago, satellite seemed the sensible option - I've always wanted an earth station despite the £4,500 price tag. Once equipped, £100 a month got me 512Kb/sec of connectivity (128Kb/sec upstream) from Aramiska, which rented bandwidth on an Eutelsat bird in the DVB-S band. The latency is always a pain with satellite, but the inability of satellite companies to manage their money is what made satellite broadband impractical.
Aramiska went titsup, then struggled to its feet again, only to collapse under the weight of its creditors. I then found myself in the ideal position to report on the frustration of customers, many of whom (myself included) had struggled to pay a company that seemed to have a moral objection to collecting customer fees. Aramiska wouldn't cash cheques, or collect on direct debits, and would then do both without warning - though it turned out that was normal in the satellite business.
Ouranos, which provided connectivity to the cut-off Aramiska customers, lasted only a few months before it too went titsup. Thankfully the company never managed to collect the year-in-advance payment from me before it went bankrupt. Others were not so lucky.
Next up was Avanti, a company that recently launched its own satellite to provide cheaper and faster broadband, but back in 2006 was reselling connections costing more than £1,200 for installation, and £70 a month, for half a meg downstream.
Avanti's offering was, obviously, incompatible with the Aramiska kit, which ended up as a kid's computer and an interesting garden feature.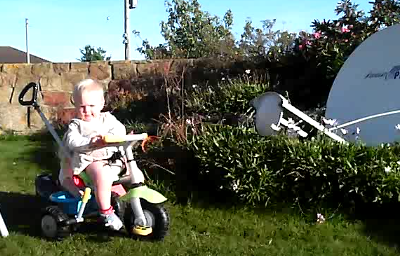 Aramiska's dish came to an ignominious end as a garden ornament
Avanti proved more stable, but equally useless at collecting money - failing to invoice for the first 12 months despite reminders, and the latency was starting to get me down. ADSL had also arrived locally - not to my house but to some of the local properties, which took me knocking on doors in the search for someone prepared to share some bandwidth.
Community wireless sounds like a really good idea, but actually knocking on someone's door and asking if they'd like to share their ADSL is another matter entirely, especially when few people have any idea what you're asking.
Similar topics